Updated at 12.00
Steve O'Rourke reports from Houston
"CAN I COME with you?"
That's the question I've had to answer most over the past few months since finding out I would be covering Super Bowl LI in Houston, Texas for The42.
I'm not going to lie, as someone who has been an NFL fan since 1992 and has written professionally about American football for the past six years, this is just a tad better than reporting from an O'Byrne Cup game in Conleth's Park on a wet January evening.
Some of it might take a little bit of getting used to though.
When we stepped off the plane this week, we were greeted by cheerleaders at the airport. That's just a bit different from the greeting you might get in Dublin.
But, even here, everyone's second question is "and can I come with you?"
The conversation dominating chatter in pubs and restaurants, however, is not Super Bowl LI.
There's no doubt the shadow of Donald Trump's rule is casting an orange glow over Sunday's match-up and will do right up until the half-time show when who knows what Lady Gaga might do.
Indeed, so all-encompassing has politics been this week, it makes as much sense that Fox's pregame broadcast will include an interview with Trump by right-wing political pundit Bill O'Reilly as it does any actual football analysis they might do.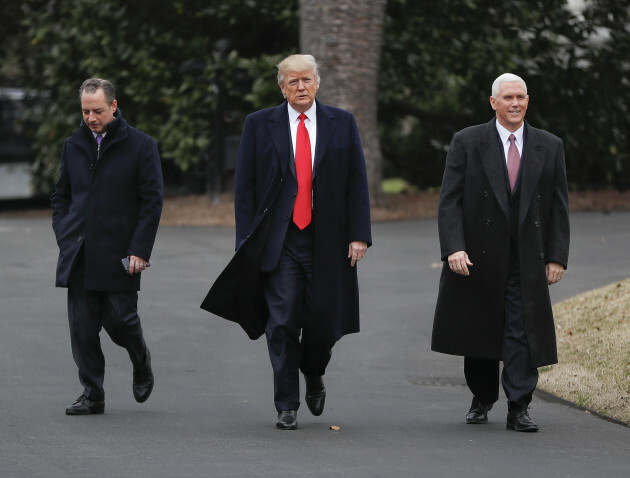 Pablo Martinez Monsivais Pablo Martinez Monsivais
The Patriots have been at centre of most the attention this week with everyone from owner Robert Kraft, head coach Bill Belichick and quarterback Tom Brady refusing to answer awkward questions about their friendship with the divisive US president.
This has left some unimpressed, with a Morehouse College professor going as far as saying that Brady's support of Trump is more "un-American" than San Francisco 49ers quarterback Colin Kaepernick taking a knee during the national anthem.
(The answer here is that neither is un-American but it wouldn't be the Super Bowl without hyperbole).
Finally, there was the news this week that Trump — the man who played a large role in ending the United States Football League after he became an owner — had referred to NFL Commissioner Roger Goodell as 'a dope' and a 'stupid man'.
Exclusive Six
Nations Analysis
Get Murray Kinsella's exclusive analysis of Ireland's Six Nations campaign this spring
Become a Member
I'm no fan of Goodell, and his leadership of the league has left a lot to be desired, but we're in pots and kettles territory here and they all come in one colour.
Of course, it shouldn't really be that much of a surprise that Washington and Houston have combined this week. Politics and sport have always mixed. Muhammad Ali and the Vietnam War. The GAA and Rule 42.
Indeed, you only have to look at the emphasis placed on the national anthem, on the 'salute to the military', on the F16s flying overhead to realise that politics and football — but particularly the Super Bowl — are so intrinsically linked.
I mean, George Bush Snr is doing the coin toss; how could it not be?
As we get closer to Sunday, hopefully the conversations revert to whether or not we'll see a fifth Super Bowl win for Brady and Belichick or a first for Matt Ryan and Dan Quinn (as head coach).
For today, however, Houston appears to have other problems.