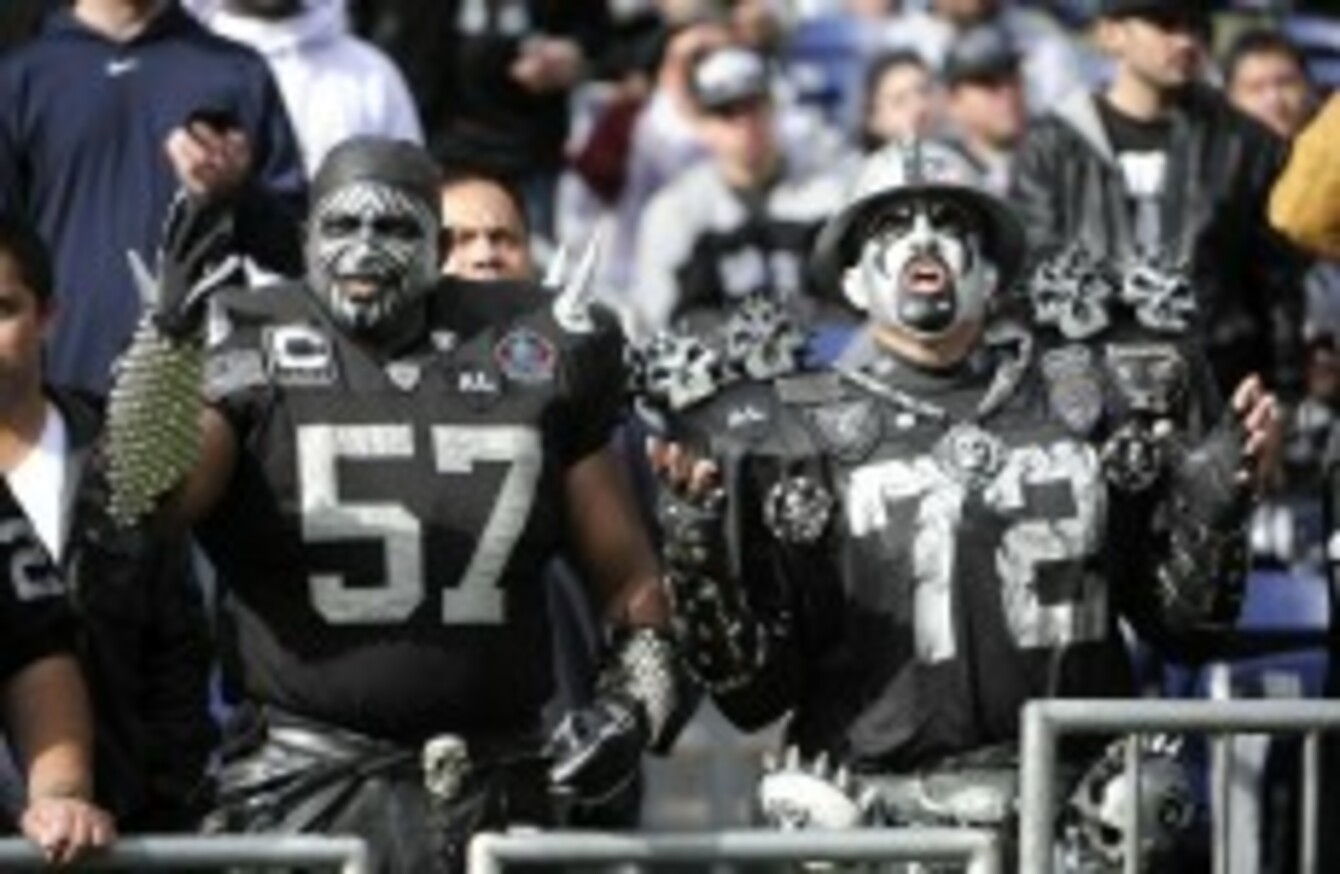 If perpetual heartbreak is your thing, choose the Oakland Raiders.
Image: DENIS POROY/AP/Press Association ImagesDENIS POROY/AP/Press Association Images.
If perpetual heartbreak is your thing, choose the Oakland Raiders.
Image: DENIS POROY/AP/Press Association ImagesDENIS POROY/AP/Press Association Images.
I MAY SUPPORT the Oakland Raiders, but that doesn't stop me from hating them at times. In the 15 years I've been following their trials (literally) and tribulations, they've made the playoffs three times, the last of which came 11 years ago and ended in glorious, inevitable, failure in Super Bowl XXXVII.
In that decade and a half, they've blown draft picks, made terrible trades and generally broken my heart in ways I didn't think possible for a team I chose to support purely on the basis that they had a cool logo.
That, unfortunately, is the risk associated with being an NFL fan on this side of the Atlantic, having no hometown affiliation means you have to come up with different ways of picking which team you support. Much cleverer ways than a (for a 15-year old in the 90s) cool logo. So at the suggestion of a reader last week, here's The Redzone's guide to choosing your NFL team.
Do you prefer the letter A or N?
This is the best place to start as the NFL is broken up into the AFC (American Football Conference) and NFC (National Football Conference), making your first choice a relatively simple one. Choosing which letter you prefer halves the number of teams you have to think about supporting.
So here's the argument for A:

YouTube: DTubedify
And the argument for N:

YouTube: DTubedify
What's your favourite direction?
Now that you've chosen a conference, you can reduce your selection headache even further by picking a favourite direction as each conference is broken up into four divisions, north, south, east and west.
This is a relatively easy one for Irish people as you can simply choose your division based on which province you live in, Ulster representing the north, Munster the south, etc.
Do you like animals?
Almost half of NFL teams are named after birds or animals of some sort. Some are more intimidating than others. Personally, I think a lion is much better than a ram, but you might have a background in farming so I can understand if you chose St. Louis over Detroit.
If animals aren't your thing, other team names revolve around various forms of pirates, outlaws and native Americans. And the Jets.

The Ravens made purple reign last season.
Image: Nick Wass/AP/Press Association Images
Uniform colour
This might seem a stupid reason but I know at least one person who supports the Ravens because of their purple uniforms and he was able to celebrate their Super Bowl win last year while the rest of us stared on in horror at Ray Lewis mugging it up for the camera.
You could base this decision on your county colours, or the jersey of whatever soccer/rugby/netball team you support.
Bandwagoning
A sure-fire way to enjoy the NFL experience more is to support a winning team. This year the Super Bowl champions are probably going to come from the Denver Broncos, San Francisco 49ers or Seattle Seahawks. If you want to boast to your friends how great your new team is, get on board one of these franchises.
If long term glory is what you're after, the Pittsburgh Steelers, Dallas Cowboys, and San Francisco 49ers are the most successful teams in Super Bowl history.
Football hipster
Even in the NFL, winning can be far too mainstream so you could always choose a team who are unlikely to win a Super Bowl this decade. Of the 32 NFL teams, 10 have never won a Super Bowl with four (Lions, Browns, Jaguars and Texans) never even getting as far as the Championship game.
If you're going to go down this route, I suggest supporting the Jaguars. Their home games might be a lot closer than you think in the next few years.
Other reasons
When I asked on Twitter how people ended up supporting their chosen team, the answers were varied and interesting. Some people had taken a team to a Super Bowl win in Madden and that was enough while others had happened upon a team while visiting their city on a J1 visa.
However you go about choosing an NFL team to support, do choose one. Don't be one of these people that 'just likes football, not individual teams'. If you do, you'll never experience the highs that come with unexpected victory or the painful, crushing lows of a two or three win season.
Whatever you do though, don't choose the Raiders. Honestly, nobody deserves that.