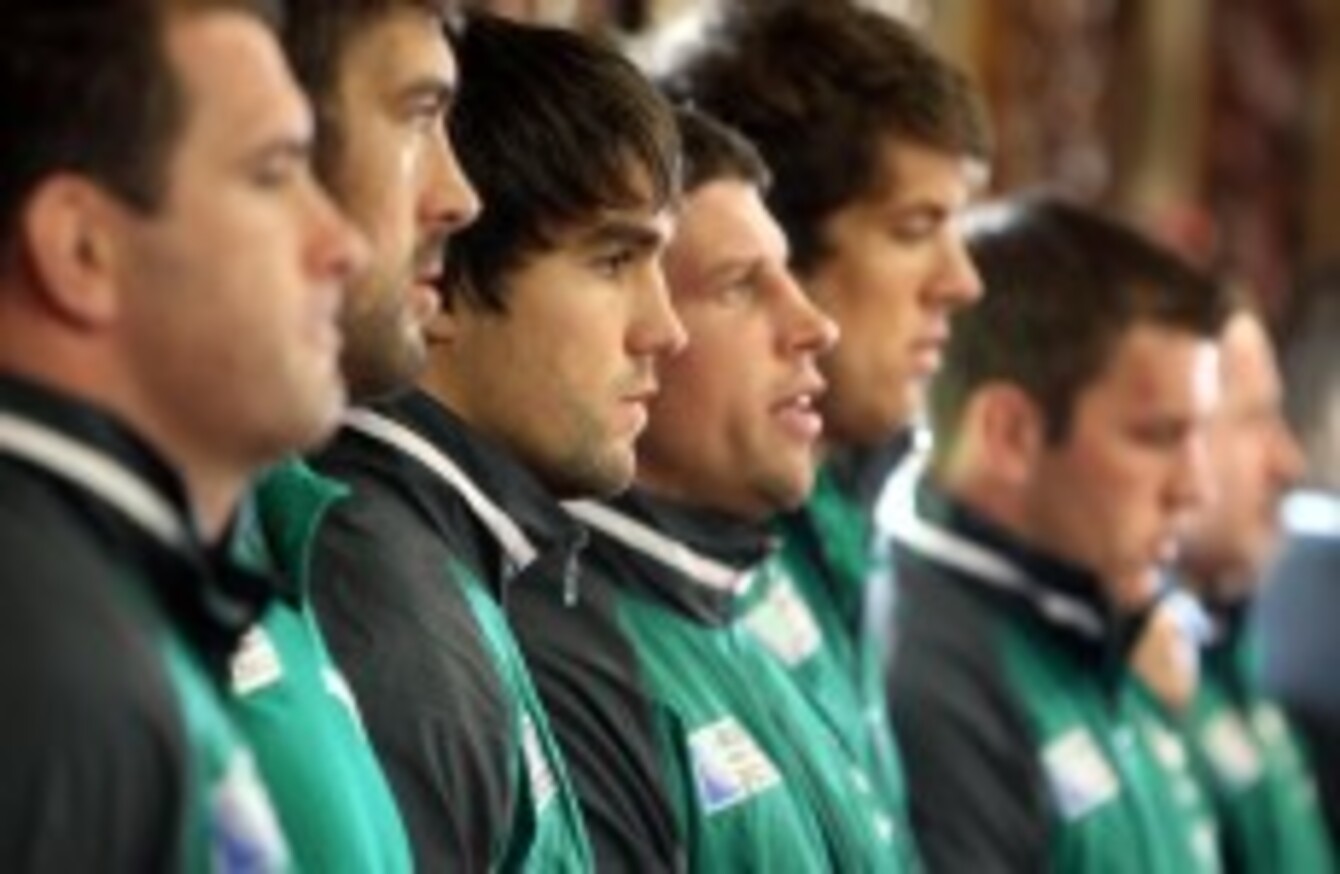 The Ireland squad during the welcome ceremony in New Plymouth earlier.
Image: INPHO/Dan Sheridan
The Ireland squad during the welcome ceremony in New Plymouth earlier.
Image: INPHO/Dan Sheridan
THE PROBLEM WITH experiencing the best New Zealand has to offer in the first few days is that, ultimately, everything else leads to disappointment.
This is not to suggest that Auckland is a boring or uninteresting place, but the beauty of Queenstown is such that everything else pales significantly in comparison.
Before my flight to the capital this morning I paid a quick visit to the Queenstown gym.  I say 'quick' because on my arrival at 8am, the bloke behind reception kindly informed me that the weights area was 'currently occupied by the Georgia Rugby squad', but that I was 'more than welcome to work away in between them'.
I decided against showing off my 2.5kilo dumbbell skills to men who eat entire weights machines for breakfast and slipped silently back to my room for a cold shower.
The flight to Auckland lasted just over 90 minutes and the usual bland safety demonstration was replaced by a hilarious video starring Kiwi coach Graham Henry and most of the All Blacks squad.
The sight of Richie McCaw telling you not to smoke inside the plane or risk being dropped from a great height and the image of a naked granny streaking up the aisle to highlight the importance of cabin safety procedure certainly grabbed the passenger's attention.
If Ryanair put as much creativity into in-flight entertainment as they do at hidden charges, Michael O'Leary would be a shoo-in for President.
Arrivals
Auckland is pretty much like any other city in the word; plenty of people and plenty of traffic. Donal Lenihan arrived in yesterday afternoon and we went out for a few pints and a bite to eat in a restaurant down by the waterfront this evening.
I managed to flag down a taxi outside our hotel and we were greeted by a Somali driver called Shahhi who just happened to be starting his career in the cab trade.  He had bought his car the previous day for all of about $150 but had not one clue where anything was in the city.  We eventually arrived at Auckland's most popular tourist destination where upon Donal advised him to invest in a 'Tom-Tom Sat Nav system' or risk going bust within 24 hours.
I don't think Shahhi understood a single word.
The opening match of the World Cup kicks off at 8.30pm local time tomorrow night and it will be preceded by the opening ceremony.
A huge amount of work has gone in to ensuring the tournament kicks off in true New Zealand style and judging by the pre-ceremony briefing this evening I think we are in for a real treat.  Two years of planning and over 1,000 volunteers (including someone called Jonah Lomu) will combine to give the 2011 tournament the kick start it deserves.
The Ireland squad departed Queenstown earlier this morning for New Plymouth and by all accounts they arrived safe and sound and ready for their first game.
I've been too busy preparing for New Zealand versus Tonga tomorrow to really start getting my head around Ireland's first match but I've picked up a few whispers on Declan Kidney's likely starting 15.
This is not gospel by any means, but if I HAD to guess, this is what I would go for:
Murphy; Bowe, O'Driscoll, McFadden, Trimble; Sexton, Reddan; Court, Flannery, Ross; O'Callaghan, O'Connell; Ferris, O'Brien, Heaslip.
Until tomorrow…