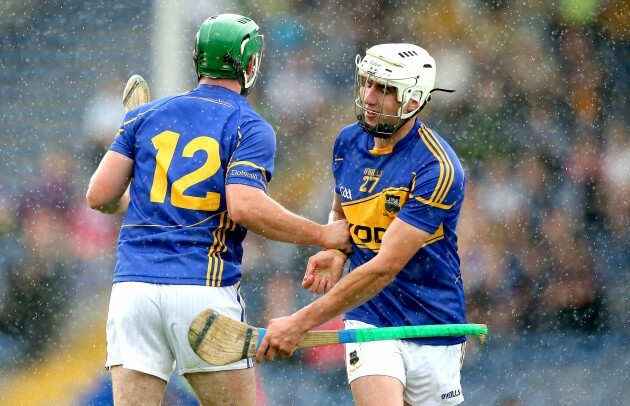 James Crombie / INPHO Bubbles O'Dwyer and Bonner Maher both won their first Allstars this evening. James Crombie / INPHO / INPHO
TIPPERARY DIDN'T WIN the All-Ireland hurling title but they have bettered Kilkenny in the 2014 Allstar awards with the Premier getting seven awards and the Cats claiming six awards.
All-Ireland semi-finalists Limerick complete the team with first Allstars for Seamus Hickey and Shane Dowling.
That's the breakdown from the 2014 GAA-GPA Open Allstar hurling awards, which were officially announced this evening at the Convention Centre in Dublin.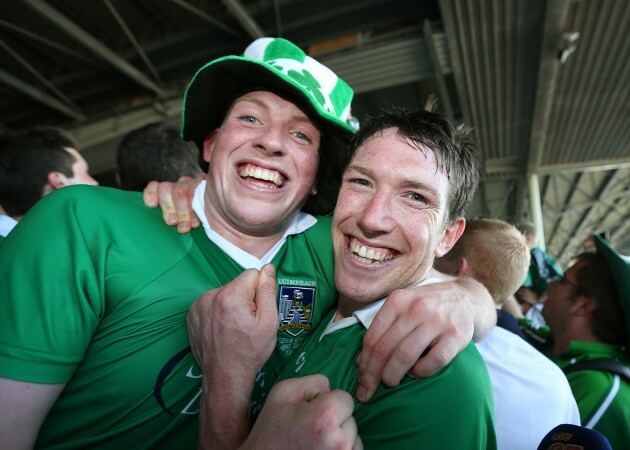 Lorraine O'Sullivan / INPHO Limerick duo Shane Dowling and Seamus Hickey complete a selection dominated by Tipperary and Kilkenny. Lorraine O'Sullivan / INPHO / INPHO
Tipperary lead the way with Darren Gleeson, Brendan Maher, Padraic Maher, Shane McGrath, John O'Dwyer, Patrick Maher and Seamus Callanan all honoured.
Liam MacCarthy Cup winners Kilkenny get six awards for Paul Murphy, JJ Delaney, Cillian Buckley, Richie Hogan, TJ Reid and Colin Fennelly.
There are eight first-time winners in Gleeson, Hickey, Buckley, O'Dwyer, Patrick Maher, Fennelly, Callanan and Dowling.
Interestingly there are no members of last year's Allstar team selected this year but Murphy, Delaney and Reid were recognized in 2012.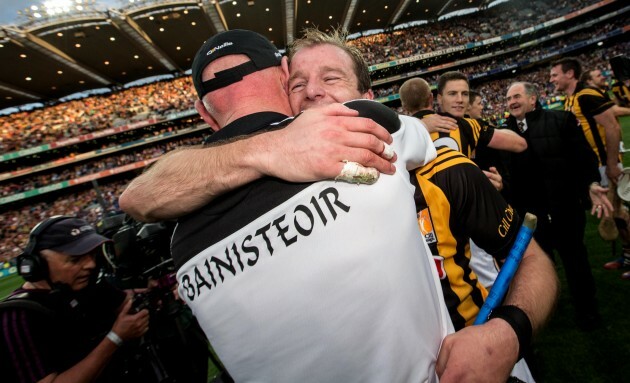 James Crombie / INPHO JJ Delaney collected his seventh Allstar this evening. James Crombie / INPHO / INPHO
Delaney stands out as the most decorated player on the team as he wins his seventh Allstar – 11 years after his first award. For Paul Murphy and Padraic Maher, it is the third time they have been recognized, and Shane McGrath notably wins his second award after a gap of six years.
The team in full is as follows – (previous years of award wins in brackets):
2014 GAA-GPA Allstar hurling team
Goalkeeper
Darren Gleeson (Tipperary) – 1st award
Full-Back Line
Paul Murphy (Kilkenny) – 3rd award (2011 and 2012)
JJ Delaney (Kilkenny) – 7th award (2003, 2004, 2006, 2008, 2010 and 2012)
Seamus Hickey (Limerick) – 1st award
Half-Back Line
Brendan Maher (Tipperary) – 2nd award (2010)
Padraic Maher (Tipperary) – 3rd award (2009 and 2011)
Cillian Buckley (Kilkenny) – 1st award
Midfield
Richie Hogan (Kilkenny) – 2nd award (2011)
Shane McGrath (Tipperary) – 2nd award (2008)
Half-Forward Line
John O'Dwyer (Tipperary) – 1st award
Patrick Maher (Tipperary) – 1st award
TJ Reid (Kilkenny) – 2nd award (2012)
Full-Forward Line
Colin Fennelly (Kilkenny) – 1st award
Seamus Callanan (Tipperary) – 1st award
Shane Dowling (Limerick) – 1st award