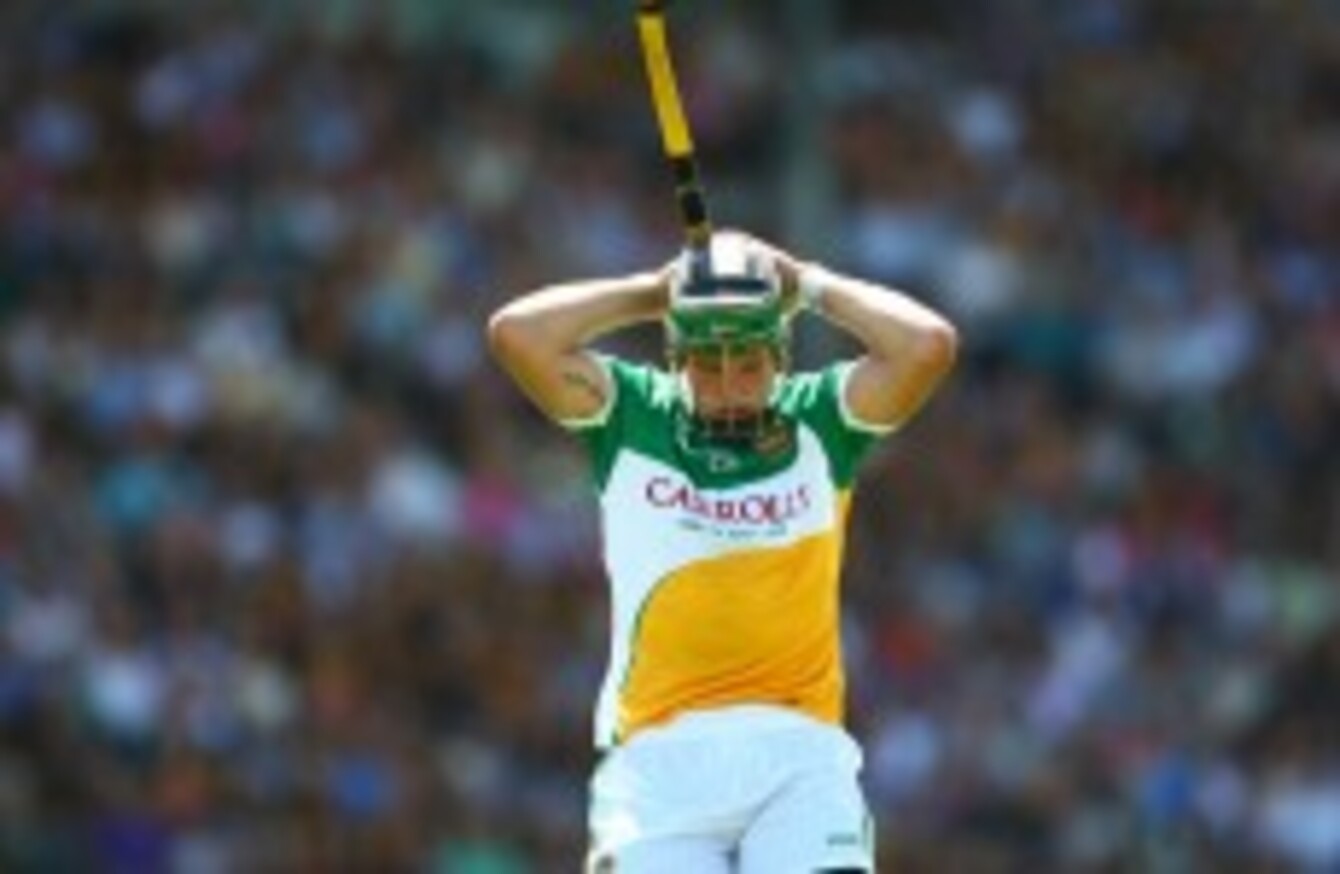 Offaly's Joe Bergin dejected last time out after defeat to Kilkenny.
Image: INPHO/Ken Sutton
Offaly's Joe Bergin dejected last time out after defeat to Kilkenny.
Image: INPHO/Ken Sutton
Wexford's trip
Wexford were competitive in their defeat to Dublin and their campaign will be defined in the coming weeks. An All-Ireland qualifiers run is a distinct possibility. Why? Liam Dunne has Wexford grafting hard again. The journey towards the top table will be littered with potholes, but Wexford showed enough in their two physical encounters with Dublin to suggest they can take a medium-sized scalp. An ailing Antrim on home turf is exactly the kind of match that managers quietly crave.
Wexford showed glimpses of their potential in the matches against Dublin, especially in the drawn encounter, but tomorrow's 'back door' tussle tests a different skillset. Unlikely to be bothered or burdened by the burden of 1/8 favouritism, Wexford know that a win could be the start of an interesting trip.
There has to be more in Antrim
Don't be duped as there is a vast difference between the club and intercounty game, but surely Antrim could be making more of an impact. Confidence is low as hope continues to drain from Antrim's system. Loughgiel Shamrocks, prompted by the splendid Liam Watson, won a thrilling 2012 All-Ireland title. This year they participated in a couple of intriguing semi-finals with eventual victors St Thomas' of Galway. In those two battles with Thomas' Loughgiel proved that their success was no fluke or flash in the pan.
Loughgiel had hurlers and heart. Other clubs in Antrim have the same kind of ingredients, but unfortunately Antrim seem to be lurching from one lost campaign to another. Kevin Ryan is the latest manager charged with trying to stitch a team together. The tepid Leinster quarter final reversal to Laois was a chilling setback and Antrim make the long trek to Wexford Park hoping to put respectability back into the Saffron shirt.
Have Faith in goals
Offaly targeted goals against Kilkenny. Ollie Baker's boys got them too. A similarly direct approach should be evident when Waterford hit the midlands.
This is a fascinating test for the Faithful, who need to follow a feisty Kilkenny performance by reaching the same altitude again. It might be sufficient to disturb the youthful visitors', who were short on experience when outfoxed in Munster by Clare. Waterford's defence must survive a physical examination because high deliveries will be arriving early and often.
Baker's Offaly know that their encouraging display against Kilkenny won't count for too much unless it can be followed with a similarly enterprising effort. Baker accepted that slow starts were costly for Offaly in the championship last summer so they will be anxious to settle briskly.
Waterford boss Michael Ryan. Pic: Inpho
Waterford changes
A Munster Championship loss usually means that that a few tweaks will be made for the qualifiers and Michael Ryan has duly obliged. Stephen O'Keefe, Shane Fives, and Brian O'Sullivan are in for Ian O'Regan, Brian O'Halloran, and Pauric Mahony. Davy Fitzgerald's Clare had promised to deliver for a while and their triumph over Waterford was merited. In that loss Darach Honan's aerial prowess had Waterford in bother and that was even taking Clare's preferred short style into account.
Waterford were vexed when Clare launched it long and that is precisely what Offaly will try to do early on. So it will be fascinating to see how Ryan organises his team, particularly how their defence lines out on Saturday evening.
Watch out for Hanley
Far from Broadway, Brian Hanley is proving to be a shrewd modern hurling mind. Hanley has done decent work on the Galway club circuit, while his endeavour with Westmeath is worthy of serious respect. Anybody who witnessed Westmeath's 2012 Leinster HC win over Antrim will testify to his planning and ability to stir something within a panel. That was a real, gritty underdog success, but the shoe will be on the other foot in Ruislip. Westmeath will be expected to clear the London hurdle, but the home team will be passionate and primed for a battle. Hanley will have Westmeath ready for this awkward assignment.