ULSTER AND IRELAND star Iain Henderson says the news of Felix Jones' retirement from rugby has given him a sense of perspective in his career.
Henderson, who has just undergone surgery on a dislocated finger, says that seeing Jones retire in the prime of his career has reinforced just how quickly things can change in rugby.
A neck injury picked up against the Glasgow Warriors forced Jones to call time on his career, and Henderson says that it was devastating to see the fullback forced out of the game, having made such strides in the last 18 months.
"It's awful hearing about people like Felix who's 28 and similarly with someone like Stevie Ferris who was a similar age, before Stevie got his first bad injury he was probably off the back of the Lions and like Felix was in the form of his life.
"Seeing these guys getting their careers cut short is an eye-opener and a shock to the system because you realise how lucky you are that it hasn't happened you.
"But you also realise it could happen you at any stage of any game."
Henderson says that his former International teammate was a natural leader, having played under Jones' captaincy for the Ireland Wolfhounds last January.
"It's absolutely devastating for Felix. He's going to be a massive loss to Munster and Ireland. I know how much he provided throughout the whole pre-season.
"He's a great person to have about, he's definitely a natural leader and lifts the mood of everyone.
"Deceptively fast. He's very very fast. Definitely one you had to keep your eye out for.
"He's really chirpy, a lot of command on the pitch over his players, and was fantastic to train with and lift the general atmosphere."
Henderson added that he's seen first-hand the impact long term injury can have, having lived with Ulster teammate Stuart Olding.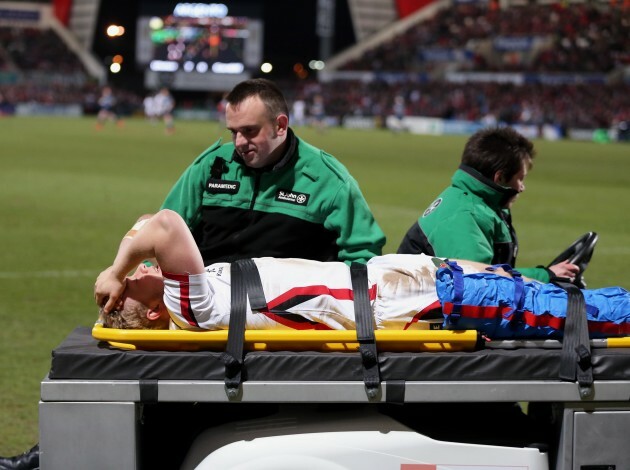 Presseye / Darren Kidd/INPHO Presseye / Darren Kidd/INPHO / Darren Kidd/INPHO
Olding has earned two caps for Ireland, but his progress has been stunted by ACL injuries in both 2014 and 2015.
"For the last couple of years I've lived with Stuart Olding and he's after having two nine or ten month knee injuries which has pretty much delayed his rugby career.
"I've no doubt that Stuart would have progressed an awful lot further and we probably would have seen him at the World Cup."
Ahead of the rugby action this Halloween Kelkin, an official supplier to Irish Rugby, teamed up with Rugby International Iain Henderson following research around Halloween and tasty treats. Almost one in three Irish parents (30%) watch a movie with their kids on Halloween night, three quarters of Irish adults think popcorn is the ideal snack to enjoy with a Halloween movie and 63% of parents think popcorn is a healthier option for trick or treats.