AS CRISTIANO RONALDO walked off the pitch at half-time during Real Madrid's friendly with Shamrock Rovers at Tallaght Stadium, he may have been more than just a little bit annoyed.
The Ballon d'Or winner had recently completed his world-record €94 million transfer to the Spanish capital, with Dublin the venue for his long-awaited and much hyped debut in the famous white strip.
Though the Portuguese has gone on to make his mark as arguably the greatest player in the sport's history — claiming three more Ballon d'Ors as well as three Uefa Champions League medals with the La Liga club — it is that same winners' mentality which may have left him a little frustrated that he could not manage a goal on his first outing with Madrid.
The headlines had been pre-ordained as the world anticipated a masterclass from the 24-year-old in south Dublin.
But a plucky display from Michael O'Neill's side left him shackled and restrained during his 45 minute cameo, with current St Pat's captain Ian Bermingham tasked with the simple matter of keeping him quiet — Ronaldo on the right wing, Bermingham deployed at left back.
Eight years on the Dubliner is happy to laugh off the feat, even if it does have a ring to it when you say it out loud: "the player who stopped Ronaldo scoring on his Real Madrid debut." Bermingham shakes it off, with his abiding memory of the friendly being team-mate Patrick Flynn's infamous crunch tackle on the forward after just 17 seconds.
Ronaldo took possession 25 yards from goal in what was his first touch for his new club. Bearing down on goal he ventured towards the penalty area, shrugging off the initial challenge of Bermingham before Flynn stopped the player dead in his tracks with a precise and unholy intervention.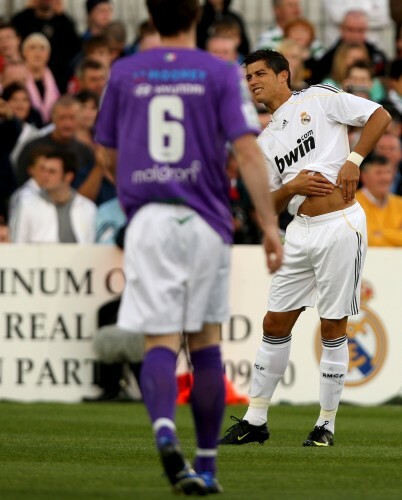 James Crombie / INPHO Ronaldo suffered a crunching tackle from Patrick Flynn 17 seconds into his Madrid debut. James Crombie / INPHO / INPHO
"The one thing I remember most from the game is Ronaldo running across the pitch and Patrick Flynn creaming him out of it," Bermingham laughs. "It's something we'll always look back on when we're finished, but it was just a friendly. I'm sure if he wanted to turn it on he could have.
"But in fairness we did do well. We were beaten 1-0 in the end and it was a good performance from us. It was a great day, I only played the first half and he did as well, so it was great to come up against him.
"It was such a fantastic experience to play against players of Ronaldo's calibre because there wasn't only him, there were other big players like Raul and Benzema. You'll never forget it."
Rovers was a brief stay for the player, as he moved to St Patrick's Athletic at the start of the following season just five months later.
A move which would spark an enduring relationship between player and club which has taken in a Premier Division title, an FAI Cup, two League Cups, over 300 appearances, multiple PFAI Team of the Year inclusions and, at the start of 2017, the captain's armband.
Following the retirement of Ger O'Brien to take on the role of assistant to manager Liam Buckley, Bermingham was handed the captaincy following six seasons as a Pat's mainstay — ironically his first goal for the club famously coming against his former employers Rovers in a Dublin derby.
But he admits that despite leaving Rovers at a time which saw the Hoops embark on back-to-back league titles and a historic Europa League campaign, he has no regrets about departing Tallaght.
"I went to Rovers and played in the first game but then I got injured when I was away with the Ireland U21s. I ruptured ligaments in my ankle and was out for quite a while, which hampered my playing time with them."
Bermingham featured in multiple underage international sides in those years, with a 2008 squad list naming him alongside team-mate Christy Fagan, as well as players like Harry Arter and Cillian Sheridan.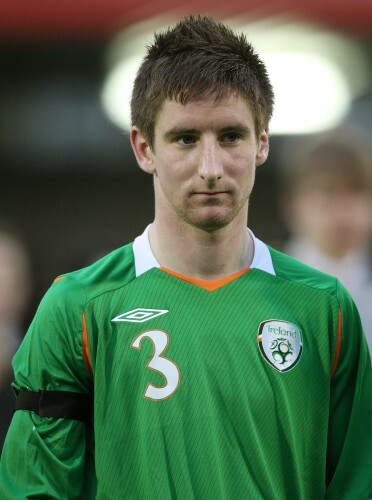 Lorraine O'Sullivan / INPHO Bermingham played three times for Ireland's U21s. Lorraine O'Sullivan / INPHO / INPHO
"It is great to represent your country at any level," he recalls fondly.
"I was delighted because when you're playing in the League of Ireland it is a lot harder to get a call-up because a lot of the other lads are playing in England. But it was great to get that recognition and get a few caps for the U21s."
Trying to pick the player's brains about the highs of his career in Inchicore proves a difficult task in light of recent circumstances. Following a 1-1 draw with Galway United at the end of June St Pat's found themselves bottom of the Premier Division.
It proved a drastic decline for a side which was the last club before Dundalk's three-in-a-row to claim the title. From first in 2013, the club has receded further and further down the table, from top, to third, to fourth, to seventh and then bottom halfway through 2017.
St Patrick's have never been relegated and despite the litany of success and silverware which has overseen the club's most successful trophy spell in its history, Bermingham feels a responsibility to ensure this side is not the first to be relegated in the club's 88 year history.
"It's great looking back on all that we have achieved, but we've been in a serious predicament this season that we need to get out of," he says. "It was amazing after the FAI Cup final in 2014 seeing grown men crying and having fans coming up thanking you — it was surreal.
"But Pat's have never been relegated. We can look back on all of the success over the last few years, winning leagues, winning cups. But if we got relegated this year all of that good work would go out the window."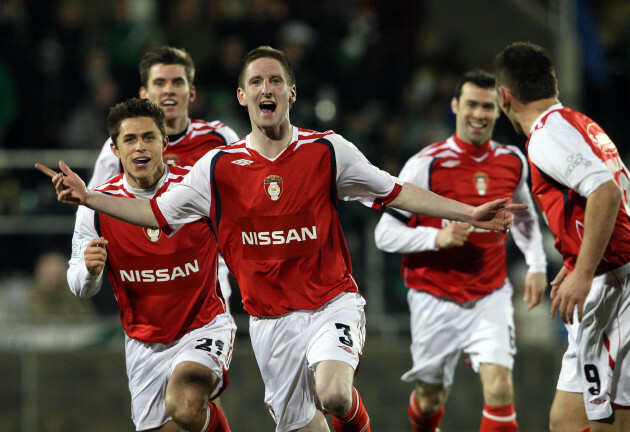 Donall Farmer / INPHO 2010 saw the player score his first goal for St Pat's against former club Shamrock Rovers. Donall Farmer / INPHO / INPHO
"You would be remembered for being the first Pat's team to be relegated. It's not a nice thing to have hanging over us but we're looking up the table a bit more now, even if we are only three points off the drop."
The defender speaks with seriousness and responsibility of the subject and, despite his side winning four of their last five league games since mid-July, acknowledges that they are not out of the woods just yet.
He admits it has been a difficult season, his first as club captain, but Saints supporters have appreciated the grit and consistent commitment levels he has shown during a difficult period which lives in the shadow of recent success.
"This is my first year as captain and we have had a bit of a disappointing season," he says.
"We've got an unbelievable group of lads here and even when we were losing games and things weren't going right for us they were working hard in training every single day. No one was acting the maggot or throwing their toys out of the pram.
"We all grouped together and every training session we were all at it. We were trying in games and probably just weren't good enough. But we were all at it and knew what we had to do."
He admits that a 3-1 defeat by Dublin rivals Bohemians on 16 June was a turning point, with the side losing just one game from nine in all competitions since.
Donall Farmer / INPHO St Pat's found themselves bottom of the Premier Division in May. Donall Farmer / INPHO / INPHO
"It was a low point in the dressing room," he says. "We were 1-0 up at half-time and were comfortable. After the break we capitulated and it was horrible. We just couldn't get ourselves going.
"We had a yap afterwards. As players we knew the situation we were in and we didn't need anyone to tell us.
"Afterwards we got ourselves together and brought in a few players and kicked on. We started putting performances together and started playing better, which meant we started getting more wins on the board," he says.
"If the club did get relegated I think that it would find it hard to come back, so we need to do everything in our power to make sure that doesn't happen. I think we have enough in the tank now to get ourselves out of it."
2017 also marked the first season in seven years that the club had not taken part in European football. Bermingham had been there when Christy Fagan gave them the lead away to Legia Warsaw in the Champions League and when the club made it to the third round of Europa League qualification against Bundesliga club Hannover 96.
"This year is the first year in a long time that I haven't played European football, which is disappointing. I want to be playing in Europe and challenging for trophies every single year. This year and last year it just hasn't happened for us.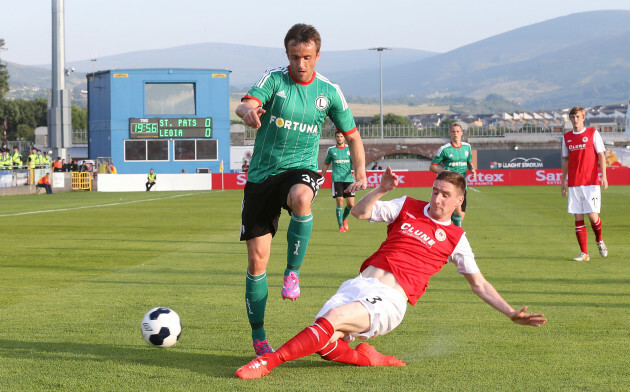 Cathal Noonan / INPHO Bermingham makes a tackle during St Pats' Champions League qualifier with Legia Warsaw. Cathal Noonan / INPHO / INPHO
"We've lost a lot of good players over the years, but I just don't think we've been good enough. That's the real reason why we've dropped down, sometimes our performance levels have dropped for whatever reason.
"It is really disappointing that we weren't in Europe this year and mightn't quality next year — through the league anyway. Every player wants to play in Europe and when you're not challenging for the league it does hurt. Especially at a big club like Pat's."
Bermingham has worn the armband with the same commitment and drive as he had played with on the left side of defence for the previous six seasons.
His goal away to Limerick at the Markets Field on 24 June sparked a dramatic second half revival which climaxed with Conan Byrne's brilliant free-kick to bring the scores level. It was a milestone result.
The video footage shows the St Pat's captain reeling away in intense celebration following the equaliser — the game was a little over a week after the Dublin derby embarrassment at home to Bohemians and ever since the side has went from strength to strength.
Bryan Keane / INPHO "When you're not challenging for the league it does hurt. Especially at a big club like Pat's." Bryan Keane / INPHO / INPHO
The wild and passionate celebration in front of the small contingent of travelling supporters in Limerick was a microcosm of why Bermingham has proven a successful leader to stand up and be counted when the chips were down for Liam Buckley's side.
Looking forward the player is adamant that St Pat's is simply too big a club to go down to the First Division. Staying up is the number one priority, however he maintains that another FAI Cup run similar to 2014 would be a welcome distraction during a season of underperformance.
"We definitely want to have a bash at the cup," he says. "Number one is finishing as high up the table as we can, but we are going all out to win the cup this year.
"I think we've got a strong chance, we've got a lot of quality in the group, are playing well and have a bit of form at the minute. We're a match for any team and have got to fancy our chances."
He didn't get Ronaldo's shirt after their clash in the summer of 2009 but in his house in Ballyfermot his home is filled with medals which hold more substance than a simple friendly playing in the green and white of his city rivals.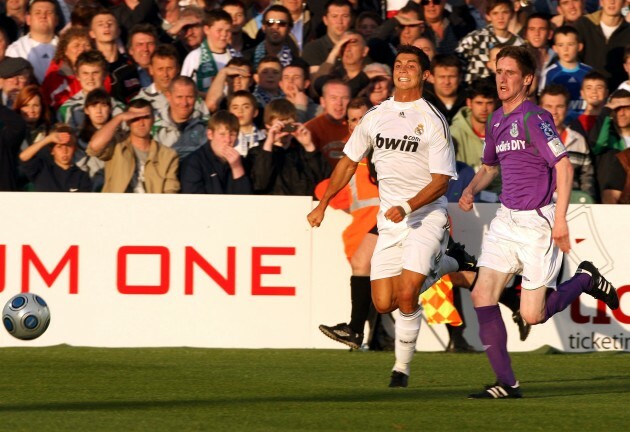 James Crombie / INPHO Ronaldo and Bermingham compete for possession. James Crombie / INPHO / INPHO
Still, Ronaldo has shown himself to be as fickle as he is extraordinary with a ball at his feet. For a moment in time, along with the help of Flynn chopping the player to the ground for good measure, Bermingham stopped the Portuguese scoring on his Real Madrid debut.
When the day comes that Ronaldo retires and is declared one of the greatest athletes in sporting history, as his marker and nemesis on a hot July evening in Tallaght, Ian Bermingham can certainly hold him to that. Not many defenders can.
Subscribe to The42 podcasts here: