IAN HENNESSY DOESN'T think about Cork much anymore.
He's been in the United States since the mid-80s. With a wife and two children, it's very much his home these days. But the lilt becomes more pronounced as our conversation develops. It ends with the customary jokes about where I grew up.
"Blackpool was where all the money was. It was where all the big houses were", he says.
I tell him it was less Bel Air and more Beirut.
Cork wit, you see.
Hennessy is gone a long time now.
Things had been bleak for a while before he made the decision to head for America. There was a brief stint at Arsenal that didn't go well. Hennessy felt out of his depth and under-prepared. He was inevitably back home shortly after and joined Cork City for the team's inaugural League of Ireland campaign.
But already, at just seventeen, Hennessy was self-aware. He knew his limitations. He knew he was stuck in a rut.
"At that stage, I was destined to never be good enough to become a pro", he says.
"I was destined to be the journeyman – League of Ireland, League Two in England, back and forth across the pond. Ireland was not in good shape at the time. I was struggling for work. When I was playing for Cork City, I was working as a base man for Gypsy Cabs. I was the guy who sends out the radio calls to the drivers. That was from midnight to eight in the morning. It was a pound an hour. That was on top of the expenses you got from the League of Ireland. It really wasn't a good existence for me."
But Hennessy was still good enough to be a youth international and was part of Liam Tuohy's under-18 side alongside the likes of his ex-Arsenal team-mate Niall Quinn and Terry Phelan.
And it was through the international scene that Hennessy's career changed forever.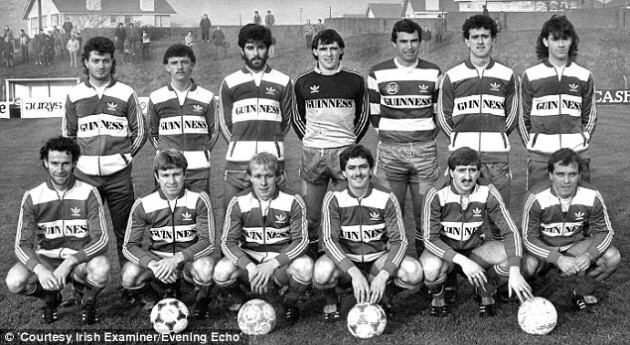 Irish Examiner / Evening Echo' Hennessy was part of the very first Cork City squad in 1984. This picture was taken in late 1985 and features Trevor Brooking in the back row. Irish Examiner / Evening Echo' / Evening Echo'
"A friend of mine, with a similar profile to me, had just come back from Liverpool – Pat O'Kelly. He was a Home Farm lad and had been speaking to an ex-pat, Ed Kelly, who was coaching in the States. He was looking for players. And that's where the journey began with us coming to the US.
We weren't the first and we weren't the last. It was the way to go for a lot of players, really. There was a good portion who had made that journey before us. So we weren't diving into a complete unknown. We knew somebody who knew somebody. Ultimately, it was an easy and wonderful transition.
When I went to Arsenal, the timing was bad. I had applied to go to UCC and got in. I was lucky to be in good standing academically and the idea of going to college –  for Pat O'Kelly and myself –  was already there. We had planned to do that – him in Dublin and me in Cork. Regardless of whether we stayed at home and played League of Ireland or not, we were going to college. To get out of Ireland too because of the climate…this was years and years before the Celtic Tiger hit. I don't regret it a day since, to be honest."
EMPICS Sports Photo Agency When Niall Quinn was winning trophies with Arsenal, his former underage team-mate Ian Hennessy was at Seton Hall University in New Jersey. EMPICS Sports Photo Agency
In 1986, Hennessy and Kelly headed for Seton Hall University in New Jersey and immediately became integral members of the side. During their time there, the team claimed the Big East championship for three successive years. Hennessy was twice named the conference's Player of the Year. In 1987, he was named as an All-American and was inducted into the University's Athletics Hall of Fame in 2006.
"We had a skill-set", Hennessy says, looking back.
"From an emotional and psychological perspective, we felt we were valued and prized and that made it easier.
I remember going across to Arsenal and thinking 'Fuck me. Here's Charlie Nicholas and Paul Mariner and me.' And you begin to doubt yourself because you're thrown in the mix at a young age and I wasn't equipped to deal with it. Firstly, I wasn't good enough to play at that level. Secondly, it's a massive psychological ask for a young man to be put in one of the better clubs in England.
So I went from that extreme to the other where things came easy to me. It was a shock but in a positive way. You felt loved and valued and to any young man, that means a lot, And you were getting an education as well. And it was paid for – imagine that? And there was the opportunity to travel across this massive, wonderful country."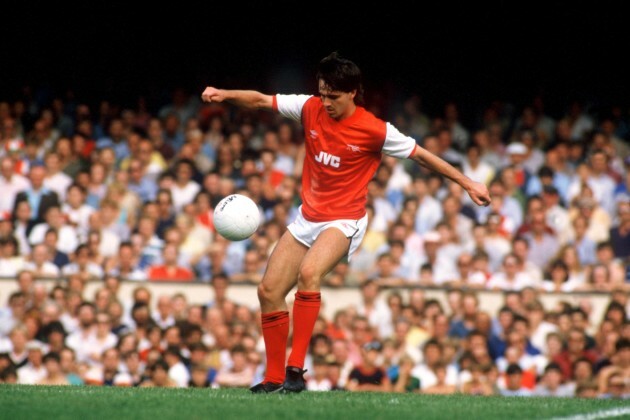 EMPICS Sports Photo Agency Hennessy was revered in the US and it was a far cry from when he questioned his ability alongside the likes of Charlie Nicholas on the Arsenal training ground. EMPICS Sports Photo Agency
Hennessy was also an immigrant, following the same path as so many others. Inevitably, he didn't lack a support network and he wasn't pining for what he'd left behind.
"There was this close Irish culture. We look after ourselves. We had people coming out of the woodwork giving us food and other little things just to make sure we were sorted. In many ways, we were their connection back home. I was getting out of a country that was struggling, there was the opportunity to get a free college education, there was the opportunity to play – it was all good."
Hennessy graduated with a bachelors degree in 1990. At the time, the soccer landscape in America was patchy but he continued to eke out a living for a litany of short-lived teams. And then, there was some chatter about a new league starting. Major League Soccer was tipped to kick-off in 1996 but Hennessy was skeptical.
"I was still knocking the ball around but there was the realisation that if a league did come around you weren't going to make money and I needed to think about education. So in 1995, I enrolled as a doctorate student at Columbia University. Science was always my gig so I started studying molecular biology for my PhD in New York. Then, along came MLS the following year. They were looking to populate it with star players and people who were really, really cheap. And guess which one I was?"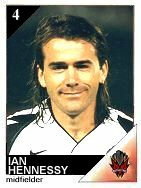 Hennessy was signed by the New York/New Jersey MetroStars and soon began a bizarre double-life. Studying at one of the most prestigious Ivy League universities, he was also a member of a Major League Soccer franchise as it desperately tried to get off the ground.
"Colombia University has one of the largest medical centres in the world", he says.
"There were Nobel Laureates teaching our classes. I'd set up my experiments and then drive across to Giant's Stadium. I wasn't deep into my grad studies at the time so as a first and second year you're still bouncing from lab to lab on rotations to see where you wanted to land yourself for the final three years. So from that perspective, it was perfect timing.
I knew it would be short-lived. I knew it would be a year, maybe two before I'd have to dive into my studies. But it was a little surreal. I think every fledgling league has that – being held together by pins and by glue. You could buy a franchise back then for $5m. I think New York City sold their franchise a few years ago for 100m and maybe somewhere like Seattle would be valued close to 200m. It was a different time.We were playing at Giant's Stadium but we were probably losing money hand over fist. There were guys in the front office doing ten jobs. It was like a start-up company. But it was America. Anything was possible. Any scale.
During the club's debut campaign, a Portuguese coach called Carlos Queiroz was appointed boss.
Hennessy liked him and enjoyed playing for him but MLS wasn't a good fit for the ambitious and experienced manager who subsequently left at the end of the season.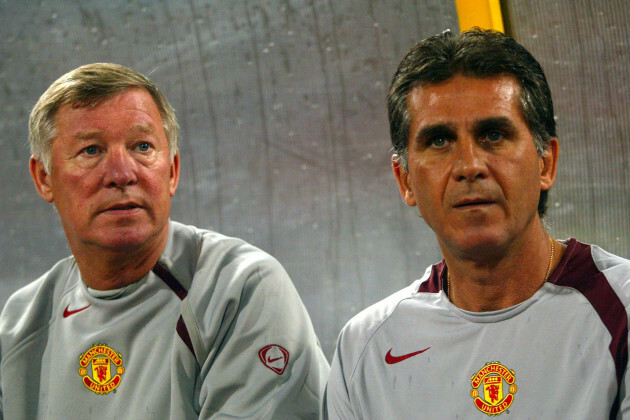 Carlos Queiroz is best-known for his two spells as Manchester United assistant coach but he was in charge of the MetroStars in 1996. Carlos Queiroz is best-known for his two spells as Manchester United assistant coach but he was in charge of the MetroStars in 1996.
"He was in the dressing room one time and we were losing", Hennessy remembers.
We weren't doing well and he just loses the rag. And he says to us, 'You know your problem? All the guys who don't make the grade in my country are digging ditches. And all you fuckers have college degrees. It doesn't mean that much to you.' And the more I think about it, I think he was partly right. You had me doing a PhD, we had another guy studying law, we had lots of guys with college education behind them and it's not the same as that hungry, young guy who would do anything for a chance at the title."
The marquee player at the Metrostars was Italian midfielder Roberto Donadoni, who had been a key member of the great, immensely successful Milan sides under Arrigo Sacchi and Fabio Capello. Donadoni had also been part of the Italy side that were memorably beaten by Ireland at Giant's Stadium during the 1994 World Cup.
"He was a terrific pro. His English wasn't great but we'd wave the Irish flag or put a leprechaun or something in his locker – there was little things like that. Sometimes you have the guys who you really want to stick it to but he was such a sweetheart. When you went to Giant's Stadium, you'd see Irish flags all over the place anyway."
Exclusive Six
Nations Analysis
Get Murray Kinsella's exclusive analysis of Ireland's Six Nations campaign this spring
Become a Member
metrofanatic / YouTube
Despite the glitz and glamour of Donadoni and some other high-profile names, Hennessy remembers the league's first season as being largely chaotic. For a long time, he feared MLS would follow the well-worn path of organised soccer in the US and sink.
"Maybe because I was older, I marvelled at the comedy of it all and how patch-work it was. On the outside, people thought it was top-flight and professional but it really wasn't. I felt it was always a week away from collapsing on itself. If you had put me on the spot back then and asked if it was going to take off or collapse, I'd say collapse. Maybe because of my experiences with Arsenal I had seen the other side. The big crowds, the top pros so it was a wonder to me how it ever got off the ground at all."
As predicted, Hennessy's dalliance with MLS was brief. He turned out for a couple of other lower-level teams and dedicated himself to his studies for the next few years. He earned his doctorate in 2001 but was reluctant to continue in what he calls the 'hit and miss lifestyle' of science research. And then he got a call to start coaching.
Initially he was an assistant at Rutgers University before the wheel came full circle and he was hired by the man who brought him to America all those years before. He stayed with Ed Kelly for four years at Boston College until the University of Delaware came calling in 2006 and appointed him as Head Coach.
Recently, he's overseen a purple-patch for the side as they qualified for two NCAA tournaments in three years. As a result, Hennessy landed a five-year contract extension in 2014.
He's also a scout for US Soccer, looking for the next underage star and he's happy with his lot. A coaching position with an MLS side doesn't interest him. For him, the instability is just not worth it.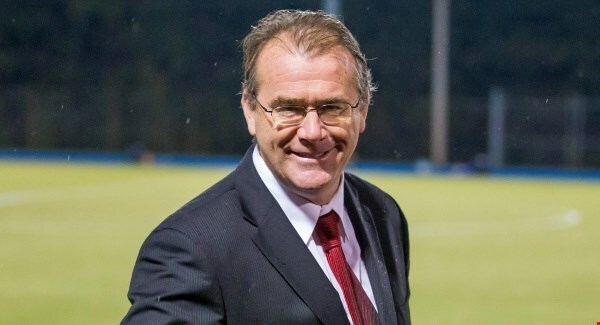 "I love going out and identifying the better players and getting involved with local clubs as well. We have a lot of programmes over here now that are starting to take hold and it's emotionally satisfying to be a part of the process. To bring the game forward, to make the youth national team stronger and with an eye on being a top-8 team in future years.
I couldn't make a living in MLS. It's the same as anywhere – you're six games away from getting fired. The idea of that for me, with two young girls, is insane. I would never do that. The college level is a nice, stable environment where you can wear multiple hats. I've found my place, I think."
Spending so much time around youngsters, Hennessy is better qualified than most to opine on the current perils facing raw underage talent. The relentless push for Irish teens to try their luck in Britain is especially something that needs to change, he feels.
For me, the idea of a 14-year-old or a 15-year-old going to England on a full-time basis is ludicrous. Maybe it's different for those who have a very strong mentality but I wouldn't do it with my own daughters. I was 17 going over and I didn't have the skill-set to understand or deal with what I was getting myself into. The old adage was 'If you're not gone by 16, you're not going to make it' and that's nonsense. You look at the likes of Jamie Vardy. There are ways and different pathways forward – not only into the English game but into the States and Australia. Physical and emotional maturity differs so much from person to person.
The journey is the great thing about any story. I've seen different cultures, met different people and it's something I'd push on any young person's agenda. For the right person with the right mindset, moving away and exposing themselves to a new country – there's great human value in that.
And what kind of relationship does he have with his hometown these days, three decades since leaving it behind?
"I don't dwell upon it too much but there are times when you think about it", he admits.
It's not like the visceral, emotional thing of 'I miss Cork, I miss the family'. As you get older, there needs to be reasons beyond that if ever I wanted to go back. It's great we can get back on a plane and Skype and Facebook and that we have that connection. Emotionally, a lot now is given over to my own kids and trying to get them back there. It's more through their eyes that I look at Ireland now and less my own."
The42 is on Snapchat! Tap the button below on your phone to add!