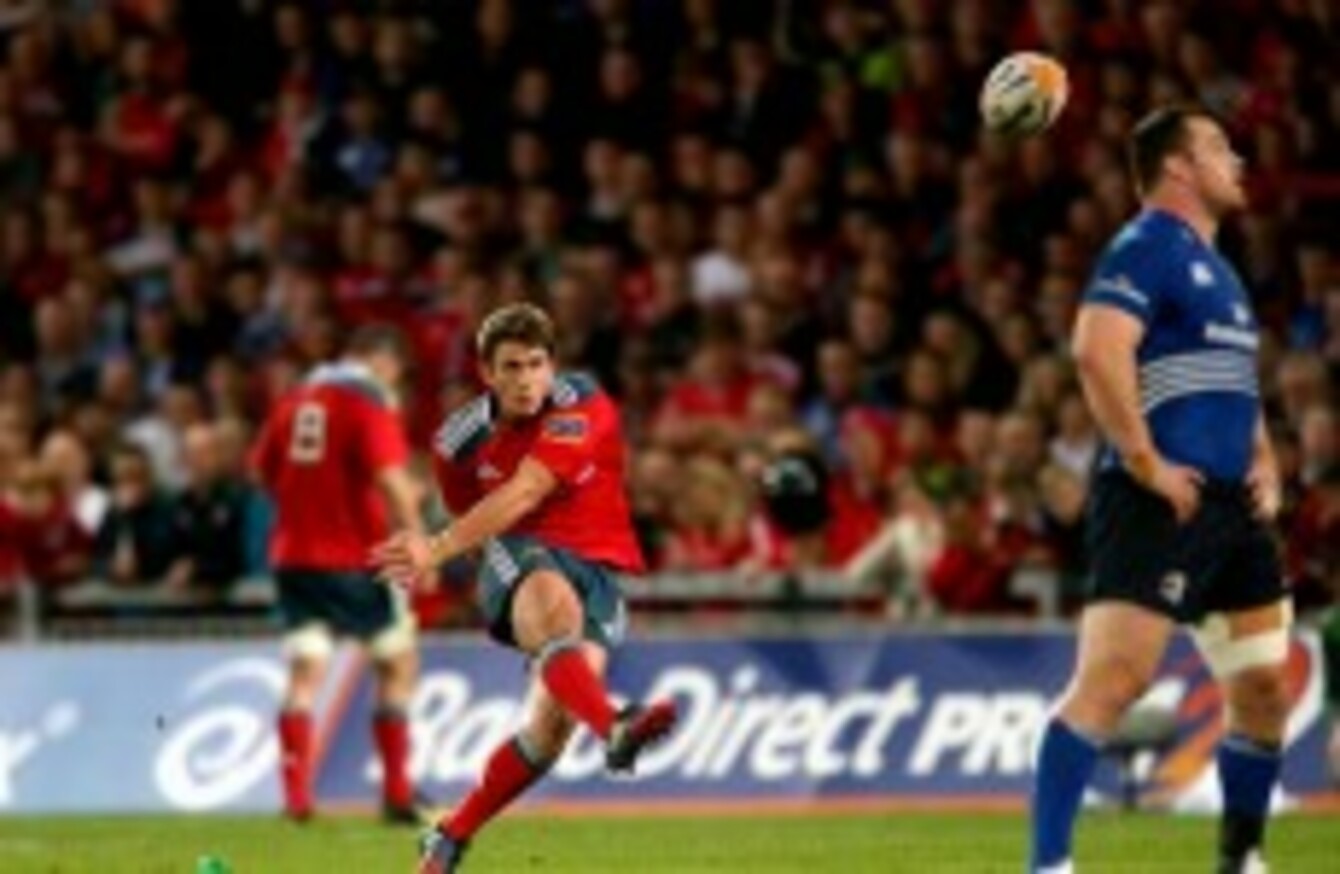 Image: ©INPHO/Ryan Byrne
Image: ©INPHO/Ryan Byrne
THE SUGGESTION WAS floated, but even low on blood sugar and high on a win, Ian Keatley was able to stop himself just short of agreeing that he personally 'got one over' Ian Madigan in Munster's 19 – 15 win over Leinster.
Munster's out-half was one of an unfortunate few to be left out of Joe Schmidt's extensive first training squad as Ireland coach.
Keatley may tell you that he must cement his place with Munster before worrying about displacing any rivals on the international scene.
Still, after being named as Rob Penney's number one stand-off, the omission must have been irritating news.
His initial reaction after his man-of-the-match display against Leinster was simply, "very satisfying." Yet until the radio microphones that TheScore.ie is privy to were switched off, he would expand little from there. He directed a nod to Ulster and Connacht, but for an ex-Leinster man in Munster this result is surely more than just another inter-pro.
"Leinster are probably the number one province at the moment," the Dubliner adds, "but I think we showed that; we might have struggled against them over the last couple of years, but tonight we did get one over them and the lads are very proud of their performance."
Polite, calm, understated – that's what you get from Keatley. And on nights like Saturday, that cool head and quiet confidence to stick with the gameplan rather then be tempted into the flash, is absolutely invaluable.
Not that there was anything less than glittering about his assist for Keith Earls' try. However the number 10 is too modest to do anything but deflect the praise to the coaching team – the Kiwi influence which makes it compulsory to enact a try-scoring play when a penalty advantage is in the offing.
"For Earlsy's try we had a penalty advantage and we always talk about having a go when you have a penalty advantage – you might as well try to kick a 50-50 chance. Thankfully tonight, Earlsy took it very well and we got the five points from it, so I'm happy enough."
With the game in the balance, the 26-year-old's biggest vote of confidence yet was given when the coach opted to leave JJ Hanrahan alone on the bench. Both playmakers have had to share the duty so far this season, but when the chips were down Penney knew the man who could close the deal.
"Everyone's talking about the competition between myself and JJ," Keatley contests, "but there is competition throughout the squad which is pushing all the players around us. Competition is only ever going to be a good thing. You don't want just one person – if that person gets injured then who else are you relying on?
"It's great to have JJ there, he's pushing me, I'm pushing him and we've got a good relationship off the field as well."
Having come through the Leinster academy until Isa Nacewa's arrival made him consider a move, he undoubtedly has a good relationship with Madigan too. Though his allegiance these days is most certainly red, Keatley is always careful to check his stride to ensure his talking is done on the pitch.
"Ian's a very good player –  it was good to… well, I don't know if I got one over on him, but I'm just delighted Munster got the victory.
"That's all I really care about to be honest with you."