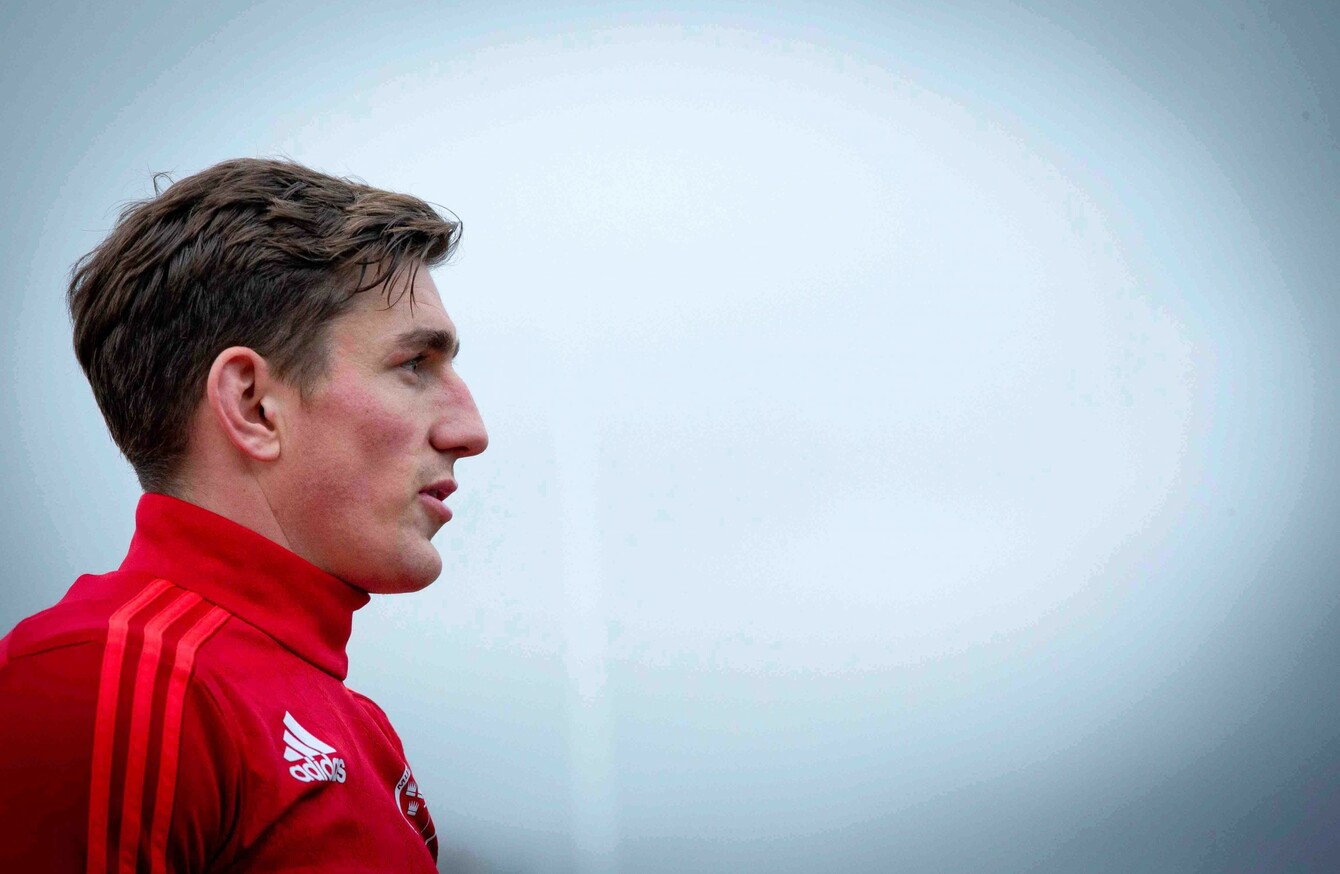 Keatley believes supporters will come out in force on Saturday.
Image: Morgan Treacy/INPHO
Keatley believes supporters will come out in force on Saturday.
Image: Morgan Treacy/INPHO
THOMOND PARK'S DWINDLING attendances is not a cause for concern according to Ian Keatley and the out-half believes fans will come out in force now that attention has reverted to domestic rugby after the World Cup.
Just 7,500 fans were in attendance for Munster's thrilling 32-28 win over Ulster during the Halloween break while other fixtures at the Limerick venue have failed to attract anything near a capacity crowd.
In June, Munster officials hit back at criticism over the figures, claiming that selling 26,000 tickets for every game is unrealistic.
With a top-of-the-table clash down for decision on Saturday, interest levels in Connacht's visit to Thomond Park is high – and a teatime kick-off will suit fans making the journey.
"I'm sure they will," Keatley said when asked about the supporters coming out on Saturday. "The World Cup was on so that was a hindrance and then the first inter-pro was on a Friday night at 6 o'clock so you can't really expect fans, especially coming from Cork, to make those games.
"I think as the league goes on, fans will begin to come out and I think if the weather stays dry, I think that has a huge impact, so do the times.
"We know the fans are there and want to get to our games and I'm sure they will come out in force this weekend."
Just one point separates Connacht and Munster at the top of the Pro12 table with both sides winning six of their opening seven outings.
Pat Lam's side have enjoyed a brilliant start to the campaign and are coming off the back of two wins in the Challenge Cup. Keatley spent three seasons in Galway and is full of praise for the Westerners.
"I'm looking forward to playing them again," he says. "We played them pre-season and in fairness to them they did their job on us at Thomond Park in the pre-season friendly but the league is completely different.
"They're first, we're second and we want to be top of the league.
"I had three seasons there, three great seasons there, achieved a lot while I was there, got a lot of experience, game time and thoroughly enjoyed it.
"When I was there, we always had a plan to build a legacy and become a squad that had great strength in depth and competed at the top level and it's taken them a few years to get there, I think it's nearly five years since I've been there, so it's great to see them building that strength in depth and they've become incredibly competitive."
Although they've made great strides in recent seasons, Connacht have yet to win at Thomond Park in the professional era but Keatley isn't underestimating the challenge they'll pose this weekend.
"They changed their team around in the Challenge Cup and they won both games so that shows their strength in depth, they're flying high in the Pro12 and our focus is to go top of the league and they're top so we need to beat them.
"I think days like that are gone and Connacht as a province are going from strength to strength and I think they're doing well and I don't think anyone is talking about them as a feeder club any more because they're beating teams week in, week out."
Although Munster have had a week off, Anthony Foley's injury headache is getting worse with Conor Murray missing training on Tuesday with a bruised foot.
Foley's squad is stretched and Keatley admits the weekend off allowed the players to put their feet up.
"In a way, it's given us a little break," the Irish international added. "We had 16 weeks in a row, games after games so it's given us a little break and obviously we'll have to make up for that later in the season but for the moment we got the chance to recoup and refocus.
"Our focus this weekend is to win, we can't think about what Connacht are doing or how well they're playing at the moment, we need to nulligy that, bring our own gameplan and impose that at Thomond Park."
- Audio courtesy of Limerick's Live95FM