IN A PARALLEL universe, Ian Madigan might be preparing himself for an All-Ireland football semi-final against Mayo later this month.
Or perhaps competing with the likes of James McGee, Sam Barry and Louk Sorenson for the title of Ireland's leading tennis player.
Madigan was even a handy golfer out in Milltown in his younger years.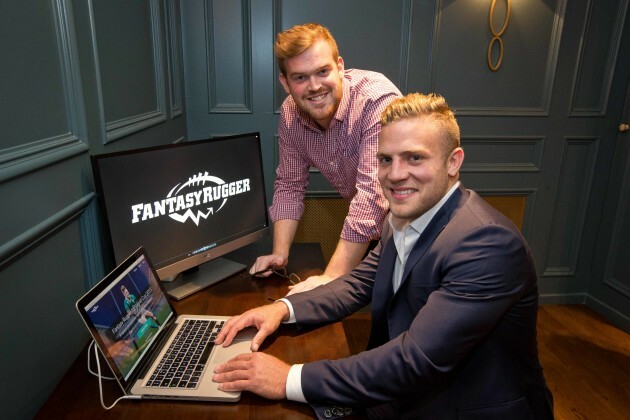 Morgan Treacy / INPHO Madigan and Michael Storan are part of the team behind Fantasy Rugger, the world's most sophisticated fantasy rugby game. Morgan Treacy / INPHO / INPHO
When assessing what has produced the creative, instinctive 20-times capped Ireland international out-half, a rich and varied sporting background is among the primary evidence.
For those who believe that multi-sport development produces more rounded athletes, Madigan is a perfect case study. The Leinster man only began to specialize in rugby when selected for Blackrock's senior cup team in his fourth year of secondary school.
Speaking as he launched the new and improved version of Fantasy Rugger – in which he has a stake – in Ballsbridge yesterday evening, the out-half underlined his belief that his sporting background has helped him hugely in rugby.
"My camp would be, without a doubt, play as many sports as you can when you're growing up," says Madigan.
I was with (Dublin footballer) Paul Flynn earlier today and he said it was the best piece of advice he could give anyone, to play as many sports as you can. I think you pick up different things, from hand-eye coordination to being involved in different team set-ups."
Madigan played tennis every day of his summers from the time he could hold a racket, gradually proving good enough to be invited to join Leinster's U12 squad. With two or three hours sessions of training each required evening, that was the first sport to be stripped away.
Rugby at first came in the form of the minis at Old Belvedere RFC, as Madigan's primary school education at Saint Brigid's meant Gaelic football was his main sporting pursuit in younger years.
Involvement on a South Dublin selection led to the full county team at U14 level, with Madigan helping the Dubs to an All-Ireland Féile title.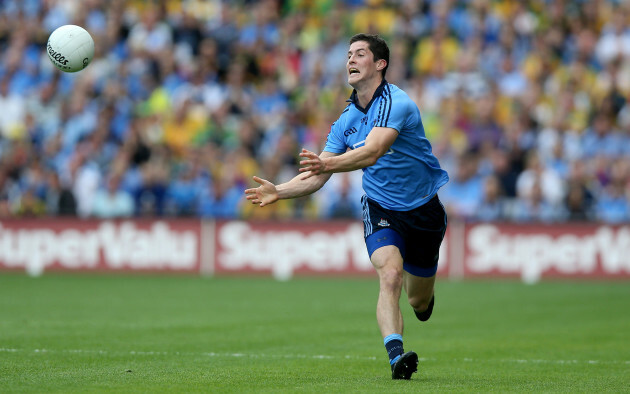 Donall Farmer / INPHO Madigan played alongside Dublin's Rory O'Carroll in younger years. Donall Farmer / INPHO / INPHO
"I was on a very good side, I was on a team with Rory O'Carroll, Cian O'Sullivan was the year ahead of me, Barry O'Rorke was really good, Mark Coughlan was really good. We had a lot of success, we won everything going through."
The intensity of rugby demands in Blackrock College soon took over for Madigan, however, and he thinks he played his last game of football soon after his junior cup campaign with the school.
Madigan still holds a huge fondness for his old Kilmacud Crokes club and mentioned them after his wonderful cross-field kick for Luke Fitzgerald last weekend against Scotland, the left wing a former Naomh Ólaf man.
Kicking and catching is a huge thing in rugby," says Madigan of how valuable their Gaelic football background has been.
"Can you kick the ball on the run? Can you catch the ball under pressure? The way rugby has gone, catching the ball in the air is just such a huge part of it. It's how teams exit and how teams build momentum. To be able to do it well, you'd find yourself getting picked."
The golf and tennis and GAA may have provided Madigan with ready-made coordination skills and an appreciation for space that helped him to excel in rugby, but it's the 26-year-old's diligence that has ensured he continues to be a trusted player in Joe Schmidt's Ireland squad.
Aptly sitting in Madigan's pub near the RDS, the out-half smiles and shakes his head when asked if he had reviewed Ireland's win over Scotland once or twice by yesterday evening.
"Five or six times, I've watched it a few times… I'd watch it a fair bit, yeah."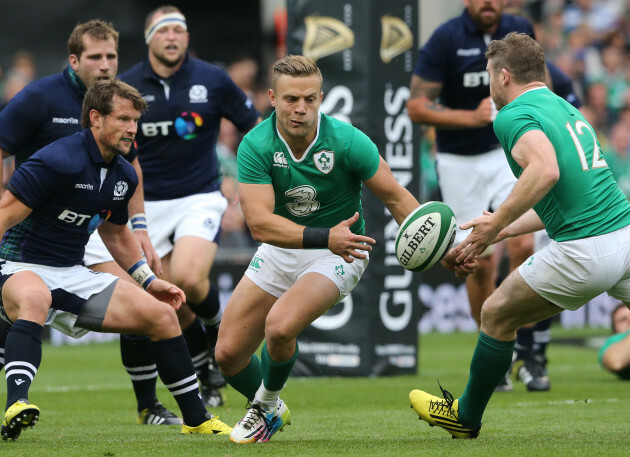 Madigan drops a pass off in the win over Scotland last weekend.
With Ireland out of camp this week to train at their provincial bases and enjoy a bit of mental space, they will reconvene at Carton House on Sunday night and Madigan is as keen as ever to be ready for Schmidt's demands.
"If he wants to talk about something, he'll expect that we're ready to talk about it," says Madigan. "If he goes 'in the 56th minute what were you thinking there?' or 'you should have done this here,' he'll want you to know what he's talking about.
"Sometimes I like just watching it clean through and getting a feel for the game, and then I like going back and looking at different options with different camera angles.
"I might not watch it from start to finish five or six times through, but by the time you've rewound and played it again, rewound and played it again, looked at different angles you could have gone in on a tackle or how their back three were manning the backfield and what kicks you could have gone for, all that kind of thing.
Even overall, looking at how the team was and how our shape looked, there would be a lot of stuff to keep an eye on."
Immediately after the Scotland game, Schmidt commented positively on the amount of self-analysis Madigan carries out as a habit. So what is the out-half analysing? How does he watch these games as he looks to learn?
Does he remember the decision-making process he went through during the heat of the battle as he sits in front of his Macbook in the days following the game?
"I would know when I make a decision why I'm doing it," says Madigan. "So if I look for a pass and don't throw it in the end, say I dummy and carry it myself, I've gone to throw the pass and realised it's not on and I've held it.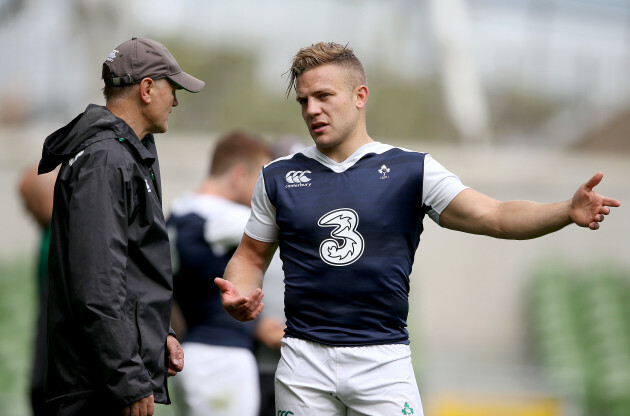 Dan Sheridan / INPHO Schmidt has always backed Madigan. Dan Sheridan / INPHO / INPHO
"When I'm looking at it on the video, I'm thinking 'was it actually on?' I'm looking at the video to check if it was on. I trusted my instincts, were my instincts right? I'm looking to grow that the whole time.
"I'm going into games and a massive part of what I focus on is doing the basics well and trusting my instincts. I'm not just doing things for the sake of it. I'm selected to play out-half because the coach believes my instincts are good, so I'm going into games looking to do that."
The perception of Joe Schmidt's Ireland is that they are heavily programmed in how they attack teams, with each player asked to stick slavishly to the plan.
That might not leave room for Madigan's instincts, but he explains that any perceptions of that nature aren't totally true.
"There's definitely non-negotiables as in what you have to be able to do," says Madigan, "but there's license from Joe that you can feel your way through a game and if you feel there's something on that wasn't necessarily on the game sheet or part of the game plan, you have full license to go and do that.
We're told that umpteen times in the lead-up to a game. If I feel there's a certain play on, I can call it even if it's not on the game plan. Joe is a big believer in guys feeling their way through games and thinking 'what should we do here and why should we do it?'"
To go along with those more intuitive moments, any man wearing Ireland's number 10 shirt must be prepared to kick with accuracy, no different to any other out-half in any other team.
Madigan's place-kicking is at an extremely high level, while his kicking from hand against the Scots last weekend was excellent too, drawing praise from Schmidt post-game.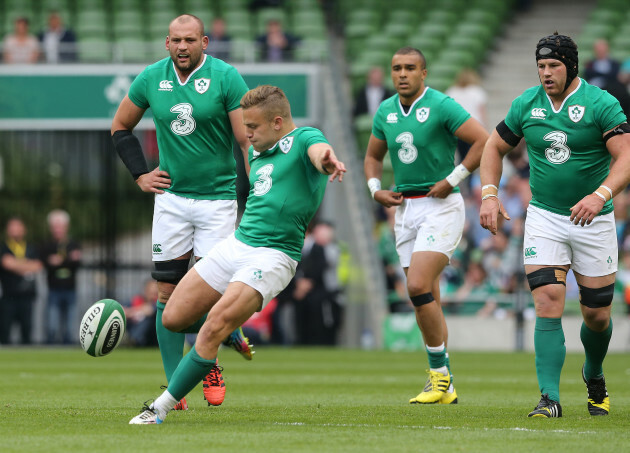 Madigan's line kicking against the Scots was strong.
Kilmacud Crokes were thanked by Madigan himself after that classy assist for Fitzgerald, but Madigan has been busy at training in this department for some time now, recognising it as a growth area in his game.
"I've been working hard on it out of hand," says Madigan. "Previously as a younger player, you might have one boomer down the touchline and then you might miss touch, but that's unacceptable.
"For me it's been about working on consistency and that's something I've looked to do. I know I can do the restarts well, I know I can kick down the line well, I know I can put up accurate high balls, but what I've been working on really hard in this pre-season is being able to do them under pressure and feeling comfortable doing them in a match.
For example, I went for a short restart to Luke last weekend and got it wrong. It was incredibly frustrating for me because it was something I'd worked on so hard, you could see my frustration on the pitch.
"What was good for me was that I kicked two good restarts after that that put Jared (Payne) in the mix to catch them. A massive focus has been, not can you do the kicks, but can you do them under pressure."
How has Madigan worked on that? Can the pressure of a Test match be artificially replicated?
"You've got to put yourself under pressure in training. There has to be something on the line," says Madigan.
"Not to be having a kicking competition with the other guys all the time, but it could be something as minimal as the loser making the other guys coffee the following morning or the loser has to buy the other guys dinner.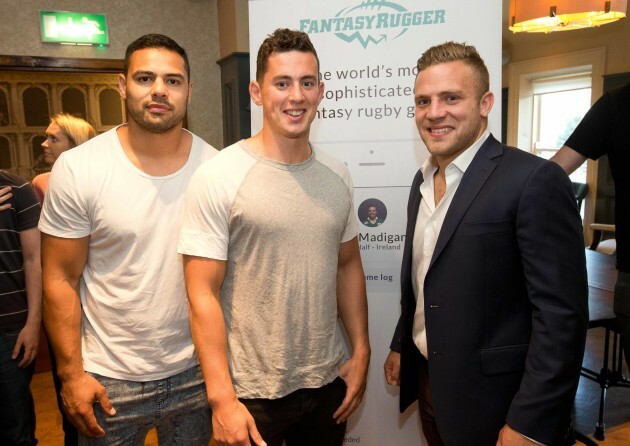 Morgan Treacy / INPHO Madigan with Leinster teammates Ben Te'o and Noel Reid in Ballsbridge yesterday evening. Morgan Treacy / INPHO / INPHO
"It could be a funny thing; Richie Murphy has actually brought in a yellow jersey. So if you win the kicking competition, you get the wear the yellow jersey in the following competition.
It's a gammy yellow t-shirt but you want to have it on and that creates a pressure in training. Because when we do our competitions, the other guys watch you kick, then they kick and you watch.
"That creates an atmosphere and it's very similar to a match, because the people you really care about in a match are your teammates. That's how you replicate the pressure and you do the same thing with restarts. The competition is between three or four of us and you want it badly.
"Technically, I still have work ons but what I've been focusing on is doing the kicks under pressure and that's across the board."
Ian Madigan is part of the team behind Fantasy Rugger, the world's most sophisticated fantasy rugby game. Fantasy Rugger has been relaunched ahead of the Rugby World Cup and you can sign up and create your own leagues at fantasyrugger.co.