Updated at 09.40
IAN MADIGAN SAYS he is open to joining any of the four Irish provinces, after meeting with Bordeaux president Laurent Marti to discuss his future at the Top 14 club.
The Ireland international has one year left on his contract with Bordeaux, but could be released after expressing his concerns at how the club is operating under head coach Raphaël Ibañez.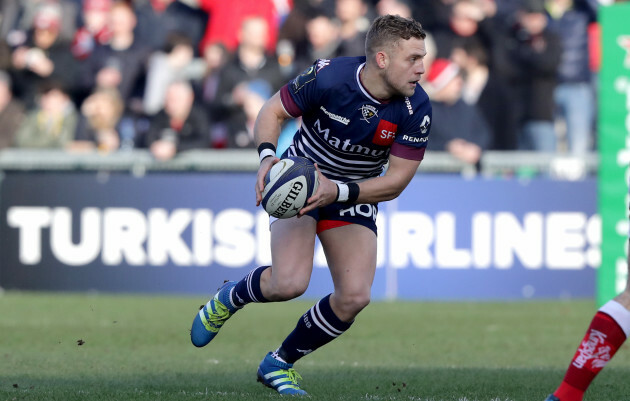 Morgan Treacy / INPHO Madigan moved to Bordeaux last summer. Morgan Treacy / INPHO / INPHO
Madigan has stated that his future is not yet decided, but says a move back to Ireland would 'excite' him as he hopes to make a return to Joe Schmidt's national squad – having last played for Ireland in June 2016.
"Two weeks ago, I had a meeting with the president," said Madigan yesterday. "I made clear at the start of the meeting that I want to make things work, that I want to stay in Bordeaux, but there were certain things I wasn't happy with in the club.
"And off the back of that, he was clear with me that he knew there were issues I was dealing with. He'd obviously seen I wasn't being selected for the Top 14 games, and he decided he'd take some time to think about the second year of my contract.
"It was very much a private conversation and I do believe that things will still work out for me in Bordeaux. It wasn't a case of me going in there and saying I was going to leave or handing in my resignation. It certainly wasn't that."
Bordeaux are now considering the best course of action for Madigan, with club president Marti understood to be looking at other out-half options on the market before he opts to let the 27-year-old go.
Should the Top 14 club decide to release Madigan, the 31-times capped Irishman would like to return home.
"A move back to Ireland would certainly excite me," said Madigan, "there's no doubt in my mind about that. Playing for Ireland is still the ultimate for me.
"The reason I made the move was to improve as a rugby player, the reason why I had that conversation with our president is because I didn't feel that I had the confidence of the coaches or felt valued as a player.
"I was in there to get to the bottom of it and try improve that situation. If I felt that that was going to be a long-term thing, then, you know, did he really want to keep me at the club or will he give me another opportunity to join another club and play rugby, because
ultimately that's what I want to be doing.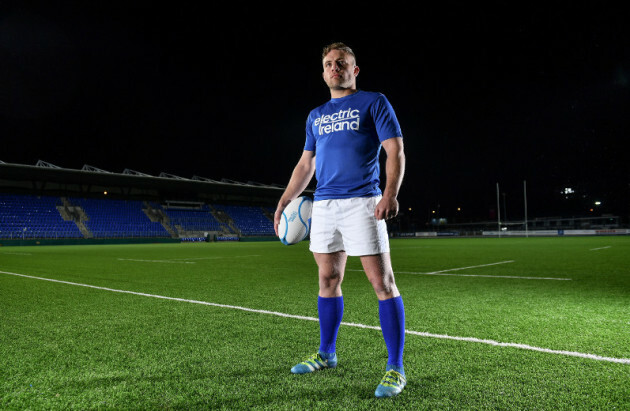 Ramsey Cardy / SPORTSFILE Madigan is an Electric Ireland ambassador. Ramsey Cardy / SPORTSFILE / SPORTSFILE
"If it did happen that they decided to release me and an opportunity to come back to Ireland came up, it definitely would be something that would excite me.
"But these conversations haven't been had because I am under contract at the moment, so nothing has been done on that front. It has just been strictly speculation over the last few days."
Having come through the ranks at his native province, Leinster will always hold a special place in Madigan's feelings, but there might be greater playing opportunities out west with Connacht. The 27-year-old says he is open to joining any of the four provinces.
"A return to Leinster would no doubt be top of my list," said Madigan. "Having lived here, all my friends are here, and having played for Leinster, it is a pretty special place but I would certainly be open to playing for any of the provinces.
"One thing about moving away this year it definitely has opened up my horizons for who I can [play for], without doubt."
Madigan's unhappiness at Bordeaux has grown in recent months, after he had made a positive start to life with the Top 14 club.
Having worked hard on the language before his move to France, the out-half was able to acclimatise quickly off the pitch and made six starts in the club's first seven games, with five wins meaning a "dream start."
However, Madigan soon picked up a groin issue, which was related to the changes in training methodology at Bordeaux.
"I picked up a bit of a groin injury, which was partly down to the change in environment. I went from knowing how Leinster operates, their strength and conditioning coaches, to moving to a different environment in Bordeaux and having a different set-up with both their strength and their conditioning; the length of time on the pitch and I also had the added stress of being a regular starter.
James Crombie / INPHO Madigan came through the ranks at home province Leinster. James Crombie / INPHO / INPHO
"In France, a lot of the games come down to goal-kicking, so I was practicing my goal kicking more and more. Between doing the extra time with pitch sessions with the team – it is more regulated in Ireland, so it might be only on the field for an hour, an hour and 10 minutes, whereas in France you can be closer to an hour and a half, two hours.
"With that added in and the extra kicking I was doing, and also trying to maintain the strength work I was doing previously in Leinster and Ireland on top of that, I picked up a bit of a groin problem."
Madigan says he attempted to manage the injury at first, but the intermittent pain began to affect his confidence and his performances levels waned. After his high-profile transfer from Ireland, he felt he wasn't in a position to take time out to let his groin heal.
"I was probably feeling a bit of pressure, as I had just come into the club for seven or eight games – I'd had a good injury profile previously – so I was keeping it to myself."
It culminated in "a poor personal performance" away to Castres in October, whereafter Madigan finally told Bordeaux's medical team about the issue. After undergoing a scan, he was diagnosed with "a split in my tendon" and advised to take a month out of the game.
The problem for Madigan was that as he rested, New Zealander Simon Hickey re-joined the club on a three-year contract and showed excellent form at out-half.
Since his return from injury, Madigan has been in and out of the team, but mainly on the bench when Bordeaux have selected their first-choice XV.
Madigan was also deeply disappointed by Bordeaux seemingly giving up on their Champions Cup campaign midway through the pool stages, and subsequently missing out on the quarter-finals by only two match points.
"We were in a great position in the Champions Cup to qualify, we had beaten Ulster in Chaban-Delmas [Bordeaux's home stadium], we got a bonus point in Clermont and we'd beaten Exeter in Exeter," said Madigan.
Ryan Byrne / INPHO Madigan has 31 caps for Ireland. Ryan Byrne / INPHO / INPHO
"So, we're sitting on nine points after three games and we'd Exeter at home in the following game. We decided to rotate our team and ultimately didn't get a point in that game. We ended up on 13 points and Toulon qualified on 15 points.
"On a personal note, that was very disappointing for me."
Furthermore, Madigan was confused by Bordeaux's decision not to extend the contract of 116-times capped Wallaby Adam Ashley-Cooper, who has scored six tries in 12 starts for the club this season.
Ashley-Cooper will depart at the end of current campaign.
"One of the big reasons that I joined the club was that Adam Ashley-Cooper was there," said Madigan. "I talked to him at length before I joined and he ended up advising me, improving my game while I've been there.
"It's very disappointing to hear that he hasn't been extended by the club and it makes me question where their ambition is on that front."
While Madigan hopes that he can go back to Bordeaux after his holiday week in Ireland and return to the starting team for the Top 14 clash with Stade Français on 5 March, it doesn't sound too positive for a continuation of his time there.
Hickey has been the in-form player at 10 and with Madigan's openness about a potential move back to Ireland, Marti may well grant the Irishman an early release this summer.
Madigan still has high hopes of featuring on Ireland's tour of the US and Japan in June, when other players may be on Lions duty, and says Joe Schmidt has maintained contact with him since the move to Bordeaux.
"First and foremost, he's a coach but he's also been a great mentor to me," said Madigan.
"He's given me great advice and as much as he would've rathered I stayed in Ireland, he still wanted things to go well for me on a personal level and he's given me some good advice along the way.
"He's kept in contact with me and he's still giving me advice on my game and what he thinks I can improve on, keeping me in the loop on what they're looking for with the national out-halves."
Ian Madigan was on hand to launch Electric Ireland's continued sponsorship of the Under 20's Rugby Six Nations Championship home games.
Ireland will host both France and England in Donnybrook on the Friday nights preceding the Ireland Men's RBS 6 Nations fixtures against the same opposition.