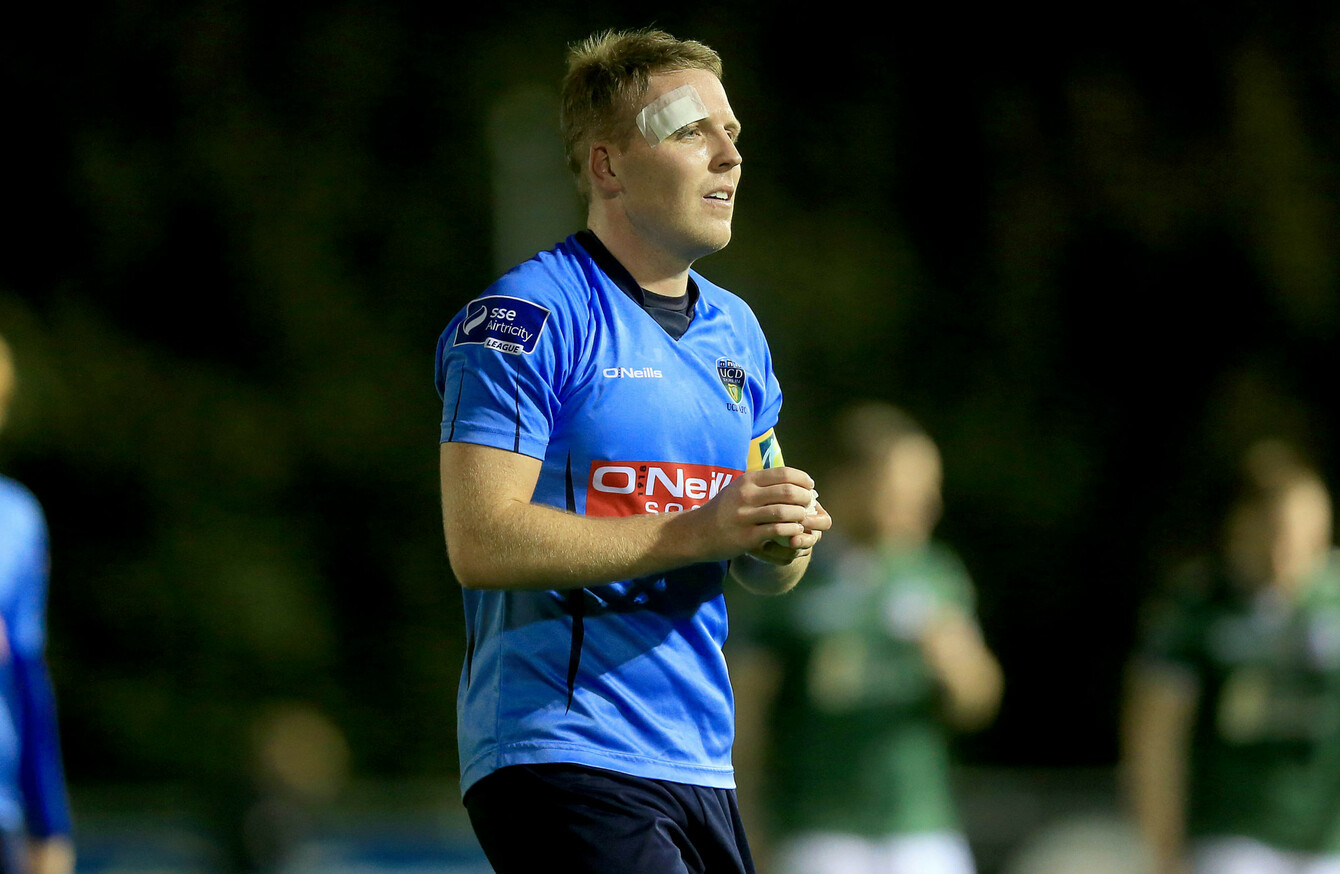 Ryan played his last football with UCD.
Ryan played his last football with UCD.
IAN RYAN ADMITS "battling the head demons" before finally accepting that his playing days were a thing of the past.
After a decade in League of Ireland football during spells at Shamrock Rovers, Longford Town, Dundalk, Drogheda United, Shelbourne and UCD, "a dodgy foot" forced the defender into early retirement from the game.
He had just turned 28.
"I started in senior football with Shamrock Rovers at 17 under Roddy [Collins]," the Dubliner told The42 this week. "I was playing regularly at 18 with [Pat] Scully so I had been around for a long time but I still felt I had another four or five years in me.
"I was probably coming into the better years as I had become smarter and more experienced. I felt more comfortable, especially during my time at UCD, and thought I could definitely offer something to Premier Division clubs.
"I enjoyed playing at UCD and thought that would have done me grand for a few years. The plan was to keep them in the Premier Division and help the younger lads coming through, but it didn't work out like that."
After a schoolboy career that began at local club Knocklyon United and progressed with Lourdes Celtic, Ryan joined Bohemians U21s but left for their Dublin rivals after one year when Stephen Kenny departed to be replaced by Gareth Farrelly.
Although they had a talented squad, Rovers found themselves fighting a losing relegation battle in 2005 and Collins threw the defender in at the deep end — handing Ryan his senior debut away to Cork City that May.
"It was the year they went down under Roddy," he explains. "I signed for the U21s at but after a couple of months I was with the first team.
"I made my debut down at Turner's Cross, I think I came on for Jay McGuinness and played alongside Jay Gavin. That was some team, looking back on it.
"Tony Sheridan had joined in the window that year, and you had McGuinness, Gavin, Brian Shelley, Keith Doyle, Willo McDonagh, Marc Kenny, Trevor Molloy and Mark Quigley.
It was a great dressing room and it was an eye-opener to me because they were some craic around the place. In hindsight, that was probably a good time to be breaking in as the relegation helped me get into the first team quicker. It was the season after that when I started playing more regularly."
Collins was given his marching orders and Pat Scully came in with the remit to win immediate promotion back to the Premier Division for the Hoops. A young, ambitious manager with a no-nonsense attitude, the former Shelbourne captain began by clearing out the majority of the squad and replacing them with largely unknown players whom he believed would be the right fit.
Luckily for the teenaged Ryan, he was one of a few to avoid the cull.
"It worked out better that they went down and had to rebuild things," he says.
"We had a meeting with Pat in the off-season and he called in the squad one-by-one. The main players were coming out saying 'I'm gone' so I was thinking 'Oh Jaysus, I'm definitely on the way out' but he ended up keeping me and Barry Murphy.
"Barry was a top young keeper and playing regularly, but he just took a chance on me as a young lad.
"The team that Scully brought in was a really good side. We were hungry and wanted to do well as everyone was just starting off in their careers."
Despite having one year's managerial experience under his belt, Scully won the First Division with his youthful Hoops side — which included the likes of Aidan Price, Tadgh Purcell and Ger O'Brien. Ryan featured regularly and got his first taste of top flight football the following season, but the centre-half was one of several players to get on the wrong side of the Rovers boss and he found himself out the door by 2007.
"Pat was absolutely brilliant with training and tactical analysis and that, but he became a bit, I don't know, paranoid and went a little OTT at times," Ryan recalls.
"We went through a lot of players. The training was hard and some of the lads probably didn't want to know as it was extremely intense. But I found it very enjoyable.
"It was a couple of years later that I fell on my sword. I was 17 or 18 and playing regularly. I think we played Sligo in the cup and we were down a few bodies. I was centre-half alongside a young lad who had come up from the U21s so, essentially, I was the senior player.
"Anyway, I had a nightmare and got slaughtered in the dressing room afterwards. Later that week, I was told I was going on loan to Longford and that was it really."
After a couple of months in the midlands, he signed for John Gill's Dundalk and lifted the First Division title for a second time. The Lilywhites stumbled over the line, however, and when Sean Connor came into succeed Gill, he let the entire squad go.
A campaign with Louth rivals Drogheda United followed, before Ryan found some stability at Shelbourne and made over 100 league appearances over four seasons — earning promotion but disappointingly signing off with relegation.
Looking back as a little regret, I was flying at Rovers when I broke through and I would have liked another year to see where that led me, but Shels was where I probably had my best years" he says.
"There was that consistency as I was at the club five years, captained the team, won promotion and got to the cup final. The last season ended on a sour note though. We started poorly and couldn't get out of it. Everyone was down, morale was down and we just couldn't get out of rut.
"My own performances definitely dipped that year. I've a bit of regret leaving on a sour note."
Admitting that he was "down in the dumps" about how his time ended at Tolka Park and his own form, Ryan received a call from Collie O'Neill. Dermot Keely's number two was now managing UCD and wanted to add some experience to the Students' squad.
The defender was given a new lease of life, but ruptured tendons in his foot would put a halt to that and, ultimately, end his career.
"UCD suited me so I went down and fell back in love with it," he takes up the story. "I really enjoyed my football but during that pre-season something went in my foot. I thought nothing of it though. There were a couple of weeks until the season started, so I got an injection and thought everything would be rosy.
"I played the first four games or so and then out in Bray something just popped in my foot and shot up the side of my leg.
"Nobody really knew what was going on. I got scans and then did an eight-week programme to try to strengthen the muscles around it.
"I knew myself that I was getting nowhere. UCD were fighting to stay up at this stage. It was probably August by the time I got playing and I received two injections to take me to the end of the year.
They booked me in for what was meant to be routine surgery to remove a bit of bone that had broken away and I would be back for pre-season the following year.
"When I was playing with UCD felt I was playing well and the older I got with the young lads around me I took on more responsibility. So I enjoyed that aspect of it. I just wanted to get to the end of the year, keep them up and then get myself sorted and back to normal, but that never happened.
"I had the operation and they told me I'd be back training in six weeks. Six months went by and I couldn't run properly or do anything."
Hugely frustrated and not getting any answers from the surgeon, Ryan went elsewhere for a second opinion — where he was advised to call it a day or risk serious long-term damage.
"You've got two main tendons and if one ruptures, it attaches onto the good one," Ryan explains. "But it turned out that two of mine were ruptured so he said for if I wanted to walk without a limp, I needed to call it a day and get another operation.
"I knew it was coming but hoped that if I get this op then I'll be grand. It was hard but what can you do? They had to take a bit out of my hamstring and put it in my foot along with screws and bolts and all that jazz.
"It feels a lot stronger now but I couldn't play astro with the lads or anything like that. I could walk jog in straight lines no bother but I had no movement or power in the foot."
Without the regular routine that football brings, there was a massive void in his life over the following six months. Coaching always felt like an option and he had started his badges but put them on the long finger while playing.
However, UCD offered Ryan the chance to manage their U19s and he accepted — bringing in his brother Keith and coach Jason Carey.
"Once I started the coaching, it was like a bug and I'm hooked on it now," he admits. "It worked out well. There were good players there but they were never quite able to win anything.
I inherited a good group but I managed to change a few things and put my own stamp on it. We won the league that season and qualified for the Champions League for the first time."
The success meant the Students would feature in the Uefa Youth League against Norwegian opponents Molde, but, according to Ryan, UCD head of youth development Al Sugg wanted "his own people in there" and appointed Maciej Tarnogrodzki in the position.
"Despite all the success that we had — winning the league, 10 debuts, three lads getting their first Irish caps, qualifying for Europe — for it to be taken away, I'm still a bit bitter but what can you do? You have to move on. Maciej took over from me. He essentially had them in Europe off my back. That's the nature of football, isn't it."
Having studied at Institute of Technology Tallaght (ITT) and Dublin Institute of Technology (DIT), Ryan began teaching while at Shels. He now works at St Kevin's secondary school in Clondalkin and, through that, was asked to look after Leinster (taking over from Sugg) for the U18s schoolboys' interprovincial tournament last week.
"It keeps me in the loop. I was out watching games anyway as I want to keep tabs on everything and hopefully get back into a club this season.
"Most weeks, I've been taking in U17s and U19s games and that led into the Leinster schools because I knew the best players around at that age group. So we went through the trial process, we got a group together and won the tournament so that worked out well.
"We've come across some good young players and they will go onto the Irish schools now hopefully. My stint is done there until next year.
"I'm hoping to get back in at U19s level now, maybe spend a couple of years there and hopefully be successful. I'd like to build a CV and a reputation and hopefully go into a first team some day."
With evening and summers off, the combination of coaching and teaching matches up well for the 30-year-old. He's also been attempting to marry school and football for his students and has fresh ideas on how the development of young players can be improved with the help of education.
"I'm trying to set up a football academy in school at the moment," he reveals." With the new Wellbeing programme for the Junior Certificate, you can design your own course. At the end of September, we're going to have football as a subject.
"There will three classes a week where they'll be out on the pitch for two and in the classroom for the other with modules such as video analysis, strength and conditioning."
He has also spoken to his former team-mate Ger O'Brien — who is these days director of football for St Patrick's Athletic's underage teams — and the FAI about possible partnerships.
"Ideally, what needs to happen is for schools to link with clubs and then all the players will have more contact hours and we could bring together education and full-time football.
"I met Ger and they're keen to do it because of the area we're in. It would be easier to do it somewhere like Sligo or Galway as they only have one LOI club each while the players in Dublin are scattered are all over. But we could work together and have them in full-time training while they're in school."
The42 has just published its first book, Behind The Lines, a collection of some of the year's best sports stories. Pick up your copy in Eason's, or order it here today (€10):