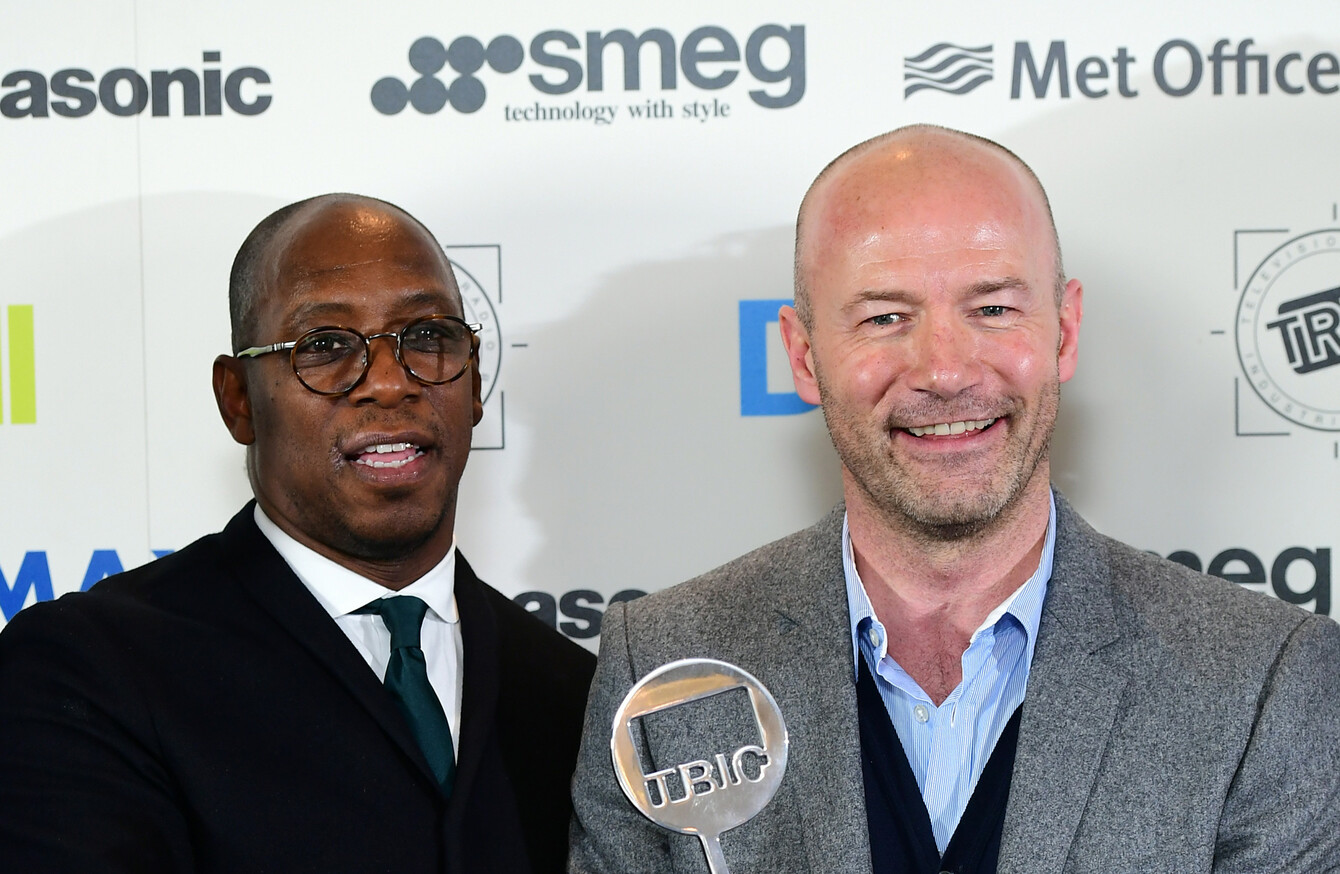 Ian Wright (left) and Alan Shearer were criticised by Arsenal fans for their analysis of the club's clash with Man United.
Image: Ian West
Ian Wright (left) and Alan Shearer were criticised by Arsenal fans for their analysis of the club's clash with Man United.
Image: Ian West
FOR A PREMIER League manager, death comes swiftly and without warning. Or at least it would do if he only read his own club's official website.
Take the sack race's most recent victim, Tony Pulis, dispatched by West Bromwich Albion on 20 November. In the days before Pulis's removal, there was little sense on the West Brom website of the bloodletting to come.
'Hopefully We Get The Breaks – Pulis' reads the optimistic headline on 17 November, three days out from the terrible act.
'Our Biggest Black Friday Sale Ever' the website trumpets happily on the dark day itself.
But then the axe moves from the club superstore pricelist and towards the manager's head: 'Club Statement on Head Coach' goes the next story, with an assassin's cool precision.
What follows is like a Stalinist purge, the old manager airbrushed from history, the glorious new (caretaker) leader pushed to the fore – 'Megson – We Want to Make You Proud,' the Baggies news feed grimly wades on.
Thankfully, the Orwellian vision of the club website as all-powerful media organ is not a reality. No-one actually relies on their favourite club for news about their favourite club, unless a mix of propaganda and online merchandise offers is what they're after.
But could that all be changing? This week, Liverpool refused BBC Radio Five Live rights to broadcast their Champions League game against Spartak Moscow. Instead fans could only listen to the game on the club website, a service they had already offered for the previous two home games.
The move was interpreted in a number of ways. Was it merely a fit of pique towards the BBC for preferring to cover Tottenham earlier in the group stage? Or a taste of things to come as clubs look to take exclusive coverage of the team onto their own platforms in a broader plan to expand their position as content providers?
The whole idea of in-house media makes sense for the clubs, but flies in the face of the journalistic impartiality normally expected from traditional outlets. Happily for Liverpool, fans listening to the 7-0 win over Spartak, their team's performance required little critical scrutiny. But were Jurgen Klopp's men to have slipped up, would Liverpoolfc.com have analysed their flaws without fear or favour?
Mind you, Arsenal fans watching Match of the Day last Saturday didn't seem too keen on impartial analysis by traditional media.
Alan Shearer and Ian Wright became embroiled in a storm of Twitter anger from Gunners fans apoplectic that the pundits hadn't given their team due credit for the quality of their performance in the 3-1 defeat to Manchester United.
"It's pretty simple," Shearer tweeted in response to claims that MOTD was biased against Arsenal. "33 shots & 1 goal is a terrible return. Your forwards were not good enough. Conceded 3 goals at home. Your defence & keeper had a very bad day. Still you're saying how great @Arsenal were. Do me a favour man! No bias. Fact."
See Sport
Differently
Get closer to the stories that matter with exclusive analysis, insight and debate in The42 Membership
Become a Member
Cries of bias rang out again on Tuesday, when Graeme Souness used our broadcast of United's win over CSKA Moscow on TV3 to repeat his criticisms of Paul Pogba. Souness has made the point on a number of occasions that Pogba, for all his outrageous talent, lacks the positional sense and understanding of the game to be the truly great player his price tag suggests.
I challenged him strongly on his views, but I accepted that the three-time European Cup-winning central midfielder was well qualified to offer an opinion. Most United fans watching weren't so generous.
Souness was accused on social media of harbouring a sinister grudge against Pogba, some blaming it on the jealousy of age, others on his Liverpool past. One user describing him as 'deranged,' while others suggested racist motives. Essentially some fans were so unable to process an opinion critical of one of their players that they were prepared to defame the person who held it.
It seems now that bias is everywhere except in the eye of the beholder, with a variation of the 'echo chamber' effect that has polarised political discourse also happening with sports fans.
Supporters' social media channels are populated by other fans of the same team, while most big clubs have massively popular, independent, multi-platform fansites, where many go for coverage of their favourite side.
These sites can be as vibrant and critical as the clubs' in-house media is bland and supine, and often hold boards and management to closer account than traditional media. But the overall effect is to shape the worldview of already fervent supporters into yet more blinkered dogma about their own team's virtues, their rivals' failings and the conniving bias of the mainstream media.
Technological changes are partly behind the rise of the club propagandists on one side and the independent fan media on the other. The ability to broadcast, stream and publish easily means that traditional outlets no longer control the sporting landscape. The days when clubs feared the effect of live telly on attendances or when fans rushed to read the match report in the local paper aren't that long ago, but seem prehistoric.
While fans are now able to 'engage' with their team on a more intense level, as with general news consumption the effect on sports coverage isn't necessarily pleasant. Clubs and fans want to control the message due to a mistrust of mainstream media's perceived bias, but for all the latter's flaws, in the absence of genuinely impartial observers, the end the result will only be more unfair, unbalanced and, ultimately, biased.
It will however be good news for Arsenal defenders and those seeking unbeatable merchandise offers in the January sales.
The42 has just published its first book, Behind The Lines, a collection of some of the year's best sports stories. Pick up your copy in Eason's, or order it here today (€10):