HE HAS SPENT the majority of his football career trying to get free in the box but Ruud van Nistelrooy was happy to experience life behind bars this week.
The Dutch striker dropped by Alhaurín de la Torre prison in Malaga this week to meet some young offenders, answer questions on his footballing career and show off his scoring touch.
The former Manchester United player, now playing with Malaga in La Liga, dropped by the prison to participate in the 'Mucho más que Fútbol' (Much more than Football) workshop, which aims to encourage ethical and social values to young inmates through the playing of football.
Van Nistelrooy was impressed with the young prisoner's knowledge of the game as they peppered him with questions on Real Madrid, Barcelona, the Champions League and his time with United. He commented:
It is a strong feeling to see how it is here – to see young people that are between the walls here for a long time and who will be here for a long time further.
"The goal for them is to improve, to take their second chance, and not make the same mistakes again," he added.
The Dutchman took part in some five-a-side football after the question and answer session and showed that he had not lost his scoring touch as he held off defenders to slot numerous goals.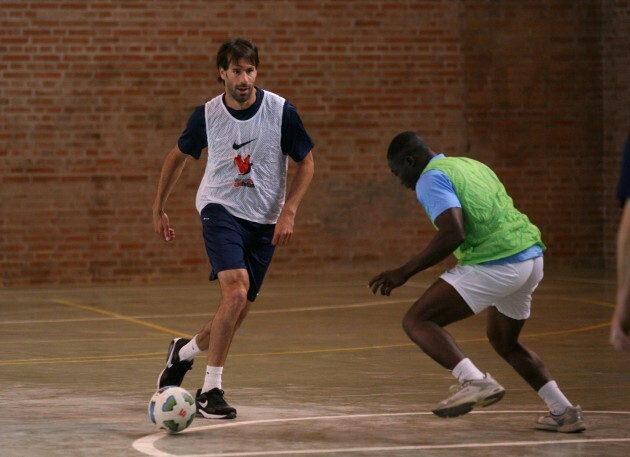 Ruud van Nistelrooy sets his sights on goal. (Credit: Malaga CF)
He remarked that several of the inmates had requested that he dedicate a goal to them when he next scores in La Liga.
I hope it will happen in the (final) five games. It would give them more reason to celebrate a good season for Malaga.
Previous sport-stars to pay a visit to prison inmates include Spain manager Vicente del Bosque and former Real Madrid player Fernando Hierro.