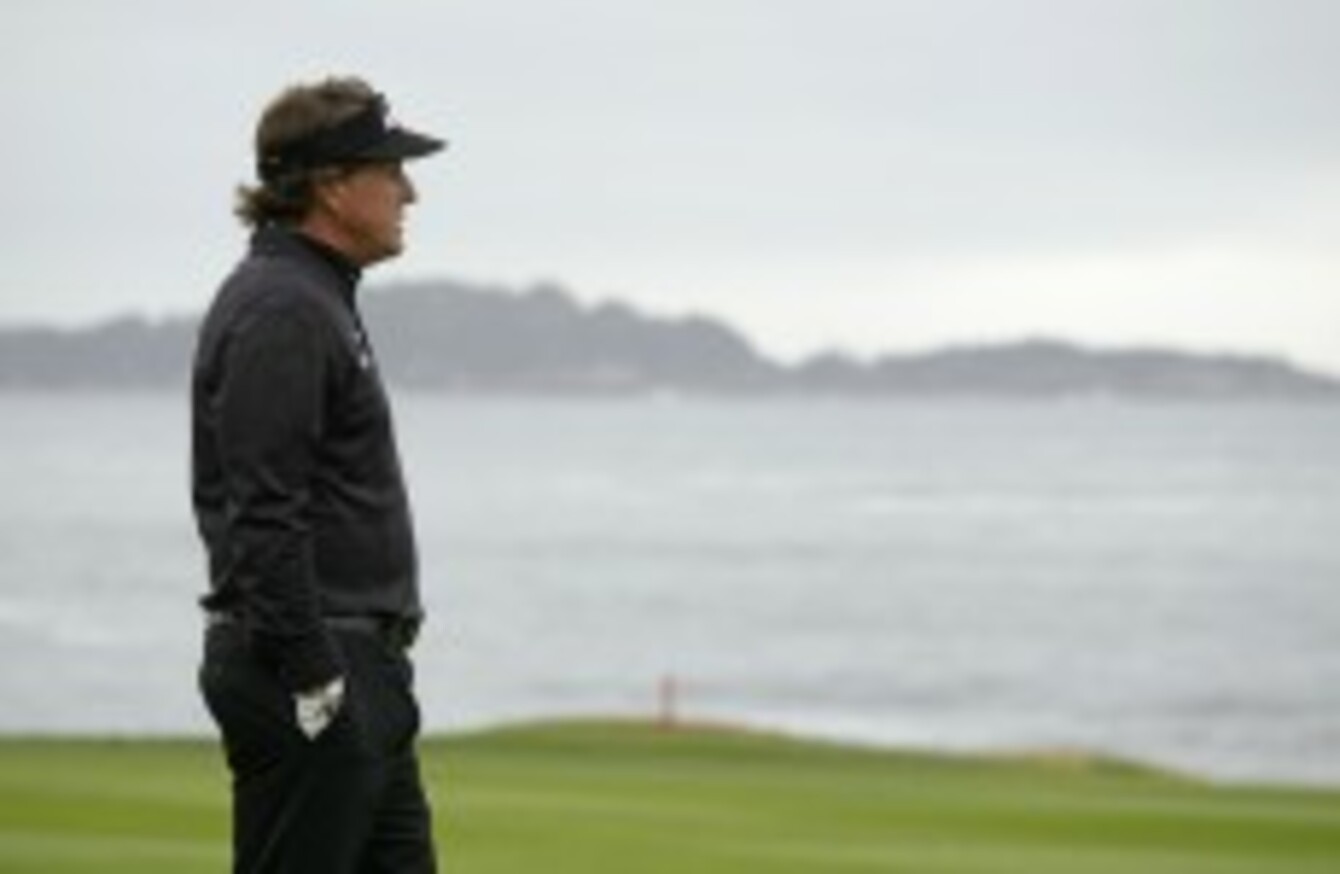 Image: Eric Risberg/AP/Press Association Images
Image: Eric Risberg/AP/Press Association Images
PHIL MICKELSON ADMITTED after he won the AT&T Pebble Beach Pro-Am on Sunday that he'd had doubts.
"I've had some doubt these last couple of weeks, given the scores that I've shot, yet on the practice range, playing and practicing, having these great practice sessions, I started to wonder if I'm going to be able to bring it to the golf course," he said.
If we're being honest, he had very good reason to feel that way.
Mickelson may have been speaking above about his game in general, but I came across an article not so long ago by David Dusek of Golf.com that detailed Mickelson's putting stats for 2011. You can find it here.
The results are shocking. For a man who has built a career on the quality of his short game, the fact that he was ranked 108th on Tour for overall putting was obviously going to result in poor form. He was never known for being the most constistent player off the tee, but what he lacked in that department he more than made up for with his genius around the greens.
Sure, we can remember Mickelson having some ridiculous lip-outs and horseshoes on short putts, but his mid to long-range putting has always been exceptional. You simply don't win four Majors without being an exceptional putter, particularly around Augusta National where he has won three US Masters.
His game looked in really bad shape over the last few months and towards the end of last season and had slipped to 17th in the World Rankings before his win on Sunday. As well as not hitting great, his putting had deserted him.
Change in fortunes?
But it would be no surprise if this win was the catalyst for a significant change of fortune for Phil Mickelson, particularly given the manner of victory. He looked to be in control of his ball off the tee, produced some stunning wedge play, and his putting was strong.
If he can keep up that level of play he'll contend every week.
Obviously that's a big ask, but he now knows that his work on the range has been of value and that will give him great belief for the upcoming tournaments. He's also got his putting back.
The key moment in Sunday's round came on the par-three 12th. Tiger Woods, playing with Mickelson, held a bunker shot for birdie to put the pressure on Mickelson who was 30 feet away for par. It looked like a real momentum swinger was on the cards in favour of Woods, but when Phil's 30 footer sank to the bottom of the cup you felt it was going to be his day.

YouTube credit:
pgatour
Tiger has silenced a lot doubters over the last few months with a win and handful of other top 5 finishes, but his Sunday performances in the last two tournaments have raised some new questions for some. His performance on Sunday was certainly far from what we would expect given the position he was in, but the fact that he was in contention yet again is a positive for him.
Another man who was in contention but couldn't convert was Rory McIlroy at the Omega Dubai Desert Classic. Tied for the lead at the half-way stage and playing well, he seemed to make too many mistakes over the final two days. Four bogeys on the card on Saturday is too many for a man trying to win a tournament.
Expectation looms large as people say he needs to win more on tour, but that expectation exists because we realise how talented a golfer he really is.
Final word for Padraig Harrington who had his most convincing performance in a long time at Pebble Beach. He actually won the amateur side of the tournament with his partner JP McManus and even though it's a team event, he'll have enjoyed the win and will certainly be happy with his performance of seventh in the individual event. Let's hope that's a sign of a change of fortune for the 3-time Major winner.
Post-script
Above, I mentioned that Mickelson was ranked 108th in putting. I agree with anyone who argues that overall putting can be difficult to quantify, but there is far more reliable information out there now than ever before, particularly with the PGA Tour's new 'ShotLink' technology.
For anyone who is interested in golf statistics and would like to understand it in greater depth, I suggest a series from Slate Magazine's Michael Agger called 'Moneygolf'. The specific article on putting is available here and the link to the entire series is here