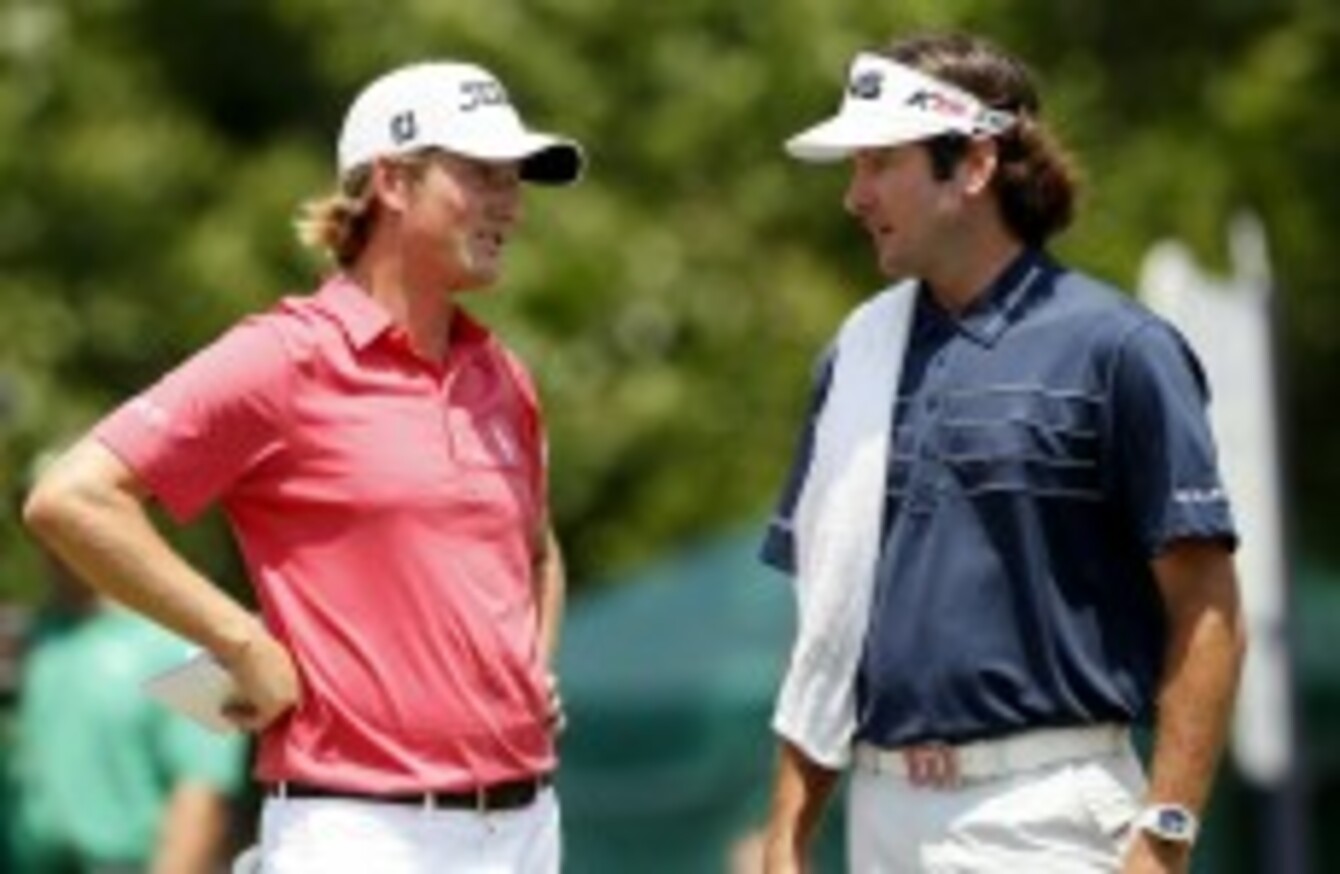 Image: Patrick Semansky/AP/Press Association Images
Image: Patrick Semansky/AP/Press Association Images
BUBBA WATSON SPOKE about his attitude in the aftermath of his victory at the Zurich Classic of New Orleans. He said "My wife, my caddie and my trainer would say my attitude's in the right spot. This week, I won by not getting down on bad shots, just staying focused on what I'm supposed to be doing."
Professional athletes often talk about the necessity of staying positive and having the right attitude when they are playing their sporting – believing you can win etc. In many sports, it is mental attitude and mental approach that separates amateurs from professionals.
The fruit of Watson's good attitude and positive approach came at a crucial time in his final round as he went toe-to-toe with Webb Simpson.
Watson double-bogeyed his 9th hole of the round to fall two strokes behind Simpson. Tournaments are very often won and lost on crucial moments in final rounds. That could well have been a moment that lost it for Watson, but his reaction was that of a man who has matured both as a golfer and a human being over the last 18 months.
As reported on PGATour.com, "When Watson's caddie, Ted Scott, offered a couple of words of encouragement, Watson responded, "You don't have to worry about me. I'm in it.""
Of course he was still in. He was only two shots behind with nine holes to play, but it's not always easy to see it that way when you've just made double bogey.

His mental strength and a bit of luck helped him out over the next three holes after his compass with the driver went slightly askew – he missed the fairway on 10, 11 and 12. Watson got lucky in that he found reasonable to good lies on all three occasions, but being able to make a par from a poor drive is often a matter of how you approach the second shot mentally as opposed to your ability to extricate your ball from the long grass.
There are a number of factors that come into play. First of all, do you have the ability to put the bad shot behind you and pretend it never happened? Can you overcome the doubts that surely creep into mind over the second shot? How do you know the same mis-hit isn't going to happen again? Subconsciously, are you going to overcompensate for a potential miss? There's a lot going on in the mind.
Watson's belief in his own ability and his realisation that the situation was not as bad as it may have seemed helped him get through a difficult period of the round and ultimately gave him the platform to go on and win the tournament.
He was of course aided by the fact that Webb Simpson was controversially penalised on the 15th hole. Having addressed the ball, the wind blew it slightly and Simpson was penalised a stroke. The rules of golf are often bizarre and nonsensical and this was one of those moments.
Simpson himself did well on the mental front. He made par on the remaining three holes to get into a playoff. Imagine how infuriated he must have been to be penalised for essentially nothing.
Much has been made about the mental and psychological aspects of the game over the last few weeks in light of what happened to Rory McIlroy at the US Masters, but it is often easy to overlook the fact that the way you approach you approach each and every shot can be crucial to the outcome of a tournament. This weekend was a prime example.
One lapse of concentration or one moment of doubt in either Watson's or Simpson's mind could have led to a completely different outcome or turn of events.
Watson rightly described his opponent's penalty as "heartbreaking" but you don't win golf tournaments by feeling sorry for your competitors. Watson summed up the impact that such an innocuous incident can have, but also highlighted the importance of the way a player reacts to such adversity: "We went to a playoff, so obviously one shot is the difference."
Honourable Mention
Lee Westwood reaffirmed his place at number one in the world with his win at the Ballantine's Championship in South Korea. Back-to-back wins is not an easy accomplishment.
It is a shame Westwood has opted not to compete in the upcoming Players Championship, the so-called "fifth Major". Whatever about that decision, it seems as though he has found his top form once again. Will he be ready to make a charge at a few Majors this summer?