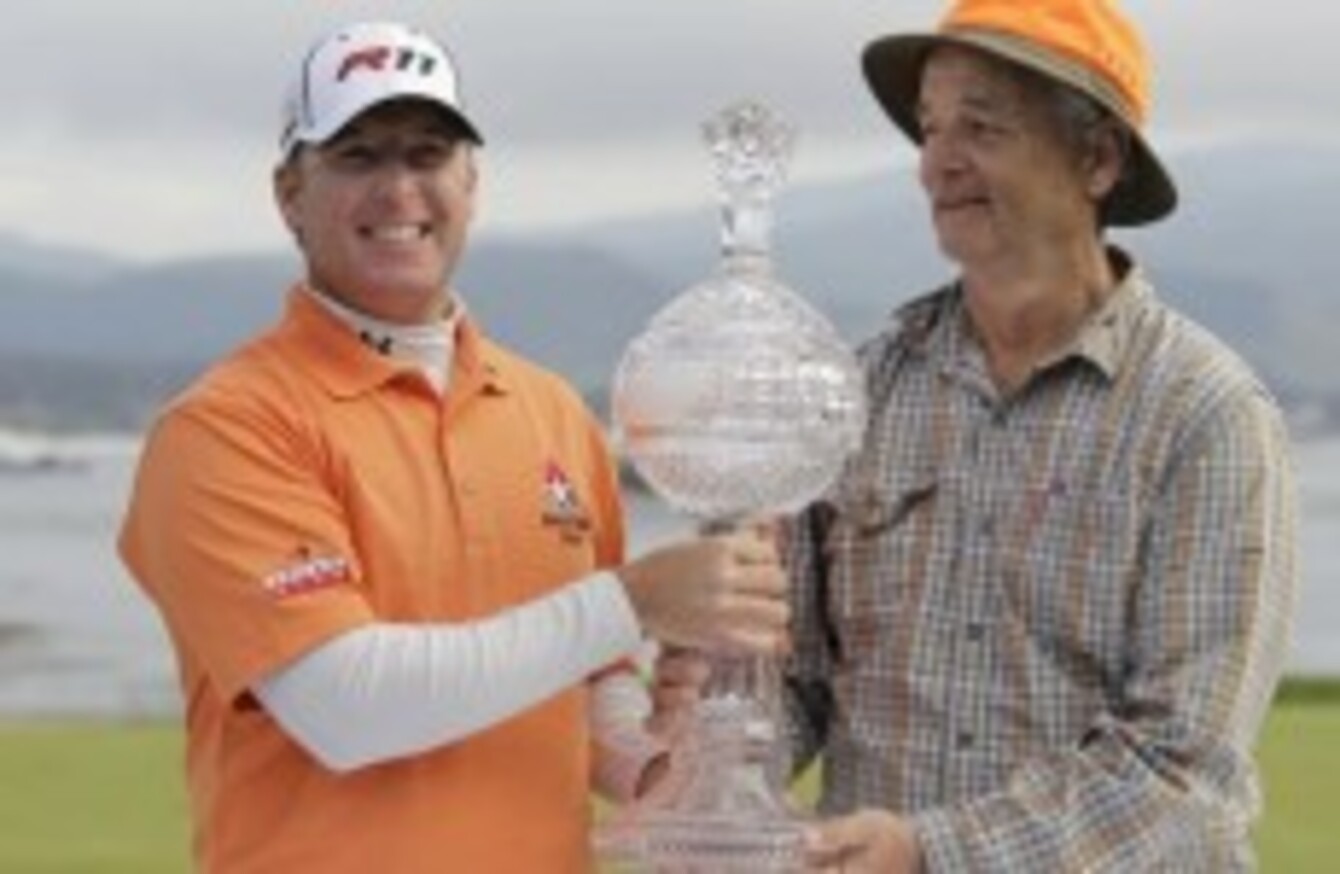 Comedian Bill Murray and D.A. Points claim their prize at the AT&T National Pro-Am
Image: Eric Risberg/AP/Press Association Images
Comedian Bill Murray and D.A. Points claim their prize at the AT&T National Pro-Am
Image: Eric Risberg/AP/Press Association Images
IT REALLY WAS a bizarre weekend.
Last week, this column's appetite for the Omega Dubai Desert Classic was whetted by the prospect of Martin Kaymer, Lee Westwood and Tiger Woods being paired together. That wish was granted for rounds one and two and as the world's three best golfers arrived on the first tee together, expectation couldn't have been higher. Mouths watered.
What transpired from the threeball was largely underwhelming. In fact, the limelight was stolen by Rory McIlroy who opened up with a round of seven under par (65) on the course where he claimed his maiden, and to this date his only, European Tour win two years ago.
Tiger Woods was the talk of day two as he shot a flawless six under par (66) to move into contention.  At the same time, McIlroy extended his lead while Sergio Garcia shot a second 65 in two days, which made many stand up and take notice. Having taken an extended break from golf at the end of last year, was he to reassert his presence on Tour with a win at one of the highest profile events on the European Tour?
No.
Ace
The eventual winner came in completely under the radar. Alvaro Quiros was eight shots off the lead after day one, but started the final round just one shot behind. When trailing by a single shot on Sunday, you couldn't ask for a better start that to have an eagle and two birdies in your first five holes. That's exactly what Quiros did.
The very thing you don't do thereafter is to have a triple-bogey seven on the par four eight hole. That's exactly what Quiros did.
Never fear though. I mean, if you're going to be mixing eagles with triple bogeys and throwing in a few pars, birdies and bogeys as well for good measure, there has to be room for a hole in one there somewhere, right? You bet ya.
Quiros pulled a pitching wedge out of his bag on the eleventh hole and sent his ball straight into the cup
Luckily for him, he had practised what it might feel like.
Be part
of the team
Access exclusive podcasts, interviews and analysis with a monthly or annual membership.
Become a Member
While all this was going on, our early tournament contenders were doing their best to throw away any chance they had of bringing home the silverware. McIlroy bogied two of his opening three and three of his last five holes to put to his chances to bed. Tiger added a double bogey on his last hole to five earlier bogeys in a round in which he seemed to have little control over his golf swing.
To add insult to injury for Woods, he was fined yesterday by the European Tour for a spitting incident.
He apologised for the incident on Twitter just 5 days before the first anniversary of his more famous apology in which he admitted his extra-marital affairs.
Comic timing
If all that wasn't enough for you to get your head around, try to digest the fact that actor and comedian Bill Murray won a PGA Tour event at Pebble Beach.
The AT&T event at Pebble Beach is an annual Pro-Am. D.A. Points won the professional side of the tournament and his partner Bill Murray did enough to bring the team home in first place as well.
Bill Murray is well known at the event as a crowd pleaser and entertainer, a slight distraction to most professionals who are trying to earn a living by winning golf tournaments. Not to DA Points though.
According to pgatour.com, "everybody all week kept saying, 'You got the short end of the stick,'" Points said.
I never, ever felt that way. I tried to embrace it. He just seemed to have fun, and he taught me to go ahead and have a little more fun. And in turn, it distracted me from trying so hard. It kept me loose and having a good time with Bill.
Padraig Harrington played alongside JP McManus but the pair missed the astonishingly low cut mark of 19 under par. Harrington had been in contention in the professional tournament at the midway point after rounds of three and four under par, but struggled badly with his game over the weekend to finish on two over for the tournament in a tie for 63rd place.

Talking points
Tiger Woods has had to make yet another apology, this time for spitting.
Rory McIlroy showed again that he is not a good front runner. (Remember last year's British Open)
Alvaro Quiros had both a triple bogey and a hole in his final round before winning the Omega Dubai Desert Classic
Padraig Harrington continues to be very inconsistent.
DA Points and Bill Murray won the AT&T Pebble Beach Pro-AM