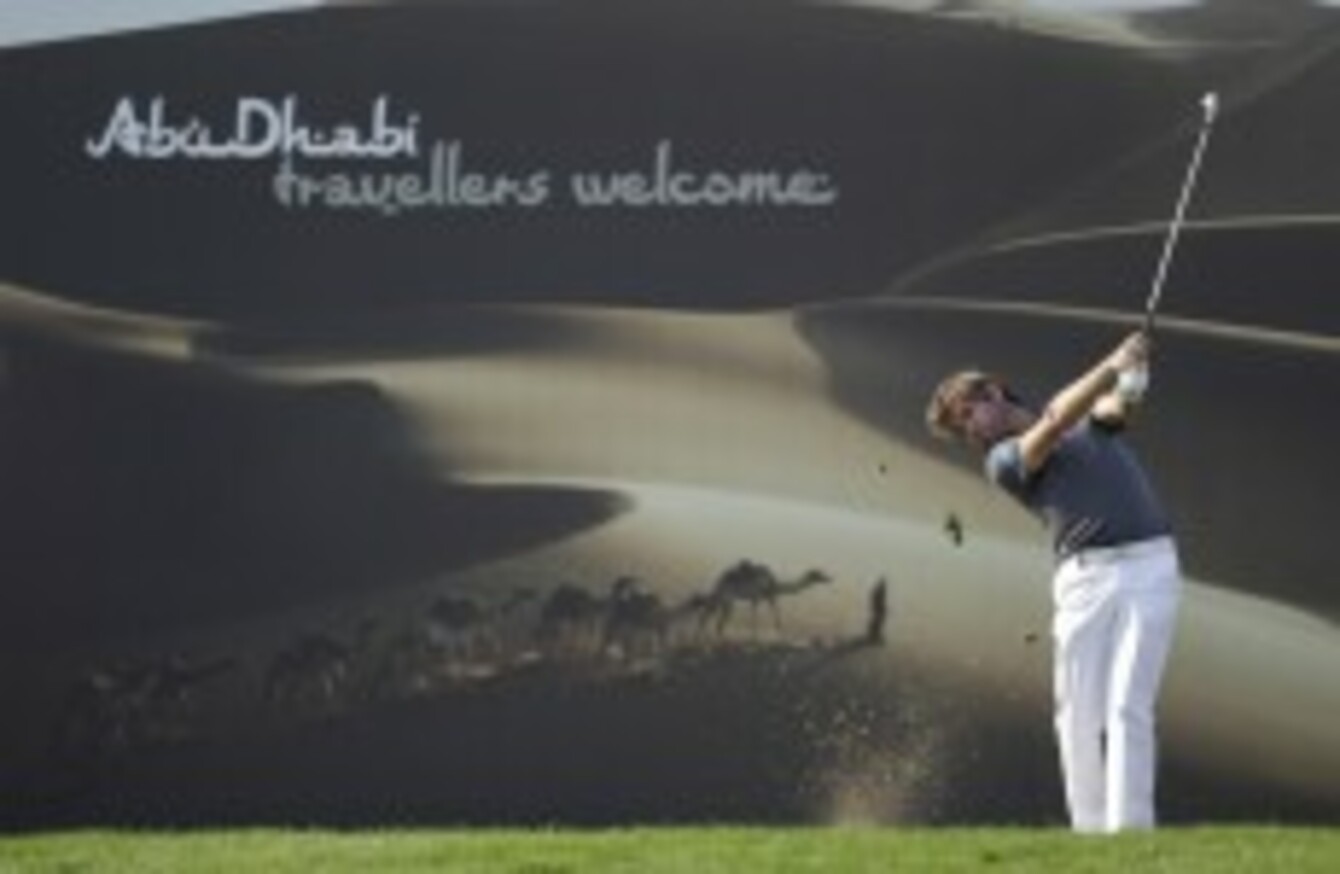 Image: Kamran Jebreili/AP/Press Association Images
Image: Kamran Jebreili/AP/Press Association Images
ROBERT ROCK IS a fine player who has consistently improved in recent years. In winning the Abu Dhabi HSBC Golf Championship at the weekend, where the theme tune to the "Rocky" movies was sung by the fans as he held the winning putt, he reached a new level in the game.
Some of us will remember him as the guy who lost out to Shane Lowry in a playoff for the 2009 Irish Open, but since then he has been slowly progressing towards the big win that he has now achieved.
The manner of victory was extremely impressive – it takes serious composure and confidence to hold off Rory McIlroy and Tiger Woods on the final day of a golf tournament.
There was a minor blip on the 18th hole on Sunday when Rock's tee shot found the hazard and that set up a very interesting situation. A bogey was a highly probable out come from where his drive finished, so if Tiger Woods, his playing partner, had somehow managed to make eagle on the last, a par 5, he would have forced a playoff.
It certainly wasn't beyond the realms of possibility for that to happen, but Woods' drive into the left rough meant it was almost impossible for him to find the green in two and thus it took some of the pressure off Rock and made it easier for him to take his medicine and make a six.
"A colder and more objective eye"
The dialogue between player and caddie as Rock pondered whether to play his ball out of the hazard or take the penalty drop was very interesting. Rock clearly wanted to try and play the shot and contend with all the rubble and shrubbery in the hazard. It would have been an incredibly high-risk shot that could have ended in disaster.
His caddie stepped in and changed his thinking. He assertively explained to Rock that a six would almost certainly win him the tournament and that he could easy make that six by taking the penalty drop.
The importance of the caddie in the grand context of a player's success is often debated, but that was a prime example of the importance a caddie can have and how the caddie can bring a colder and more objective eye to a pressure-cooker situation.
Tournament's are so often decided on such fine margins. In this case it was one shot, but had Rock decided to take the risk it could have been a very different story.
Similarly, Rory McIlroy will rue the two-shot penalty he incurred for brushing away some sand on the grass during the second round. He probably didn't think it at the time, but those two shots were the difference between him winning and coming second.
Progress
Rock can only play what's put in front of him, though, and he did so with great poise. With a world ranking of 117 before the tournament started, it probably wasn't a surprise that he didn't feature in the pre-tournament debate. He's also quite an unassuming character, noted predominantly for the fact that he does not wear a cap or sun visor.
But since his second place at the Irish Open in 2009, he has steadily progressed in European golf. His stroke average has come down each year along with his average finishing position and he recorded his first win last year at the Italian Open. That experience undoubtedly stood him in good stead in Abu Dhabi and even at such an early stage in the season, he is now halfway to the €800,000 that he earned in the entire season last year.
There was of course golf being played at Torry Pines over the weekend as well as the Farmers' Insurance Open was won by Brandt Snedeker. But in as much as Snedeker won it, Kyle Stanley lost it.
At one point in the final round Stanley led by seven shots. Standing on the 18th tee he led by three shots.
Now I don't know about you, but if I had a Tour pro on a par 5 and told him all he had to do was make seven or better to take home just over $1million, I'd probably except him to think there was some sort of catch or that I was trying to trick him, because on the face of it, that seems just too easy.
What ensued was just heart-breaking. Not only did he make a grave error by hitting it into the water, he committed golf's cardinal sin – a three putt.

YouTube Credit: pgatour
You can't but feel for a guy in that situation. Every golfer in the world has been there, but none of us have experienced what it's like when there's a six or seven-figure sum on the line. On the positive side, I'm sure it won't be the last we'll hear of Kyle Stanley and with his talent, there's a good chance that next time it'll be for better reasons.