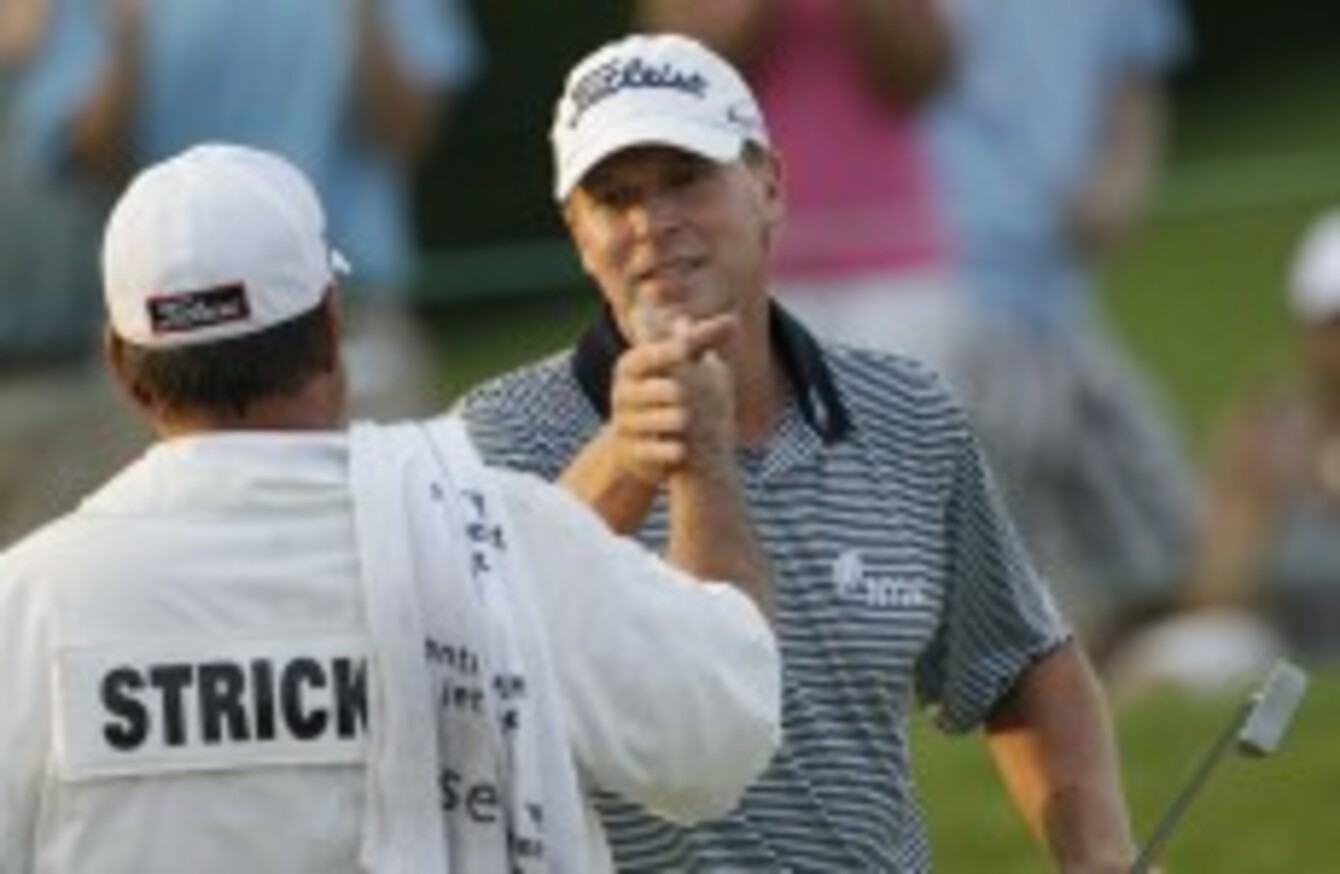 Image: Tony Dejak/AP/Press Association Images
Image: Tony Dejak/AP/Press Association Images
SPORT CAN BE puzzling at times. Things happen that we don't quite understand or for which there seems to be no obvious logical reason. How do you go from being one of the world's top golfers, to losing your tour card because of poor form, and then come back again to be a regular fixture in the world's top 10?
That's essentially the path Steve Stricker's career has taken to date. His win at the Memorial Tournament at the weekend highlights further the twists and turn his career has taken.
It's easy to forget that in 1998 he came in the top 5 in two Major Championships, the US Open and USPGA Championship. In 2001 he won the WGC Accenture Matchplay Championship, his third win on tour in 5 years.
Okay, so he wasn't setting the world on fire, but he was a consistent performer on the tour who was regularly in contention in tournaments while also getting a few important wins on his CV.
What happened next is a mystery. He lost his game to the point that he considered retiring. In 2003 he finished 188th on the PGA Tour money list and relied on sponsor's exemptions to even get into tournaments.
How did it go wrong? What is it about the game that you just lose your capacity to play it at a certain level?
The list of things that can go wrong in the golf swing is extremely long, and that's even before you even consider things like your psychological approach or physical preparation, but that's why you practice and why there are swing coaches, sports psychologists, personal trainers, physiotherapists and so on.
Sure, people have good seasons and bad, but to see such a dramatic fluctuation in the standard of play is rare. Names like Ian Baker-Finch and David Duval come to mind, but it is a rarity.
In Stricker's case, there really is no obvious explanation for why he almost became one of those guys who falls into the "whatever happened to…?" category.
In many ways that's the beauty of sport – the fact that sometimes the form book just goes out the window. It's the reason a guy like Todd Hamilton is a Major Champion in the same way that Stricker had six barren years on tour.
What we don't understand about sport is often what draws us to it the most.
In 2006 and 2007, Steve Stricker managed to get things together again. So dramatic and unexpected was his comeback, in fact, that he was actually named PGA Tour Comeback Player of the Year in both 2006 AND 2007. How can you be the "Comeback Player of the Year" two years in a row?
Since then, he has been one of the most consistent performers on tour and has cemented himself in the top 10 of the World rankings. His win at the weekend is further proof, if needed, that he is one of the world's best golfers and that his career slump was one of those sporting anomalies.
The US Open is fast approaching, it's only two weeks away at this stage, and it would be no surprise to see Stricker in contention. You get the feeling he has a Major in him, and maybe this is going to be his year. In fact, the US Open is the Major in which Stricker has produced his best golf.
That will be decided soon, but in the meantime, savour some of the final round action which saw Sticker claims his 10th PGA Tour title.