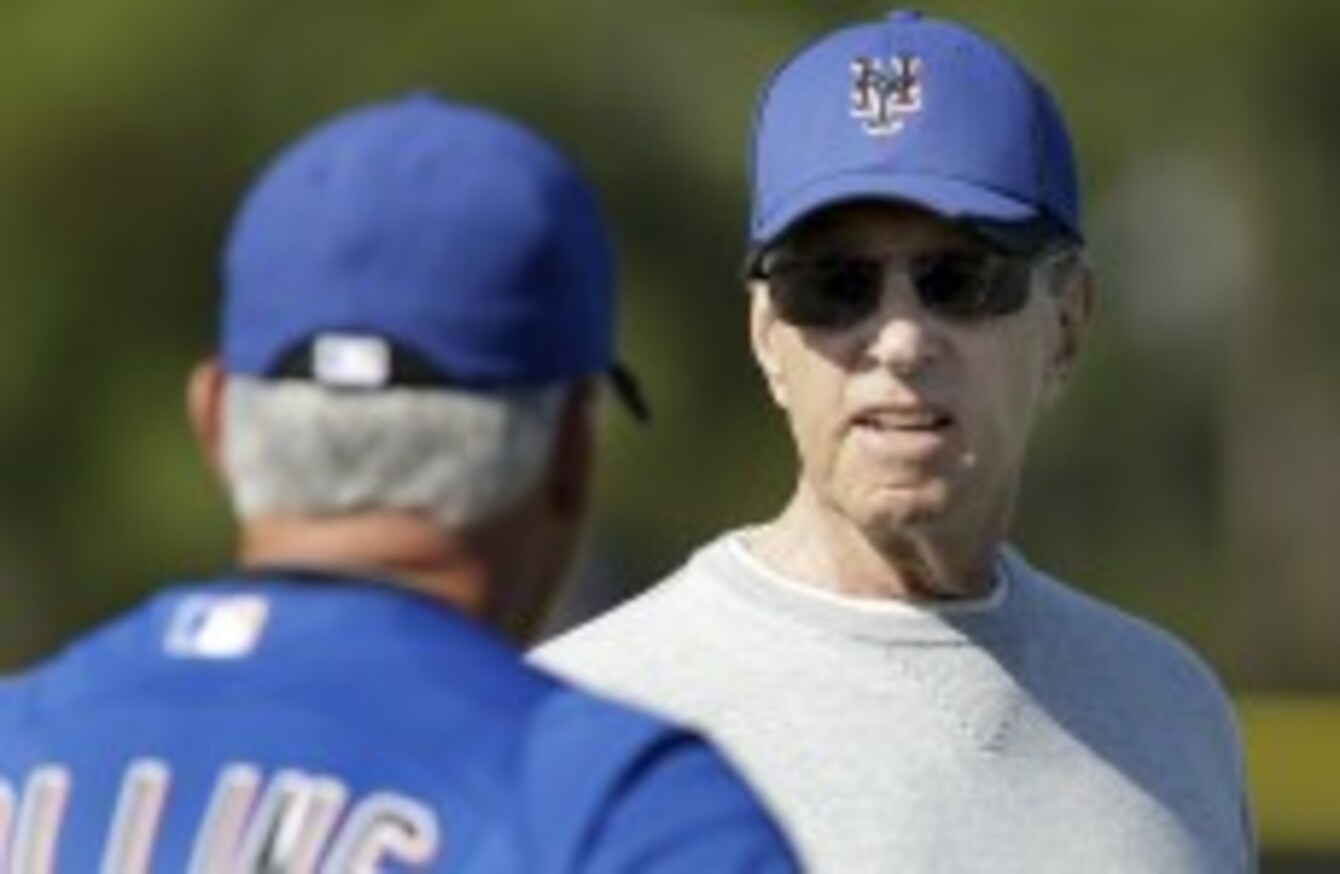 New York Mets owner Fred Wilpon, right, talks with manager Terry Collins.
Image: eff Roberson/AP/Press Association Images
New York Mets owner Fred Wilpon, right, talks with manager Terry Collins.
Image: eff Roberson/AP/Press Association Images
AMERICAN JOURNALISM IS a hoot.
While the media back on the islands fretted and sweated about superinjunctions, here in New York, the Mets baseball team found itself hitting the headlines for yet another startling episode of hilarious self-harm.
And things had been going so well…
Buried deep in a fascinating New Yorker profile of Mets owner Fred Wilpon (written by Jeffrey Toobin) were throwaway comments about some of the team's star players, lobbed out casually from the safety of the owner's palatial box above home plate.
The only problem was that he was in the company of Toobin who must have been scribbling away as subtley as possible in order to keep Wilpon relaxed enough to dismiss Jose Reyes, the star short-stop and soon-to-be free agent, as too injury prone to earn the contract he sought.
"He thinks he's going to get Carl Crawford money," he said, referring to the Boston Red Sox player who, during the off-season, signed an eye-watering seven-year, $142-million contract.
"He's had everything wrong with him. He won't get it."
Almost everyone's favourite Met, David Wright, had been having a poor time at the plate and as he walked out beneath them for another at-bat, Wilpon dished out the backhanded compliment: "A really good kid. A very good player. Not a superstar."
Then there's a great quote about Carlos Beltran who arrived as a free agent a few years back after an outstanding post-season in Houston: "We had some schmuck in New York who paid him based on that one series," Wilpon said, referring to himself.
He proceeded to call his Amazin' Mets a "shitty team", a "lousy" club before rounding off with the cryptic phrase: "We're snakebitten, baby."
Facts straight
What's astonishing about all this is that when a New Yorker fact checker (oh to have one of those lying around…) did the decent thing and ran Wilpon through each of his seemingly off-the-record little rants, he acknowledged each one – sheepishly, one would hope.
And yet, last night, he apologised to the players who had themselves responded oh so professionally, saying they liked their boss and he was entitled to his opinion.
Baseball writers were not wrong to swoop in on the offending paragraphs, conveniently grouped together halfway through the piece.
Alas, more trouble lies ahead. According to MetsBlog.com, today's Sports Illustrated will contain another Wilpon special where he will admit that the money he saved on releasing players will not be reinvested.
It's astonishing but kind of reassuring that someone so powerful – even taking into account the debt he is reportedly facing into through his business dealings with Bernie Madoff – could drop his guard and be so revealing to two publications in the space of a week.
And while most observers have lambasted him, one Mets blogger praised Wilpon for simply being a cranky fan just like him and all the others who have long suffered in the shadow of the neighbours over the East River.
To borrow a phrase from another Mets fan, the New Yorker's Jeffrey Toobin: Wilpon was just being honest in the face of his team's "baroque futility".
What are they
really like?
Rare insights on sport's biggest names from the writers who know them best. Listen to Behind the Lines podcast.
Become a Member