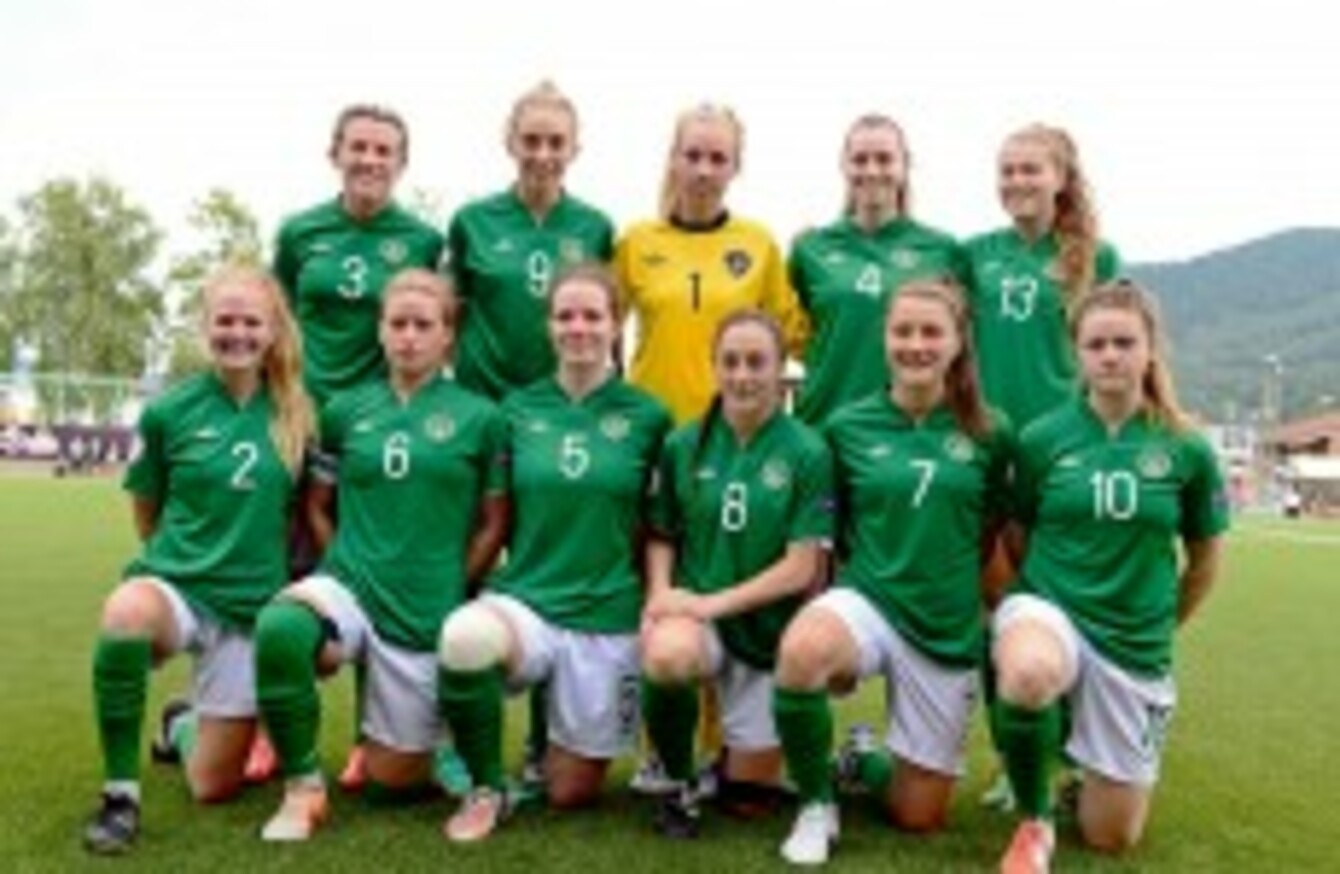 The Republic of Ireland women's under-19s team reached the semi-finals of the European Championships last month.
The Republic of Ireland women's under-19s team reached the semi-finals of the European Championships last month.
IT'S AN EXCITING time for women's soccer in Ireland. The Women's National League is still in its infancy, and while it's early days yet, the initial signs have been encouraging.
Stephanie Roche produced the best advertisement possible for the league with a now-iconic goal that was seemingly tweeted about by pretty much everybody in football from Gary Lineker to Matt Le Tissier ans Steven Reid.
And only last month, the Irish under-19s exceeded expectations at the European Championships, getting as far as the semi-finals and beating sides of the calibre of England, Spain and Sweden along the way.
One person more influential than most in this spectacular renaissance has been Dave Connell — the former Shamrock Rovers players and ex-Limerick and Galway United manager who coached the women under-19s to their various successes.
And while the tournament ultimately ended in a disappointing 4-0 semi-final defeat against Holland, Connell says he is immensely proud of the girls regardless.
"We're very pleased with how we did, and getting nine points from the three games against three teams with good pedigrees in women's football in particular," he tells TheScore.ie. "We're a little bit disappointed with the manner in which we went out. The occasion probably got to a few of the players. But overall, it was a very good campaign for us.
"We feel we could've done a bit better against Holland, but we certainly would have settled for a semi-final place before we went out there. But in saying that, they played very well against us. They were really up for it. I don't think they played as well in the final [which the Dutch won 1-0 against Spain], but that's the way football goes. They played very well and we underperformed. When you get that scenario, there's only one result."
Source: faiofficial/YouTube
The Holland loss was a particularly bitter pill to swallow for two reasons — the Irish had to watch Spain, a team who they had already beaten in the competition, progress to the final, while the Dutch coach's provocative pre-game comments also exacerbated the subsequent sense of disappointment, after he derided the Irish side as a "kick-and-rush" team.
"I don't like that part of the game," Connell says. "There were a couple of managers at it. I don't like people making comparisons to the Irish girls and GAA. I don't think that has anything whatsoever to do with us playing soccer. Getting stuck in is in our DNA. But in saying that, I don't know what he was talking about really, because the Dutch had a hell of a lot more physical players than us. When we played them in April, they had five bookings, we had one. So he'd want to practice what he preaches.
"It was disrespectful, and it was more hurtful that we didn't perform in the semis, because we wanted to put up a good show against the Dutch. And again, they were physical. We had two players going off injured — one with suspected concussion from an off-the-ball elbow and another went over on their ankle ligaments after a heavy tackle.
"I think it comes down to coaches trying to get in referees' ears before games and I don't like that. We're a very fair team that play within the rules of the game, unlike some countries. So our girls are, if anything, too honest."
(Ireland's Savannah McCarthy [right] is consoled by Shannon Carson after the game)
Yet Connell insists he would never let such cynicism creep into the Irish team's play. It would go against the unremittingly positive mindset that he encourages his players to adhere to. When TheScore.ie spoke to him prior to the tournament, the former Shamrock Rovers player's confidence was palpable, as he maintained that the Irish team were going into the tournament with genuine hopes of winning the competition outright.
"I think it's part of my philosophy," he says. "When we go into a competition, we're going in it to win it. I knew that we would do well and I knew that we would surprise a few people. Were we confident to the extent of expecting to win the group on nine points? Maybe not. We were probably targeting the runners-up spot to be honest.
"But some of the girls in that squad have worked with no other international manager, so they know the philosophy of myself and my fellow coaches, and that philosophy is that we can compete at a high level, but we must be in the physical and mental condition to compete with those countries, so we've always had good players in the past, but the physical and the mental end of things wouldn't have been as good before."
Indeed, Connell and his colleagues have overseen somewhat of a mini-revolution and complete change in the structure of the women's game, which has been partly necessitated as a result of the dwindling finances devoted to the sport in recent times.
"We'd all love a magic rainbow and a pot of gold at the end of it, because we know what we could do with more money, but it's just not there at the moment.
"But sometimes, when your backs are against the wall and you don't have the finances that other countries have, you start thinking outside the box, and that's what we've done with the emerging talent programme, where we concentrate on our elite players. Whereas we used to concentrate on 300 or 400, we've narrowed that down to about 30 now, because of finance and value for money. And I'm glad it's worked for us, because this qualification has been knocking on the door and I'm glad the girls did really well.
(Dave Connell watches his side from the bench)
"We weren't in a position a couple of years ago where we could say to somebody: 'You're not working hard enough, I'm leaving you out,' whereas now, we can. We have better structures now, and better volumes of players, albeit nothing near what other countries have.
"So we do work hard with our elite players and our coaches in the league to coach all our players. We're working hard on trying to upgrade coaches and we're working hard on trying to upgrade the players. We want to make them think that they can compete at a high level in Europe, and we've proven that we can do that, so there's no reason why we can't do it again."
And with this in mind, does Connell have any advice for up-and-coming Irish coaches hoping to enjoy similar levels of success at major tournaments some day?
"I've had my dark days as well as a manager — when you're sacked, you feel you're sacked unfairly. But that's people's opinion — they're telling you you're not good enough and you just have to knuckle down and keep believing and it's a tough road. But I've kept with it, I've kept my philosophy and learned along the way.
"So I'd say to young coaches — always hang in there and never stop believing that you can do it. That was my attitude when I was sacked by Limerick and Galway. So you just keep trying to improve as a coach, which is what I tried to do. And if you're an open coach and you're willing to learn, then you'll succeed.
Source: faiofficial/YouTube
"And I even learned with the girls about how to qualify for tournaments, because we were playing some lovely stuff, but we weren't winning games. It's about learning to win matches at group level and learning with the players on that belief that we can do it. We instilled that into the players — even when we were 4-0 down against Holland, there was a never-say-die attitude."
Yet although this admirable mentality is one of countless positives that the under-19s can take from this invaluable experience, there is still bound to be a level of skepticism about women's football in certain quarters. Is Connell, for instance, somewhat disheartened by the inevitable tailoring off of interest in women's soccer among the public at large now that this big event has ended?
"It's understandable," he says. "Women's football doesn't have an awful lot of media coverage in Ireland. So when we start doing well, the public are going to buy into it. We understand that and it's up to ourselves to give the girls a higher profile. The national league is still in its infancy, so if we could get more coverage in that league, it would help matters.
"The Irish are obviously very proud of their own when they're doing well against other countries, particularly other countries that are supposed to be better than us. So it's great for the girls, as they [usually] get very little publicity. They put a lot of effort into it too, and they don't get paid for it unlike some of the other countries we're up against, so it's great that they got that publicity."
Source: faiofficial/YouTube
"It was part of the criteria for competing in the finals that every country had to have a press officer, so Gareth Maher was with us, and that helped us out immensely. We were probably getting a lot of attention on social media, yet we didn't really fully realise what was going on even though the girls were getting a lot of publicity.
"But I made sure that every girl got publicity, because I've seen in my playing days where players get jealous of other players getting interviewed. So I asked Gareth to do a piece with every player and that happened, so it makes everybody feel part of the squad, and I thought the girls handled the media very well. We've a lot of bright players on and off the park, and they all conducted themselves very well."
And having experienced such highs, Connell is determined to replicate them in years to come. Moreover, with a seemingly successful formula already in place, he is understandably optimistic about the future of women's soccer in Ireland.
"The other countries won't like us. We haven't been around before, but I can guarantee we're here to stay. And it can only do great things for the game in Ireland. It'll hopefully inspire more young girls to take up the game and it'll hopefully inspire girls who are already playing the game to try to get a piece of the action. And we will certainly instill the belief that the 19s had that we can do it again and hopefully go further.
"We took Europe and the competition by storm last month. We were all together — the eight countries competing — in the one hotel. You knew the other countries wanted to beat Ireland. UEFA bought into us — they wanted to do interview after interview with the girls, and they were obviously happy that a country had a story, and our performances at the Euros was the story for UEFA as much as it was at home, and rightly so.
"But we want to taste it every year if we can. We've made the breakthrough now, so long may it continue."
Source: faiofficial/YouTube