IRELAND PREPARE TO host England at the Aviva Stadium this weekend, with the memory of the teams' last match on Irish soil looming large, despite taking place over 20 years ago.
The 'Lansdowne Riot,' which took place on 15 February 1995 and was caused by a section of the travelling support representing neo-Nazi organisation Combat 18 — a group that used football matches and hooliganism as a recruiting ground — was undoubtedly one of the most infamous and shameful nights in international football during the 1990s.
The atmosphere was tense to begin with — 'God Save The Queen' was jeered by some Irish fans, while members of Combat 18 chanted 'Sieg Heil' and 'no surrender to the IRA' during Amhrán na bhFiann.
What had been an entertaining game took its first twist just after the 20-minute mark, when David Kelly opened the scoring for the hosts with a fine finish.
David Platt appeared to equalise shortly thereafter, but the midfielder's goal was correctly ruled out for offside.
killianm2 / YouTube
It was then that the trouble started however, as a section of the English support began ripping up nearby seats and throwing the debris down onto the supporters below them, prompting Gardaí to respond aggressively.
The referee called a halt to the match in response as the rioting increased in intensity, prompting many home fans to seek solace from the danger by escaping from the stands and running onto the pitch, while the abandonment of the game was eventually confirmed owing to this mayhem.
With disasters including Heysel, Hillsborough and the Bradford City stadium fire occurring in the previous decade and still being relatively fresh in the many people's memories, the Lansdowne Riot was regarded as another dark day for football. 20 people were injured and 40 were arrested, while representatives from both teams roundly condemned the perpetrators.
An investigation by former Chief Justice of Ireland, Thomas Finlay later found that the Gardaí had not taken sufficient heed of warnings by the British National Criminal Intelligence Service (NCIS) of Combat 18′s plans to cause trouble at the match.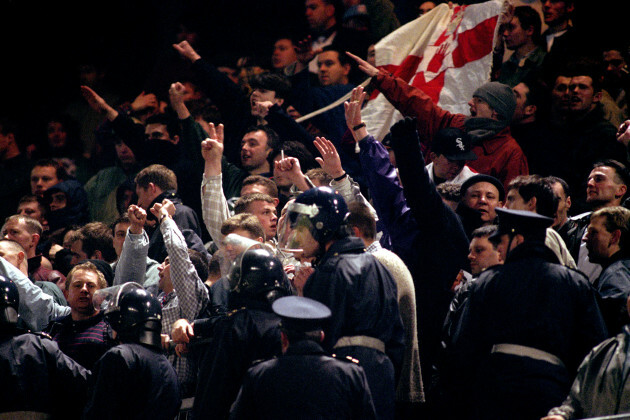 EMPICS Sport EMPICS Sport
(English fans pictured at the game)
Moreover, to compound matters, it was later discovered that Irish fans had mistakenly been put into the same area of the stadium as English hooligans, after the FA had previously returned a portion of the tickets allocated to them by the FAI.
One of those present on the night was Ger Canning, RTÉ's sideline reporter for the game. Despite the eventual eruption of violence, he witnessed no overt signs of trouble on his way to the stadium.
"There was nothing untoward," he tells The42. "There was a certain degree of tension around the place because it was England who were there, but they had been there a couple of years before… So I had no sense of foreboding."
Indeed, their last meeting on Irish soil had been a Euro 92 qualifier at Lansdowne Road on 14 November 1990. The game had ended 1-1 and while there was no stadium violence that day, rival fans had clashed after the match on O'Connell Street.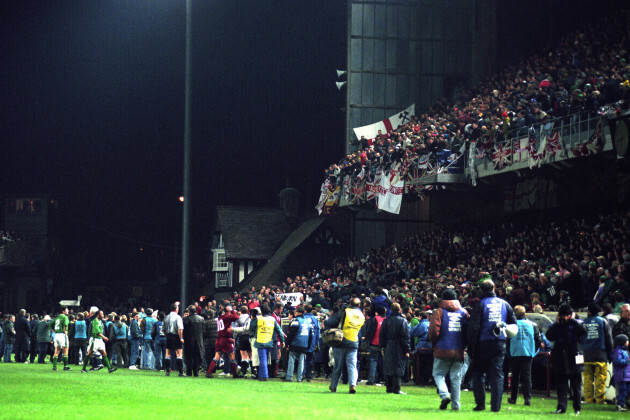 EMPICS Sport EMPICS Sport
(Players walk off as the crowd violence begins)
Canning, like most of those watching, had no idea initially at the time that Combat 18 were at the centre of the violence — but one man more aware of what was happening than most at the game that day was future Taoiseach Bertie Ahern, who described in an interview with Canning — broadcast live on national TV — how English officials attending the game, with whom he had spoken, could actually identify well-known "National Front people" amid the group of troublemakers.
"The first I'd heard of a group called Combat 18 was on the field after the riot had happened," Canning recalls. "My job that night was sideline reporter, so essentially I was required to do a piece before the game and interview the managers after.
"But when the whole thing escalated and got completely out of hand, the role ceased from being sideline reporter to basically being someone who was going to interview everybody and anybody to try and get as many viewpoints as you should while we were still on air.
"I remember interviewing the Minister for Sport at the time, Bernard Allen. We got Bernard to come down onto the field, and along with him was Bertie Ahern, who was leader of the opposition at that stage. It was Bertie who mentioned [Combat 18]. I hadn't heard of them before."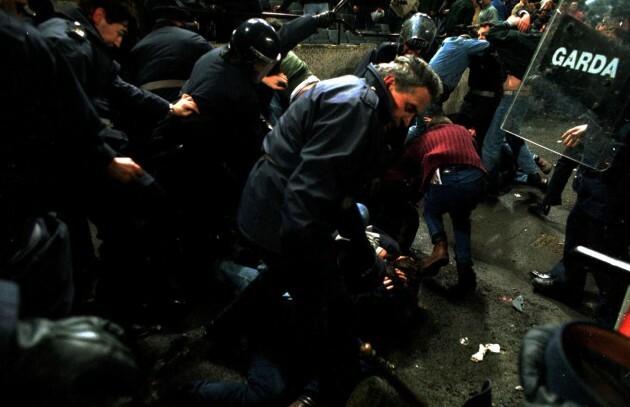 (Police attempt to control violent hooligans)
Exclusive Six
Nations Analysis
Get Murray Kinsella's exclusive analysis of Ireland's Six Nations campaign this spring
Become a Member
Scenes of the game and the violence that broke out went around the world, with a shot of a clearly frightened little boy, watching the chaos develop all around him, serving as one of the most powerful images from the evening.
Canning, too, was shocked by what he saw: "These guys were morons… They didn't come to watch football really, they came to cause trouble."
Another person caught up in the mayhem was Ben Eglington, an RTÉ cameraman, whose father Tommy had represented Ireland in 1949 during the first-ever defeat of England by a non-British team on their own soil.
Eglington was sitting perilously close to the rioters in the Upper West Stand, and as Canning notes: "If the English hooligans had known that one of the photographers' father's had helped beat the English team, they probably would have beaten the bejaysus out of him."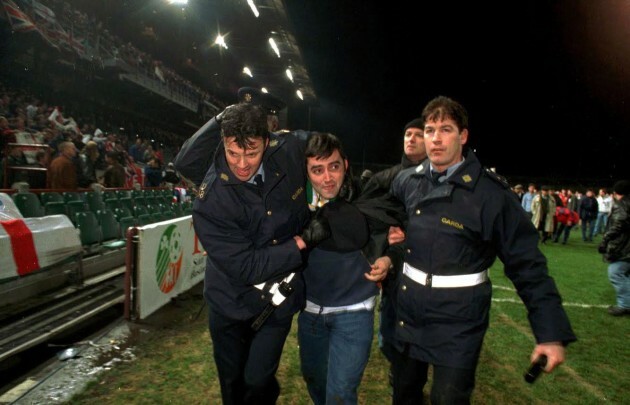 (A fan is escorted away by Gardaí)
Canning, who had worked as a commentator at the Heysel tragedy, said that unlike certain other occasions, he never feared for his personal safety on the night.
"I felt safe," he says. "I remember Pat Kenny coming up to me afterwards. We were waiting around to do interviews. He said: 'Were you also at Hillsborough?' I had been at Heysel 10 years previously and I think Pat associated me with dreadful things happening at football matches, but I wasn't at Hillsborough.
"I'd been to England many times for football games, so I'd seen the way English police chaperoned away supporters from the train station to the football stadium. I remember on one occasion, doing a game at Wembley, and afterwards, one of the team's supporters ran amok at a car park. They kicked in headlights on cars and all this kind of stuff.
"You kind of felt scared in those situations, because these were guys influenced by groupthink and the herd mentality, doing things that they wouldn't ordinarily do from Monday to Friday. They seemed to think they had licence to go mad on Saturday.
"But that night in Lansdowne Road, I certainly didn't feel in danger… And it had started out in such a wonderful way in many respects, because it was a wonderful football game for 25 minutes or so… And it's important to emphasise that England had been here before and there hadn't been anything remotely like it."
(Jack Charlton reacts to the violent scenes)
Following the night's unprecedented events, football officials acted promptly in an attempt to ensure similar violence would not occur in future, and the fact that an England-Ireland encounter would not be arranged again for another 18 years was telling.
"I suppose the legacy is people being extremely careful in terms of organising football games — getting supporters in and getting supporters out, and ensuring that while they're in there, nothing remotely like that could ever happen again.
"That stand in Lansdowne was so old. The timbre was used as weapons. They could have started a fire as well just as easily, but they clearly didn't want to burn themselves, so they had a certain sense of self-preservation in their actions."
(A groundsman clears away some of the damaged seats)
And does Canning feel there is any chance of serious violence occurring at the upcoming game on Sunday, or in future matches between the sides?
"I think people are now well clued in to A, the nature of the people who are going to be coming, and B, where they're going to be positioned in the ground in relation to other supporters.
"Furthermore, even though there had been an IRA ceasefire announced, the whole thing was still in the early stages of trying to achieve normality, and there was still tension at that stage.
"In 1993, I can remember going to Belfast for the Republic of Ireland versus Northern Ireland game, and that was a night which was fraught with tension… That was pretty scary — and I can remember Billy Bingham, the Northern Ireland manager, hyping it up and trying to get the Northern Ireland supporters into a frenzy of national fervour.
"There were about 12,000 people in the ground and about 11,500 were Northern Ireland supporters. [RTÉ Sports broadcaster] Des Cahill, who was also at the game, told me that when Ireland did score, he had to keep his hands under his seat — he didn't dare clap.
"I think things have matured to a large extent and there's a lot more normality and feelings of security at football games now, and please God there will be nothing like that, and we will tolerate and get along with each other, and see sport for what it is — fun."