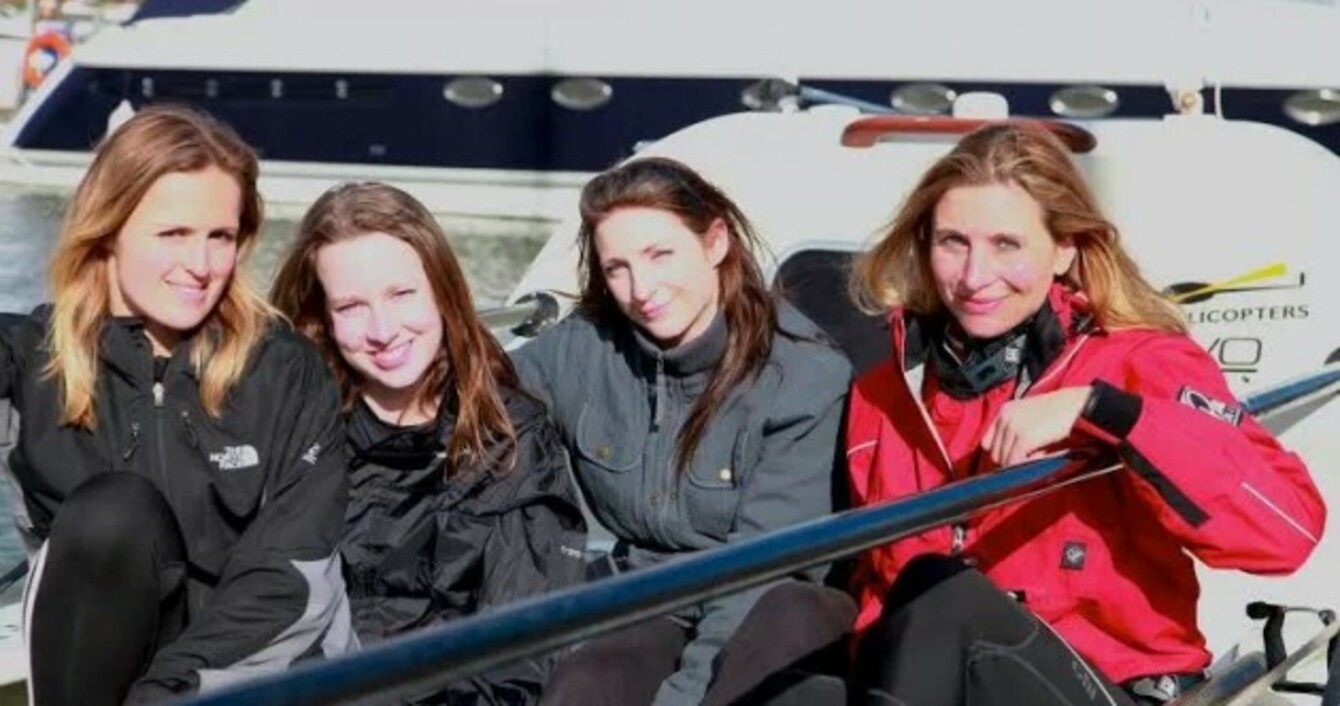 Sitting on the boat, left to right: Emily Blagden, Aoife Ní Mhaoileoin, Laura Kennington and Ingrid Kvale.
Image: Aoife Ní Mhaoileoin
Sitting on the boat, left to right: Emily Blagden, Aoife Ní Mhaoileoin, Laura Kennington and Ingrid Kvale.
Image: Aoife Ní Mhaoileoin
CAN YOU IMAGINE rowing 2,400 miles across the Pacific Ocean over 40 days in a state of near-constant sleep deprivation? That is the task facing Aoife Ní Mhaoileoin, a doctor from Dublin, after she agreed to become part of the first all-female four to undertake this arduous assignment.
Along with her teammates Emily Blagden, Laura Kennington and Ingrid Kvale, Ní Mhaoileoin is set to form part of one of the 15 crews competing in the Great Pacific Race – described as the "biggest, baddest human endurance challenge on the planet".
Her bravery is all the more remarkable given that she has never been on a major rowing expedition and until recently, had no rowing experience whatsoever.
So what prompted her to accept this daunting proposition?
"I was looking to do a challenge," she tells TheScore.ie. "Not necessarily a rowing challenge, but a big challenge, because I was lucky enough to support people in theirs as a medic. And so I wanted to do a challenge where I was part of the actual team rather than the support team, and I saw an ad looking for teammates, and I knew I could invest the time and effort into this one."
Moreover, while Ní Mhaoileoin may be relatively new to rowing, she is no stranger to adventure, having already been involved in expeditions to Borneo and Mount Kilimanjaro.
She says she hasn't spent much time considering the significance of being part of the first all-female four, explaining that it's "more of a personal thing," but adds that she hopes her efforts will inspire more women to undertake the challenge in future.
Ní Mhaoileoin also explains that her friends and relatives were caught somewhat off-guard by her participation in the event.
"At first, I think they assumed I wouldn't have a place in the team, because I wouldn't have any rowing experience," she says. "They had to adjust those expectations once I could come back and say that I was actually doing it.
"But no more than myself and no more than everybody involved, they are anxious and there are a lot of things to be anxious about, but they're absolutely supportive and hopefully I'll be able to see at least some of them once we get to Hawaii and they'll be there on the dock."
And while she understandably feels some apprehension, more than anything else, Ní Mhaoileoin is simply eager to get started.
"I just want to get out there," she admits. "We're around 80 days from the start line, and this is the final push to get everything sorted. There are still a thousand things to be sorted, but it'll all get done. I'm looking forward to just pushing off and focusing on the rowing, rather than all the preparation and the logistics and the shipping and the planning."
She continues: "We have been training intensely, as well as taking courses in sea survival and navigation. Beyond the physical and psychological training, there are also a huge number of practical considerations. We need to ensure that our boat is race ready and that we have reliable water-purifying equipment and plenty of food — we'll need to consume 5,000-6,000 calories a day!"
(Photo of the team rowing, left to right: Laura Kennington, Emily Blagden, Ingrid Kvale, Aoife Ní Mhaoileoin.)
Working as a full-time doctor, Ní Mhaoileoin feels the skills she has acquired in the day job will be useful to a degree once she sets out to sea on a trip that begins in Monterey, California and ends in Honolulu ("if nothing else, it's a great excuse for a holiday in Hawaii!").
"I've worked as a medic on expeditions in Fiji, Borneo, Tanzania and Morocco, so I think that's good experience. But apart from that, the regular skills we use every day in terms of keeping calm under pressure and having to rely on yourself and look after yourself and the rest of your team, well hopefully, they won't be necessary skills, but if it does come to pass, at least I'll be prepared for that bit."
And asked which home comfort she'll miss the most, there is little hesitation in her response.
"The biggest thing for me would be sleeping for more than 90 minutes or two hours at a time. We're taking our inspiration from new parents — if they can manage to do it for months and months, we can manage to do it for a few weeks, but I think the sleeping is going to be the thing I miss most. Once we get there, we'll obviously look forward to fresh food and cold drinks and it'll all be a luxury again."
On a related note, is she worried that being in such close proximity with people who were strangers up until recently enough could lead to in-fighting?
"We get on very well now and we have all this space to go back to our own house and our own circle. I think there are definitely going to be days on the boat where it's difficult. But ultimately, they're your only support system when you're out there. So maintaining those relationships and knowing that there will be times where things are stressed and emotions are high… We'll all be in that position, so forgetting it then and going back to enjoying what we're doing [is important]. One way or another, I think we'll know each other forever — good or bad at the time, it'll all be positive in the end.
"We have an ultimate aim and we're all trying to achieve the same thing and everybody's going to be working towards that. But in an experience like this where everybody's outside their comfort zone, there are always going to be those moments where people lose tempers or people are just having a bad moment, but we'll all be sleep deprived, we'll all be away from family and friends, but we've been working very closely together in training for the last year and so we have that space and that background to go from."
(Standing on boat,  left to right: Laura Kennington, Aoife Ní Mhaoileoin, Emily Blagden and Ingrid Kvale)
Ní Mhaoileoin adds that her primary concerns about the trip are practical issues, rather than those relating to personal safety.
"My biggest fear would be that, after all this preparation and all the effort we've put in, something like bad weather causes an equipment failure that means you can't carry on or you're significantly delayed. So we're doing all the preparation and we have all the safety equipment, but if something like your water maker or electronics get damaged such that you can't fix them on the boat, then that's potentially a trip ender. And that's my biggest fear — that something will happen that we won't be able to finish despite everything we've put into it."
Along with this endeavour and the Berlin marathon in autumn, the Dubliner has a busy few months ahead of her. While she is unsure if she will continue to pursue such ambitious challenges thereafter, she is certainly not ruling out this idea.
"I can't tell whether when we get off the boat, I'll never want to think about doing something like this again, or whether I'll be hooked. If I had to guess, I'd say this is the first [challenge] of many.
"I'm not looking to be a professional adventurer. I like being a doctor. So I think I will do more challenges, but this one is big enough to focus on for the minute, and then we'll take it from there in August."
And finally, I can't end the interview without asking about the rather eye-catching name they chose for this expedition: 'Team Boatylicious'.
"You'll definitely be able to identify us as the girls' team with a name like that," she laughs.
The team is raising money for two charities: Hope and Homes for Children, which works internationally to eradicate institutional care of children and The Ahoy Centre, which gives disadvantaged children and people with disabilities the opportunity to earn sailing qualifications. They are also inviting corporate sponsors to become part of the team by helping them to meet their race costs, and you can follow Team Boatylicious on Facebook, Twitter and their official website.