IF JOE MOLLOY had followed his Plan A, he would currently be on his summer holidays but bemoaning a pay-packet that is getting squeezed a little further with each passing year.
The Newstalk sports presenter had his sights set on becoming a English and History teacher before the lure of sport and broadcasting diverted him off a chosen path.
Molloy tells TheScore.ie that his switch to radio came 'in the boom years' and was motivated by a desire to glean the same satisfaction from work that many friends, who were studying and working in media, enjoyed. "How many times can you read Macbeth to a bunch of students who aren't interested?" he reasoned.
The Celbridge native, who was studying in Maynooth at the time, turned up the prospect of a TEFL [English-teaching] course in China when he spotted a media course advertised on a flyer stuck under his windscreen wiper. Good to know that old advertisements work.
His first show was a newspaper review, each Friday evening, with journalist Ciarán McCabe on community radio station Liffey Sounds FM. "The [stations] are really for the butcher, the baker, the solicitor; everybody in the town who thinks they have something in them and wants to get involved."
The station was popular in its locale but did not have a long-range reach. "You could listen online," he said, "and it would tell you how many others were listening. There was always just one person and that turned out to be the computer outside the studio to make sure the feed was working.
"There was nobody listening. It was literally Ciarán's mammy and my mammy. That was about it."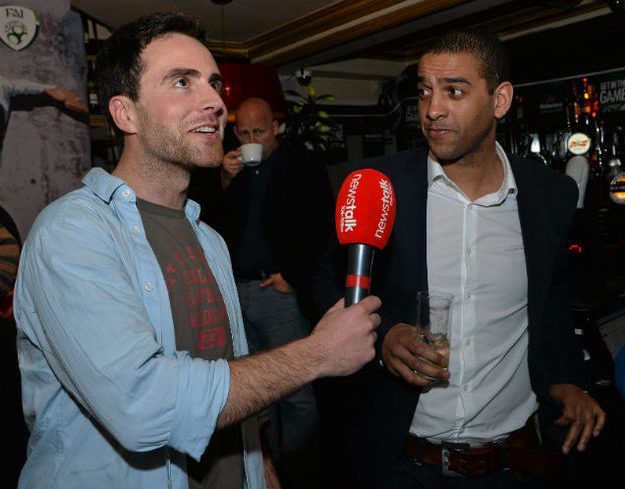 Molloy looks for inspiration as Phil Babb awaits a question. (Credit: Newstalk)
Molloy graduated from his year-long course in 2007 and, sceptical about finding full-time work, gave himself six months to establish himself in Irish media, with teaching as his fall-back. He responded to an advert that Newstalk posted, on Radiowave, seeking freelance sports readers.
A white lie about his experience got him an audition, which was recorded by Cian Murtagh, and graveyard shifts, late on Sunday nights, soon followed. "Really jammy," he recalls.
The lucky streak continued in December of that year when he was asked to travel to Hawaii to cover the World Surf Championships as Red Bull were sponsoring Mick Fanning, who had Irish parentage. "I was thinking 'Jesus this is great. It's always going to be like this'," he remarks. "That still remains my best trip."
The rise and rise of Laura Whitmore, who left for MTV in 2008, had a positive collateral effect on Molloy's career as he took up her role as researcher on the station's lunchtime show. The Right Hook approached Molloy in 2009 and, liking the cut of his researching jib, brought him on-board.
He had settled well at the Dublin-based station but felt the need to get back into the presenting that he enjoyed in the opening salvoes of his media career. He found a home at KFM, in Kildare, hosting a weekend sports show.
Cover the desk
His first taste of presenting came in May 2010 when three-quarters of Newstalk's sports department set off to France to cover a Heineken Cup semi-final weekend [Toulouse v Leinster and Biarritz v Munster]. "For that show," he said, "I can still name the Biarritz team from that day. I had a week to prepare for it. I knew the mothers and fathers of the Biarritz players. I was a nervous wreck beforehand."
World Cup Daily followed that summer on Newstalk and Molloy's relaxed, easy style came to the fore as he and Ger Gilroy struck up a presenting partnership that continued when he moved, fully, into the sports production department. Commentary rights to Premiership soccer and Heineken Cup rugby, he says, were the bigger acquisitions for the weekend sports shows but he was delighted to be part of the transfer activity.
Exclusive Six
Nations Analysis
Get Murray Kinsella's exclusive analysis of Ireland's Six Nations campaign this spring
Become a Member
As of the latest JNLR listenership figures, the weekend shows have a combined reach of 145,000 while Off The Ball, which he stepped into along with Gilroy back in March following the departure of five work colleagues that now present the Second Captains podcast, currently has 41,000 people tuning in.
In the three years he has been focused on producing and presenting sports shows, he cherishes the panelist and interviewee that can emit their passion and sporting insights across the airwaves. Former Offaly hurler Daithí Regan and Sunday Times journalist David Walsh are two. Conor Deegan is another. He said:
One of the great matches of all time was back in the 90s when Down beat Derry, who were defending All Ireland champions. We brought Conor in to tell us the story of that day… On paper it doesn't sound that remarkable but, ultimately, what he's trying to get across is 'I don't know where my All Ireland medals are. I don't really know where my Ulster medals are. I don't remember lots of things about my career but what I remember about that day is the dressing room afterwards. These unspoken bonds where we are looking at each other and we know what we have done."
Molloy holds up an interview carried out with Katie Taylor, and her father Pete, as one of the best he has ever been involved in. The 20-minute chat came the day after the boxer won Olympic Gold for Ireland at London 2012.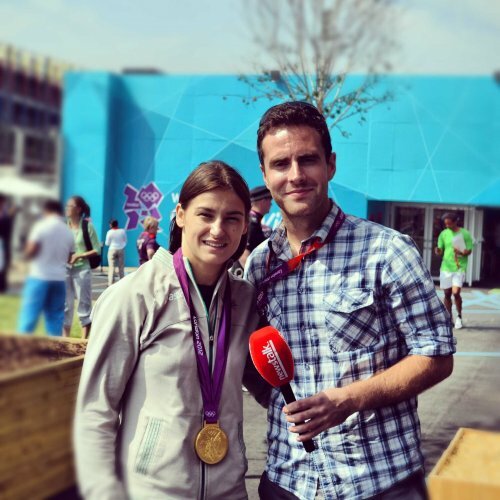 Katie Taylor and her Olympic Gold Medal are interviewed by Molloy at London 2012.
The presenter recalled, "Katie Taylor doesn't particularly like talking to the media. It's an occupational hazard, something she has to do. She gets that. The day after she won the Gold Medal, there was just a happiness about her. She just relaxed and was very open."
Molloy added, "At that stage, we hadn't heard from her for two or three months before the Olympics. It was Operation Lockdown because she was so focused on winning. There was this 20 minutes where she talked about everything — the relief of winning, the fact that she hadn't even see Jessica Ennis or Mo Farah or any of the Olympics. She talked about her religion and, again, that was this new thing that we hadn't heard too much about. There was a lovely vibe off her. It was a really nice piece."
Interviewing Taylor at the Olympic athletes' village at Rio 2016 would be another memorable moment but Molloy, who has experienced a rapid rise in recent years, is still taking nothing for granted. For now he is happy with where his ride has taken him. "It's mad, it's random," he said, "but it is wonderful."