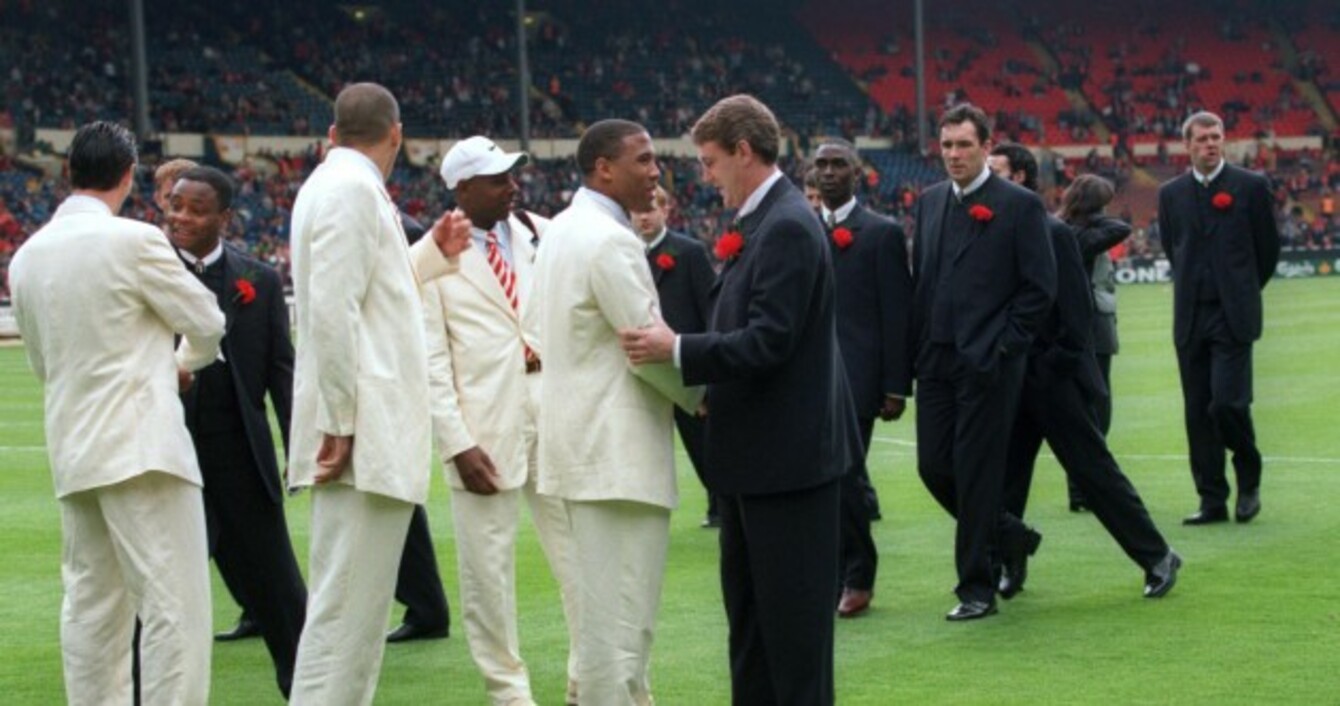 Manchester United's Steve Bruce admires Liverpool's John Barnes' suit as the two teams stroll across the pitch before the 1996 FA Cup final.
Manchester United's Steve Bruce admires Liverpool's John Barnes' suit as the two teams stroll across the pitch before the 1996 FA Cup final.
IF LIVERPOOL HAD won the 1996 FA Cup final — the 19th anniversary of which occurred this week — far less people would remember the highly distinctive all-white suits the team wore that day.
Had they edged a 1-0 victory over Man United instead of the opposite occurring, their outlandish attire that day would have been a mere footnote in the club's history — a pub quiz question at best.
However, instead, a moment of magic from Eric Cantona served to light up an otherwise dour game, and the suits ultimately were seen as a metaphor for everything that was wrong with Liverpool in the 1990s.
The stereotypical view of the Reds during this period was that they were a club out of time — a group of playboys and jokers not suited to the game's increasing level of professionalism.
Following Kenny Dalglish's sudden departure in 1991, success began to dry up for a side that had dominated English football for large portions of the 70s and 80s.
After taking over from Dalglish, Graeme Souness oversaw an awkward transitional phase, whereby he attempted to modernise the club by implementing a strict sense of discipline, as well as shunting a number of ageing but popular players out the door.
When Souness' much-maligned tenure ended in failure, the hiring of Roy Evans was seen as a throwback to the club's past. Evans had been at the club in various capacities since Bill Shankly's time in charge in the 1960s, and was very much the antithesis of Souness, with his altogether more laidback approach to management.
However, football was changing, and Liverpool would soon discover that Evans' old-fashioned style was ill-fated.
Source: blackguardian76th/YouTube
Evans was a people person, who saw no harm in his players letting off steam every so often by unwinding with a couple of beers. However, somewhat unbeknownst to him, it was a time of drastic change in football, and the policies that were once so successful for the club began to hamper their chances of success.
"It surprised me just how unaware Liverpool were of the world changing so quickly — not just around Liverpool, but around football itself," Simon Hughes, author of Men in White Suits, tells The42. "There seemed to be an ignorance or denial about how things were changing. I think it was impossible for Liverpool to ignore that really, but to a large extent, they did, with the decisions they made.
"A lot of the book is focused on the beginning of the 90s when Graeme Souness came in. I don't know if it's ever been emphasised just how much of a chaotic time that was for the club. I was really surprised by the level of animosity towards the manager within the club, how much resistance he was met with.
"There's a kind of aura around Graeme — I can't imagine how that must have been for him. When he went to Liverpool, he'd had nothing but success for such a long time and there was an assumption really that the success would just continue. It showed how quickly things can unravel, the wrong decisions are made. You see with clubs now — one moment a team are doing reasonably well and six games later, the manager's been sacked. If you look at football and the cultural shift, this is where it really starts to change — at the beginning of the 90s."
In the time of Shankly and Paisley, the standards at Liverpool were set by the senior players — the managers on the pitch essentially. Evans was hoping a similar formula would pay dividends after taking over from Souness midway through the 1993-94 season.
Source: blackguardian76th/YouTube
While the Bootle-born coach's time at the club was by no means a disaster — he even won the League Cup during his first full season in charge at Anfield — it is ultimately regarded as a failure, which is defined primarily by that narrow FA Cup final loss to Man United in 1996.
"I think Roy was let down at times by some of the senior players," Hughes says. "I think he put a lot of faith in certain figures like John Barnes and Ian Rush. As Jamie Carragher says in his forward, I can't believe somebody didn't think — what if we lose this final, because this is what we're going to be remembered for forever.
"I used the title Men in White Suits [for the book] because I feel like everything in the 90s had been leading up to that moment and everything that's happened since is a consequence… You can see in the book that the players still regret it. It's an iconic image and it's impossible for them to get away from it.
"I had to think hard about the title of the book, and the image that was going to go on the front cover. I didn't want it to come across as 'let's all have a laugh at Liverpool,' because I know that image does create that kind of thought.
"But inevitably, when you think about that game, I think it had an effect not just on Liverpool, but on football itself. It defined how a lot of people viewed footballers as quite crass and thoughtless to a certain extent. And I think footballers have struggled with PR ever since. There's an unhealthy situation now where players aren't able to be who they really are [in front of the cameras]."
Source: Will Hay/YouTube
The infamous white suits fed into the stereotypical image of Liverpool, or 'the Spice Boys,' as their coterie of young starlets were christened. They were portrayed in the media as a sporadically inspired but invariably feckless bunch, beating Newcastle 4-3 in a thrilling encounter to renew their title hopes one minute, before ending any realistic hope of Premier League silverware with a shock loss to Coventry the next.
The likes of Jason McAteer, Robbie Fowler and Jamie Redknapp were all romantically linked with various celebrities and often seen partying out in London, but like most stereotypes, the image was exaggerated by an unforgiving media, while still being partially true.
"A lot of the players were either from London or had connections to London and they'd go out in London, so they were a lot closer to a more aggressive media at that time," Hughes recalls. "That didn't help at all. I'm sure the Man United players did go out, but they went out in Manchester a lot more, whereas all the Liverpool players went out in London. I don't think it was a case of them getting absolutely plastered. They were just seen about at a lot of these PR functions."
A Liverpool fan born and bred in the city, Hughes grew up following the team in the 90s. His previous book, Red Machine, focused on Liverpool in the 80s, but the Telegraph journalist says he was particularly eager to cover this more recent period, having grown frustrated with the plethora of ex-players' autobiographies painting an overly "sanitised" picture of the time.
The book is not necessarily what you would expect. Many of the people interviewed — figures such as John Scales, Jason McAteer and Eric Meijer — enjoyed limited success at best during their time with the club. However, these less high-profile figures often turn out to be more interesting and perceptive than their better-known counterparts.
(Former Liverpool player Jason McAteer began his career in non-league football)
"There were people like John Scales who surprised me," Hughes says. "I was kind of told I might not get that much off John, but when I went there, he was probably more insightful than most and he clearly thinks quite deeply about things.
"Of them all, meeting Eric Meijer was good fun really. Again, he had quite a different story to tell. [It was] not necessarily one that was closely linked to Liverpool's story, but I felt that Liverpool were a club where cult heroes existed by the late 90s, and that had never happened before — you'd usually associate them with unsuccessful clubs. Eric admitted himself that he wasn't quite at the required level for Liverpool, nonetheless, he became a cult hero because of the effort he made."
Moreover, asked whether characters such as former Ireland international McAteer still exist in the game, Hughes is doubtful.
"If you look at Jason McAteer's career path — coming from non-league football, he made quite a steep rise in a short period of time. That kind of story doesn't happen anymore. There are very few players… Charlie Austin is probably the closest. Him aside, I can't think of many non-league footballers that have risen to the Premier League.
"The clubs want to control everything now from a very young age. They're all recruited from the age of five, and quite quickly, once they sign their first meaningful contracts, they're being given media training and everything else.
"I don't know whether there are the personalities there anymore, because they don't have that life experience. They're so focused on football. It's to the detriment of the game, because players need to be able to think for themselves on the pitch. The best players are the ones that can play to some tactical plan for the manager, but also break from that at times, and do what they think is necessary to win a football match."
Hughes also believes Liverpool's downfall is inextricably linked with the onset of the modern Premier League era, and thus, feels less than optimistic about a return to the glory days anytime soon.
"I think it's going to be very difficult," he explains. "Now, there's an unhealthy compromise with Liverpool where it's still trying to cling on to its history, but the club has an unhealthy relationship with money and the supporters as well. You only saw it the other week where people were quite rightly boycotting the Hull away match [because of ticket prices].
"To be successful, I think ultimately you have to be able to pay out the biggest wages, and Liverpool are not in a position to do that. Most of the fans don't want a sheikh coming in and potentially destabilising the future of the club if it all goes wrong. What they do want is a bit of ambition by signing one or two top-quality players.
"Liverpool's foundations were built on a strong sense of socialism from Bill Shankly's time, and we've seen in the last week with the election in England, Ed Miliband is probably one of the most left Labour leaders that there's been in the past 30 years. He suffered a landslide defeat, apart from in Liverpool, where Labour are still strong.
"So in an age where conservatism and money dictates a lot of things, Liverpool retains a socialist, left-wing heart, which is obviously at odds with the society it's trying to compete in."
'Men in White Suits: Liverpool FC in the 1990s, The Players' Stories, by Simon Hughes, is published by Bantam Press and is available now. For more info, click here.