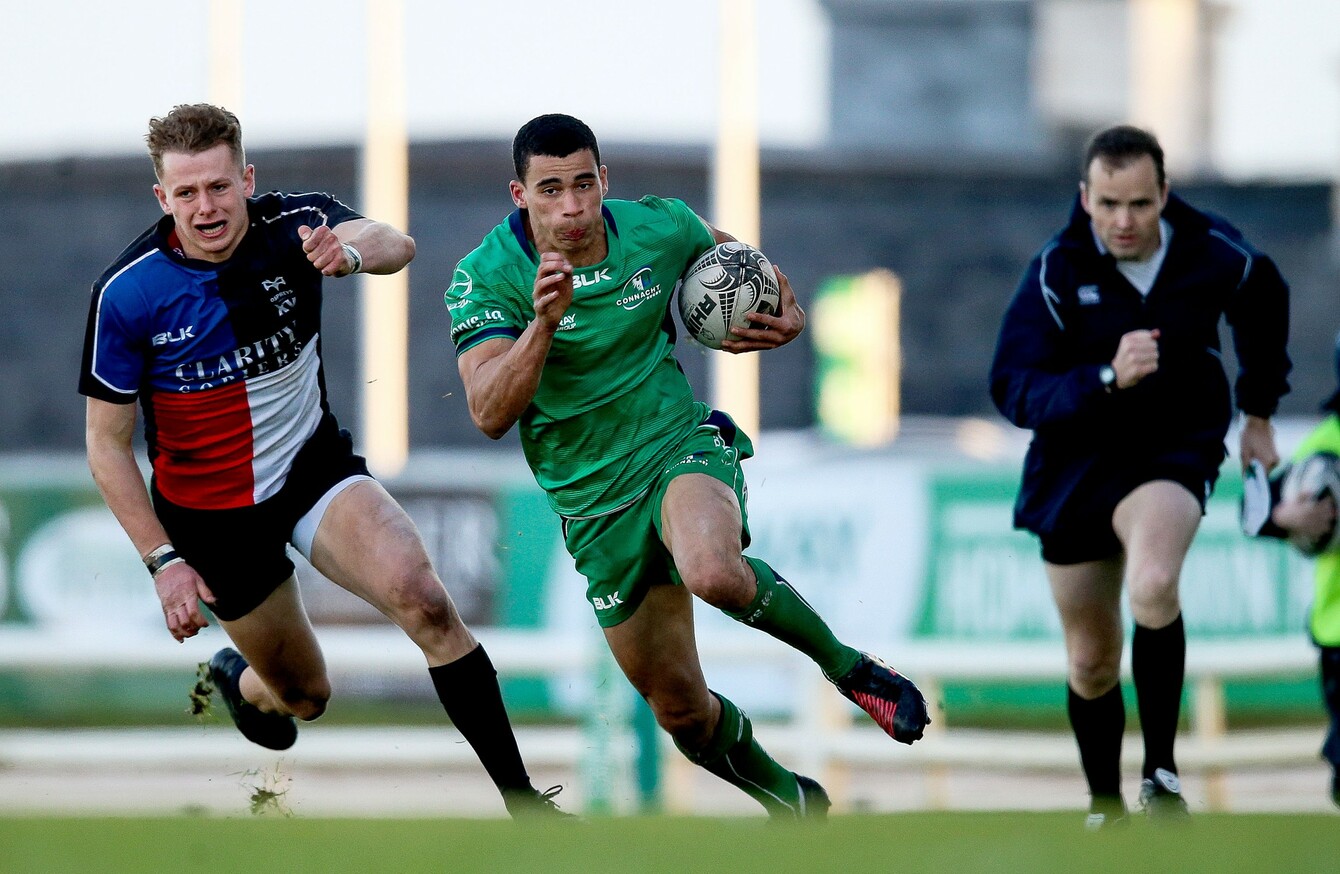 Conroy in action for Connacht Eagles in December.
Image: Tommy Dickson/INPHO
Conroy in action for Connacht Eagles in December.
Image: Tommy Dickson/INPHO
CONNACHT CLUB PLAYER of the Year Jordan Conroy has been included in 31-man Ireland Sevens squad to train in Dublin this month before competing in the Rugby Europe Grand Prix in June.
The free-scoring wing ran in 18 tries for Buccaneers as they topped Ulster Bank League 1B this season.
The Connacht Eagle is joined by his clubmate Shane Layden and fellow 'A' representatives Aaron Cairns, Ian Fitzpatrick, Adam Leavy, Josh Rowland and Nick Timoney.
The group also includes five finalists from last summer's U20 World Championship as Will Connors, Shane Daly, Hugo Keenan, Terry Kennedy and Jimmy O'Brien step into the short form of the game.
Ex-Leinster and Connacht wing Fionn Carr, who starred in a match against England Legends on St Patrick's Day in between his exploits for Naas, returns to the fray as Anthony Eddy and coach Stan McDowell prepare the team on Lansdowne Road with clear steps laid out for progression.
Beginning next month, the Rugby Europe Grand Prix offers qualification spots for the Hong Kong 7s repechage – which holds a chance to qualify for the 2018/19 7s World Series — while there will also be two further places for next summer's Sevens Rugby World Cup in San Francisco up for grabs.
"The group is very much focused and they understand the challenges ahead," says Eddy, director of Sevens rugby.
"They are very ambitious and we will be working hard to achieve our goals for the season . We've seen the how the game of sevens can benefit players in the 15s game, with the likes of Adam Byrne, Rory O'Loughlin, Barry Daly and Tom Daly in Leinster and Dan Goggin and Alex Wootton in Munster all progressing well at their provinces, having been a part of the sevens programme last season."
Rugby Europe Grand Prix
June 3rd /4th – Moscow
June 10/11th – Lodz
July 1st/2nd – St. Etienne
July 15th/16th - Exeter
Ireland 7s training squad
David Busby (Ballynahinch/Ulster)
Aaron Cairns (Ballynahinch/Ulster)
Fionn Carr (Naas)
Will Connors (UCD/Leinster)
Jordan Conroy (Buccaneers/Connacht)
Shane Daly (Cork Con/Munster)
Billy Dardis (UCD)
Evan Dixon (Dublin University)
Ian Fitzpatrick (Lansdowne/Leinster)
Ned Hodson (Cork Con/Munster)
Foster Horan (Lansdowne)
Hugo Keenan (UCD/Leinster)
Conor Kelly (Queens University/Ulster)
Terry Kennedy (St. Mary's/Leinster)
Shane Layden (Buccaneers)
Adam Leavy (Galwegians/Connacht)
Conor Lowndes (Galwegians/Connacht)
Mick McGrath (Clontarf)
Steve McMahon (Garryowen/Munster)
Harry McNulty (UCD)
Bryan Mollen (Dublin University)
Jimmy O'Brien (UCD/Leinster)
John O'Donnell (Lansdowne)
James O'Donovan (Trinity)
Edward O'Keeffe (Galwegians)
Greg O'Shea (Shannon/Munster)
Mark Roche (Lansdowne)
Josh Rowland (Galwegians)
Tom Stapley (Ballynahinch)
Nick Timoney (Queens University/Ulster)
Steve Toal-Lennon (Exile)
The42 is on Instagram! Tap the button below on your phone to follow us!