AN ARGENTINE JOURNALIST described the upcoming Rugby World Cup quarter-final between his Pumas and Ireland as a 'modern classic' and, you know what? He was spot on.
Morgan Treacy / INPHO Morgan Treacy / INPHO / INPHO
Sure, there have been a few stinkers through the years: we can remember all too clearly two bitterly cold November evenings watching trench warfare unfold and Ireland's summer tours south have coincided with one team or the other pulling many of their front-liners out of the opposition's range.
No fear of that this Sunday. This is a World Cup quarter-final and there will be no holding back. It promises to be another classic of the genre, here are some of the most memorable previous instalments.
November 2012: The Craig Gilroy show
Declan Kidney's final began with a whirlwind of a performance as Ireland won 46 – 24 in the Aviva Stadium. The Pumas were out puff after their first long hard season in the Rugby Championship and were blown away by the running game of Jonathan Sexton with extra electricity added by the impossible-to-pin-down Gilroy and Simon Zebo in his first taste of fullback at international level.
iConfusedProductions / YouTube
September 2007: Puma pride
A fitting end to an awful World Cup? No, if anything this 30 – 15 defeat to Argentina in Paris was a tip of polish on an outright turd of a campaign.
Ireland showed heart, and Brian O'Driscoll's celebration after scoring made us believe the impossible was on, but guided by Augustin Pichot and Juan Martin Hernandez, Argentina were not for wilting.
Juan Payllalef / YouTube
If you want to draw omens from this game: it's the last World Cup meeting between the sides, yes, but it is also Argentina's last win over Ireland – five Tests and eight years ago.
November 2004: Drop-goal drama
Time up, 18 – 19 down, 43 metres out. ROG, you absolute beauty!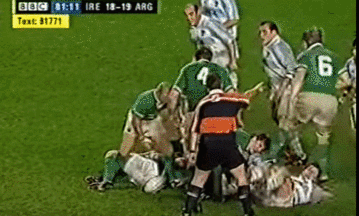 October 2003: Quinlan puts his body on the line
Keith Wood called it the most tired he has ever been. In match three of the '03 World Cup Ireland met Argentina in Adelaide with knock-out qualification on the line and they went to war.
Ruddy Darter / YouTube
16 – 15 tells a story in itself, a one-point game, but Ireland sneaked the win because the individual hunger of Alan Quinlan whose gallop for the line ended with a dislocated shoulder and an invaluable try.
October 1999: Lesson in Lens
It was just the third ever meeting between the sides, but the bite in the fixture was on display for all to see. Warren Gatland's Ireland went down 28 – 24 in this quarter-final qualifier.
Patrick Bolger / INPHO Patrick Bolger / INPHO / INPHO
A World Cup nemesis was made that day.