THIS ARTICLE FOLLOWS on from an earlier piece analysing Paul O'Connell's try against Scotland, which you can read here.
********************
Many had been waiting for Ireland to open their attacking game up and take a few more risks, and that happened to an extent in Saturday's Six Nations-clinching win over Scotland at Murrayfield.
Dan Sheridan / INPHO Sean O'Brien holds the Six Nations trophy aloft at Murrayfield. Dan Sheridan / INPHO / INPHO
As we saw with Paul O'Connell's opening try and will underline again below, pre-planned moves had an important part to play in Ireland getting over the line, but the increased width and ambition with ball in hand was important too.
With the World Cup coming into focus, it was encouraging to see Ireland's backs and loose forwards running and handling the ball comfortably, allowing us to bear witness to a slightly different attacking approach to what had come before in this championship.
In the build-up to the Scotland clash, head coach Joe Schmidt had once again used passing statistics to refute suggestions his side had showed a lack of ambition up until that point, but those numbers did not tell an accurate story.
There's a great difference between five passes to one-out runners and two passes that move the ball into wide channels to stretch the opposition defence. We saw more of the latter in Ireland's victory over Vern Cotter's Scotland on Saturday.
Pressure before O'Brien's try
In that regard, the passage of play that eventually allowed Ireland to unveil the lineout play that saw Sean O'Brien score his first try was notable.
Schmidt's men did not score directly from this attacking pressure, but they did manage to force Scotland into an exiting kick that provided the lineout platform to do so.
RBS Six Nations
This incisive attack comes from the middle portion of the pitch, an area where Ireland had occasional problems in phase play against the brilliant Welsh defence in round four of this championship.
As with Ireland's attack in the opposition 22, we had spoken about the possibility that Schmidt's side would add more variety to their play in this area against the Scots, rather than simple one-out runners playing off scrum-half Conor Murray.
That much-needed diversity with ball in hand was on show throughout from Ireland at Murrayfield, particularly in the passage that led to Henshaw and Fitzgerald's break up the left in the video above.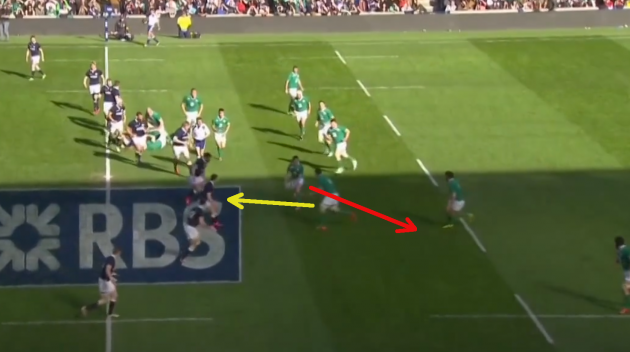 This particular phase is straight-forward, but it's carried out effectively. Peter O'Mahony runs a flat line short off Johnny Sexton [yellow] to ensure the defence cannot hammer up too early, with the out-half passing out the back to Jared Payne.
Crucially, the outside centre is holding a nice bit of depth before receiving the pass, as are Sean O'Brien and Robbie Henshaw further out the line. It means Payne has time to get his pass own away to O'Brien, and Ireland's better depth was notable against Scotland.
There's absolutely a time and place to get flat and ask questions of the defence with late changes of angle from there, but Ireland's depth in this game was majorly beneficial.
As a result, Payne is under a little less pressure as he catches and passes, while O'Brien does superbly to draw Dougie Fife before releasing Henshaw to race almost 15 metres up the field before linking with Luke Fitzgerald.
The Connacht centre says alive and receives a return offload from his left wing, one of four Ireland offloads in this game. Schmidt has not encouraged his players to offload during his tenure, but it's notable how much more prevalent they are when Ireland get right over the gainline as they do here.
Rucking efficiency is primary, but there's no restriction on the offload if they are as favourable as this one is. Fitzgerald is ahead of the tackler, has clear sight of Henshaw, and the centre has no defenders around him to slap the ball down.
Launch pad
Unfortunately for Ireland Henshaw is tackled into touch, but some superb lineout defence from the Irish pack [O'Mahony and O'Connell in particular] means Scotland's maul makes no ground and Greig Laidlaw has to exit from well inside his own 22.
Devin Toner applies maximal pressure on Laidlaw's box kick [below] despite a good Scottish screen in front of the Gloucester man. These defensive actions from O'Mahony, O'Connell, Toner and others throughout the game are vital.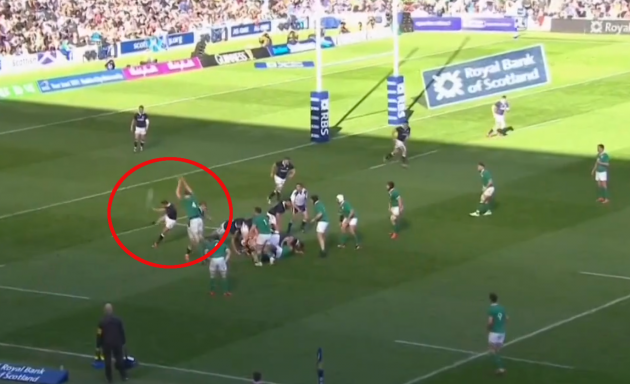 Jamie Heaslip's incredible tackle on Stuart Hogg over the Ireland tryline is obviously more glamorous and arguably more important, but defending aggressively and successfully in the opposition 22 is also essential.
Here, it means Ireland get the ball back at a lineout inside the Scotland 22, within striking distance.
'They work when everyone does their job to 100%'
If you jump back to the start of the analysis piece on O'Connell's try, you'll see Robbie Henshaw talking about the belief Ireland garner from their set-play tries working out in the heat of match day.
"It gives you unbelievable confidence," says the 21-year-old, before pointing out that "[t]hey work when everyone does their job to 100%."
So it is that Ireland get their lineout just inside the opposition 22 and look to a play they have worked hard on at Carton House for some time. Every player needs to do their job to 100%.
RBS 6 Nations / YouTube
The place to start is with the throw from Rory Best, particularly as we saw in Cardiff how the best-laid attacking plans can be ruined by inaccuracy in this department.
Asked to throw the ball more than 15 metres in field, the Ulsterman delivers superbly to get Ireland's move off to a strong start.
In terms of Ireland's actual lineout movement, it's worth taking a look at the try from a different angle.
RBS Six Nations
Heaslip is at the very front of the lineout, remaining there throughout and acting as a decoy. Along with potential lifters Cian Healy and Mike Ross, this dummy pod manages to remove four Scottish defenders from the equation.
We see as much below, as Geoff Cross [1], Jim Hamilton [2], Adam Ashe [3] and Ryan Grant [4] are drawn to the front.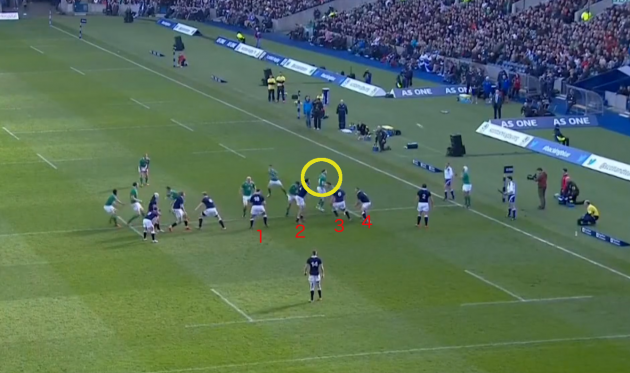 At the rear of the lineout above, we can already see Ireland's back pod moving beyond the 15-metre line as Scotland chase them.
Jonny Gray, with a lift at the front from Dave Denton, attempts to get into the air to pick off the ball, but the it's always going beyond him and Blair Cowan at the back of Gray has already moved out over the 15-metre line.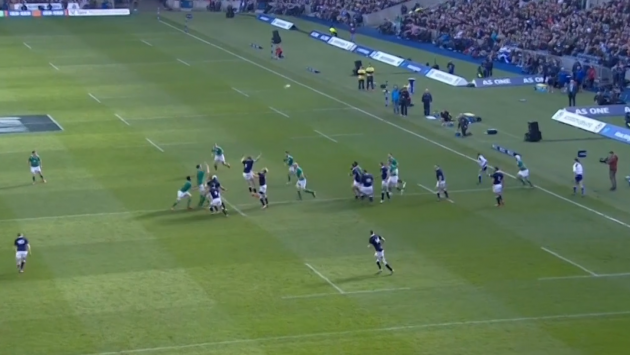 O'Brien lifts Toner at the rear, while O'Mahony performs the same duty at the front, and the second row reels in Best's excellent throw to complete the first portion of Ireland's attack.
The 15-metre line is hugely important to this play from Ireland, so it's worth going over what it means in relation to the lineout.
In simple terms, once the ball goes beyond the 15-metre line, the lineout is over.
Players who are part of the lineout [as O'Brien, Toner and O'Mahony are here] can only move beyond the 15-metre line after the ball leaves the throwing player's hands, so technically O'Brien could have been penalised in the split second below.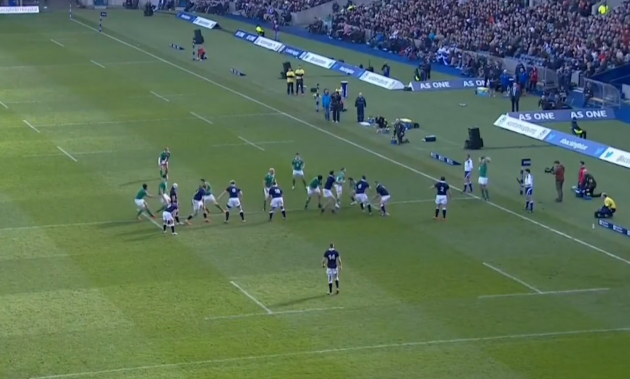 It is, however, quite literally a split second and very few referees or assistant referees in the world are going to spot this marginal mistiming, so Ireland move on with their play.
The laws of the game state that as soon as any of the attacking lineout players move beyond the 15-metre line, "an opponent may also run infield." Ireland are precisely aware of that fact, and it's a motivator behind this particular set-piece play.
Speaking of the technicalities, Scotland have scrum-half Laidlaw positioned just inside the 15-metre line as the lineout begins, as we can see below.
Laidlaw is the 'receiver' here, although the laws state that he needs to be two metres back from his teammates in the lineout. He's positioned there as a defender in the channel just behind Ireland's lineout, but again this particular move draws him exactly where Ireland want him to go.
Where is that?
In the image below, after Toner has landed back on the ground, we can see that Laidlaw and Cowan [yellow circles] have burst up around the outside of that Ireland jumping pod, aware as they are of the presence of Conor Murray and Luke Fitzgerald [red arrows].
Both Scottish players are entitled to do so with the ball essentially in open play, the lineout having ended when the ball passed the 15-metre line. Ireland's intention is to lure these Scottish players up by sending Murray and Fitzgerald running their decoy lines as if a pass is coming from Toner.
At the same time, the Scotland backs are coming up from the initial 10 metres back they have to stand at the lineout, and this is all removing potential covering defenders from O'Brien's path.
The transfer of the ball from Toner to O'Brien is impressively subtle, with the openside flanker completing his lift, bringing Toner back to ground and then accepting the ball into his left arm as the lock is tackled by Jonny Gray.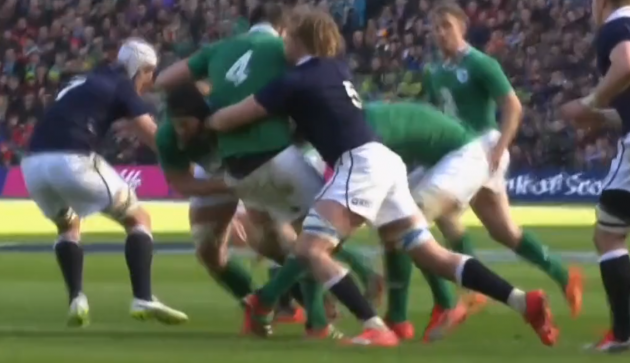 With Cowan and Laidlaw having broken up around the left to cut off that potential pass to Murray or Fitzgerald, the space is beckoning O'Brien as he moves the ball into his right arm.
As the Leinster man bursts away, Dougie Fife is still tracking across towards Scotland's left touchline as he makes the same read as Cowan and Laidlaw.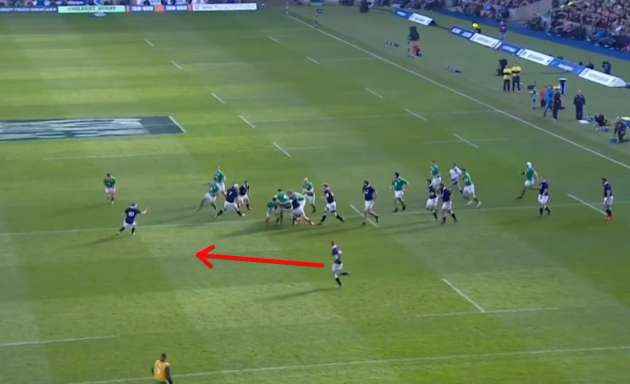 He too is drawn in by Ireland's trickery, meaning he is completely off balance as he attempts to shift his feet and re-adjust to tackle O'Brien.
The increasingly fit and effective Ireland flanker finishes superbly when he identifies Fife in front of him, swerving to his left, transferring the ball from right hand to left in case he needs a fend, then hitching out of the despairing tackle of Fife to cross.
Schmidt, forwards coach Simon Easterby, lineout leader O'Connell, as well as analysts Mervyn Murphy and Vinny Hammond should share in the credit for this try, but it's an effort typical of Ireland under the Kiwi head coach.
There is genuine intelligence behind the construction, an understanding of the mechanics of the game and how they can expose opposition teams in that regard, deep analysis of the opposition's habits in defence, as well as a clinical execution of the play.
Lots of teams have used plays that throw beyond the 15-metre line, including Ireland and Leinster under Schmidt, but few have been quite as effective as Ireland were in this instance.
Schmidt might have been frustrated at the need to bring out this particularly effective play at this stage of the year, but a Six Nations title was on the line and their sharpest moves were required.
The confidence Schmidt's players have in their coaching staff will have only grown after another of their set-piece plays worked perfectly to manufacture an impressive try.
Payne brings the gain
Ireland had to wait until the 50th minute for try number three, but again it was an excellent effort, wonderfully finished by the superb Jared Payne.
As for the O'Connell and O'Brien tries we've already looked at, this attack begins at the set-piece, from where Ireland are ideally set up to play out their pre-planned, highly-detailed initial phases.
RBS Six Nations
Getting over the gainline is as primary to rugby success as anything, and Ireland manage to do so in a clever fashion here.
They start with seven men in the lineout, O'Connell winning the ball cleverly in front of Hamilton as O'Brien and O'Mahony at the tail drop deep out of the lineout and set up to carry the ball from a Murray pass.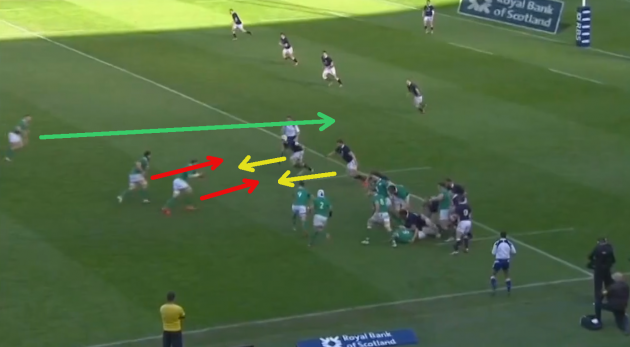 Above, we can see that Cowan and Ford [yellow lines] at the tail of the Scottish lineout are completely drawn towards the possible runs of O'Mahony and O'Brien [red], but Murray's true target is Henshaw [green] on a line in behind Cowan and Ford.
Scotland out-half Russell obviously has to come from 10 metres behind the original lineout, so he has lots of ground to make up before dragging down Henshaw, whose momentum takes him well beyond the gainline.
Ireland's next patterned phase sees Heaslip make a short carry to the left, with O'Connell and Toner designated to resource the ensuing ruck.
RBS 6 Nations / YouTube
From there, we get the latest instalment of Ireland's in-play maul, which they have utilised quite effectively on a number of occasions in this Six Nations.
Each Irish player is aware of their role here, Marty Moore and Best acting as the bracing players on either side of initial ball carrier Healy, while O'Mahony is designated as the man to whom Healy will transfer the ball as O'Brien and then Toner drive up past him.
Healy does superbly well to survive the initial tackle attempt from Scotland flanker Ashe before the maul is actually formed. If he gets tackled straight up there's not going to be any maul at all, so his strength and stability is important.
Thereafter, Ireland shear off to the right with their shift drive as O'Connell and Heaslip arrive in to lend their power. Even more impressively, they survive a potential collapse as Toner loses his footing at the front to again shift to the right.
By the time Murray opts to carry away to the left, the maul has made around 10 metres upfield, bringing Ireland within striking distance again.
Heaslip makes important gains with a pick and jam after Murray gets tackled, before Healy hammers into contact one out from the ruck. Most vitally of all, Ireland then mix things up with a midfield play off Sexton.
In our earlier piece based around O'Connell's try, we spoke about the importance of Ireland adding different plays into their 22 attack, aside from the simple one-out runners playing off Murray.
There's more evidence of that happening in the above try as Sexton sends Payne under the posts on a clever line.
RBS Six Nations
At the end of it all, it's a missed one-on-one tackle by Scotland openside Cowan that allows Ireland in, although that shouldn't detract from what Schmidt's men are doing.
Sam Warburton would possibly have made this hit a week before in a sublime Welsh defensive display, but then did Ireland unsettle him in any way similarly to how they did with Cowan here?
Looking at the video immediately above, note how Cowan just hesitates as Rob Kearney runs a dummy switch line off Sexton. The fullback draws the Scotland flanker towards his decoy line for the briefest of moments only, but it's unsettling and contributes to the missed tackle on Payne.
The Ulster centre's starting position is also interesting, as he begins inside Kearney, heads diagonally out behind the fullback, before arcing back inside Sexton and then out and away from the potential tackles of Cowan and Laidlaw.
Payne enjoyed an extremely promising first Six Nations for Ireland, showing signs that there is even more to come. His defensive efforts were consistently excellent, while he made particular gains with ball in hand against Wales.
To top it off with one sensational offload, a number of good carries and this try against the Scots was fitting.
O'Brien rounds things out
RBS 6 Nations / YouTube
Ireland's all-important fourth try arrived in the 72nd minute at Murrayfield and once again showed their improved form in the opposition 22 as they took just four phases to batter their way over the line.
There was less subtlety to this try than the preceding three, but the fact that Ireland had the carrying strength to work their way over the line is encouraging as they look towards bigger challenges later this year.
The initial mauling effort in this instance fails to make ground, so Murray opts to shift the ball away and use Henshaw in the battering-ram role he has performed so superbly throughout the championship.
The rucking of Tommy Bowe and Ian Madigan, then Iain Henderson at the next ruck after O'Connell's carry, means Murray has incredibly quick ball to play with, and he sends Heaslip crashing to within a metre of the tryline.
That ruck speed, something Schmidt prioritises, means Ireland already have a notable overlap wide on the left, but with Fife and Stuart Hogg rushing up to ensure a riskier pass is required, O'Brien opts to dummy and carry himself.
Against a better team with stronger defenders, it might have proved a bad option, but O'Brien assesses the situation and backs himself fully to take on the Scots. As we mentioned in the O'Connell try article, teams always need leaders to step up and finish these periods of pressure, although the overlap makes it slightly different.
O'Brien makes his decision the right option by scoring, Schmidt can live with that.
The Carlow man's show of the ball to Bowe on his left fools Fife, who can't recover to make the tackle, before Alasdair Dickinson arrives in to pin O'Brien's right leg.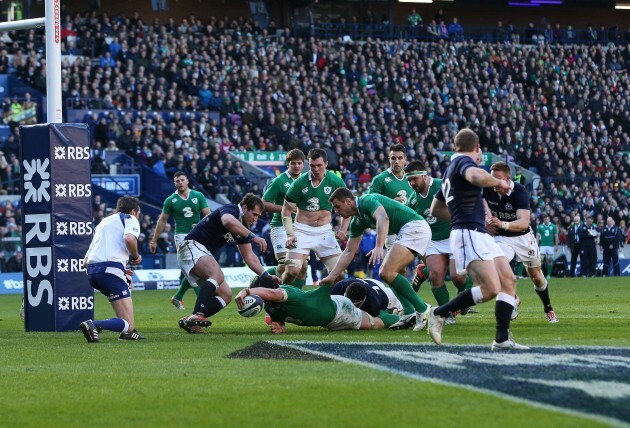 Billy Stickland / INPHO O'Brien stretches out to score his second try. Billy Stickland / INPHO / INPHO
The openside's wonderful skill level is on display as he stretches out his left arm to touch down on the tryline, capping off a remarkably effective individual performance.
Attacking progress
While they were competing against a weak Scottish defence, this attacking performance from Ireland was an improvement on what had come before. In the build-up to this fixture, we looked at how close Ireland's power plays and set-piece moves had been to working.
Once they did against the Scots, the confidence spread into other areas of game and to see Ireland running the ball out of their own 22 was thrilling for the travelling supporters.
It must also be pointed out that a more 'ambitious' approach with ball in hand perfectly suited the defence Ireland faced, as well as the situation they were in regarding the championship.
Their increased accuracy, Scotland's relatively poor defence, the pressure of points difference and superb individual performances across the board all conspired to ensure Ireland ran in four excellent tries at Murrayfield.
The previously much-talked-about kicking game will continue to be of importance to Ireland in the World Cup later this year, but Schmidt's men have underlined again that they possess an intelligent ball-in-hand attacking game that can be extremely difficult to stop.
It will be fascinating to see what plays the Kiwi coach and his coaching team have held back for the global tournament.