SOMETIMES AN OCCASION can grow exponentially in your head, memories fermenting and swelling to create something much more grand, more suited to the magnitude of the day.
5 August 2014 will forever be a landmark day in Irish rugby, a cornerstone of a legacy.
Watching the game back three years on, you nearly expect it to come packaged with gripping soundtrack, maybe an Alec Baldwin voice over and all the cinematic glory of an edition of America's Game.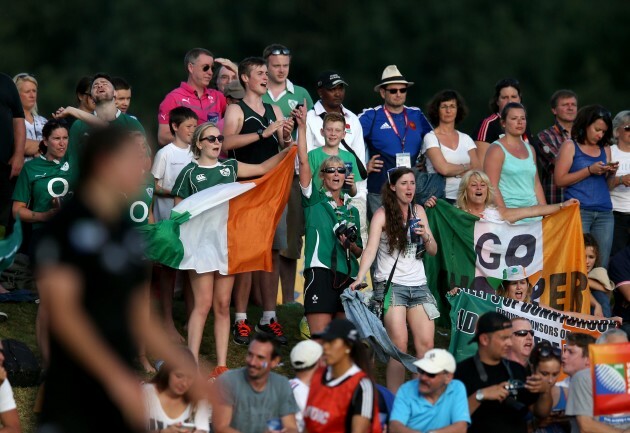 Dan Sheridan / INPHO Dan Sheridan / INPHO / INPHO
Instead, the normality of everything bar the full-time result is striking. Limited camera angles, a sparse venue and two evenly matched teams rather than David catching Goliath with a lucky shot.
Either side of the Ko Uhia Mai haka, the travelling support make themselves well and truly heard. The silence immediately after the anthems is filled by a female-voiced chorus of Ireland's Call from the stands. When teams disperse to set up, a roared 'come on you girls in green' carries Marcoussis to kick-off.
Up to that point, a lifetime of watching Kiwi teams meet and beat Ireland had taught us to expect a bursting bubble. Instead, Philip Doyle's women systematically undid a team considered unbeatable having marched to four straight World Cup victories since 1998. Within just over two years, Ireland U20s and senior men would also break the black magic hoodoo.
Belief
"The thing that stands out to me," Niamh Briggs told The42 before injury prematurely ended her third World Cup.
"There was no sense of panic at any stage. There was clear focus about what we wanted to do and where we wanted to go, this inner belief.
"I'm not sure I played a game like it before in terms of belief within a squad. You go out to win games, but it was almost like an outer body experience. I can't even describe it to you."
In the opening minutes, Ireland were in control. If they looked set to lose a gainline, a collision, a leech would quickly set in and shove them over. Only a few errors were keeping New Zealand from enduring any real pressure: an overcooked kick towards touch, a forward pass, a dropped ball and a missed Briggs penalty.
That wayward kick is one of the first moments mentioned by the injured captain when we chat about the game. Goal-kickers are always hard on themselves, but it's also a sign of how this Ireland team felt the performance was well within their capabilities all along.
This was no smash and grab.
IRELAND (v New Zealand): Niamh Briggs; Ashleigh Baxter, Lynne Cantwell, Grace Davitt, Alison Miller; Nora Stapleton, Tania Rosser; Fiona Coghlan (capt.), Gillian Bourke, Ailis Egan; Sophie Spence, Marie Louise Reilly; Paula Fitzpatrick, Claire Molloy, Heather O'Brien.Replacements: Sharon Lynch, Fiona Hayes, Laura Guest, Siobhan Fleming, Larissa Muldoon, Jenny Murphy, Vikki McGinn.
"We had never played New Zealand before," said Lynne Cantwell in the weeks after her international retirement, "in a way the fact that we hadn't played them meant we had no memories. So our approach to it was very much our approach.
"People can psyche themselves out because of those memories they have or those pre-conceived notions of what it should be. I think that was one thing that had us in good stead."
It showed. Ireland never fizzled out after showing early intent. Ali Miller was finding space to raid and Marie Louise Reilly was dominating the line-out. There was zero let-up for the Kiwis at scrum-time either, where Ailis Egan, Gill Bourke and captain Fiona Coghlan were coolly upsetting the Black front row.
"It was a case of accepting that they were bigger than us," said the skipper at loosehead, "the prop I was against was 104kg, so we knew they were going to be bigger than us and higher than us. It was a case of being lower than them and being technically better — I think they were relying on their weight."
Dan Sheridan / INPHO Dan Sheridan / INPHO / INPHO
Such was Ireland's superiority, the pack clearly began to enjoy themselves. With the crowd's incessant noise reaching the players for every break in play. In particular, according to Egan in an interview with Second Captains, an openside on her way to an outrageously productive day.
"It was the first time we had a dominant scrum against them. We stood up and just before we re-set (Claite) Molloy was dancing to the crowd singing. And I remember looking at her thinking: 'we're going to beat these girls!'
"You wouldn't normally do that, you wouldn't usually hear the crowd or dance along to the music."
Something else that was abnormal was referee Leah Berard's decision not to award Ireland a penalty try after the scrum practically turned into a maul as it marched five metres over the Black Ferns' try-line with binds slipped and flankers mowing in from the side.
It was a call that us onlookers feared would prove costly, because in the 19th minute New Zealand finally found an escape route from their own half, gaining a foothold in Ireland's 22 and taking the lead two minutes later through a Kelly Brazier penalty. It was a major fillip for the reigning champions and they began to ask questions of Ireland's defence and breakdown. A 25th minute error from Tania Rosser, trying to shovel away a ball after it squirted out of a messy midfield ruck, gave the Ferns a chance to show their slick passing skills as they instantly punished the mistake with a Selica Winiata try.
After all that dominance, Ireland were 8 – 0 down.
"It was the most surreal game," says Briggs, shortly after an image of her from the game was unveiled as a new €1 stamp in the GPO.
"Even when we went down at the start, there was never any panic behind the posts.
There was no sense of panic at any stage. There was clear focus about what we wanted to do and where we wanted to go, this inner belief. I'm not sure I played a game like it before in terms of belief within a squad. You go out to win games, but it was almost like an outer body experience. I can't even describe it to you."
So Ireland got back to the plan, back into the Kiwi half and got back to Nora Stapleton feeding runners on hard lines, back to Grace Davitt running into the heaviest of hits. Soon enough, Briggs was down on the ground 10 metres from the Kiwi line writhing in agony, the medics rushed on as she held her chest to shoulder region. A bad bang being treated while the majority of her team-mates forced their way in front of the posts with a lengthy period of play inching towards 25 phases.
It's the forgotten try in Ireland's success story on this day. Understandably so given the free-flowing counter attack that was to come, but the hard low-yardage carries from Reilly and Bourke in that sequence were every bit as essential to the win as they paved the way for Heather O'Brien to cleverly pick the ball up and ram it against the foot of the post.
World Rugby / YouTube
Having dusted herself down, Briggs arose during the celebrations and slotted the extras. And in a way, the knock did her the power of good. The future captain was shook into her natural rhythm and the early errors or uncertainties vanished, replaced by a steely determination.
That mood was being mirrored by the pack on defence too, with Reilly's line-out holding firm five metres from their line, prompting the 15 in green to run to the changing rooms. One step closer to the point Coghlan believed they would really take over.
People were ready to get straight back out. Coming back onto the pitch the focus was again on that 60-minute mark and our fitness pulling us through. That's all we kept saying. We knew that getting to that mark would let us come into our own."
Up in the crowd, roaring Ireland on from their 7 – 8 half-time deficit, was a proven GAA talent who had switched to playing Sevens earlier in 2014. Hannah Tyrell will be inside the white line when Ireland are in the thick of the 2017 World Cup this month, but in Marcoussis, she could afford to stand in awe of the plan being executed before her.
"Old Belvedere had a lot of girls in the squad, so a big group of us went over to watch and support," says the woman who would soon be Ireland's right wing.
"The venue was amazing, the weather was great, the drinks were flowing and it was a phenomenal result to beat the Black Ferns in a World Cup and knock them out.
"The team and the defensive structure and the work they put in to get over the line was phenomenal. They could have easily let the occasion get to them."
It's the Black Ferns who feel the occasion – or rather, the occasion it became – became too much for them. Te Kura Ngata-Aerengamate, an unused squad member on the day, lamented that her side were "focusing two ahead" towards the semi-final stage. Kendra Cocksedge, the scrum-half sent on with nine minutes left to play, had to operate on a shredded platform.
"My job was to go on and try and bring it home," Cocksedge tells The42, "but it's hard when you go on the field and things are a little bit quiet. There was a bit of disbelief in there and you're trying to get everyone going, but it just wasn't our day.
Choke
"For us, I feel  there could have been a little bit of complacency going into that game. Ireland had got a couple of tries and we were in our own 22, things got a little bit intense and we panicked a little bit."
Yet that feels far too simplistic when you watch women thundering into tackles and scrapping for every inch amid the nervous incidents Ireland had to come through to prevent the Ferns from pulling away further than 7 – 11.
Tania Rosser had already made up for any error by marshalling every phase of O'Brien's first-half try, and she doubled down on her value by stopping a certain try in the 55th minute. Honey Hireme – affectionately called 'Honey Bill' in her home country – smashed through Ashleigh Baxter and offloaded around Briggs to Winiata. The fullback was over the line, but Rosser was not giving up and definitely not letting go of the ball until a slew of team-mates came in to prop up her expert choke tackle.
Introduced at half-time, Jenny Murphy seemed to make as much impact as anyone and her presence at a time when New Zealand again threatened to turn a screw was worth her weight in gold. The Kildare woman started as she would go on, making massive hits and turnovers. Still the Black wave swelled. Cantwell and her relentless tigerish tackling was the heart of a formidable Irish defence when the pressure was cranked so high as to make a try seem a dead cert.
"From a backline point of view, we knew they had a lot of steppers so I suppose I just went through all of them and kind of knew which step they had, what their strengths were," said Cantwell.
"We'd analysed a good few of their moves and obviously you have options with every move, and we knew what their moves were going to be. They did a lot of that stuff quite far away from the gainline, so it wasn't actually that hard to defend."
Dan Sheridan / INPHO Siobhan Fleming, Heather O'Brien and Lynne Cantwell tackle Selica Winiata of New Zealand Dan Sheridan / INPHO / INPHO
Just as Coghlan predicted though, the closer that clocked ticked towards the hour mark, the stronger Ireland began to look. It took no little skill and nous on top of Marian Earls' conditioning work. Skill like Alison Miller's jackling effort to turn the ball Ireland's way in the 22 and clear down field.
Tables turned. Time for Ireland to show their attacking talent.
In scoring the most famous try in Irish women's rugby history, Miller showed off her searing pace for all to see. Less obvious, was the stamina required to even put her in the starting blocks. From a line-out on the left flank, Miller ran a support line on the right wing, cleared through a ruck and attempted a charge down. Thankless tasks, until they're not.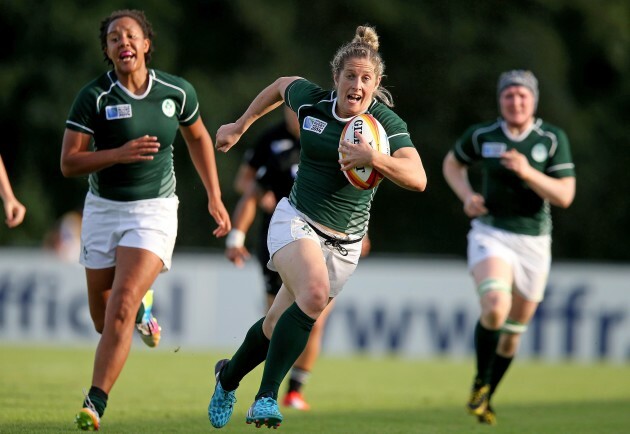 Dan Sheridan / INPHO Dan Sheridan / INPHO / INPHO
When Renee Wickliffe sent a loose kick to Ireland's left, Miller was hitting high gear to link up with Briggs before she broke the crucial first tackle.
"I didn't tell her I was looping at that time," says the Laois woman, she was just trying to keep her lungs full.
"You don't see it on the footage, we had a wide play down the right wing. I came back, so I had done a lot of running that you don't see on the video. I do tie up, but when Briggs gets the ball, you know she can make things happen out of nothing. So I just thought in my head: 'get with her!'
"When I looped around, once it became a 2 v 1 I was roaring for the ball… and I nearly didn't get there."
In games this big, 'nearlies' don't count.
Murray Kinsella / YouTube
While Miller was getting her breath back after being mobbed by team-mates, a tight angle awaited Briggs to nudge Ireland a full three points up. Of course she nailed it.
There was a sense then that this was a mirror image of the first half: the dominant side sucker-punched by a ruthless clinical attack. But despite Brazier hitting back, Ireland were in the ascendancy and they would be now lay siege to the world champions.
A powerful carry from Paula Fitzpatrick yielded a penalty 11 minutes from time. No way Briggs was missing the chance to put Ireland ahead. She was deep in the zone.
"The last 20 minutes are a blur for me, and I'm usually quite good at remembering things clearly," says the fullback.
Holding on to the lead for the final 10 minutes were about hard graft and calm heads. Stapleton continued to offer beautifully varied passing, Rosser led the defensive charge from scrum-half, hounding after any sniff of a loose ball, Coghlan's voice urged every woman at every turn, Molloy was everywhere and Briggs drilled the ball into New Zealand territory to allow Ireland close the game out far from danger. Still, against this team, that jersey and that silver fern, you can never relax.
"I remember looking at the clock," says Ashleigh Baxter, who will play as a flanker at this World Cup after operating on the wing in France.
We were down in their 22 and nearly in position to score again. Winning by three points with 10 minutes to go and I'm looking at the clock going: I can't do this, we have to hold them out for 10 more minutes!
"At the end of the game when Briggsy kicked into touch I looked at the clock again and there was a couple of seconds short. I was like 'WHAT HAS SHE DONE'?
"But the ref had told her it was game over. It was scarier being in the lead and having to hold on."
Full-time. Euphoria.
"I was looking for a good group of senior players," says INPHO's Dan Sheridan, who delivered the iconic post-whistle images.
"I was focusing on Briggsy and it happened to be herself, Nora Stapleton, Ashleigh Baxter and Tania Rosser.  They just went absolutely ballistic and their emotion just kicked in. It was fantastic."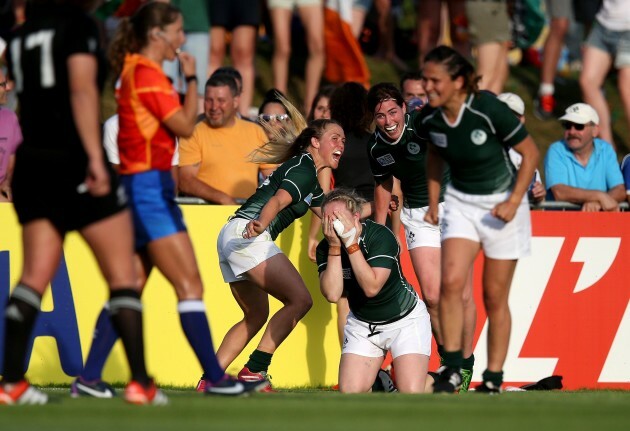 Dan Sheridan / INPHO Dan Sheridan / INPHO / INPHO
Just as striking as the timeless images is how quickly the live footage takes you out of that excitement. After the immediate release of emotion, players are composing themselves, shaking hands, taking liquids and heading for the changing rooms.
As Cantwell put it: "it was just crazy, you go crazy for a few minutes and then you tell yourself that you have to re-focus. This is just a pool game, it's nothing at all. It was huge mixed emotions."
Even in the sanctity of the dressing room, the utmost professionalism of a group of amateur sportswomen shone through.
"There was a fantastic feeling in the changing rooms," recalls Sheridan from his vantage point outside the huddle, "a fantastic performance all round, but they didn't go on about it – 'job well done, let's move on'.
"Great emotion and you feed off that, but they didn't start cracking open champagne bottles or anything like that. No big sing-songs, they came in, Fi (Coghlan) talked in the middle — 'enjoy this moment and bring that emotion in to the next phase.'"
The rest of the World Cup, unfortunately were mere foot-notes. A win over Kazakhstan secured a semi-final berth, but after pouring everything out to beat a powerful American team and once unbeatable Black Ferns, taking on eventual champions England and hosts France were just deep digs too far for Doyle's incredible team.
"When you're still playing you probably don't appreciate these moments as much as when you  retire," says Miller, relaying words of wisdom from Sonia O'Sullivan.
"As an athlete you're always chasing the next thing and you can't sit back and enjoy what you've done because you're always looking ahead.
When you retire you can actually realise the magnitude of what we did that day."
Until then, it's time for a new World Cup adventure, time to make new memories and let the legacy grow more powerful still.
The42 is on Instagram! Tap the button below on your phone to follow us!