Joe Toth / INPHO Winners: Mullan, right, celebrates with Nikki Evans. Joe Toth / INPHO / INPHO
IT WAS NERVY, it was nailbiting, but Ireland booked their place in Saturday's World Cup semi-finals — and they did it all with a smile on their face.
The Green Machine have been savouring their World Cup adventure which reached new heights with Thursday evening's penalty shootout win over India.
Goalkeeper Ayeisha McFerran stood out in a team of heroes, the 22-year-old showing brilliant poise as she forced three Indian misses in the shootout before Chloe Watkins kept a cool head to slot home the winner.
"It feels like Christmas," team captain Katie Mullan told Newstalk's Off The Ball as she broke away from the jubilant dressing room for a moment.
"When the final whistle went, I looked around and so many faces were smiling and knew that we were going to win that shootout with Ayeisha in goal."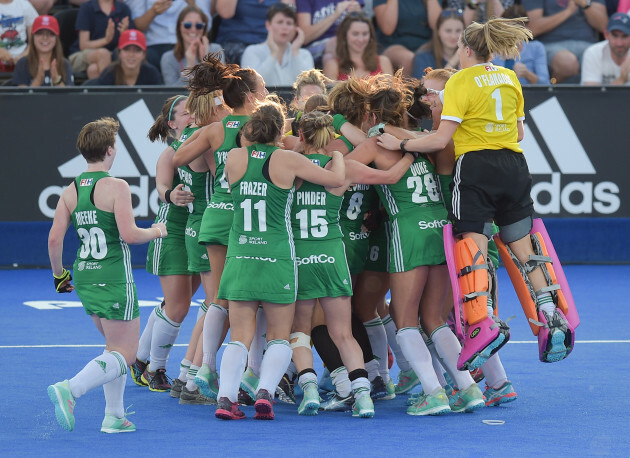 Joe Toth / INPHO Joe Toth / INPHO / INPHO
Mullan pointed to an unparalleled team spirit which has helped the world's 16th best team embrace each new challenge and swat it aside to take their place in the final four.
"Every game we play is such a team effort. There's no-one who puts more in on the pitch than the person beside them. It's a real team effort.
A lot of players we played with played long careers and never got to play in World Cups, so the advice from them was to cherish it and enjoy it. I think that's where the smiles come from because you don't want to let a World Cup pass you by.
"We're very much a professional unit and we apply ourselves very well, but the belief means that the nerves don't take over anyone because the group is so, so close.
"I can't emphasise that any more, how cohesive this group of girls are."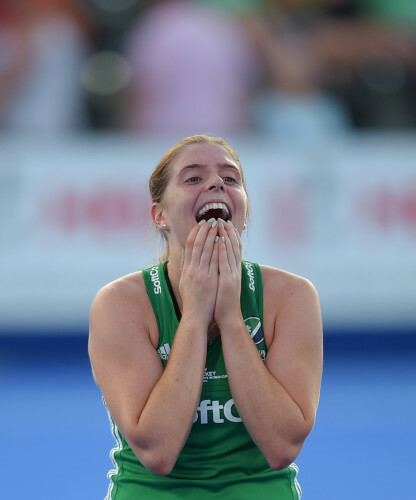 Joe Toth / INPHO Joe Toth / INPHO / INPHO
Ireland missed out on qualifying for the 2016 Olympics in Rio after an agonising penalty shootout defeat against China.
With 22-year-old McFerran in sensational form between the posts, coach Graham Shaw had full faith that they could bury those demons.
"I'm absolutely over the moon. I'm so proud of them," he said.
I knew if we scored two [in the shootout] that we would win, because Ayeisha in goal is just incredible at them. I knew once the second one went in, it was going to take something special to beat us then.
"We've known about her since she was 18 years of age, I've been watching her since she was 18, and she is top drawer.
"She's been superb, absolutely superb since the first game."
Joe Toth / INPHO Joe Toth / INPHO / INPHO
The42 is on Instagram! Tap the button below on your phone to follow us!