BOSNIA-HERZEGOVINA WENT into their penultimate Euro 2016 qualifier with Wales knowing a win was vital for their hopes of qualifying.
The hosts went into the game two points behind Israel, who were third.
However, their fortunes had been reversed somewhat since the appointment of Mehmed Baždarević, winning three of the four games since he took charge, following a dreadful start that saw them lose matches against Israel and Cyprus.
Formations
Bosnia played a relatively similar formation to Ireland for the match in question.
With captain Edin Dzeko only deemed fit enough for a spot on the bench, lone striker Vedad Ibišević was supported in attack by Lazio's Senad Lulić on the left and Edin Višća of İstanbul Başakşehir on the right.
Roma's Miralem Pjanić was the midfield playmaker, while he was joined by Anel Hadžić of Sturm Graz and Sejad Salihović, who plies his trade at Chinese Super League club Guizhou Renhe.
At the back, Bosnia's most capped player, Hamburger's Emir Spahić, played alongside Stuttgart's Toni Šunjić in the centre. Chelsea's Asmir Begovic was in goal, while Mensur Mujdža (Freiburg) and Ervin Zukanović (Sampdoria) were at right and left-back respectively.
Wales' lineup, meanwhile, was more or less as expected, with Gareth Bale starting despite having been short of first-team football in the weeks leading up to the game, as manager Chris Coleman opted for a 3-4-2-1 formation, with the Real Madrid star and Aaron Ramsey playing just behind lone striker Hal Robson-Kanu.
Bosnia signal their intent
Though ostensibly adopting a 4-5-1 formation, Bosnia were more of a 4-3-3 at times.
The hosts needed to win the game, whereas Wales required just a point to guarantee Euro 2016 qualification. Consequently, it was hardly a surprise that it was very much a backs-to-the-wall performance from Chris Coleman's side, as they occasionally looked to expose their opponents on the counter-attack.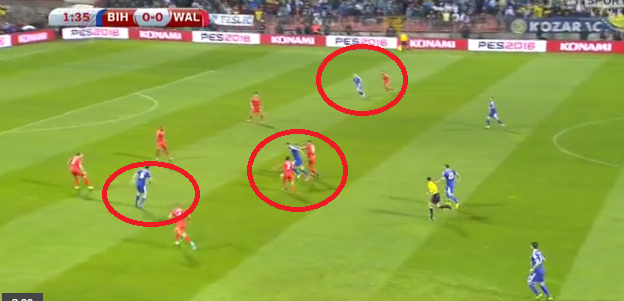 Bosnia dominated possession, working extremely hard to regain the ball when they didn't have it. However, they patently lacked creativity and attacking threat.
Wales therefore looked the more likely of the two sides to score in the first half despite having considerably less of the ball (Bosnia had 65% possession in the opening half an hour and 57% over the course of the entire game), though the hosts invariably marshalled the threat of Bale and co quite well.
Lack of inspiration
It was telling that Bosnia's one decent chance in the first half came, not from their own ingenuity, but from a Wales mistake. Ben Davies slipped and conceded possession just outside the box, with Lulic firing his subsequent attempt narrowly wide.
Aside from that one moment, goalmouth action was lacking in the opening 45 minutes. The shot below epitomises a recurring scenario in the game — Bosnia playing the ball among their defenders and central midfielders, and struggling to break down a stubborn, dogged Welsh resistance.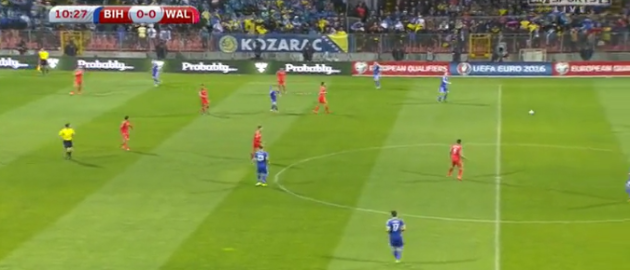 Like Ireland, the Bosnians can also be heavily reliant on the long ball at times.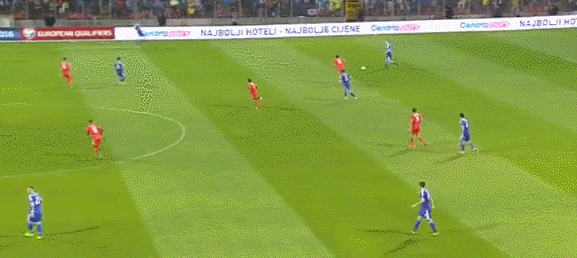 And to be fair to Baždarević's side, this tactic worked up to a point. Ibesivic held the ball up well and won his personal dual with Swansea's Ashley Williams on occasion, earning a couple of free kicks in the process (see above).
However, in the first half, this tactic only got Bosnia so far. The attackers were feeding off scraps, as too often, their build-up play looked laboured, rushed and overly anxious — a reflection perhaps of what this high-stakes encounter meant to the country.
Off-the-ball excellence
While Martin O'Neill won't be losing sleep over the Bosnians' technical ability based on this display, Ireland will have to watch out for their high-pressing game.
Throughout the 90 minutes against Wales, they were routinely superb. Check out the intensity and the hunger with which they chase the ball in the clip below, ultimately causing their opponents to concede possession.
Wales never really took the initiative and looked like they were essentially playing for a draw. However, Bosnia's high-pressing game also undoubtedly played a big role in stalling their momentum and ensuring that they never really got going over the course of this match.
Ireland have a couple of players, most notably Wes Hoolahan and Robbie Brady, who are not afraid to take risks in possession. The Boys in Green will have to be careful they play in the right areas and don't get caught out by the Bosnian's relentless pressure, as almost happened to Wales on more than one occasion.
Bale below par
With Bosnia continuing to stutter in attack, Wales looked increasingly likely to nick a goal on the break.
Twice in the first half, they opened up Bosnia, yet on both occasions, they failed to make the most of the opportunity thereafter.
The Welsh players' superior pace sporadically helped them evade the Bosnia defence (especially the 35-year-old Spahic), which is consequently another reason why O'Neill will hope to have his fastest attacker, Shane Long, fit in time for the second game.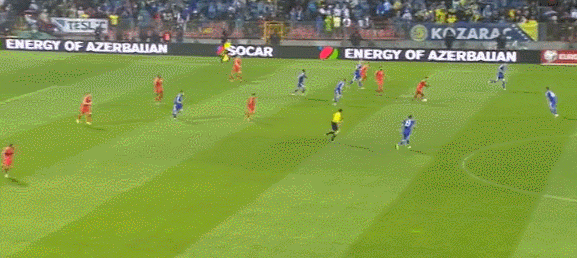 Gareth Bale was making his presence felt down the left, however as much as the Real Madrid winger tried, he looked short of match sharpness, and consequently, lacked the kind of killer instinct that he so often shows — mishitting crosses and failing to beat defenders in one-on-one situations as a result.
Yet credit must also go to Bosnia for stopping Bale. Despite desperately needing a win, the home side had the composure to retain their defensive discipline throughout and defend in numbers when necessary (see below).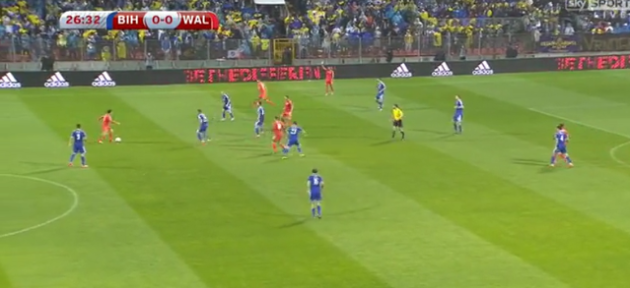 Bosnia, meanwhile, continued to show a distinct lack of quality down the other end, as crosses were overhit and passes misplaced on a regular basis, making the game a fairly dour spectacle for the neutrals.
Cynicism
Martin O'Neill complained about the Polish team's on-field behaviour following the Irish team's loss in Warsaw last month, but surely the former Celtic boss will have to simply acknowledge that this type of behaviour is prevalent in international football nowadays and set about contemplating a way to counteract it.
Like the Poles (and indeed, the Irish side at times), there was more than an element of cynicism to Bosnia's play.
When a Welsh player threatened to break on the counter-attack, they did not hesitate to commit a tactical foul.
Moreover, particularly once they went ahead, Bosnia players often went down easily under challenges and wasted as much time as possible by creating unnecessary stoppages. O'Neill may not like it, but it's an unavoidable reality of football at this level.
Increased desperation
As the game developed, Bosnia grew increasingly desperate to score. They sacrificed a midfielder, and brought on a striker, Cesena's Milan Durić, as they went in search of an all-important breakthrough.
There were a few signs early in the second half that Bosnia were beginning to turn a corner. Pjanic got in behind the Welsh defence for a rare half-chance, while Lulic beat two Welsh opponents in one eye-catching piece of play.
However, for the most part, quality in the final delivery was conspicuously absent, and Wales continued to threaten on the counter, with Bale once again exposing the hosts' lack of pace at the back.
The hosts were at least still well organised though, defending with intelligence to frustrate Coleman's men.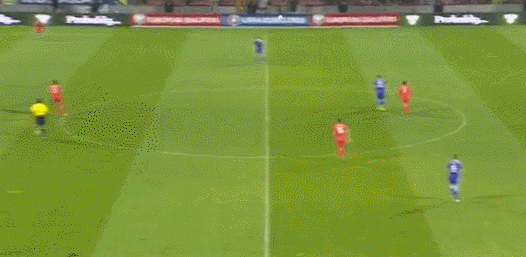 A breakthrough at last
For the first 69 minutes, Bosnia had barely looked like scoring, so it was somewhat of a surprise when the goal did suddenly come.
Exclusive Six
Nations Analysis
Get Murray Kinsella's exclusive analysis of Ireland's Six Nations campaign this spring
Become a Member
Yet Wales probably got what they deserved — slack passing and giving away cheap possession so regularly ultimately tends to harm teams at international level, and so it proved to be the case in this instance.
Check out this incident just shortly before Bosnia's goal — it is the type of pass befitting of a player in the lower leagues (where, uncoincidentally, many of the Welsh squad's players currently reside).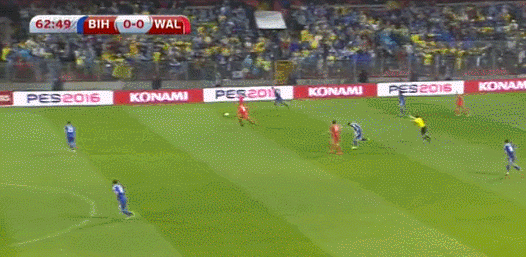 Moments later, Bosnia, for the first time in the entire game, delivered a dangerous ball into the box, and Duric capitalised with a superb, unstoppable header.
DragonsProdHD / YouTube
Wales were consequently punished for their relentless negativity as the Bosnians' finally showed a ruthless streak in the final third. It was a rare moment of magic on a night where quality was in short supply.
Closing the game out
What was perhaps even more impressive though was that Bosnia continued to produce an immense work-rate off the ball, illustrating impressive fitness as they pressed with significant enthusiasm even as the game approached its dying minutes.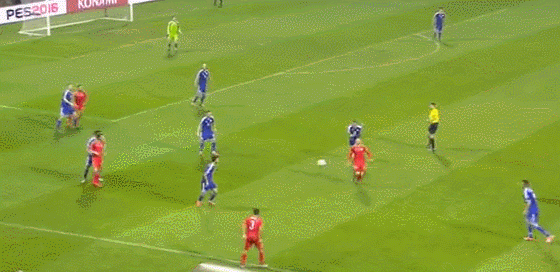 The hosts were rewarded once more for their perseverance as the game entered into stoppage time.
Firstly, Pjanic — who Ireland need to be wary of owing to his penchant for scoring spectacular goals — went close with an audacious deflected effort.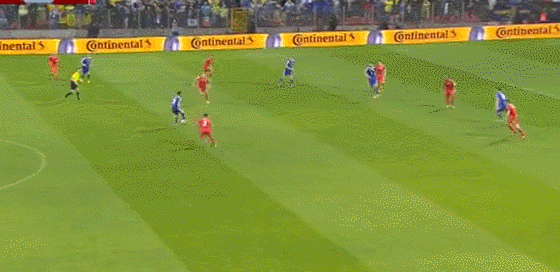 And from the ensuing corner, they highlighted their dead ball prowess again, as Ibsisevic tapped home a well-worked set play to double his side's advantage and end Welsh hopes on the night.
All In One Sports / YouTube
Cyprus' win in Israel meant Wales ultimately were left celebrating Euro 2016 qualification at the final whistle regardless, while the Bosnians took a significant step towards securing the play-off spot that they ultimately confirmed with a 3-2 defeat of the Cypriots in their final match.
Conclusion
What the Wales match essentially highlights is that Bosnia are not a drastically dissimilar team to Ireland.
While they boast one or two talented, creative players such as Pjanic, for the most part, they are a hard-working unit, intent on stopping other teams from playing rather than unlocking them by more creative means.
It won't be easy for the Boys in Green to break down Baždarević's side, though there may be opportunities to expose their lack of pace at the back.
Ireland will also need to be wary of Bosnia's high-pressing game and dead-ball proficiency, which caused Wales problems on the night, while also noting that arguably their best player, Edin Dzeko (who was not fit enough to start the match), is likely to add to their threat.
All in all, it looks like being a pretty even and similarly tense affair, though if Ireland can replicate the Germany group stage performances, they are undoubtedly more than capable of progressing at the Bosnians' expense.
A version of this post was originally published on 7 November