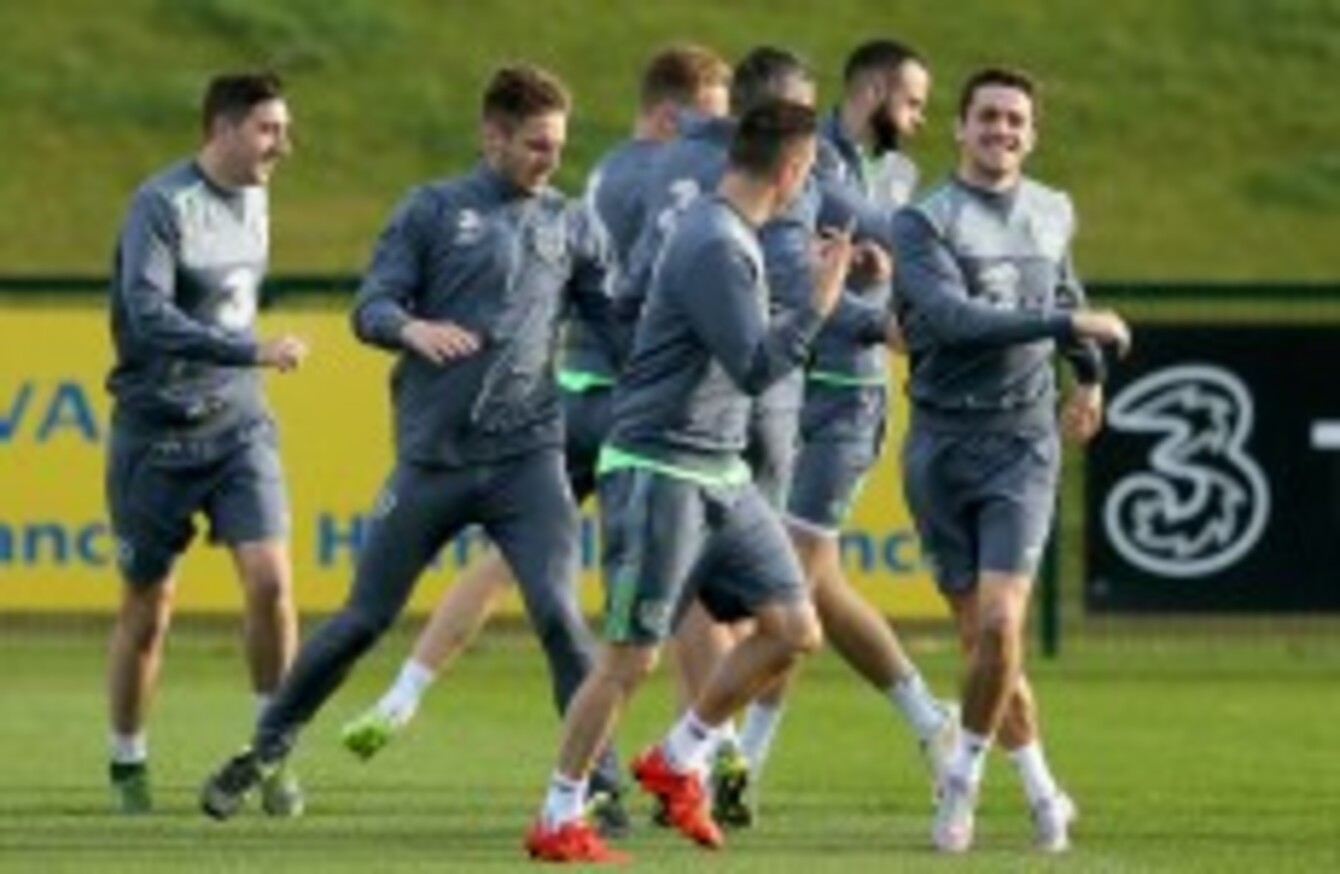 Ireland in training this week.
Image: Ryan Byrne/INPHO
Ireland in training this week.
Image: Ryan Byrne/INPHO
AS THE REPUBLIC of Ireland team got down to business at their training base in Abbotstown earlier this week, an FAI employee was ruminating on what might lie ahead. "If we win, it'll be unbelievable…financially, for the whole organisation, everything. If we lose…." A shrug and a grim expression.
It's stating the obvious to point out how high the stakes are in a play-off tie for a place in a major championship, but for the Irish international team the win-lose comparison feels especially skewed.
Based on the evidence of Euro 2012, qualification for which brought with it an extraordinary bubble of hype and blind optimism, including the mobilisation of a 25,000-strong boozy ground-force to march on Poland in support, victory over Bosnia will be a big deal.
Poland showed, despite the disappointment of the actual football, that the folk memory of precisely how to go utterly bananas in support of the Irish team at a major finals remains strong, no matter the lowly position of the Irish soccer team in our nation's hearts at any particularly time. Win this playoff and it all starts again.
Lose – and fail to make this come-one-come-all Euros – and the team sinks further in the pecking order. The management team might survive, if the defeat is narrow or unjust, or they might not. And those FAI employees will have to get on with the business of selling tickets for the visit of Switzerland to Aviva Stadium in March.
The ideal Christmas present.
If the play-offs are a card game at the last chance saloon, the Irish team arrives – as it usually does – with a weak hand. Like Ireland, Bosnia finished third in their group, behind a world power (Belgium in their case, Germany in ours) and a superstar-vehicle (Bale's Wales in their case, a Lewandowski-inspired Poland in ours).
But five men in Champions League action last week suggests their squad is operating at a higher level than Ireland's, and that's before the ill-fortune with injuries and suspensions that Martin O'Neill must deal with is accounted for.
I put this point to Richard Keogh, the Derby County centre-half with the basset hound expression who has been a resolute presence for Ireland throughout this campaign. "That's not important…as long as we stick together as a team, work for each other…I mean we've got quality too, Premier League players throughout the team…but we've got to keep that team spirit and we've shown we can beat quality opposition before."
It's the sort of stuff that drives us to righteous indignation when opposing players and managers offer it up in summary of Ireland's strengths. Remember Joachim Loew's pre-match press conferences during this campaign, and all that damning-with-faint-praise talk about Irish fighting qualities?
The truth is that these things remain our best shot in situations like this. Keogh knows that he is not of the same pedigree as Edin Dzeko, who he may well have to stop from adding to his seven Euro 2016 qualifying goals if Ireland are to make it to the finals. But maybe, just this weekend, things might be different.
What are they
really like?
Rare insights on sport's biggest names from the writers who know them best. Listen to Behind the Lines podcast.
Become a Member
Unseeded soil and freshly gravelled pathways surround the Abbotstown pitch where the squad went about their work; evidence of Irish football's efforts to change those odds, to give future teams more than pluck and spirit to take into these uneven battles.
The facilities at the new National Training Centre, the recently-launched Player Development Plan and the Conroy report into the domestic game all show at least an acknowledgement by the powers-that-be that qualifying for international tournaments need not be a long-shot lottery. Develop a higher quality of player on a regular basis and you might find Ireland's fighting qualities are of less interest to opposing managers.
Ireland may never be a global footballing superpower, but other countries our size have shown that qualifying for, say, every second tournament, rather than one in every five, is an achievable aim. At the moment, we are approaching campaigns like a casual punter at the races, hoping our luck is in and drowning our sorrows if it isn't.
The FAI employee was dreaming of Irish football striking it big next summer, thinking already perhaps of how to spend the profits of a successful results against Bosnia. Lose this tie, and he might conclude that gambling on international footballing success is a mug's game.