AFTER 80 TOUGH minutes at home to Wales, scrum-half Conor Murray was tired, but contented enough with the effort put in by an injury-hit Ireland team.
With the body count into double figures before today, half-back was one of the few areas untouched by the plague of injuries Ireland are suffering. Yet, such was the tightness of the final minutes of the game, Joe Schmidt felt unable to spring Kieran Marmion from the bench and replace his starting nine.
Even so, Murray wasn't too tired to clearly outline his mood post-match.
"Probably more happy I would say. And I'm not afraid saying that," the scrum-half responded when given the simple option of happy or sad.
"I think we played quite well, and I thought we opened really well in the first 30 minutes.
"It was disappointing letting them back in the last 10 minutes before half-time. The second-half was a little bit more even, we defended well and counter-attacked well too.
"Overall I think we're pleased that we've shown a little bit of what we know we can do, and we've proved it a little bit out there today."
Chief among those positives to take to Paris will be an enormous effort in defence characterised by some huge tackles, a breakdown effort that remained strong close to the touchline and a depth chart of back rows that looks stronger and stronger.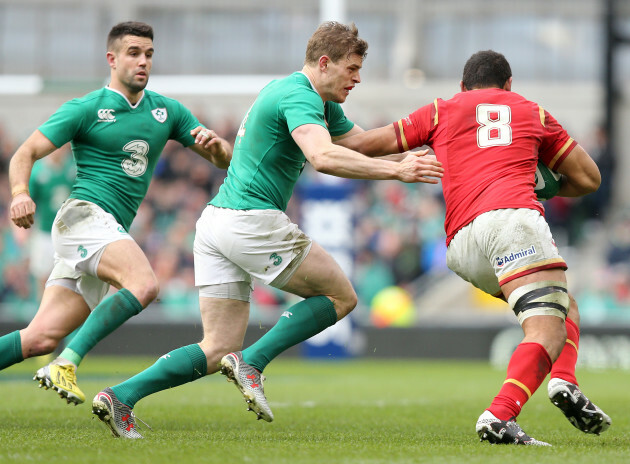 Colm O'Neill / INPHO Colm O'Neill / INPHO / INPHO
On the negative side, Murray pin-points some loose kicking from hand that invited pressure just when Ireland could potentially have pulled out of sight.
"I think we struggled in the last 10 minutes of the first-half to get out of our half.
"There were a couple of kicks out on the full, including one by me. That's quite annoying, and we'll be working hard on that this week."
Asked to speak for his pack's performance in that 10-minute window, he added:
"I'm no expert on scrums but they certainly had a few dominant scrums Wales, that was clear to see. But in the second-half we did get a few dominant ones of our own. But that would be another area we'll try to grow and get better as the tournament goes on."
Growth and improvement from a neutral result will be a theme for Ireland in the week ahead. The draw may have left Wales hugely frustrated, but the champions can focus on France knowing a win will keep them firmly on track in the title defence and put them top of the early table before Scotland and Wales kick off in Cardiff.
"Definitely, definitely," Murray agreed to the point that the Championship is within Ireland's control.
Whatever about the draw, you're still in the hunt. But performance-wise it was a good way to start and I think we can build on that and get better."
"I thought we closed the line, defended really well and made a lot of dominant tackles which is always a big challenge against a side like Wales with some many big guys and strong runners in their backline."
Having been part of a struggling provincial season that came on the back of a dispiriting Rugby World Cup quarter-final exit, Murray and his team-mates have always maintained a confident outward demeanour. Despite the high-profile absentees, today's performance went some way to backing up that confidence, even if they didn't manage to twist the knife when Wales trailed by 13.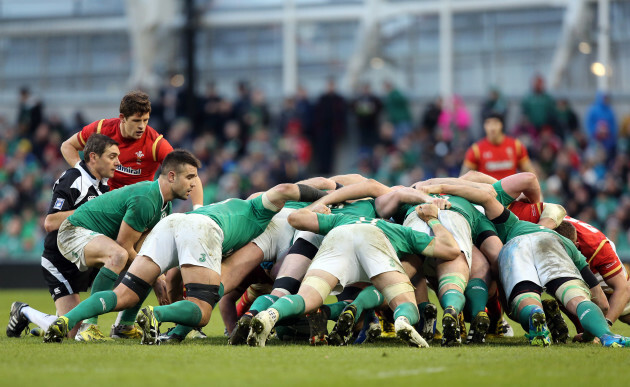 Colm O'Neill / INPHO Colm O'Neill / INPHO / INPHO
"The feeling outside the group has been like that (pessimistic), with players missing.
"That does filter into the camp, whether you stay from the media or whatever, because your family will read and listen to everything.
"We're a confident group. Yes there's a few changes and people missing, but the lads that have stepped up have been in camp and have been here before.
They know what to expect of Joe and really, they've gone out and proved that they can play well within the system. A new group will always be different, and you'll always wonder how you'll go slightly, no matter how experienced you are.
"But I thought we did quite well there, played well, the lads who haven't been in the team performed well. And we'll look to build on that for next week.
"There's always work to do and I'm sure Joe and the coaches will look at the game tonight, and look to sure up a few of those little areas that weren't quite as tight as they should have been."
Nowhere near as tight as the game.