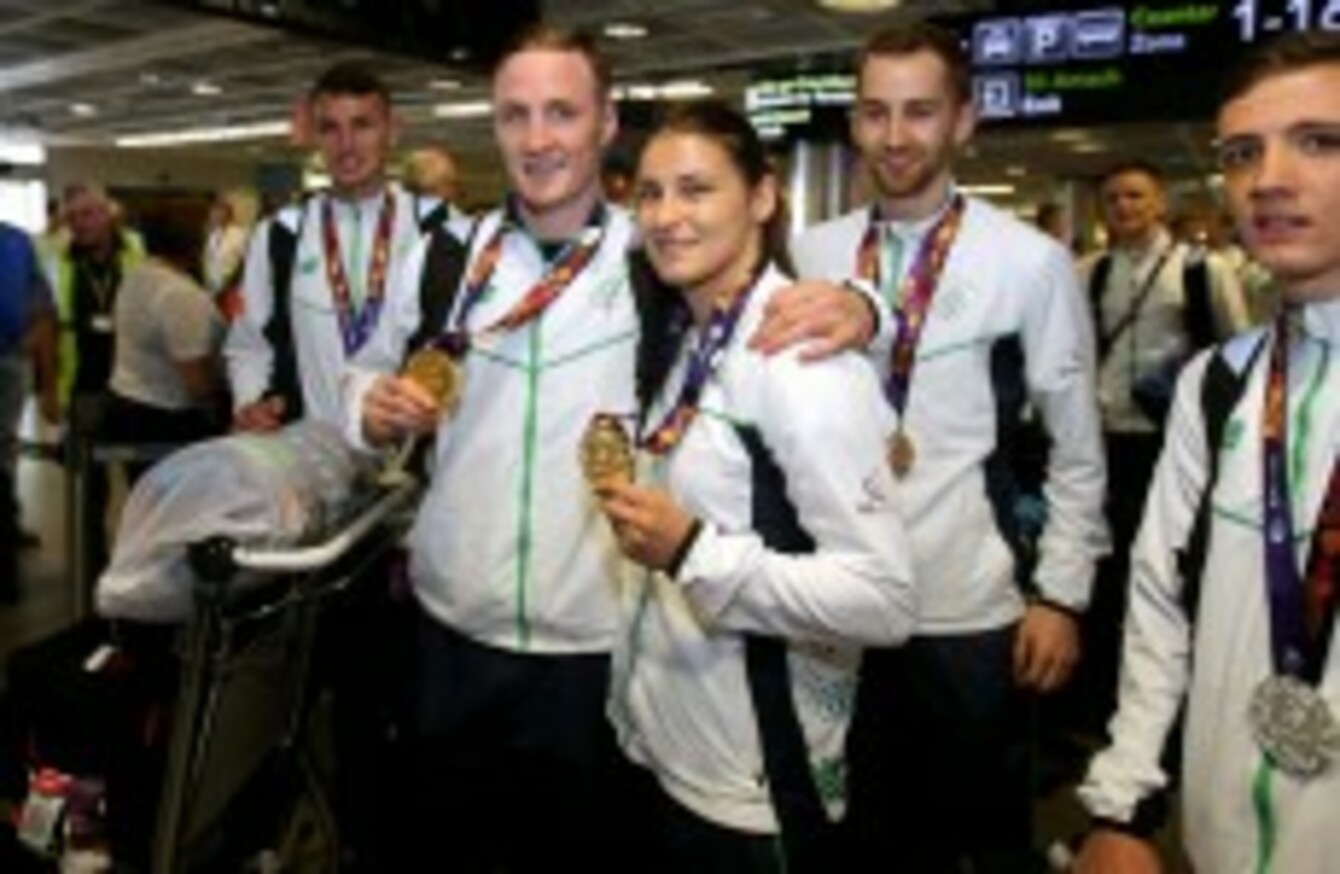 Men's Boxing Middle 75kg gold medal winner Michael O'Reilly and Women's Boxing Light 60kg gold medal winner Katie Taylor pictured coming home at Dublin airport earlier this week.
Men's Boxing Middle 75kg gold medal winner Michael O'Reilly and Women's Boxing Light 60kg gold medal winner Katie Taylor pictured coming home at Dublin airport earlier this week.
AS THEY OFTEN do, a member of The42's comments section encapsulated the general reaction following Michael O'Reilly's triumph at the European Games last Saturday.
"Never heard of him but delighted for him," the commenter in question pithily wrote.
In many ways, this short sentence summed up the thoughts of the average Irish sports fan. Of course, O'Reilly would be well known within this country's boxing community. His defeat of Olympian Darren O'Neill at the 2014 Irish National Elite Championships Men's Finals — one of many notable achievements over the course of his short career so far — certainly served notice of his immense talent.
Yet it is only in the last few weeks that the Clonmel native's name has begun to truly register with the Irish sporting public at large, and the 22-year-old's reputation was firmly consolidated last weekend, when he beat Xaybula Musalov of Azerbaijan to secure the Men's Boxing Middle 75kg gold medal.
However, including underage level, O'Reilly has four European medals to date and has competed with some of the world's best boxers along the way, so the last few weeks, while undoubtedly special, have hardly been a significant culture shock.
One person who knows O'Reilly better than most is his coach at the Portlaoise boxing club, Pat Ryan, with the duo working together for the past 12 years. Consequently, last Saturday was a poignant occasion for Ryan in particular.
"It was very emotional at the time," the seasoned coach tells The42. "It was a fantastic feeling and it still is a fantastic feeling. It's a milestone for the club and it's a milestone for Michael in his career as an international boxer — his chosen sport. It's hard to describe how one feels when excellence is achieved."
Ryan admits he was nervous during what was a very close fight, with the Irish star winning the first round but losing the second, and the outcome far from certain right up until the moment O'Reilly was confirmed as the winner.
"I actually thought he won the second round and lost the first round," he recalls. "I said to Michael, it's about trying to get even up until the last round, and then it's about trying to really dig deep. I think Michael, for 45-50 seconds of that round, separated the contest with his determination, grit and decision-making.
"Michael's best traits are stick and move, and he makes really good angles for himself to get the punches off and to defend. He also defends very well with his feet… Michael has tremendous legs on him, and we make a special note of making sure that he has the strongest legs on him that anyone ever had.
"I think he out-willed his opponent, because the Azerbaijani was under huge pressure himself to perform. And I think that worked in our favour."
(Michael O'Reilly celebrates his victory over Darren O'Neill at the Irish National Elite Championships last year)
Another potentially significant factor was that O'Reilly happened to be up against a home favourite, and Ryan acknowledges that it was a concern prior to the fight, but adds:
"Of course, when you're boxing, the thought of a hometown decision comes into your head. But you remove it, as you have to concentrate on the here and now.
"And remember, if the Azerbaijani had won that contest, he probably would be in receipt of a house, car and substantial money, so there were so many things on the table on the other side of the fence.
"But on our side of the fence, the only thing that was on the table was performance. And if that was good enough, and if the fairness came into it [everything would go well]. We were very fortunate too that in the main, in the tournament itself, the decision-making by the judges was exceptional, and that was pleasing going into that contest."
O'Reilly also benefited to an extent, given that he received a bye in the semi-final, when his scheduled Russian opponent Maxim Koptyakov was forced to withdraw from the competition as a result of an eye injury.
"It's the psychology of winning," Ryan says. "You have to prepare your boxer for everything. Things just pop up in this competition. You just have to be mindful that anything can happen. When Michael got the news that he got the walkover, we spoke about it briefly, but we didn't spend a minute on it — it was over straight away. And we moved our concentration on to who we were going to box in the final.
"He had sparred with the Russian, and he was quite confident that his style was best suited for him anyway.
"Michael has beaten boxers at world-class level before, so expectations are always high. He knows he can beat the best of the best, so he was very confident going into the European Games that he would win a medal."
Following last weekend's triumph, O'Reilly returned to Dublin on Monday with fellow gold medal-winning athlete Katie Taylor among others. Team Ireland were consequently afforded a hero's welcome home — an overwhelming experience for Ryan and co.
"I was surprised that a huge crowd turned up for everyone — for all the athletes. It's especially [nice] to see all the coverage — the media turned up in their droves.
"We have to applaud the media as well for catching a moment in time and going about their business in a really true fashion — getting the message out there and elevating the event to the level that they should be elevating it to.
"All the people who won medals, not just the boxers, made history, with it being the first European Olympic Games, and that's something that maybe some people missed out on."
Source: Setanta Sports/YouTube
In sport, of course, there is a fine line between confidence and arrogance, but Ryan insists his fighter has the perfect mentality to continue to excel at the highest level, with the World Championships and Rio the next major events they are targeting.
"Michael is a great believer in Michael," he explains. "He's an exceptionally talented young man, he has wonderful traits. He's a really mentally tough competitor. His best trait is probably that he doesn't let things phase him. Photographs, accolades, he takes all those things in his stride. Michael would just say: 'I went out to the European Championships to win the medal.' That's as much as you'll get out of him."
"Our whole ambition is Rio. That's Michael's dream. That's our dream. That's everyone's dream in the club. That we'll get a boxer [to represent us]. And Michael is the first lad at the moment working his way towards Rio.
"He has a huge event coming up in October, the World Championships — he's already qualified. But he must medal a silver or gold to get his ticket to Rio. And that's our next move now. From next week, we come back into the gym."
O'Reilly's victory last Saturday, combined with Katie Taylor's gold medal win less than two hours before, was especially fitting, given the longstanding links between these two similarly prodigious fighters.
Ryan worked with Katie and Pete Taylor for five-and-a-half years, while O'Reilly has in the past sparred with Ireland's female boxing superstar on countless occasions.
"It was an extraordinary event in many ways… They worked very well together and to see both of them winning senior gold medals at the European Olympic Games, making history together after they spent so many hours together sparring and having fun — it was a pleasing occasion for Pete, myself and everybody concerned."
What are they
really like?
Rare insights on sport's biggest names from the writers who know them best. Listen to Behind the Lines podcast.
Become a Member
Furthermore, in recent years, the sport has enjoyed unprecedented levels of success. At the London 2012 Olympics, the boxers came home with four of Ireland's five medals won over the course of the event.
However, Ryan feels the sport can continue to sustain and even improve upon the success of recent years.
"The fact that we have rubbed shoulders with the best of the best and we train with the best of the best — we've training camps in Kazakhstan, training camps in Russia, won gold medals in Russia… The programme that's in place at the moment from juvenile to senior, it's a very good programme. With the assistance and the finance from the Irish Sports Council via the government, it has hugely helped Irish boxing to get to the level that they are at now.
"For me, it's not too far away, if we take the necessary steps, that Ireland can be the number one boxing nation in the world. I believe that 100% and I know it can be achieved."
(Ryan pictured at the European Games with his coaches)
And while O'Reilly may seem like an overnight success to casual observers, it has in fact taken him more than a decade of toil and torment to reach his current status. Funding issues and court cases have threatened to derail his progress over the years, but Ryan says he had high hopes from the moment he first encountered a 10-year-old O'Reilly, describing the youngster as a "champion in the making for some time".
"He was full of enthusiasm to learn and to participate. He had a nice little style at the time. We thought: 'He's a good chap.' But we don't get too excited about the young lads. Usually, after winning or losing, it's a bag of Taytos and a bottle of Orange.
"Looking at Michael, we were saying: 'He's a lively young lad.' When we sat down to do the medical examination and we were filling out the forms, I said: 'Michael, what's your date of birth?' His date of birth is 30 April. I said: 'Are you joking me?' He said: 'No, that's my date of birth.' It's the same date of birth as I have. So I said: 'Shake hands with a champion, because I think you're going to be one too.' And we both had a good laugh at that."
And despite some notable achievements at various levels all the way back to his participation in the Brandenburg Youth Cup in 2010, Ryan suggests it is only now that his protege's talent is fully coming to fruition.
"In boxing, you start off at juvenile level, it's like going to primary and secondary school, college and university, and Michael is in university at the moment in terms of boxing. You have to have brains to box, and Michael has them in abundance. He has other positive traits too — he's seriously calm under pressure, very self-confident and self-directed, and he's a dogged young man when he has to be, to get over the line.
"So all those characteristics, along with many more, make up a champion. And he has proven that he has the qualities of being a champion, and he's starting to show that he has the qualities to handle the success as well. When he walks around, he's a very humble young man, he's available to everybody, he sees everyone, shaking their hands. He's a man of few words, but he has a pleasing smile, and he endears people to him.
"Hopefully now he can move on and develop further not just in boxing, but in life. That's what's most important to me."
On a similar note, Ryan mentions how crucial his family's support has been in helping the Portlaoise boxing club to thrive. He's been managing this facility for the last 32 years, in addition to working as a PE instructor and strength-and-conditioning coach. His wife, he adds, has "washed every singlet and togs for those 32 years as well," among countless other vital contributions.
And even O'Reilly aside, Ryan faces a big year, as he's running for the Presidency of the Irish Amateur Boxing Association.
"I have a number of aims and objectives," he explains. "We have a centre of excellence in Portlaoise. We're very fortunate to have our premises here. There are many fantastic things happening here in the club. And this is a model I hope to roll out in my election, because I believe it is the way forward.
"The end result is that we have a premises here where we're producing. We have boxers that have won three European medals — two gold and one silver. It's unique — it's the first time in the history of the association that any one club has achieved all these accolades.
"So what I really want to say is that if we can get a centre in all 32 counties, and if we can get the links with the educational system, as education is key in life, that will in time give us the opportunity to become the number one boxing nation in the world."