Sean Farrell reports from Cardiff
IT'S RUGBY WORLD Cup quarter-final week. Little wonder then, that Team Ireland are in a mood to break habits and previously accepted wisdom.
The overriding goal for the weekend the Welsh capital waves goodbye to this tournament is to have our own personal glass ceiling shattered by 3pm Sunday.
At the risk of stating the infuriatingly obvious, Ireland have never managed to force their way beyond the last eight in this tournament. That puts this island on an achievement par with Samoa, Fiji or Canada. So Ireland, the birthplace of the original All Black, is lagging behind Scotland, Wales and this weekend's opponents, Argentina, having never reached the final four.
It's time for change. And that's just what the camp provided as soon as the players emerged from the Millennium Stadium changing rooms.
The preparation is focused, but this week is certainly not being treated as 'just another game'. The common message being sent from the team room is clear: There is history to be made.
Crucially, Joe Schmidt will be hoping to break a habit that has defined many of his selections since taking over as Ireland coach.
Axe
Time and again, the Kiwi has shown clear cut off points for players struggling to take part in a full week of training. If a man was unable to take part in a full session by Tuesday or Wednesday (depending on the matchday) Schmidt has been swift with the axe.
This week though, there is an out-half who shares his initials that just might be the exception that proves the rule. Jonathan Sexton was able to run today, but straight-line running and playing a quarter-final in this tournament are worlds apart. The playmaker will hope that a Friday's day-early Captain's Run in the Millennium Stadium will prove him able to pull on the number 10 shirt again on Sunday. He'll be given every chance.
"When you start to accumulate a number of games in a row," explains scrum coach Greg Feek, noting how the off-weeks afforded by the Six Nations provide a different tempo to preparations.
Here, it's do or die type stuff, so there might be some allowances around a few things. Especially when our medical staff and our S&C have a good feel on things as well."
Another change from the norm which has left many scratching their heads has been the injury replacement calls – or lack of one in particular.
Rhys Ruddock for Peter O'Mahony is straightforward, the versatile Leinster back row would probably have been part of Schmidt's 31-man squad in an ideal scenario However, the arrival of Mike McCarthy, who wasn't in the summer training squad, and continued non-call for a replacement for Jared Payne were head-scratchers to varying degrees.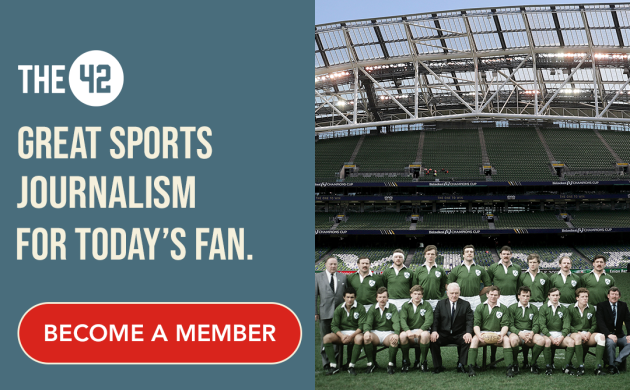 We can attempt to explain the former, at least: althoug Dan Tuohy or Dave Foley appeared to be ahead of McCarthy in the second row pecking order, they are first and foremost loosehead-side locks. McCarthy is much more accustomed to playing on the tighthead side and, in that regard, is a natural fit in the gap O'Connell leaves on the training field.
Feek also took note of the former Connacht man's personality. McCarthy is a boisterous character with a sharp wit. In a week where so many are nursing sore bodies, that kind of energy could be invaluable to have in and around the rooms.
As for whether they've found Andrew Trimble's phone number yet or if a squad will remain a party of 30 even when there's a doubt over Keith Earls' involvement:
"We'll wait and see, you never know what's around the corner. Earlsy's pretty good, his body's pretty good. We'll just wait and see again as the week goes on, we've a day off tomorrow and on Friday we'll have a good session and we'll go from there."