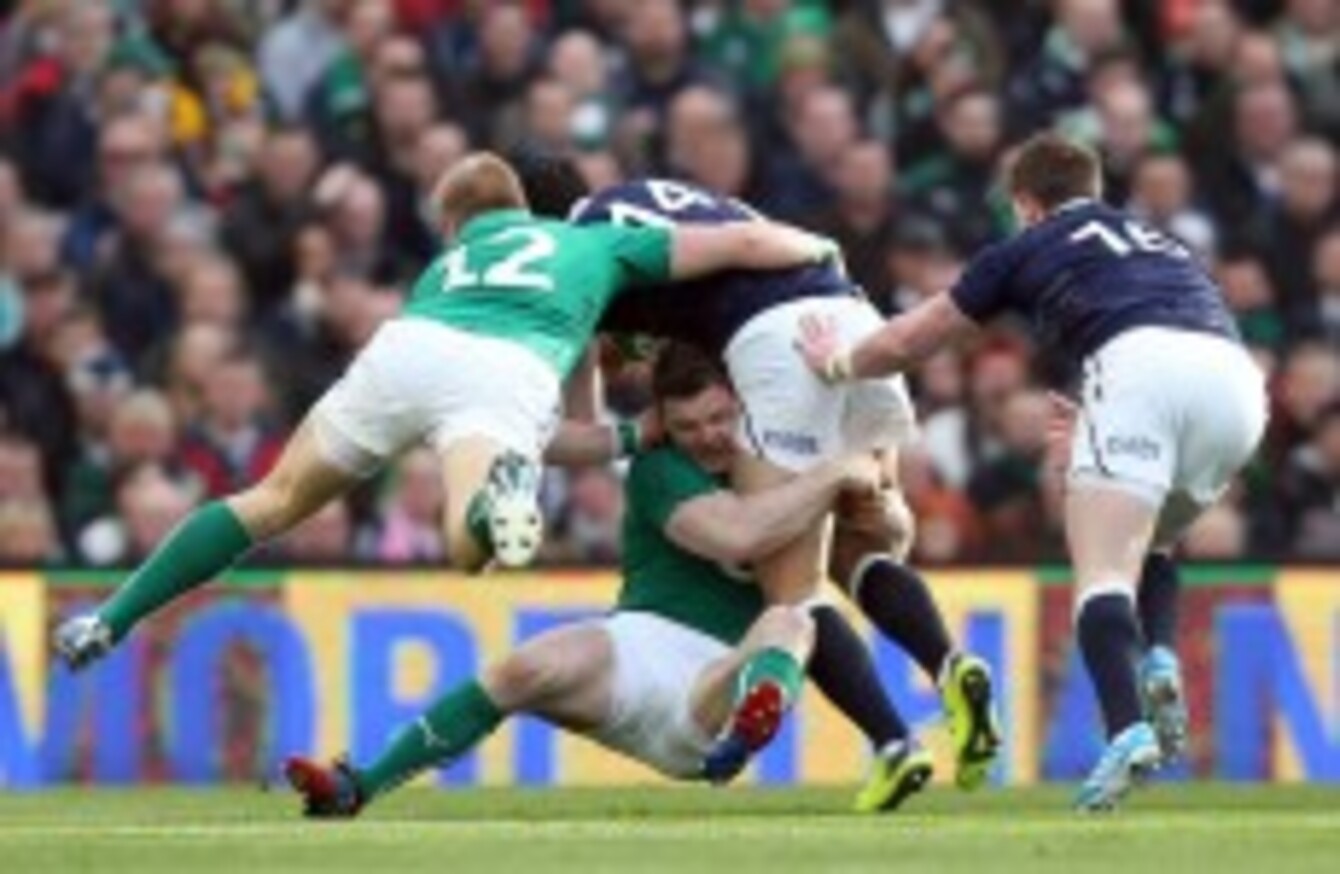 Marshall and O'Driscoll combine to tackle Sean Maitland.
Image: ©INPHO/Colm O'Neill
Marshall and O'Driscoll combine to tackle Sean Maitland.
Image: ©INPHO/Colm O'Neill
WITH PAUL O'CONNELL set to return to Ireland's starting line up, presumably for Dan Tuohy, the vital selection call Joe Schmidt has to make this week is at inside centre.
On just his fifth cap for Ireland, Luke Marshall performed well in the number 12 shirt against Scotland, but the experience and familiarity that Gordon D'Arcy offers looks to be extremely tempting for Schmidt as he prepares to face Wales.
The decision has likely already been made, but we will have to wait until tomorrow for an answer to the conundrum. Addressing the question in the headline of this article, there were signs of a lack of cohesion and understanding in Ireland midfield last weekend, something that held back their attack and presented glimpses of weakness in defence.
Watching the game live, it was clear that the inexperienced Marshall was getting plenty of 'feedback' from Brian O'Driscoll and Jonny Sexton on either side of him. Much of the dialogue looked to be direct and instructive, as though that senior pair weren't entirely happy with the Ulsterman's contribution.
Speaking on the Second Captains podcast, former Ireland international Shane Horgan outlined his belief that there was a lack of 'trust' between Marshall and O'Driscoll in midfield, something we certainly agree with. That scenario is entirely understandable, given the lack of game time the pair have accumulated together.
Defensive issues
Defending in the centre positions is an extremely demanding task, one that perhaps we haven't appreciated as much as other nations in the last 10 years due to the excellence of O'Driscoll and D'Arcy in this area.
Centres are faced with difficult decisions nearly every time the opposition move the ball through the backline. Often there will be a surplus of attackers, meaning decision-making on who to tackle is vital, and even when faced with a one-on-one it is often in space and thereby slightly favouring the attacker.
The 12 and 13, along with their 10 inside them, need to work as a unit, defending together and reading each other's intentions. Trust and understanding are vital; a 12 needs to know if his outside centre likes to shoot up, a 13 needs to feel that his inside centre has the pace to cover across the pitch.
Right now, Luke Marshall and Brian O'Driscoll just don't look to have that trust.
The video below gives us an early glimpse as Scotland shift the ball from right to left into a wide channel.

First off, and most importantly, Ireland make the tackle, with Marshall and O'Driscoll combining to complete the hit. However, is there any real need for the outside centre to be involved in this tackle? Essentially, it's Marshall's hit to make.
With two more attackers outside Ryan Grant – and if the prop hypothetically had better handling ability and a greater appreciation of space – Ireland could have been in trouble down the left. Ideally, we would have had the scenario below, with Marshall tackling Grant and O'Driscoll covering any late pass.
Instead, we get the situation below, where O'Driscoll 'bites in' and gets involved in the tackle on Grant. This specific incident is not a major issue, and actually shows O'Driscoll's defensive reading skills as he sees that Grant has the ball tucked under his left arm and is therefore unlikely to pass at a late stage.
It's hard to know what the communication between Marshall and O'Driscoll involved in this instance, but you'd like to think the 22-year-old had commandingly shouted something along the lines of "I'm on ball, wedge/push/slide Drico!" i.e. letting O'Driscoll know that he has the tackle covered.
If the above was an isolated incident, then we wouldn't even think twice about looking at it in detail. Ireland make the tackle, threat ended, all good, right? Not so, as we saw an almost identical situation again in the first half in the same channel wide on Ireland's right.
Scotland made really good gains on this occasion, although a sloppy pass from Alex Dunbar prevented them from doing further damage. If Ireland present a situation like the one in the video below to Wales, it is easy to imagine George North powering over to score a try.

The whole scenario is almost identical, except that Ireland are in a slightly weaker defensive position, with fewer defenders in the line. Still, Schmidt's men have the numbers to defend this attack perfectly; it's a 4-on-4 at its most basic, as indicated by the arrows in the shot below.
In fact, Chris Henry is also working hard to get into the line just outside Sexton, so Ireland are in really good shape.
We can also clearly see in the video that Marshall points at Dunbar, signifying that he can get to Scotland's outside centre to make the tackle. Once again, we don't know what the communication is like, but one would have to presume that the Ulsterman shouted something to let O'Driscoll know.
Unfortunately, there is another system breakdown and this time it is more serious as the Leinster midfielder gets caught in no man's land. He bites in again, but is nowhere near affecting the tackle or preventing the pass from being released.
Essentially what we see above is two Irish defenders needlessly targeting one Scottish attacker and outside them is a 2-on-1 situation down Andrew Trimble's wing. Obviously, Rob Kearney is covering in behind Ireland's front-line defence, but we have a feeling North [or Alex Cuthbert] would finish this opportunity if given a decent pass.
O'Driscoll cannot be excused of all wrong-doing here, particularly when we don't know whether or not Marshall provides him with clear communication. O'Driscoll has to trust the man inside him if Ireland's defence is to work effectively. On both of the above occasions, Marshall got there to affect the tackle but O'Driscoll, for whatever reason, wasn't certain the 22-year-old would.
There was more.
This third example again comes in the first half, with Scotland attacking from right to left. More alarmingly, Ireland get cut in the middle of the pitch this time, between their centres. Getting opened up out wide is not ideal, but getting broken in midfield is unacceptable for most defences.

This time the involvement of Rory Best inside Marshall adds another element to the error. Scottish out-half Duncan Weir spots the Ulster hooker in the line and immediately accelerates at his outside shoulder, looking to get outside him and thereby draw in Marshall.
Kelly Brown's presence just in behind Weir complicates the matter slightly, but the shot below gives us a general idea of how Ireland would have liked to defend this situation.
Marshall does get drawn in and it must be said that it's good attacking play from Weir. However, the fact is that Best was still in a decent position to get his tackle in, even if it was to be a weak one. It's a very similar little mini-scenario to the two above where O'Driscoll was the one to bite in. Did Best give Marshall a shout?
Whatever was/wasn't said, Marshall bites in on Weir and suddenly the gap is opened up on his outside shoulder for Stuart Hogg to run into. O'Driscoll reacts well to get a tackle in on Hogg, but the Scottish fullback still manages to get his offload away.
Ireland rescue the situation, but again we have to consider what would happen if Wales broke through like this. Even if it didn't result directly in a try on that phase, allowing Warren Gatland's side so emphatically onto the front foot would surely result in points being conceded.
All three of the incidents above happened inside the opening 17 minutes of Sunday's game. Clearly, Ireland improved defensively as the game wore on and the centres started to work together more intuitively. However, this period saw Scotland dominate possession, and Ireland weren't truly tested like this again for the rest of the game.
Furthermore, opening against Wales with this kind of defensive frailty would be a recipe for disaster and would almost certainly result in tries being conceded. O'Driscoll and Marshall made these errors as a partnership, this is not about singling out one man as deserving of being 'dropped'.
Attacking mix-ups
In an attacking sense, there weren't many passages of play where Marshall and O'Driscoll actually linked up or showed an understanding of each other's intentions. There was one incident in the second half as Ireland attacked on the right-hand side of the pitch that will go down as a missed chance though.

Schmidt has exacting standards in terms of handling, and he would have expected Marshall to get his pass away in this instance. Sean Lamont does well to get a hand in and prevent the pass, but Sexton and O'Driscoll were clearly frustrated with their inside centre after this missed opportunity.
This is exactly the kind of situation that the Kiwi head coach will demand be converted into a genuine try-scoring chance. If Marshall had got the pass away, we would certainly have applauded some excellent handling. There is a lot of defensive pressure on him, but he could have made the pass a little earlier.
We cannot say with certainty that Ireland would have scored, but given the space in front of O'Driscoll and a typically hard-working support line inside from Sexton, there would have been a strong chance of a positive outcome. O'Driscoll in particular is excellent in these tight situations.
Again, this was not an isolated incident, as we saw something similar in almost exactly the same position in the second half. This time the ball didn't even make it into Marshall's hands as he hesitated and allowed the ball to sweep in front of him and into touch.

Firstly, let's point out that Sexton's pass doesn't go to hand and the out-half must take much of the blame in this instance. The Racing Métro man, on first viewing, looks to be attempting to find Rob Kearney with that hard, flat pass and it simply falls short.
However, when we freeze the frame [below] we see that Weir [circled] has got himself caught quite tight in defence. Looking at this situation, a flat, hard pass out in front of Marshall invites him to sprint into that small gap on the Scotland out-half's outside shoulder.
Marshall sticks out his right hand hand as the ball passes him, briefly thinks about trying to gather it, then pulls his hand back in; he simply doesn't know what Sexton's intentions are. Again, it's a mini-scenario that we have seen Leinster convert into strong gains very often in years past.
Would Sexton and D'Arcy have combined more effectively in these circumstances?
'He's a physical kid'
So said Schmidt of Marshall in the immediate aftermath of the Scotland win, and herein lies the major reason that the Kiwi may be tempted to retain the Ulsterman against Wales. Despite his relative youth in international rugby, Marshall is a very powerful player and against the likes of Jamie Roberts and North, those physical gifts could be extremely useful.
Against Scotland, there were several timely reminders of Marshall's ability to dominate collisions, with the carry below offering us a typical example of his ball carrying strength.
It's very simple play, but it highlights the role Ireland  looked to use Marshall in when they had first-phase possession. One or two passes found him in the middle of the pitch, where he used his pace and strength to make yards and offer excellent quick possession.
Ireland utilised him in exactly the same role from line-outs, basically as a replacement for Sean O'Brien, who often performs the duty of first-phase bosh merchant when he is in the team. D'Arcy simply doesn't have the same power as Marshall anymore, so it's an interesting conundrum for Schmidt.
Even in that duty, however, there were glimpses of a lack of combination. The clip below sees Marshall used as the first phase battering ram from a line-out, but you will see that the timing of his run is just a little too early.

The 22-year-old still does superbly to get over the gain-line, but had he not had to take those stuttering steps to slow his run, he would quite possibly have burst right through Weir's tackle. Again, it was simply an early sign of a lack of familiarity, as well as sheer enthusiasm to get his hands on the ball.
It's an easy, easy fix and one Schmidt will certainly have highlighted. On the positive side, this clip again demonstrates the physical power of Marshall in contact. In a side shorn of its leading ball carrier, how important is his strength in attack?
Defensively, we also saw a couple of examples of what Marshall can bring with his power. The GIF below shows his magnificent smashing tackle on Hogg, followed up by a technically excellent counter-rucking turnover.
Schmidt actually highlighted this incident immediately after the game, praising Marshall for his physically strong display. The turnover was wonderful, and you can actually see the inside centre binding onto the legs of Trimble in order to keep his feet.
Falling to the deck would quite probably have led to referee Craig Joubert awarding Scotland a penalty, so it was superb play all round from Marshall. In a busy performance, there were several other examples of the 22-year-old's promise; his was not a poor display.
Experience or promise?
Promise is exactly what Marshall offers and he will only become a better international player if he plays international games for Ireland. He looks almost certain to be the long-term future of the number 12 short for Schmidt's squad, as well as offering clear and defined strengths right now.
However, the lack of familiarity with O'Driscoll and Sexton could count against him right now as Ireland prepare for a potentially decisive clash with the Welsh. Saying that none of the above errors would have happened if Gordon D'Arcy had played against Scotland would be a ridiculous statement.
Still, we have seen the Sexton/D'Arcy/O'Driscoll combination work wonderfully well on many occasions and the proven nature of that trio offers a little more security for Schmidt. On the flip side, the only way for Marshall to thrive alongside Sexton and O'Driscoll is by getting back on the pitch with them.
Does Schmidt go for the proven nature of the experienced head in D'Arcy, or does he back Marshall's promise and power to take on the Welsh? It's a big call.
- Originally published 12.43
Like rugby? Follow TheScore.ie's dedicated Twitter account @rugby_ie >