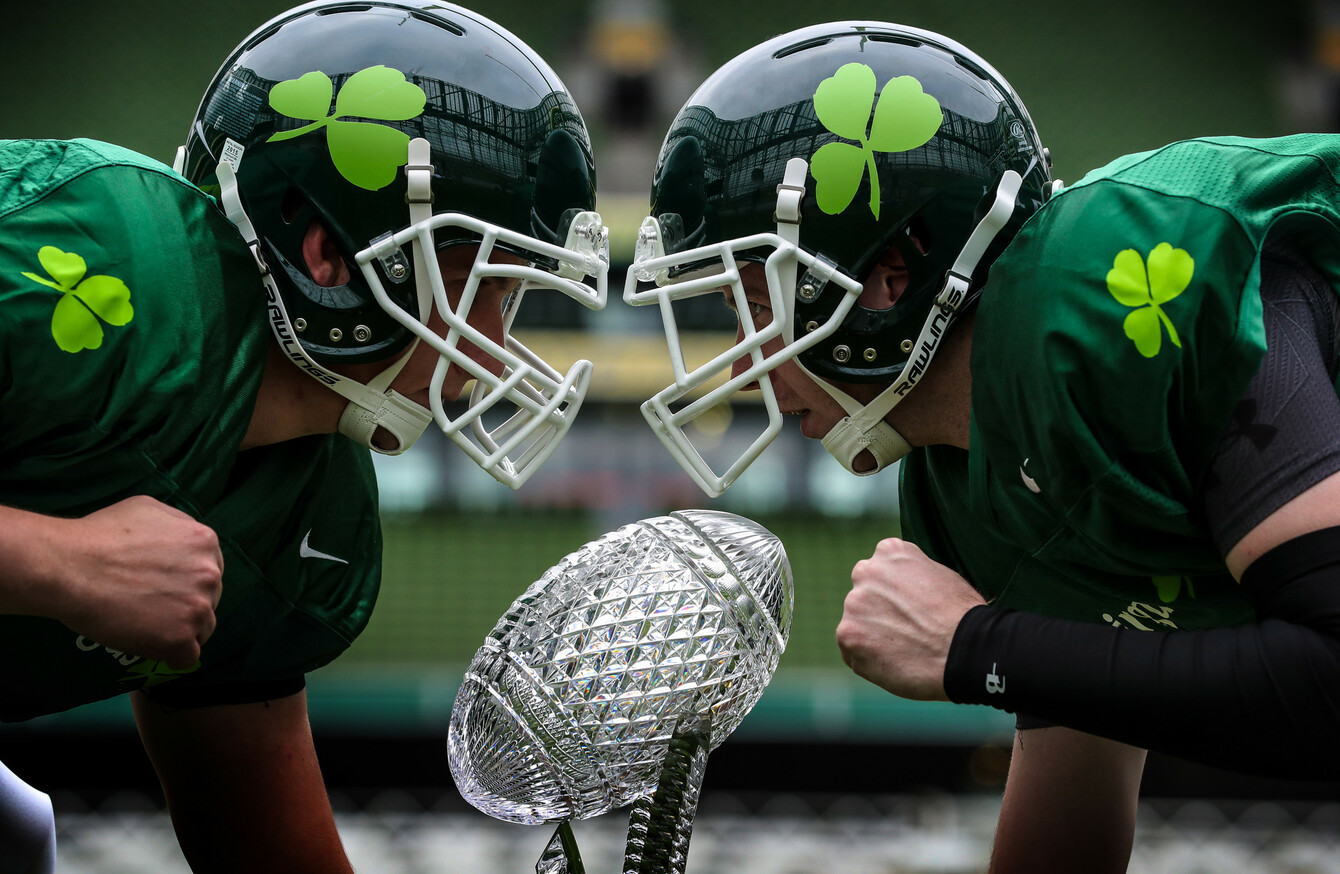 College football returns to Ireland in 2020 and will do so for a five-year series.
Image: Billy Stickland/INPHO
College football returns to Ireland in 2020 and will do so for a five-year series.
Image: Billy Stickland/INPHO
THE AER LINGUS College Football Classic makes its return to Ireland in 2020 and will make the country the European hub of the college game.
That's the hope of organising committee member Padraic O'Kane, who expects to see more than 35,000 Americans touch down in Dublin Airport prior to the 29 August date which sees Navy and Notre Dame continue their 85-year rivalry in the Irish capital.
A further four games will take place in the years that follow, a five-year series in total stretching from 2020 to 2024 and capitalising on the growing interest of the American game on these shores.
The idea, of course, is nothing new to the Irish market. Versions of the event have come and gone: the Emerald Isle Classic, the Shamrock Classic, and now its latest reincarnation alongside main sponsors Aer Lingus.
What was previously a biennial event with games hosted here in 2012, 2014 and 2016, O'Kane says the move to a five-year series will harness the interest around the events.
"After the last games, because they're biennial, you start to lose momentum," he explains. "We also discovered in 2016 that it's fine having Notre Dame and Boston College – they'll come here every 10 years or so – but we needed a serious business plan in place.
"If we want to ask a team to give up a game in their home stadium, there's a price and it's a multi-million dollar price in what they have to give up. We have to put a plan together to give the home team back the money that they're set to lose.
"We've done that now in relation to the business plan and the partners we've announced, led by Aer Lingus. Ticketing alone, it just won't work."
But organisers know this is more than a punt on a new business venture, designed to make the most of an influx of tourists in 2020.
London has led the way for those attending NFL games in Wembley Stadium and fans of the sport from all over the continent have flocked to see it.
As O'Kane sees it, the audience is there to be served.
As far as this announcement, we are the European headquarters of college football.
"So, whether we arrange this fixture to be Week 0 or Week 1, this will be the opening game of the college football season.
"In 2020, it'll be a 5pm kick-off time locally, noon back in the states Eastern time.
"TV audiences for the last three games have averaged at around 2.5 million. The projection for this is more than 4 million for TV viewership alone and could be a hell of a lot higher if it's the opening game of the season."
Tourism, he says, is set to be a massive part of the reason why this project has been given so much backing from partners Fáilte Ireland, Tourism Ireland and Dublin City Council.
"It's not like a rugby game where they come in on a Friday afternoon and they're gone by a Sunday, they'll be in for seven-day stays. Three in Dublin and another four around the country."
A minimum goal has been set for the inaugural game of the series to attract 35,000 travelling fans into the country for the game.
This will bolstered by a week-long series of events building up to and aimed at celebrating the game – some free, some costed – and O'Kane says that based on the two sides' previous meeting in Dublin six years ago, this target is more than achievable.
"One of the key ambitions for these games was to get out two years in advance and we've done that.
"The connections between Notre Dame and Ireland are immense. Do we think we're going to hit that every year? No we don't.
"We believe around 20,000 Americans will travel and we'll work around that to develop the game.
"We know we have more work to do to get Irish audiences on board with future fixtures."
In order to capitalise on this interest, a "minimum six high school games" will also take place in the build up to the first game on the outskirts of the capital, with nothing yet announced on these fronts.
Be part
of the team
Access exclusive podcasts, interviews and analysis with a monthly or annual membership.
Become a Member
Hospitality packages will go on sale in the over the course of the next year, while tickets are unlikely to go on general sale until at least March 2020.
Organisers want to give fans as much time as possible to prepare for the games. None of the remaining four games have been announced and we will have to wait until 2019 until we hear the fixture for the game taking place in 2021.
It's understood that a two-year gap is adequate for giving fans notice to make the transatlantic trip.
Reputation
In terms of tourism and sport, 2020 will be one of the biggest years in the country's history.
The European Championships will host two group matches and a round of 16 game at the Aviva Stadium in Dublin during the summer, which could be made even bigger should Ireland make it to the finals of the footballing showpiece.
Add to that the calendar events like the Gaelic football and hurling championships, rugby internationals and the heightened sense of excitement that comes to the Irish audience with athletes competing at the Olympic Games [which takes place in Tokyo], the country's infrastructure and ability to host such a volume of sporting events will be tested.
The disappointment of Ireland's failed Rugby World Cup bid, when World Rugby decided that the country was in fact not 'ready for the world', must still sting for those in government pushing to host a global spectacle.
"This is a long-term partnership with US college football," An Taoiseach Leo Varadkar said at today's launch. "We want to see it continue long into the future.
"Events like these show our capacity to host big international events and put our world-leading hospitality and tourism sector front and centre."
Undoubtedly a successful series like this and the pageantry that goes with it will all be added to the portfolio of a renewed bid later down the line.
The fact that the weekend will coincide with the All-Ireland football final that year is no threat to organisers, who believe that supporters will embrace the cross-pollination of sport in designated 'fan zones' around the city.
But right now the focus remains on the growth of college football in Ireland.
An NCAAF Division 1 opening game every year will go a long way in improving our stature in producing hosting bids for sporting events.
One aspect of the series O'Kane reckons Irish fans will most relish is the American tradition of tailgating before games.
"When Notre Dame came into town a few years back, they asked whether they could put on tailgates and a pep rally. After we Googled what it was, we said yes.
"It's come on from there. Over here, college football is 200 lads looking on from the side of a pitch, whereas over there, whether or not your team is playing well, it's 80,000 or 40,000/50,000 people, depending on the size of your stadium."
The test will now come as Ireland begins preparations for 2020.
Three games in the finals of a major championship and the the kick-start of a new international series sets out to prove once again whether Ireland is ready for the world.
Subscribe to our new podcast, Heineken Rugby Weekly on The42, here: