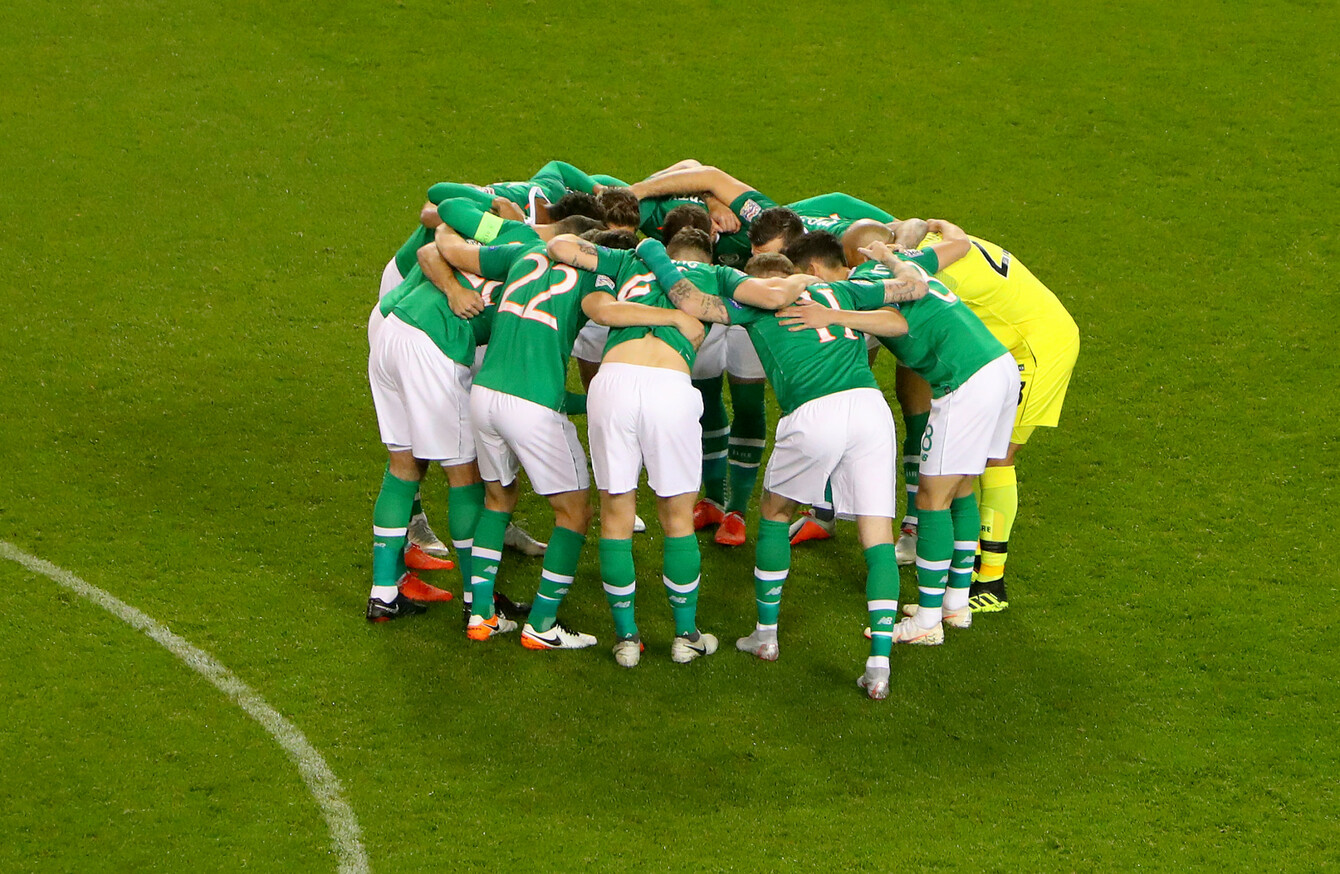 Ireland huddle before the game last night.
Image: Oisin Keniry/INPHO
Ireland huddle before the game last night.
Image: Oisin Keniry/INPHO
THERE WERE TIMES against Denmark last night where it felt as if Martin O'Neill might as well have put three long-distance runners in central midfield.
Ireland, for all their admirable endeavour, could barely string two passes together.
The visitors controlled the play with 65% possession and surely would have been in a better position to capitalise on this dominance were it not for the absence through injury of star man Christian Eriksen.
The hosts had a paltry one shot on target, with Danish goalkeeper Kasper Schmeichel a virtual bystander for much of the evening.
Ireland's only real clear-cut chance came as a result of a freakish scenario in which Denmark's Thomas Delaney looked set to put the ball out of play with Harry Arter down injured, before an apparently oblivious Jeff Hendrick robbed him of possession and put a gilt-edged one-on-one chance wide.
It was an improved performance from Ireland's last two competitive matches, which is another way of saying that it wasn't a complete fiasco.
O'Neill's men, at least, were solid at the back and hard to break down — qualities that have not been evidenced much of late. Yet until the energetic Callum Robinson came on and breathed life into the game on 65 minutes, Ireland were toothless in attack with set pieces their only realistic chance of scoring.
In the context of what has preceded it, 0-0 against Denmark is a good result for the Irish team. Yet the atmosphere at the Aviva was far from celebratory at the final whistle.
There was a brief flurry of excitement in the second half. Cyrus Christie's powerful strike tested Kasper Schmeichel and Robinson beat a man before producing a dangerous cross.
But those few moments aside, there was a real flatness to the crowd throughout. It was difficult to blame them. Last night was an invariably painstaking watch. Seeing your team chase the ball for 90 minutes is rarely fun.
However, despite all these issues, barring some major drama, O'Neill will next month pass his fifth anniversary since becoming Ireland manager.
The team's tactics, style and ability have not altered drastically during this era. The recent retirement of Wes Hoolahan and the long-term injury suffered by Robbie Brady has clearly exacerbated the squad's technical deficiencies, but it's pertinent to ask why there is a sense of growing frustration in some quarters, when O'Neill is merely continuing on the approach that has brought him a degree of success already in his near-half decade in charge.
The obvious answer is results. Fans will be willing to put up with pragmatic football so long as their side enjoys success. The outcome of recent games suggest O'Neill and co are on a downward trajectory.
Last the night at the Aviva, pockets of empty seats could be seen around the ground.
The official attendance was 41,220 in a stadium whose capacity — according to its website — is 51,700. And even that figure seemed a generous estimate, with critics questioning its accuracy. 
There are mitigating factors, of course — the damp, drizzly weather, the sense that the Nations League games are a hard sell in comparison with actual qualifiers and the fact that the next major tournament is a full two years away.
Yet even allowing for these caveats, there is an unmistakable sense of apathy about the Irish team right now. There were periods, particularly during the first half last night, where it felt as if the two teams were sleepwalking through the game. A draw was not a bad result for either, so perhaps that factor partially explains the lack of tension in what was supposedly a big match.
Over 10,000 more fans showed up to watch Liverpool play Napoli in a meaningless pre-season friendly in August than saw the Boys in Green play at the Aviva last night, and should performances remain uninspired and results fail to significantly improve, the situation is likely to get worse before it gets better.
A FAI press release during the week interestingly noted how there were over 40,000 tickets "gone" as opposed to sold for the fixture, with reports of clubs being given plenty of freebies during the week lending further credence to the theory that there was an element of desperation in attempting to boost the number of spectators.
What it all comes down to, really, is the quality of the product, and like it or not, that is what football is now and always has been.
Even the most dedicated Ireland fans will struggle to dispute the general consensus that following the team has been a slog in recent times. The halcyon summer of 2016, where for a few weeks, the nation was gripped by some sterling performances in France, seems an increasingly distant memory. The goodwill built up by that achievement has gradually diminished, leaving even those who care ardently about Irish football feeling a familiar sense of fatigue setting in more or less every time the team kicks off these days.
Subscribe to our new podcast, Heineken Rugby Weekly on The42, here: