VERA PAUW TEASED 'a different style of play' before Ireland's first World Cup warm-up friendly against USA on Saturday, and her XI confirmed as much.
There were changes aplenty from February's draw with China PR: Sinead Farrelly was parachuted in for her debut; Diane Caldwell returned as one of three centre-backs, allowing Megan Connolly move back to midfield to join Farrelly and centurion Denise O'Sullivan; while newcomer Marissa Sheva and fellow US-born attacker Kyra Carusa were promoted to the starting line-up.
Heather Payne dropped to right-wing back, the Florida State University star in a more natural position having tirelessly led the line for Ireland through Pauw's tenure thus far.
Katie McCabe shook off injury fears to revert to left-wing back in Megan Campbell's absence, Carusa took the reins up top, and Ireland set up in their familiar 3-5-2/5-4-1 formation.
"I think we're ready to make the next step in our development," Pauw enthused as the evolution continues ahead of their first-ever major tournament this summer.
"We are trying [when we are] under this pressure to have a target player in Kyra, and maybe it's too early but maybe not, to have fast wingers going forward.
"They [the wing-backs] need to create length into the half of the opponent. Kyra is not a player that conquers the half of the opponent; she can hold the ball up and let others conquer it."
Conquer may be a stretch, but Ireland certainly caused USA problems. Not only did they frustrate and limit the back-to-back world champions, they created their fair share of chances.
***
Let's start with Game One in Austin, Texas. A 2-0 defeat.
Typically, Ireland's set-piece proved a threat — Alex Morgan was forced to clear the ball off the line after a trademark McCabe finds Quinn at the back post corner — but they also showed promising glimpses from open play in the first half.
Pauw's side had a goal chalked off just before the break: Carusa got on the end of a McCabe throw-in, sprayed the ball out to the onrushing Payne and busted a gut to get into the box with O'Sullivan, Farrelly and Sheva hot on her heels. Payne's delivery was superb and Carusa appeared to get the slightest touches with a clever glancing header but the flag went up.
🇺🇸 1-0 🇮🇪
So close from Ireland! Kya Carusa has the ball in the back of the net with a cushioned header, but she had strayed fractionally offside as Heather Payne whipped in the cross pic.twitter.com/6lBLUZm0oD

— RTÉ Soccer (@RTEsoccer) April 8, 2023
Earlier on, the pair combined down the same right channel to cause a nervy few moments for US goalkeeper Alyssa Naeher as an onslaught of (ultimately untroublesome) shots followed a poor clearance.
Carusa auditioned well as the focal point up top, while Sheva dropped and worked hard but wasn't entirely effective. Payne looked more at home out wide, running at defenders rather than chasing shadows and trying to get in behind.
Key to Ireland's improved attacking impetus was Farrelly. "Because of her we could play the way we did," Pauw said afterwards, explaining how her calmness and control allowed for a tactical transformation and better ball retention.
Star duo O'Sullivan and McCabe remained central, their creativity, experience and telepathic link-up crucial — though the latter has proven time and time again to be more potent further up the left flank.
USA, predictably, still dominated proceedings but Ireland absorbed pressure in banks of five and four, and worked well as a unit.
The Girls In Green have always prided themselves on their defence. Led by the totemic Louise Quinn, it was relatively solid — never fully cut open, but mistakes proved costly in the end. After a poor clearance, Ireland failed to press and engage for the 37th-minute opener, the US moving the ball from left to right for Emily Fox to slot home from long-range:
RTÉ. RTÉ.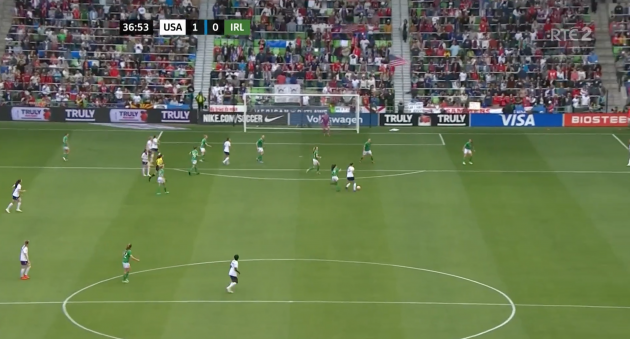 RTÉ. RTÉ.
It ended an incredible run of seven clean sheets in a row stretching back to last April. Courtney Brosnan's positioning was called into question, but the Everton goalkeeper's string of second-half saves could not be faulted.
The second-period set-up and game plan was similar: Ruesha Littlejohn and Áine O'Gorman replaced new recruits Aoife Mannion and Farrelly on the hour-mark, both slotting into the right side of midfield as Connolly dropped to centre-back. Leaving Cert student Tara O'Hanlon came in for her debut late on, deployed beside Connolly with Louise Quinn catapulted to attack.
Overall, Ireland weren't quite as bright in the second half. They invited pressure as they gave the ball away while resorting to hoofing up-field unnecessarily. Trinity Rodman and Rose Lavelle were particularly dangerous, but McCabe and Connolly produced impressive blocks and recovery challenges.
The killer blow came in the 78th minute, when Lindsey Horan won — and scored — a penalty. The Lyon striker leaned into the grappling Caldwell as she claimed Julie Ertz's teasing delivery, and the referee pointed to the spot amidst Irish protests. Brosnan got a hand to it, but couldn't keep the spot kick out as it finished 2-0.
***
Game Two on Tuesday night in St Louis, Missouri ended in a 1-0 USA win.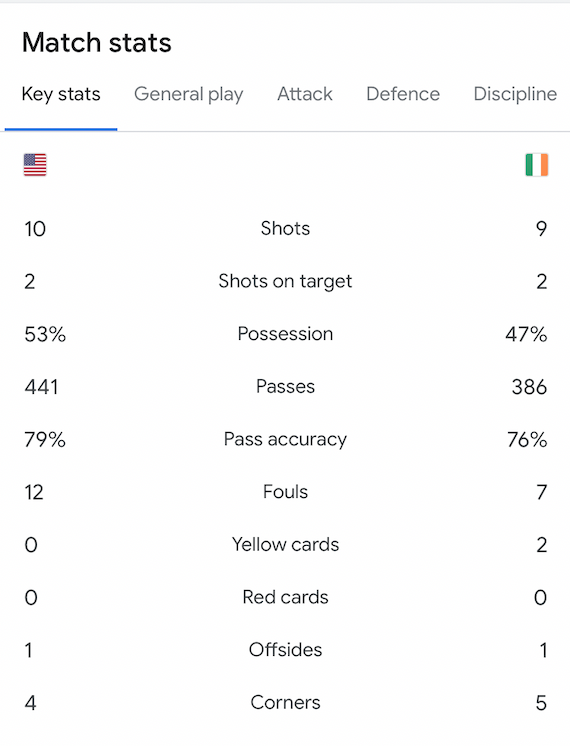 Ireland set their stall out similarly for the rematch against their heavily-rotated hosts, but with a few personnel changes. Littlejohn was in from the start along with Lucy Quinn, while Farrelly and Mannion dropped out — Pauw opting to rest the pair as they return from their respective absences — while Connolly remained in the back three to facilitate the incoming midfielders.
Similar themes unfolded as Pauw stuck with the same system. Ireland's build-up play was bright, Carusa again making the ball stick and offering a new dimension through an end-to-end opening. Lucy Quinn gave a good account of herself, not only in an attacking sense, but defensively, taking the opportunity to prove her point and ultimately winning the RTÉ Player of the Match award.
Payne picked up where she left off, stronger defensively on this occasion. Sheva was much more effective this time around, with the box midfield of world-class O'Sullivan and Littlejohn giving herself and Lucy Quinn more freedom to roam forward.
McCabe was further involved in that capacity, too, as Ireland played the ball around really well, created chances and were patient in and out of possession. For much of the first half in St Louis, they were the better team.
But the US grew into the game and there were some let-offs for the Girls In Green as pressure mounted. Brosnan produced several of big saves and Ireland dealt relatively well with anything thrown at them — until the 43rd minute. 
Alana Cook scored the game's only goal out of nowhere, the centre-back floating one in from distance and catching the unfortunate Brosnan off her line.
It was a sucker-punch after an excellent first half.
HT USA 1-0 Republic of Ireland
Alana Cook's 43rd-minute goal is the difference in St Louis. Follow the second half here https://t.co/vBeeyLUd5N #RTEsoccer pic.twitter.com/LH4zPXav2K

— RTÉ Soccer (@RTEsoccer) April 12, 2023
Once again, the second period was sloppy at times as tiredness crept in and USA upped the ante. Ireland had less possession, but showed flashes of excellence, particularly when playing through the deeper-lying O'Sullivan.
Pauw made six substitutions, and those afforded chances slotted in and stepped up to the plate for the most part.
Ciara Grant and Hayley Nolan were introduced in straight swaps for Littlejohn and Caldwell respectively in the 59th minute; Lucy Quinn and Sheva made way for Roma McLaughlin and O'Gorman 10 minutes later; and the promising O'Hanlon and Amber Barrett replaced Payne and Carusa in the 83rd minute.
Louise Quinn, again, ventured up top for the closing stages, and Ireland threw the kitchen sink at an equaliser but to no avail.
Two defeats overall, but this was a hugely encouraging double-header against one of the best teams in the world.
Significant improvements were made. All three goals were preventable, in truth, and Ireland were unfortunate not to score one themselves, at the very least.
Pauw and her side will take so much from this camp — positives, lessons, further confidence and belief.
And most notably, 'a different style of play' which will serve them well at the World Cup.