THERE HAS UNDOUBTEDLY been a real feel-good factor around Irish sport this week thanks to the international football team's successful bid to qualify for Euro 2016.
Monday night's win over Bosnia-Herzegovina in Dublin ensured their participation at the finals in France next summer.
And manager Martin O'Neill believes it is a welcome positive after the heartbreak of Ireland's early exit from the Rugby World Cup last month.
"It's a boost for the country," O'Neill said during an exclusive interview with Newstalk's Off The Ball tonight.
"There was a bit of disappointment as the rugby side felt that there was a great opportunity, I'm not saying to go win the tournament against New Zealand as that was always going to be difficult, but perhaps to get to a semi-final.
"With the wee disappointment there, it almost felt that we had to take the baton on and carry it forward.
"If hadn't have made it there might have been a lot of drudgery around Christmas time. So it has been a great old boost.
I'm genuinely delighted for myself, the team and the crowd who will come to France."
Back-to-back home victories over Germany and Bosnia have helped to create a much-improved atmosphere at the Aviva Stadium, which has often struggled to find its voice since the redevelopment of Lansdowne Road in 2010.
Ireland were unbeaten in Dublin during the entire campaign, winning four games and drawing two, and O'Neill thanked fans for their support.
"The Irish crowd are absolutely fantastic and just to get the feeling that people are going to go over there in droves and hopefully enjoy themselves and take it all in is wonderful to behold now," he said.
"It is something that I didn't dare think about too much, otherwise you wouldn't have got out of the bed in the morning.
"When I took over two years ago, our first game was against Latvia. I know that it was supposedly the dawning of a new era like when any coach takes his place for the first time. That night was only against Latvia but you got the feeling that the crowd was looking for something again.
"Over the course of the qualification tournament, I think our record at the Aviva has been fantastic and that is obviously down to the crowd.
"The atmosphere against Germany was extraordinary but it was surpassed on Monday night probably because there was an end product at the end of the game. It was either France or bust."
O'Neill was written by some after picking up just one point in two games against Scotland but the former Celtic boss insists that he remained confident even when Ireland's hopes of finishing in the top three were dwindling.
"It seemed from an Irish viewpoint that it was a total disaster but we still had to respond at home to both Poland and Scotland so I didn't want to feel the doom and gloom that was around," he added.
"It was nothing compared to the what happened when we drew against Scotland in June time as the people were out saying it was all over.
That wasn't just blind bravado from me saying I didn't think it was over. I have been involved in these tournaments both as a player and a manager. There are twists and turns.
"We had won a big game in Georgia in the opening game. Scotland still had to go there and that was not going to be easy. I accepted that it probably meant we had to get a bit result either at home to Germany or away to Poland to stay in the competition.
"I felt if we could get through Georgia and Gibraltar then it would be a bit night against the Germans, and so it proved."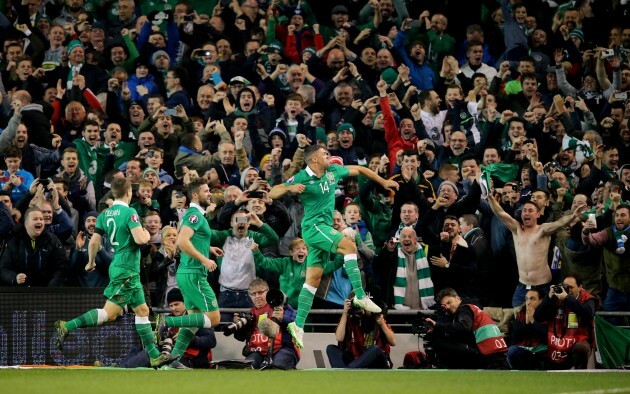 Cathal Noonan / INPHO Jon Walters celebrating one of his goals at the Aviva Stadium. Cathal Noonan / INPHO / INPHO
Having recently beaten two nations placed higher than them in the Fifa rankings, Ireland, currently 42th, will have to do something similar next June as they will be in Pot 4 when the Euro 2016 draw is made on 12 December.
The Ireland boss is well aware that his side will come up against superior opposition but is adamant that they will be instilled with the belief and determination to compete with the best.
"I always feel if you're going to sit back in a game, whether you are home or away, eventually you are going to give sides, who are more talented or equally talented, chances to score," he said.
You don't want to die wondering so at least you are going to try and get forward if you can.
"If you are driven back in games, as we were by Germany as you would expect as they had a lot of possession and were really world class players and are world champions, that is understandable.
"We have to compete. We lack certain things, all international sides on our sort of level do. It would be difficult to compete against Germany or Spain as they will keep the ball.
"So when we have it we have to try make some use of it. Our idea and the thing that I would love us to be able to try and do is have the confidence and courage to keep hold of the ball and play it.
"If there is immediate danger then of course any decent side would clear it, but when you have it try not give it away because getting the ball back in any game is almost an art in itself and is very difficult.
"If you keep giving it away, it becomes a problem.
"Mostly, you have to compete strongly and have heart and soul and that is what pleased me. They never gave up and kept going."
Ireland's ability to muster up last-gasp goals over the campaign has been one of their biggest strengths and O'Neill added:
"People started to say 'you've scored some late goals' almost as if it was a criticism. Actually Manchester United made a habit of that for over a decade and it became part of their make-up.
For us to score late goals in matches didn't prove everything but it showed something that we have a bit of belief and determination.
"As the competition really reached crisis point, I actually believe that the players rose to the occasion and came through."
Listen to the full Off The Ball interview here