THE MIDDLE WEEK of a November programme is always the one which carries the most opportunity, but equally there is an expectation on those players coming into the jersey to drive Ireland forward again.
Saturday's destruction of South Africa will be a hard act to follow for whichever Ireland team takes to the field against Fiji this weekend, but Joe Schmidt will demand nothing less than that as he explores the depth of his squad.
Consistency and momentum have been two of the buzz words around the camp over the last two weeks and certainly the intensity in training at Carton House has matched the assertion that Ireland are in a good place at the minute.
What made the record victory over the Springboks all the more encouraging and indeed satisfying was the fact the hosts didn't need to get anywhere near top gear to dispatch one of the game's traditional powerhouses — there was room for improvement even after such a convincing win.
And that is what's driving competition this week as players vie for the opportunity to stake their claim against Fiji and show Schmidt that they too can set those standards in a green shirt.
"We have quite a lot of players in the squad with one, two or five caps and a couple of new guys who have come in so trying to get those guys up to speed in how we do things as an Irish rugby team has been really good for the last two and a half weeks," Ireland skills and kicking coach Richie Murphy said earlier.
"They have come in, prepared well having had an idea of what it was like before they came in. All the players that have arrived into camp have had a massive work ethic, striving to bring things forward which is what we want.
"What is great is that the other players who were in the squad have been working with these guys on a daily basis. They guys are getting together and trying to solve problems on their own, they're coming back to the coaches with the answers.
"It's a very vibrant environment and people are taking ownership and moving forward which is what we want."
And you can sense there is a renewed focus around this place.
Each of these November internationals carry significant weight, each being given the utmost respect in diligent and meticulous preparation. Saturday might bring changes, but the bottom line is that it's still an Ireland team playing a Test match in-front of a sold-out Aviva Stadium crowd.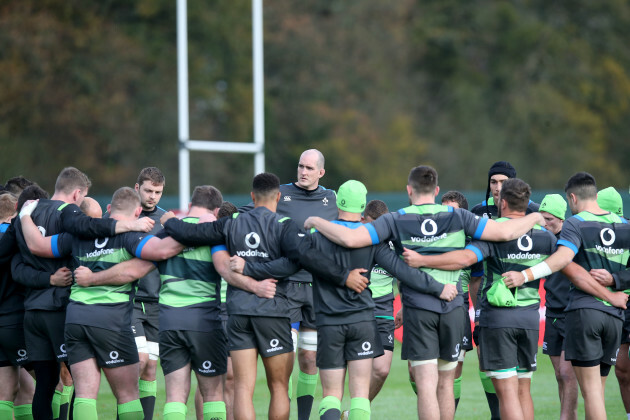 Bryan Keane / INPHO Ireland face Fiji at the Aviva on Saturday. Bryan Keane / INPHO / INPHO
There will be no allowance for inexperience or innocence; Schmidt's demands are the exact same for Fiji as they were last weekend.
Murphy adds: "It's about taking us forward again. No matter what team goes out there it is Ireland and it's a Test match, we set a little bit of a bar last week (in terms of performance) and we want to make sure that we are moving forward and not taking a step back.
"The guys that get the jerseys have to take us forward onto the next level."
Among those chomping at the bit is Jack Conan, who was ruled out last week after sitting out training on the Tuesday.
The Leinster number eight has continued his outstanding form into this season and had been pushing for a place on the bench against the Springboks at the very least before being managed because of his 'workload'.
"It was disappointing not to be involved last week but that was out of my hands," he says.
The 25-year-old has taken his game to a new level over the course of the last 12 months and is consistently producing standout performances in the blue of Leinster, something which was recognised by Schmidt as he toured with Ireland in the summer.
As regular and imposing as his contributions have been, so too have the questions about emerging from Jamie Heaslip's shadow and gaining a firm grip on that number eight jersey at provincial level.
Of course, Heaslip's season-curtailing injury last year and his continued absence this term opened the door for Conan but he had already burst through it and was in a great position to seize the opportunity with both hands. Now he wants to do the same at international level.
"It's tough what has happened to Jamie who has been a good pro and a great mentor to me as well and I know he'll get back fit in no time at all but you have to make the most of these opportunities and they don't come around too often," he continued.
"When you're given the jersey, whether it's blue or green, you've got to make the most of it, put your hand up and show that you're ready.
"I don't feel like I'm catching up [after last week], I just feel like I need to make the most of every opportunity I get so if I get this opportunity this weekend please God it will go well for me."
Bryan Keane / INPHO Ireland number eight Jack Conan. Bryan Keane / INPHO / INPHO
After touring with Ireland in June and spending an extended period under the guidance of Schmidt, Conan admits there are aspects of his game he needs to sharpen but insists he won't try and add anything to his armour just to be more like Heaslip or CJ Stander.
"There's a lot of ways I can improve as a player but there are things I'm good at that I'll stick to," the 25-year-old says.
"I wouldn't be a massive poach threat over the ball and that's definitely something I've got to work on but that's not something that is a massive part of my game. I'm not a full round player, I need to improve but my aspects that are good stand out.
"We push each other and try and get the best out of each other. If you're not up to the level, you know there's going to be someone there who will take that jersey and make it theirs."
Conan hopes the jersey will be his on Saturday, and he will get the chance to win his fourth cap in a first home international since making his debut against Scotland in August 2015.
"It has been a long time since I've played for Ireland at the Aviva so it feels like a very distant memory at this stage. If I get the opportunity to go out and play I'd be delighted and would be great to play in front of a full crowd."
Buy The42's new book, Behind The Lines, here: