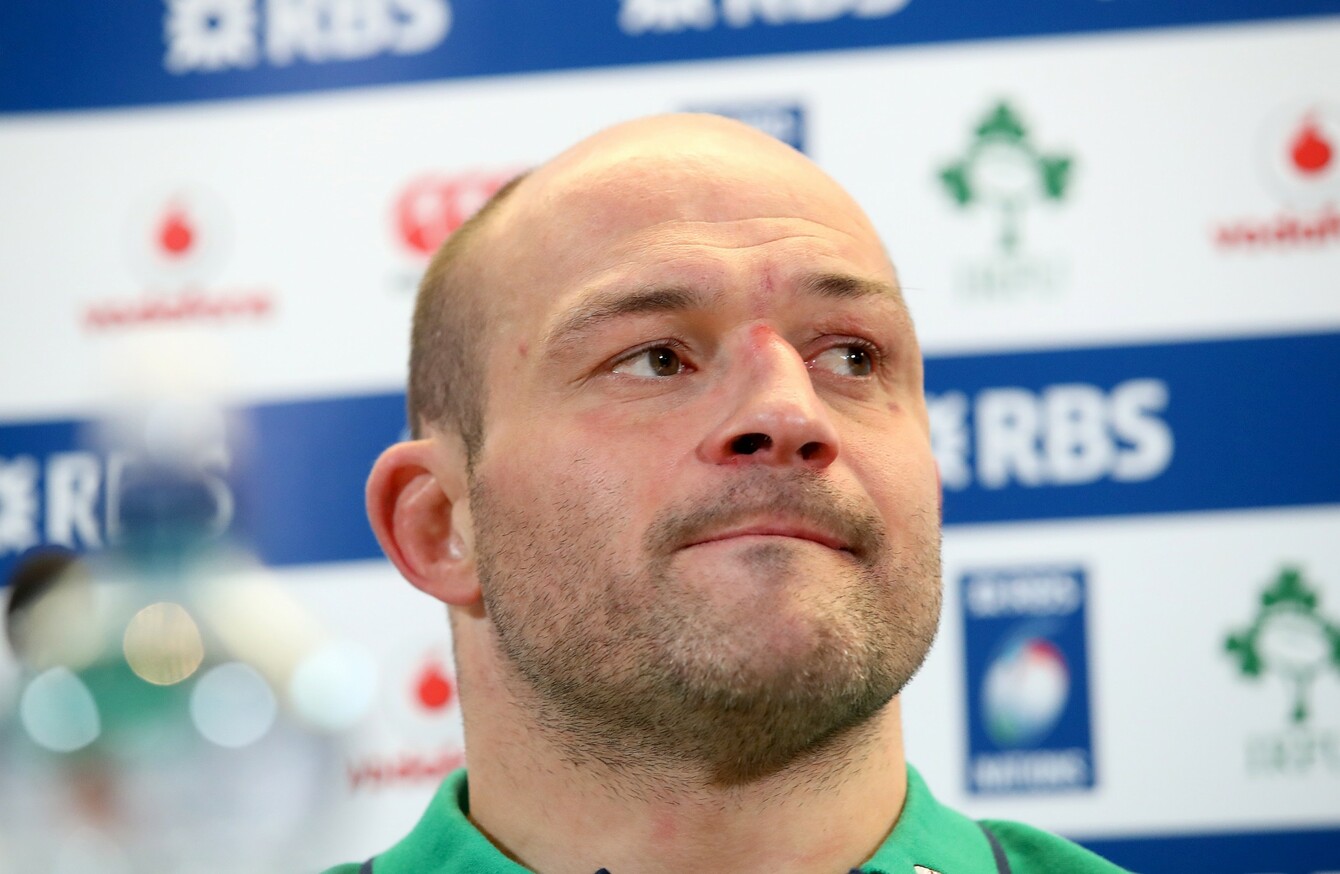 Rory Best following Ireland's Six Nations victory over France.
Image: Dan Sheridan/INPHO
Rory Best following Ireland's Six Nations victory over France.
Image: Dan Sheridan/INPHO
IRELAND SCORED A crucial Six Nations victory over France yesterday, to keep their hopes of winning the Championship alive.
It was a slow start for Joe Schmidt's side, who slipped into a 6-0 deficit before man-of-the-match Conor Murray, lunged over to score a crucial try that proved to be a momentum-changer in the game.
This was Ireland's second consecutive win in the tournament, following a disappointing loss to Scotland in their Six Nations opener.
Speaking at the post-game press conference, Ireland captain Rory Best pointed to improvements made in Ireland's defence and the lessons they learned from the outing against Scotland.
"It's something that since half-time in Scotland, we've really tried to push hard in defence. In the first-half against them it obviously wasn't anywhere near good enough.
"We've worked very hard on it. There was the disallowed try so we'll look at that and how we could have avoided that.
We're working very hard on all aspects of our game. Defensively if you're playing a team with the physical power of the French, you have to get the stuff right but you just have to make the hits, and to be fair to the boys, when the rain came down, we just had to make the hits and man up."
Best continued by highlighting the difficulties they faced in the phase play, and said they came in at half-time feeling they had more to give.
"I think we wanted to put pressure on them and wanted to take them through the phases. At the end of the first half I certainly felt we let them off a little, one or two more phases they might have run out of numbers.
Source: Real Rugby TV/YouTube
"When we keep the ball and go through phases we always hope that teams will run out of gas eventually.
"I think we could have done more to keep the ball and ask a few questions but they're a quality side.
"We knew they'd front up and keep coming at us and they did. They had a lot of power coming off the bench and that proved to be the case in the last quarter."
Ireland will now refocus to face Wales, who suffered a second consecutive defeat yesterday following a 29-13 loss to Scotland, which effectively leaves them with nothing left to play for in the championship.
Best concluded that Ireland won't be deviating from their normal preparation ahead of that assignment on 10 March, where a win would set up an intriguing Six Nations finale against England.
"I think we approach it the way we do every game. We'll take a bit of a break tonight, enjoy the victory and enjoy each other's company.
"We'll sit down and look at what we did well, and what we didn't do well. I'm sure Joe will pull some stuff out that we thought was alright and he thought we should do better.
"We'll look at Wales and see what we have to improve. You have to get better every week in this championship because the other teams will.
"We have to improve again. It'll be very tough but we've two weeks to prepare and we know the preparation is key for us.
"We'll turn the page as quickly."
Additional reporting by Murray Kinsella.
Subscribe to The42 Rugby Show podcast here:
****
The42 is on Instagram! Tap the button below on your phone to follow us!