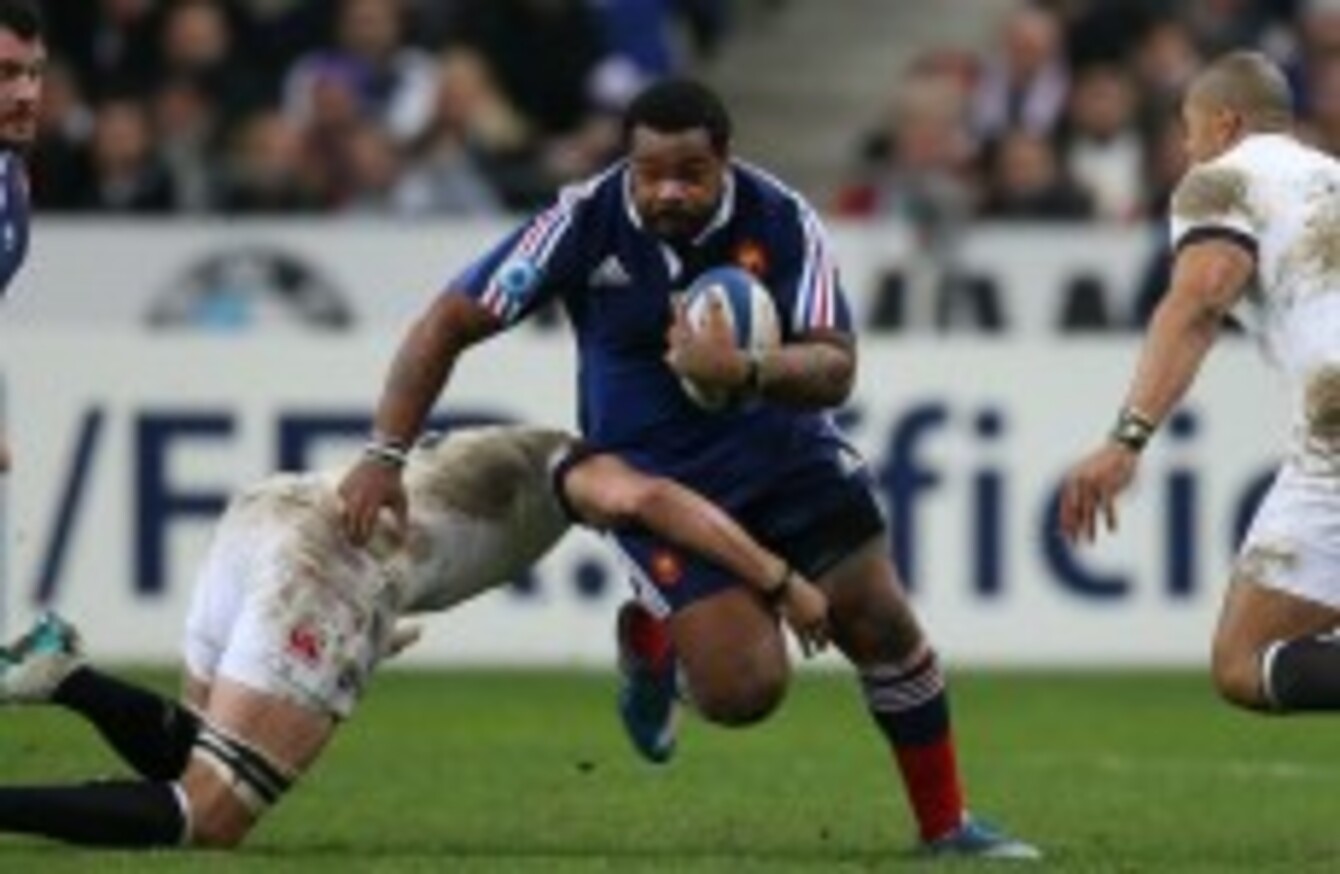 Mathieu Bastareaud is inconvenienced on a romp up the pitch.
Image: Billy Stickland/INPHO
Mathieu Bastareaud is inconvenienced on a romp up the pitch.
Image: Billy Stickland/INPHO
BRIAN O'DRISCOLL'S NIMBLE feet and rugby brain have been trumpeted in recent weeks as the outside centre edges towards his final game in the green jersey. O'Driscoll is held up as the antidote to a game that has increasingly opted to champion big, brawny runners in the backline.
Jamie Roberts and George North — even Tommy Bowe — fall into that category. Mathieu Bastareaud occupies a category of his own. The Toulon centre is listed at a generous 18st 10lbs but, on his better days, is deceptively light on his feet. It is five years since he, at the age of 20, burst onto the Test scene. He excelled in 2010, as France won the Six Nations, and scored two tries away to Scotland.
The tries have dried up since that victory in Murrayfield and Marc Lievremont dropped him for the 2011 World Cup. It was not until Philippe Saint-André took the reins that Bastareaud was recalled to the national fold. Since his return he has linked up effectively with Clermont's Wesley Fofana but the tries, as of yet, have failed to surface.
Even so, Ireland back Fergus McFadden and assistant Les Kiss have highlighted Bastareaud as a focal point of the French attack. McFadden said, "He's a massive guy that's a bit of an athlete. He's deceptively quick once he gets going.
"He is a massive hitter and quite tough to move when he clamps onto the ball at the ruck. People think he's a bit of a truck-up merchant, which he is, but he's got some nice skills as well. He's got a good left boot and good hands at times. He's definitely a handful."
Speaking on Tuesday, Les Kiss, Ireland's defence coach, described France's attacking game as multi directional. "They move their forwards around and have a group of three to five players that are very dangerous — the back three back and the half-backs," he said. "Bastareaud is the guy who can shift the point of attack, based around this axis they build in their game. It may look left of centre but you can see a point of what they're trying to do."
While France may look at Bastareaud as their attacking pivot — he certainly is a player that makes ground with ball in hand — his defence has looked suspect at times during this championship.
Ireland will look to Brian O'Driscoll to get inside him as much as possible and make him unsteady on his feet. Hitting the line flat, however, is not an option as Bastareaud is not the type of midfield tackler that allows a man like O'Driscoll to get flicks or offloads away. Once he hits his man, he stays hit. That is the beauty of the French beast.