THE POSITIVE VIBES roll on in Ireland camp.
Their captain's run this morning at the Aviva Stadium went off without any injury drama, for a change.
Indeed, there was even the pleasing sight of Garry Ringrose doing some jogging five days on from the worrying head injury he suffered against Scotland. He is going through the return-to-play protocols for concussion.
Although he was ruled out of the game against England tomorrow, Ringrose has been in Ireland camp this week since arriving back from Edinburgh a day after the rest of the squad. The outside centre's new role has helping them prepare for the Grand Slam decider.
Ringrose also presented Josh van der Flier with his jersey at a ceremony at the Shelbourne Hotel last night, making a speech to acknowledge his team-mate's achievement of hitting 50 caps tomorrow.
"Garry is fine," said Ireland assistant coach Mike Catt.
"He was up and moving around Sunday night back at the hotel with his dad. He got back on Monday and he's been as good as gold.
"He's been helping out, especially with defensive stuff with Si Easterby. Him and Robbie and Bundee and Stu have got good relationships there, so he's been sitting in all those meetings. Garry is Garry, he just wants what's best for team ultimately so he has been brilliant for us.
"Garry presented Josh with a jersey in front of the team, that was it, standard.
"A few nice words from a nice person to another nice person."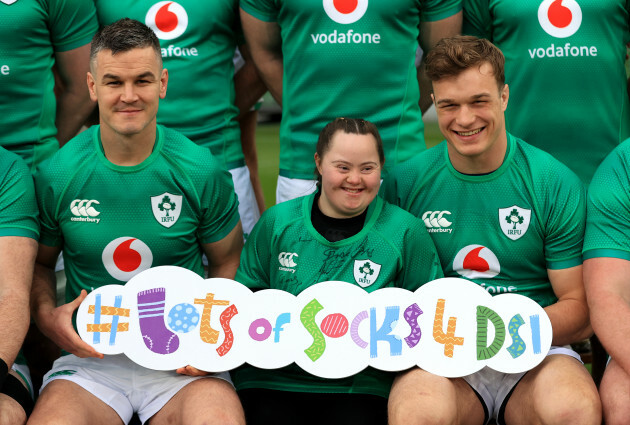 Dan Sheridan / INPHO Ireland showed their support for Down Syndrome Ireland's 'Lots of Socks' campaign today. Dan Sheridan / INPHO / INPHO
Today's captain's run involved another nice touch from the Ireland coaches as they invited the players' families into the Aviva Stadium to take it all in.
Head coach Andy Farrell has been consistent in making a big deal about including the families and this was another classy idea.
"Well it's a hell of a lot of sacrifice that goes in from players, the coaches, the backroom staff and everything," explained Catt.
"It's always a nice little touch for the families to come in and actually see what Dad or Mum does and experience an opportunity as they can, especially at the Aviva before the big noise happens tomorrow
"So it's great they can get here. It's obviously St Patrick's Day and it helps as they're all off school, so it has fallen nicely. It's brilliant having the kids here because it has been a long eight weeks or 12 weeks or whatever it is now since Portugal.
"There's a lot of sacrifice that goes in there and so it's great to have families in."