EVENING ALL, IRELAND tonight have a chance to shake off the disappointment of last week's draw with Slovakia and end 2021 on a high note.
To do that they simply must beat bottom seeds Georgia in their World Cup qualifier at a wet and wild Tallaght Stadium tonight.
Ireland's stumble last week has led manager Vera Pauw to describe this game as a must-win, and given play-off rivals Finland have already beaten Georgia, she is right: Ireland can't afford to chuck away any more points.
Kick-off is at 7pm, team news follows next.
Team news
Vera Pauw has made four changes to the side that drew with Slovakia. We knew Heather Payne would be out as she had to high-tail it back to the US for university exams, so US-born striker Kyra Carusa will lead the line in her stead.
Elsewhere, there are recalls for Diane Caldwell and Ruesha Littlejohn while Shelbourne teenager Jessica Ziu is handed her first start.
It remains to be seen if the system is affected, and, of course, whether Katie McCabe will be moved from her role at left wing-back.
That Quinn, Caldwell and Fahey are picked would suggest no change in shape, with Ziu likely to replace O'Gorman at right wing-back and Littlejohn swapping for Finn in midfield.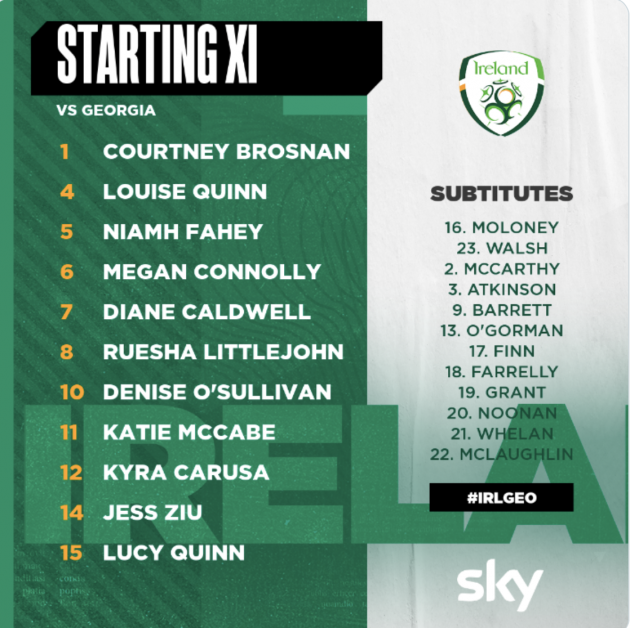 The debate that has engulfed the squad in recent days has surrounded Katie McCabe: what, exactly, is her best position?
Vera Pauw insists it's at left wing-back in her 3-5-2.
"It is not my system, it is a system to get the best out of our players. For example, there is a lot of debate about Katie's role and I appreciate that because we are debating that every day, how to get the best out of her and every player. Some players are more serving and some players are more leading, and Katie is definitely a leader in that. We don't want to take her creativity away, her driving force away.
"But it is not for nothing that the new coach of Arsenal has tried her on the left-wing, has tried her attacking, at right striker and she ends up as the left defender again, because Katie is so strong in getting there. If she is already there we don't get half as much out of her or even somebody suggesting in the centre, believe it, we have tried that of course. We want to win too, huh?
"But at this moment, it is really the best position for her to get the best out of her."
A win tonight for Ireland will take them ahead of Finland and into second place, which is not a bad place to be at all, even taking the Slovakia draw into account.
Georgia are No Great Shakes – they've yet to score a goal in this group and are ranked 123rd in the world.

The conditions for this game, by the way, are rancid.
The rain is coming down hard and it's coming down crooked, pushed by the traditionally mad wind that spills down from the Dublin mountains.
There won't be a positional switch for McCabe tonight, it seems, but Vera Pauw says she will be spending more time in attacking positions.
"We will play higher up, and you will see we will have more players around the box. She should be closer to the goal", said Pauw.
It's an attacking side she has picked, most obviously in swapping Ziu for O'Gorman on the other side.
The teams are on the pitch and lining up for the anthems.
Kick-off is minutes away!
Kick-off!
We are underway at Tallaght Stadium!
1′ – Ireland 0-0 Georgia
The rain has stopped, but it is very windy.
2′ – Ireland 0-0 Georgia
Ireland have their first attack. Denise O'Sullivan finds space between the lines, slides a ball down the edge of the box for Kyra Carusa, whose touch takes the ball over the endline before she cuts it back across the box.
GOAL!
3′ – Ireland 1-0 Georgia
Ideal start for Ireland! Katie McCabe whips a cross from the left wing into the penalty area, and defender Maiko Bebia stoops and haplessly heads the ball into her own net.
Bad defending, but it was a terrific cross by McCabe.
8′- Ireland 1-0 Georgia
Bebia, who scored that own-goal, is now off the pitch receiving treatment on a profusely-bleeding cut on her shin. One for the it never rains but it pours department.
10′ – Ireland 1-0 Georgia
Denise O'Sullivan is finding so much space in midfield, and she spins a lovely pass to the right for Jess Ziu. She passes inside for Lucy Quinn, whose cross is overcooked for O'Sullivan in the box. Georgia are unconvincing to say the least in clearing the ball, and one fresh-air shot later, concede the corner.
11′ - Ireland 1-0 Georgia
McCabe's corner is cleared but Ireland attack again, and Carusa misses a sitter! Brilliant cross into the box by Quinn picks her out unmarked in the six-yard box, but her diving header is misjudged and she makes a hames of her connection.
Great start by Ireland nonetheless.
13′ – Ireland 1-0 Georgia
Ireland are not resorting to the long balls they did last week and are zipping the ball about nicely. McCabe takes the ball infield, pings it to Littlejohn, who is hacked down 25 yards from goal and Ireland have a free-kick.
14′ – Ireland 1-0 Georgia
Connolly rolls the free-kick to McCabe who hammers a shot goanward that the splayed Georgian keeper saves with her feet.
This has been an excellent start by Ireland and currently looks a case of how many they'll score.
16′ – Ireland 1-0 Georgia
O'Sullivan has the freedom of the park, she shifts the ball in-field too Lucy Quinn, whose shot from range is pushed around the post by the Georgian goalkeeper.
16′ – Ireland 1-0 Georgia
Georgia make another drama out of clearing the Irish corner, but they eventually do so.
17′ – Ireland 1-0 Georgia
Georgia's Khaburdzania – she of the clash with McCabe a few minutes earlier – goes into the book for upending Megan Connolly.
19′ – Ireland 1-0 Georgia
Lovely play from Ireland. Littlejohn pings a cross-field ball to McCabe, whose cross is flighted into the box but missed by Carusa and the goalkeeper Sukhasvili gathers…then fumbles…and then desperately grabs the ball on the goal line.
20′ – GOAL!
Ireland 2-0 Georgia
Ireland have another corner, this time from the right side.
McCabe's corner is typically excellent – it's right on Lousie Quinn's head at the back post, and her goalward header is brilliantly flicked into the net by Carusa!
Carusa stooped and flicked the ball in while facing the other way: superb technique.
23′ – Ireland 2-0 Georgia
Georgia are no good but this is a very good Irish performance. There is composure and conviction in their attack, and are switching play to the wing backs effectively without resorting to the long balls that besmirched the Slovakia game.
27′ – Ireland 2-0 Georgia
Georgia have a free-kick just over the halfway line, but Ireland deal with it comfortably. Lucy Quinn strides clear with possession, but her switch of play to Katie McCabe is miscued and is out of play. The first sloppy pass Ireland have played all night.
28′ – Ireland 2-0 Georgia
Caldwell steps out of defence, pushes the ball into O'Sullivan's feet who spins and lays the ball off right to Littlejohn, whose shot from range is skewed well wide.
29′ – Ireland 2-0 Georgia
Lucy Quinn stands a cross to the back post for McCabe, who plants a header that's easy for the goalkeeper.
30′ – Ireland 2-0 Georgia
This time McCabe causes the goalkeeper much more difficulty: sent galloping clear in the box, she tries a pull-ball for O'Sullivan that the goalkeeper does well to intercept.
Ireland are so comfortable here.
33′ – Ireland 2-0 Georgia
Denise O'Sullivan has strength along with her craft: she barges Natalia Danella over with a shoulder, which the referee doesn't have a problem with.
35′ – Ireland 2-0 Georgia
Georgia's Nino Pasaikashvili is in agony with an ankle injury, and is carried off the pitch by a couple of her team-mates. Georgia will be playing with 10 players for a couple of minutes: she is in agony and there's nobody warming up.
GOAL!
36′ – Ireland 3-0 Georgia
Fabulous goal from Ireland. Littlejohn skids a Thiago-style pass out wide for Caldwell, who gives it to McCabe for a gorgeous one-two with McCabe, who in turn cuts the ball across the box for Lucy Quinn, who cuts in off the opposite wing and slams the ball into the corner.
39′ – Ireland 3-0 Georgia
Georgia are still playing with 10 players, by the way. For some reason.
And so Ireland attack again, and Denise O'Sullivan wins a free-kick.
Meanwhile, poor Pasaikashvili is being stretchered away having lain behind Brosnan's goal while Ireland scored in the other one.
And still the sub hasn't been made!
40′ – Ireland 3-0 Georgia
Megan Connolly curls the free-kick over the crossbar.
And Georgia finally make the substitution. Welcome Ani Dzadzua, who genuinely seemed in no rush to become part of this hammering.
42′ -Ireland 3-0 Georgia
Ireland keep the ball for ages around the Georgia box with McCabe, O'Sullivan, Ziu and Fahey all involved, and ultimately Carusa's shot forces Ireland's fourth corner.
43′ – Ireland 3-0 Georgia
Tatuashvili defends McCabe's corner well, heading over the bar to set McCabe for another set piece.
44′ – Ireland 3-0 Georgia
It should be four: McCabe's corner is customarily excellent, Connolly leaps and heads over from five yards out, admittedly under pressure.
The camera cuts to a grinning Vera Pauw, and with good reason. Stodgy opponents notwithstanding, this is a fine Irish performance.
45′ – Ireland 3-0 Georgia
More good play by Ireland, as Lucy Quinn skips by a Bebia challenge that's hardly there – she has had a nightmare first-half – but her cut-back is well dealt with.
But it's wave after wave of Irish attack. Littlejohn's passing has been brilliant and she drops a gorgeous cross-field pass onto Lucy Quinn's boot, but the cross is too high for O'Sullivan.
GOAL!
45 +2′ – Ireland 4-0 Georgia
They can't say it wasn't coming.
Littlejohn saunters forward with the ball with no challenges incoming, squares the ball for O'Sullivan, who pokes the ball between the goalkeeper's legs and across the line for Ireland's fourth.
HT: Ireland 4-0 Georgia
Georgia are shockingly bad but that's not to detract from Ireland, who have been excellent.
McCabe, O'Sullivan and Littlejohn the stand-out performers.
A perfect response from Ireland to last week's disappointment and, honestly, this could be 10 (TEN.)
We'll be back in a few.
46′ - Ireland 4-0 Georgia
Horrendous defending by Georgia as a defender miscontrols the ball into McCabe's path, but the goalkeeper makes a fine save from close range.
The same 'keeper is then called into action from distance: the corner is cleared but only to O'Sullivan, whose curling shot is destined for the top corner which is brilliantly clawed away by Sukhasvili.
50′ – Ireland 4-0 Georgia
All Ireland once again, and a series of passes left and right ends with Connolly pulling a shot from distance wide of the left-hand post.
54′ – Ireland 4-0 Georgia
Lucy Quinn's cross from the right is just too high for McCabe.
55′ – Ireland 4-0 Georgia
And now Ziu's clipped ball into the box is slightly overhit for O'Sullivan and Carusa.
GOAL!
57′ – Ireland 5-0 Georgia
Ah, what a strike by Denise O'Sullivan.
Fahey lays the ball off to O'Sullivan on the edge of the box, who swivels and lofts an inch-perfect strike over the goalkeeper and into the top corner.
60′ – Ireland 5-0 Georgia
Katie McCabe weaves into the box and goes down under a challenge by Kalandadze.
The referee says no penalty, but replays show it should have been one: the Georgian defender missed the ball and trod on McCabe's boot.
GOAL!
61′ – Ireland 6-0 Georgia
And a hat-trick for Denise O'Sullivan!
This one with her head. It's Ireland's best combination: Katie McCabe's chipped cross to the back post, and O'Sullivan leaps and heads the ball beyond Sukhashvili.
66′ – Ireland 6-0 Georgia
A double change for Ireland – Roma McLaughlin replaces Lucy Quinn, while Ciara Grant is on for Ruesha Littlejohn.
Red card and penalty!
69′ – Ireland 6-0 Georgia
Bebia's horror night is complete. She is adjudged to have handled Fahey's shot in the box, and the referee points to the penalty spot and gives Bebia her second yellow card.
Georgia are down to 10, and McCabe is standing over a penalty.
GOAL!
70′ – Ireland 7-0 Georgia
And McCabe makes no mistake.
Seventh heaven for Ireland, and it is unlikely to stop there. This could genuinely reach double figures.
72′ - Ireland 7-0 Georgia
McCabe flights a free-kick into the box that's cleared only as far as McLaughlin, who passes to O'Sullivan, whose shot is blocked and cleared.
But never for too long: Ireland have the ball again and are on the attack again…
GOAL!
74′ – Ireland 8-0 Georgia
…McCabe hets the ball with back to goal on the edge of the box, allows the ball to run onto her left foot and then swivels and drives a shot into there bottom corner.
She is brilliant.
75′ – Ireland 8-0 Georgia
Kyra Carusa is off – Saoirse Noonan on in her stead. Amber Barrett, meanwhile, replaces Jess Ziu.
Barrett slots in at right wing-back.
Ireland's record win, by the way, is 9-0 – it looks very much like it will fall tonight.
75′ – Ireland 8-0 Georgia
Ooof, Barrett's first action is a brilliant whipped cross that the goalkeeper claws away under her own crossbar.
77′ – Ireland 8-0 Georgia
Caldwell tries her luck from 30 yards, and it flies narrowly over the crossbar!
78′ – Ireland 8-0 Georgia
We have a break in play as the Georgian goalkeeper nurses a back injury.
Ireland aren't the only side winning big tonight, by the way. England are, eh, 18-0 up against Latvia.
81′ - Ireland 8-0 Georgia
This could be much worse for Georgia but for their goalkeeper, Teona Sukhashvili.
Now she throws herself to her left to parry another rasping McCabe drive. Ireland have another corner.
GOAL!
82′ – Ireland 9-0 Georgia
Saoirse Noonan equals Ireland's record victory!
McCabe's corner is perfect – obviously – and Megan Connolly's header is saved at point-blank range by the goalkeeper. She can't hold it, though, the ball drops to Noonan, who prods the ball over the line from a couple of yards out.
It's her first senior international goal – what a moment for her.
83′ – Ireland 9 (NINE) -0 Georgia
Barrett storms down the right, and forces a corner.
Another McCabe delivery incoming…
84′ – Ireland 9 (NINE)- 0 Georgia
The 'keeper came for the corner, misses it, but Noonan is caught under the ball and heads it over the bar!
85′ – Ireland 9 (NINE) – 0 Georgia
"We want 10″ is the chant around Tallaght Stadium. Five minutes to get it…
86′ – Ireland 9 (NINE) – 0 Georgia
McCabe drives forward, shifts the ball right to McLaughlin, who sees her shot from range saved by the goalkeeper.
GOAL!
89′ - Ireland 10 (TEN) – 0 Georgia
Aaaaaand there it is!
Ireland set a new record victory, and it's Amber Barrett who provides the history's finishing touch.
It's replete by some shambolic Georgian defending – a ball into the box is completely missed by a defenders fresh air shot – which sees the ball run through to Barrett, who slams home brilliantly from a tight angle.
90+1 – Ireland 10 (TEN) – 0
Barrett did the Ronaldo celebration, by the way.
Though perhaps she shouted ZIIUUU, in recognition of the player she replaced.
GOAL!
90+2′ -Ireland 11 (ELEVEN) – 0 Georgia
The referee has sadistically added three minutes stoppage time and Ireland score yet again.
Megan Connolly curls a free-kick from the left wing into the box, and it misses everyone and bounces into the net.
FT – Ireland 11 (ELEVEN) – 0 Georgia
That's it – a record Irish victory.
Georgia were hopeless – and had to play the final quarter with 10 players – but Ireland were fantastic, and it's a great note on which to end 2021.
Ireland go second in the group, a point clear of Finland, and with their goal difference greatly swollen.
Katie McCabe's standing in the game, by the way, seen at the end, as two Georgian players rushed up to her to ask her for her shirt.
That was tremendous fun.
Thanks for following us, report and reaction from Tallaght from Emma Duffy is incoming.
Bye!