IRELAND HEAD COACH Greg McWilliams said his side have a lot to learn after their heavy Six Nations opener defeat, but that their hosts Wales may just be part of showing the way forward.
Wales are further down the road of professionalism and that showed in how a gulf has opened up between the teams in the last 12 months. McWilliams said his squad would work tirelessly to show an improvement against France next week.
"I thought the first half showed their physicality and ability to control the game," he said afterwards in an emotional press conference.
"I was proud to make sure it was 5-all in the second half, it was tough to pick the players up at half time, there was a bit of shock as you can imagine.
"Now we just need to learn from it, which is easy to say but when things do not go your way that is a true test of your resilience.
"We have to shake it off, learn and get ready for next week. I did not expect Wales to be that strong, they are very well coached and had lots of big bodies competing well around the contact area."
"Of course we are disappointed," McWilliams added. "You feel you have let people down and it is hard. It is tough, the players care, they look at the men's team and the 20s team, they know what the rugby public is like and they want to do some special things.
"We were on the receiving end of it but they have worked really hard, they put in a good shift and just have to learn and [get] better. We have to show now we are a group of people who can improve and we hope to see that next week.
"We have got to plan and see how we can be more competitive next week and I promise we will be working 24 hours a day to be in a position to be competitive next week."
There were mixed feelings for the Dubliner and co., as patience was urged going forward.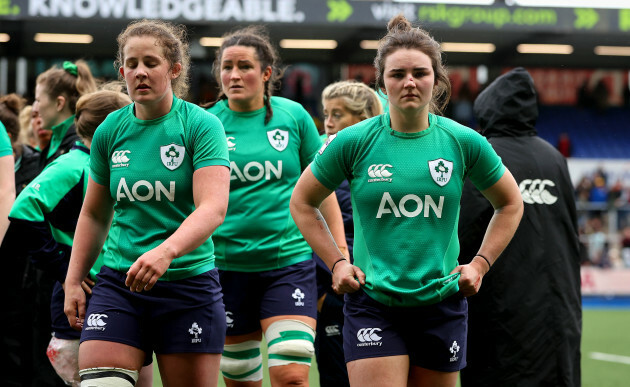 Ryan Byrne / INPHO Ireland players at the full-time whistle. Ryan Byrne / INPHO / INPHO
"You might find it hard to believe that there were things in that game we are really happy with. Unfortunately there were not enough.
"They have 23 of their squad playing in the English Prem in a really competitive league. We have got to be patient, but at the same time there are no excuses.
"There were a lot of people there who give you hope, but at this moment it is just tough to take those losses."
It was a message of hope backed up by Wales coach Ioan Cunningham, who said, "We have grown as a team over the last 12 months having spent a lot of time together, we are on a professional programme and I think that development has shown.
"Ireland are at the start of that journey. Our challenge is to stay ahead, keep moving, but the last 12 months have been great for us."