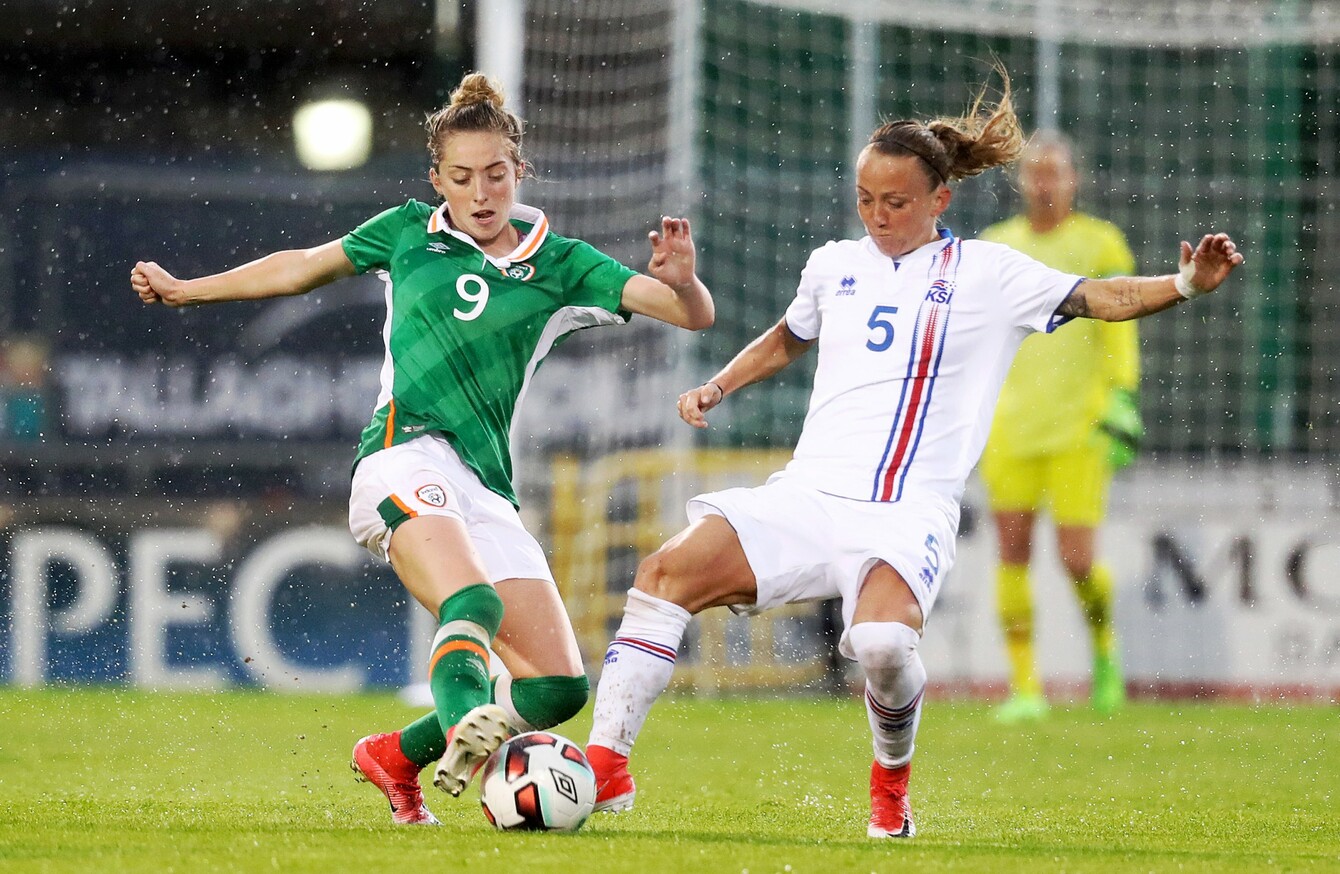 Image: Tommy Dickson/INPHO
Image: Tommy Dickson/INPHO
Republic of Ireland 0
Iceland 0
Aaron Gallagher reports from Tallaght Stadium
IRELAND OFFERED A commendable performance on a soaking Thursday night as they held Iceland to a battle-harden 0-0 draw at Tallaght Stadium which, despite torrential weather conditions, highlighted the steady progression of Colin Bell's side against a top-level opposition.
Iceland are positioned 14 places above Ireland in the FIFA World Rankings and are currently preparing for their opening game against France in next month's European Championships.
Appreciated by the Irish camp for their physical style of play, crunching tackles were frequent throughout this game with hard knocks suffered and bruises shared as neither side stood down to the test.
Weather conditions, however, played a significant restrictive role in this game. Torrential rainfall poured before kick-off and at the beginning of the second half, meaning any degree of possession football was ruled out from the offset.
One instance after thirteen minutes highlighted the struggle as Arsenal's Katie McCabe attempted a routine sideways pass to team-mate Harriet Scott, before the ball stopped dead in the centre circle thanks to a soaking and waterlogged patch of turf in Tallaght Stadium.
In spite of this both sides made a game of it in a highly competitive meeting which both sides recognised as crucial in preparation for next month's Championships for the visitors, but also the beginning of the 2019 World Cup qualifying campaign in September for the hosts.
Iceland's early high line failed in its efforts to press Ireland's backline and rather exposed a gaping hole in the middle of the park, leaving captain Sara Bjork Gunnarsdottir isolated to the quick running of McCabe against the run of play.
The first battle between the pair saw McCabe dart at speed through an absent midfield before laying the ball off to her left towards Megan Campbell, the Man City defender back in the Irish squad for the first time in over a year.
Campbell crossed to an unmarked Megan Connolly at the back post who could not steer the low cross towards goal. Chances now came in their troves for Ireland, who had pinned Iceland back into their own half.
A header from Connolly was cleared off the line from an Aine O'Gorman corner before Florida-based Connolly sold her marker Sigur Lara Gardarsdottir the sweetest of dummies, however her cross was low and gathered by goalkeeper Gudbjorg Gunnarsdottir at the near post.
A 50/50 collision between Harriet Scott and Gunnhildur Yrsa Jonsdottir inside the Iceland half highlighted the physical battle both sides posed to one another, with the later coming out the worse for wear as both sides gave as good as they got in a combatting encounter.
Iceland's closest chance of the opening half came when captain Gardarsfottir was found unmarked at the back post. To her manager Freyr Alexandersson's vocal frustration the deep-lying midfielder blasted her effort well and truly over the bar in a lucky escape for the hosts.
In an expansive second half the pitch opened up as both sides went for the jugular. In a tight game a single goal was always going to decide it, and both sides had their chances to gain the upper hand as the rain continued to fall in front of a crowd of 862 supporters.
A corner by Fanndis Fridriksdottir bobbled inside the danger zone before being wiped clear off the line by goalkeeper Marie Hourihan, who replaced captain Emma Byrne at the interval, with Hourihan making a second outstanding save not long after as she saved from Katrin Asbjornsdottir.
Ireland went up the other end as Karen Duggan had an effort scrambled off the line in a manic period of panic for the visitors in the host's closest chance to breaking the deadlock, before another shot at the other end was blocked heroically by the back of Louise Quinn to cap off a cemented performance by Ireland's backline.
IRELAND: Emma Byrne (Marie Hourihan 45) Sophie Perry, Diane Caldwell, Louise Quinn, Harriet Scott, Megan Campbell (Claire O'Riordan 81), Denise O'Sullivan, Karen Duggan, Katie McCabe, Aine O'Gorman, Megan Connolly (Niamh Fahey 73)
ICELAND: Gudbjorg Gunnarsdottir (Sandra Sigurdardottir 45), Katrin Asbjornsdottir (Berglind Bjorg Thorvaldsdottir 80), Sif Atladottir (Malfridur Erna Sigurdardottir 45), Gunnhildur Yrsa Jonsdottir, Glodis Peria Viggosdottir, Agla Maria Albertsdottir, Sigur Lara Gardarsdottir (Rakel Honnudottir 66), Halibera Gudny Gisladottir, Sara Bjork Gunnarsdottir, Ingibjorg Sigurdardottir, Fanndis Fridriksdottir (Svava Ros Gudmundsdottir 69)
Referee: Paula Brady
The42 is on Instagram! Tap the button below on your phone to follow us!