YOU MAY KNOW the drill around our analyses of Ireland's rucking efforts at this stage, but if not check out this post from the Canada game at the World Cup for an explanation of what's involved.
In this article, we examine the rucking effort from Joe Schmidt's men in Sunday's 16-9 win over Italy.
O'Brien's defensive appetite
The immediate post-match perception of O'Brien's performance against Italy was that he was off the pace, but closer analysis of the game paints his display in a different light. The openside wasn't at his very best, but it was a busy performance nonetheless.
Billy Stickland / INPHO O'Brien looked for work throughout. Billy Stickland / INPHO / INPHO
O'Brien's work around the breakdown in defence was especially notable and he possibly didn't get the rewards he deserved. He had a remarkable total of 14 defensive involvements over the course of his 67 minutes on the pitch, winning one turnover.
Referee Jerome Garces continued the trend of this World Cup by largely favouring the attacking team at the rucks, and O'Brien was clearly surprised that his two slowing actions didn't actually draw turnover penalties.
O'Brien flung himself at the Italian possession on the ground, while he had 10 effective actions across his 15 arrivals as first or second man in attack. Overall, it was a strong rucking performance from O'Brien and added to some good work elsewhere. 

The Leinster man was largely used to carry the ball in congested areas one pass out from rucks and still managed to make 10 carries beyond the gainline. If Ireland can get him into more one-on-one carrying situations against France, O'Brien will do even more damage.
There is certainly more to come from the 28-year-old in terms of all-round performance, but his efforts against Italy were perhaps initially underrated.
McGrath motors
The heat continues to grow on Jack McGrath and he continues to respond with strong performances. The loosehead prop's set-piece work was solid against the Italians and he also showed serious appetite at ruck time.
James Crombie / INPHO McGrath huddles up alongside Paul O'Connell. James Crombie / INPHO / INPHO
McGrath was the leading Irish players in terms of first arrivals, with a total of 14 and all but two of those being positive contributions. The Leinster prop was also very effective on his nine second arrivals, which included one dominant hit.

Defensively, McGrath was as willing as ever to have a sniff at the ball and offered up three present markings when Italy had the ball. Cian Healy replaced the 25-year-old for the final quarter, and is a strong possibility to start against France on Sunday.
However, McGrath's total of 31 ruck involvements demonstrated again one of the reasons Schmidt is such a fan. He will continue to be an important cog in this Ireland squad, whether that's in the starting XV or off the bench for Healy.
Best quality
Hooker Rory Best was in the top five of Ireland's starting players in terms of ruck actions per minute of game time and, most importantly, his contributions were of good quality.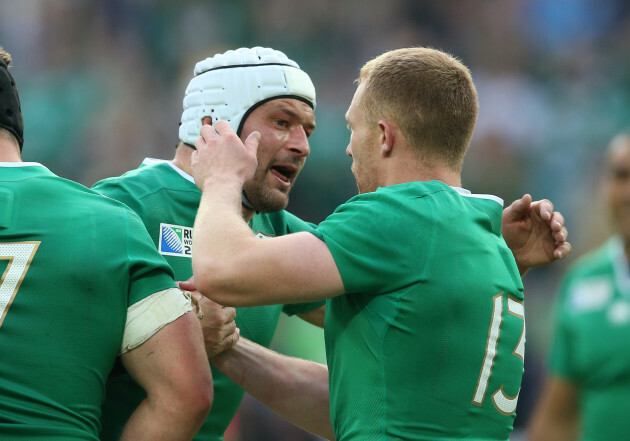 Billy Stickland / INPHO Best with Keith Earls after the Munster man's try. Billy Stickland / INPHO / INPHO
With four effective clearouts as first arrival and three more as the second man in, the experienced Ulsterman set a strong example for his teammates when he was called upon to ruck.
Defensively, he had one slowing action and was also present on four other occasions. Best loves having a bite at the ball on the ground, and his skill in that department will be important against les Bleus.

Ineffective hits
Being a good rucking team is about consistency. If you're going to smash a jackal clear off the ball around the halfway line, you can't follow that up by slipping up another potential poacher's back at the next ruck in the opposition 22.
Ireland's rucking quality is usually the one area of their game that isn't affected by poor overall performances, but there were a number of ineffective contributions that the individual Irishmen involved will review as unacceptable.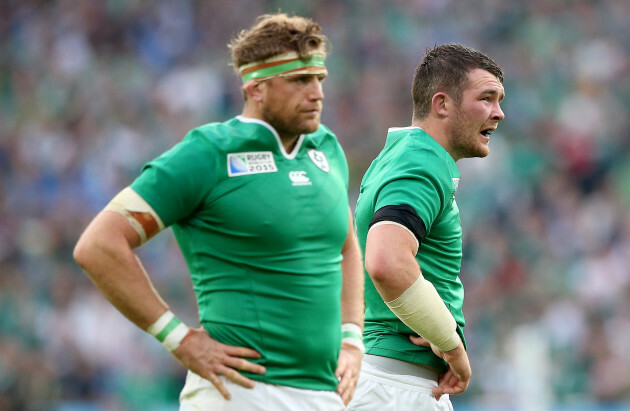 James Crombie / INPHO Heaslip doesn't often miss his man at ruck time. James Crombie / INPHO / INPHO
Paul O'Connell uncharacteristically had two poor efforts as first arrival, as did the otherwise excellent McGrath. Jamie Heaslip was another to have two ineffective
markings, one of them leading to a turnover for the Italians.
These players are usually closer to 100% accurate with their rucking and the lack of venom in some ruck hits across the board was notable, highlighting the fact that Ireland weren't mentally right for this fixture.
Along with the ineffective actions were a huge number of present markings at the rucks, which can mean a number of different things. In this game, many of those present involvements could be filed away under 'ruck inspection.'
Ireland value ruck security more than most things in the game, but too often Ireland found themselves with an extra man just tagged onto the back of the ruck and really having no effect whatsoever on it.
We haven't marked those actions as ineffective here due to the fact that they didn't have a negative effect on the ruck, but they did mean that Ireland sometimes had overcommitted to the post-tackle zone.
That obviously has a knock-on effect elsewhere on the pitch, reducing the number of players available to attack and Ireland can certainly be better with resourcing the rucks.
Schmidt will never want to understaff the rucks of course, but if the first two players can be hugely effective with their contributions and the third man provide a secure guard, the ruck inspections may become less frequent.
With the Italians often avoiding competing for the ball on the ground and instead rapidly fanning out in the defensive line, it meant that Ireland didn't always have the attacking numbers to threaten them. More accurate ruck resourcing is required against France.
Bowe back on form
Sunday wasn't quite the type of game that might have traditionally suited a wing, but Tommy Bowe used the opportunity to deliver out on the right.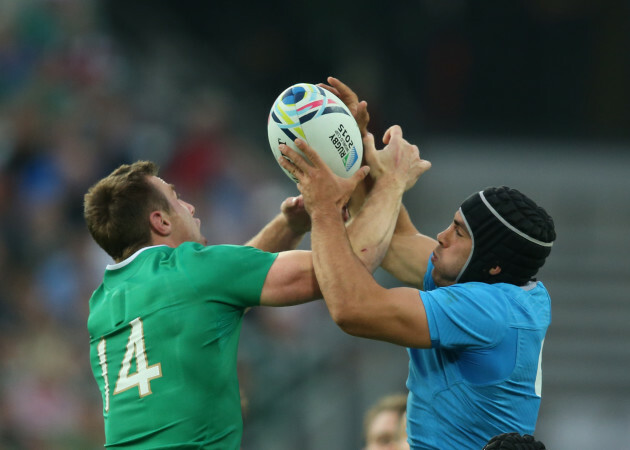 Billy Stickland / INPHO Bowe was strong in the air and on the ground. Billy Stickland / INPHO / INPHO
His excellent aerial skills were on display with one stunning overhead catch of a box kick and a number of other good contests for the ball. There's certainly still more to come from Bowe in terms of getting up off the ground consistently, but it was a good showing aerially.
As well as a handful of solid carries in the midfield, Bowe was effective when called upon to hit rucks. He had five first arrivals and all five of them were effective, while his second arrivals also featured one good effective hit.
Defensively, Bowe was unlucky not to win a turnover penalty, again falling foul of Garces' interpretation of the breakdown contest. Another match official on another day would have awarded the penalty in Bowe's favour.
Bowe's performance against Italy, after scoring twice against Romania, leaves the 31-year-old in a decent position to compete for a starting place against France this weekend.
He came into the World Cup seemingly well behind Dave Kearney, but may now start ahead of the Leinster man if Schmidt opts to back his aerial ability and greater experience.
Best of the rest
Robbie Henshaw had a good game for Ireland on his return from a hamstring injury, carrying powerfully, making two offloads and also rucking well when he was needed. The signs are promising ahead of one of the biggest games of the Connacht man's career in Cardiff.
Billy Stickland / INPHO Henshaw will be even more effective against France. Billy Stickland / INPHO / INPHO
An excellent display from Peter O'Mahony – yellow card aside – was reflected in his rucking involvements, while there were also some nice hits from Johnny Sexton as first arrival.
The fact that the Ireland out-half had to make five of those first arrivals tells us a tale of the game to a degree, with Sexton needed to hit the breakdown in the narrow channels that much of the contest was played in.
Top of the Pops
Below, we've listed the rucking involvements for each Irish player in the starting team and those who came off the replacements bench.
First arrivals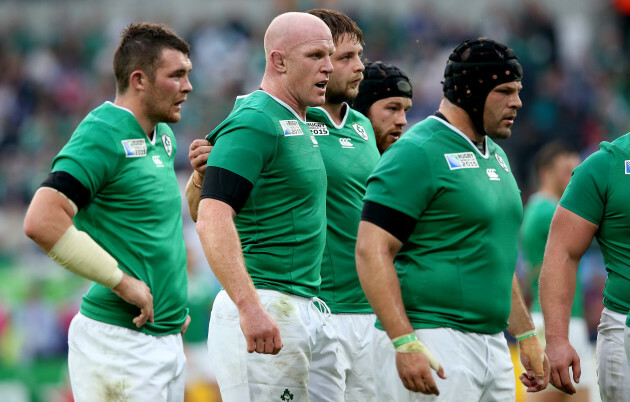 James Crombie / INPHO Mike Ross had a good day on first arrivals. James Crombie / INPHO / INPHO
14 Jack McGrath – 11 effective, 1 guard, 2 ineffective
13 Paul O'Connell – 7 effective, 4 guard, 2 ineffective
10 Mike Ross – 9 effective, 1 guard
10 Peter O'Mahony – 5 effective, 4 guard, 1 present
10 Jamie Heaslip – 6 effective, 2 guard, 2 ineffective
8 Sean O'Brien – 7 effective, 1 guard
6 Simon Zebo – 2 effective, 4 guard
5 Tommy Bowe – 5 effective
5 Johnny Sexton – 5 effective
5 Keith Earls – 1 effective, 3 guard, 1 present
4 Rory Best – 4 effective
4 Robbie Henshaw – 3 effective, 1 guard
4 Dave Kearney – 3 effective, 1 guard
3 Devin Toner – 2 effective, 1 guard
3 Cian Healy – 2 effective, 1 guard
2 Chris Henry – 2 effective
2 Luke Fitzgerald – 1 effective, 1 guard
2 Nathan White – 1 guard, 1 ineffective
1 Iain Henderson – 1 effective
1 Sean Cronin – 1 effective
Second arrivals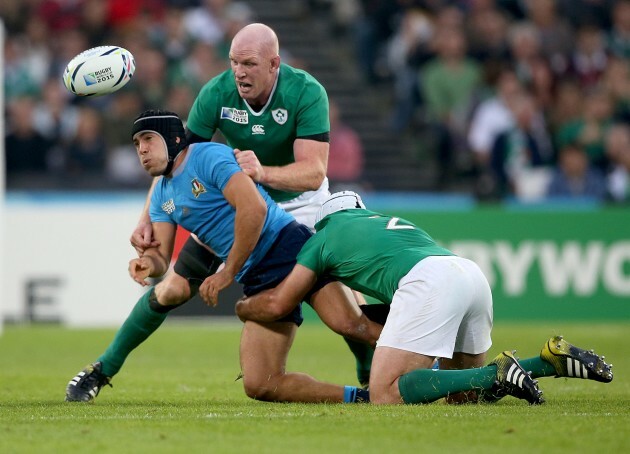 Dan Sheridan / INPHO O'Connell didn't have to clear too many bodies on his second arrivals. Dan Sheridan / INPHO / INPHO
13 Paul O'Connell – 1 effective, 12 guard
11 Rory Best – 3 effective, 8 guard
10 Jamie Heaslip – 5 effective, 5 guard
9 Jack McGrath – 1 dominant, 6 effective, 2 guard
9 Mike Ross – 1 dominant, 2 effective, 3 guard, 2 present, 1 ineffective
8 Simon Zebo – 3 effective, 4 guard, 1 ineffective
7 Sean O'Brien – 3 effective, 3 guard, 1 present
7 Iain Henderson – 3 effective, 3 guard, 1 present
5 Peter O'Mahony – 1 dominant, 3 guard, 1 present
5 Tommy Bowe – 1 effective, 4 guard
3 Keith Earls – 2 effective, 1 guard
3 Sean Cronin – 2 guard, 1 present
2 Dave Kearney – 1 effective, 1 guard
2 Nathan White – 2 guard
2 Johnny Sexton – 1 guard, 1 present
1 Robbie Henshaw – 1 dominant
1 Chris Henry – 1 guard
1 Cian Healy – 1 ineffective
Third arrivals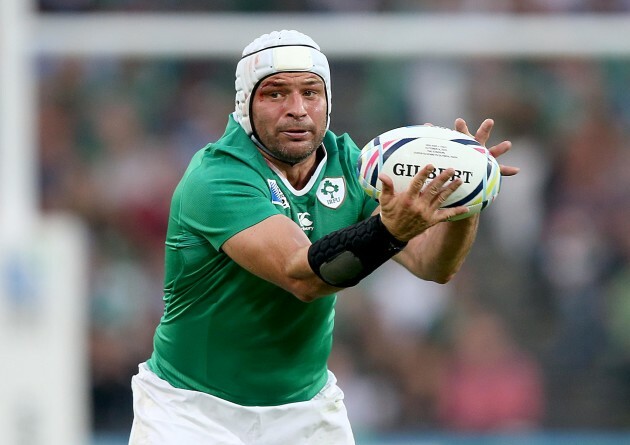 Dan Sheridan / INPHO Best provided security as third man into the ruck. Dan Sheridan / INPHO / INPHO
9 Rory Best – 8 guard, 1 present
7 Nathan White – 4 guard, 3 present
7 Mike Ross – 2 guard, 5 present
6 Iain Henderson – 4 guard, 2 present
5 Jack McGrath – 1 effective, 1 guard, 3 present
5 Paul O'Connell – 4 guard, 1 present, 1 ineffective
4 Sean O'Brien – 3 guard, 1 present
3 Jamie Heaslip – 2 guard, 1 miss
Exclusive Six
Nations Analysis
Get Murray Kinsella's exclusive analysis of Ireland's Six Nations campaign this spring
Become a Member
2 Dave Kearney – 1 effective, 1 present
2 Peter O'Mahony – 2 guard
2 Cian Healy – 2 guard
1 Devin Toner –  1 guard
1 Chris Henry – 1 guard
1 Conor Murray – 1 guard
1 Robbie Henshaw – 1 present
1 Simon Zebo – 1 present
Defensive efforts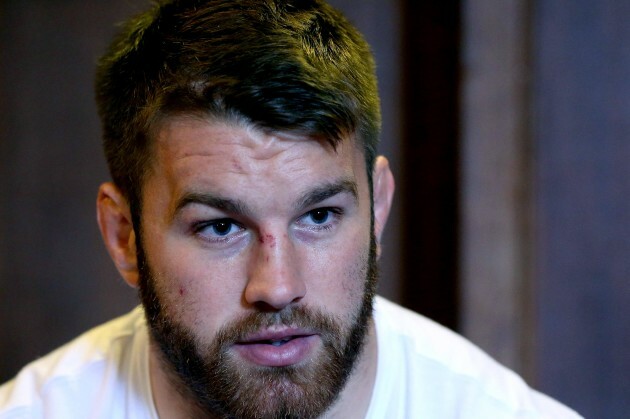 Dan Sheridan / INPHO O'Brien threw himself into the breakdown in defence. Dan Sheridan / INPHO / INPHO
14 Sean O'Brien – 1 turnover, 2 slowing, 11 present
5 Rory Best – 1 slowing, 4 present
4 Iain Henderson – 4 present
3 Paul O'Connell – 1 turnover, 1 turnover assist, 1 present
3 Robbie Henshaw – 3 present
3 Jack McGrath – 3 present
3 Jamie Heaslip – 3 present
2 Peter O'Mahony – 2 present
2 Mike Ross – 2 present
1 Simon Zebo – 1 present
1 Cian Healy – 1 present
1 Tommy Bowe – 1 miss
Rucking actions per minute of game time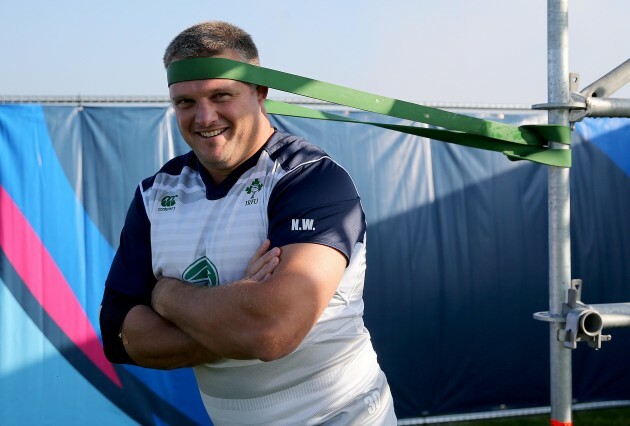 Dan Sheridan / INPHO White had lots of involvements but many were as late arrivals to the rucks. Dan Sheridan / INPHO / INPHO
0.68 Nathan White
0.53 Jack McGrath
0.50 Luke Fitzgerald
0.49 Sean O'Brien
0.48 Mike Ross
0.46 Rory Best
0.46 Chris Henry
0.45 Paul O'Connell
0.40 Sean Cronin
0.35 Jamie Heaslip
0.32 Cian Healy
0.31 Devin Toner
0.30 Iain Henderson
0.27 Peter O'Mahony
0.20 Simon Zebo
0.14 Tommy Bowe
0.11 Keith Earls
0.11 Robbie Henshaw
0.10 Dave Kearney
0.09 Johnny Sexton
0.01 Conor Murray