THE BEST SET-PIECE moves work in more ways than one, and Ireland showed exactly that with the most thrilling of their strike plays in Saturday's 58-15 win over Italy.
The move they used to manufacture Keith Earls' linebreak in the build-up to CJ Stander's 30th-minute try was identical to the one that allowed Johnny Sexton to make a searing break against Wales, except that Ireland used a different option against the Italians.
As we see in the clip above, the starter play that results in Earls busting right through the middle of the Italian defence is perfectly timed, with Sexton playing the key role in slipping the Munster man away.
Let's jump back to the Wales game for a reminder of the same play in action, but with Sexton himself the man to break the line on that occasion.
During last year's World Cup, New Zealand coach Steve Hansen was asked if there was one lesson his father Des – a noted tactician in his time as head coach of the Marist club – had taught him that stood out, and he replied:
"You get all your options off the opposition."
That proves to be exactly the case for Ireland in both of these instances. Certainly their starter play is selected to exploit possible weaknesses in the defence, but as we can see in the two clips above, the Welsh and the Italians react differently to Ireland's cues.
The opposition give Ireland an option in that frontline defence and both times, Sexton makes exactly the right decision to breach them. Most intriguingly of all, Ireland lure the Italians into giving them their option.
It's worth taking a few minutes to go back over how Ireland cut the Welsh with this play before we move on.
Essentially, Jared Payne's decoy line on this double-screen play sat inside centre Jamie Roberts down, while outside centre Jonathan Davies was attracted out to fullback Simon Zebo, leaving a big disconnect for Sexton to stride into.
Italy would have analysed this move in the build-up to Saturday's game, and it's certainly something that would have been in their minds as they went about defending it. Rather than spoiling Ireland's attacking intent, the Italian's recognition of this play is actually crucial to its success.
The lineout set-up that begins the move is absolutely identical to that against Wales, with Devin Toner lifted by Jamie Heaslip and CJ Stander. Donnacha Ryan and Mike Ross [in place of Tadhg Furlong] are at the rear of the lineout, while Jack McGrath loops around from the front.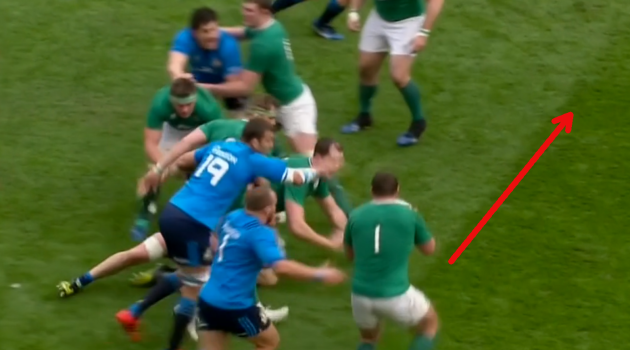 McGrath essentially acts as the scrum-half, replacing openside Josh van Der Flier, who starts in that halfback role behind the lineout but then fades out across the 15-metre line as the lineout ends.
Van der Flier plays the role Rhys Ruddock did against Wales, sending the first screen pass behind Robbie Henshaw to Conor Murray.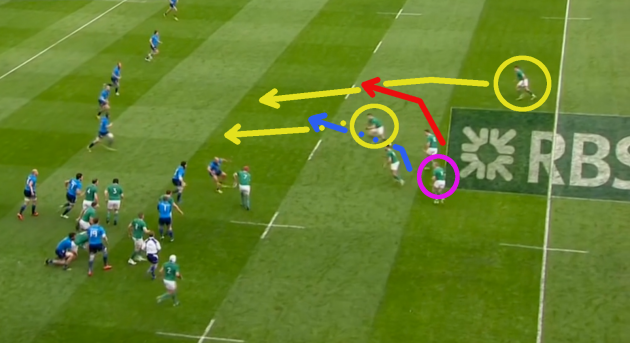 We get a sense of the various roles Ireland's back are playing in the image above.
Henshaw and Payne [yellow] are tasked with running the decoy lines. Murray bounces out behind Henshaw [blue line], while Sexton does the same behind Payne [red line]. Earls [purple] is tucked in at the very back, disguised and ready to strike late.
While Henshaw managed to get some good interference in on Justin Tipuric against the Welsh, the Italians don't buy his line at all this time, Francesco Minto drifting straight past him and onto Murray.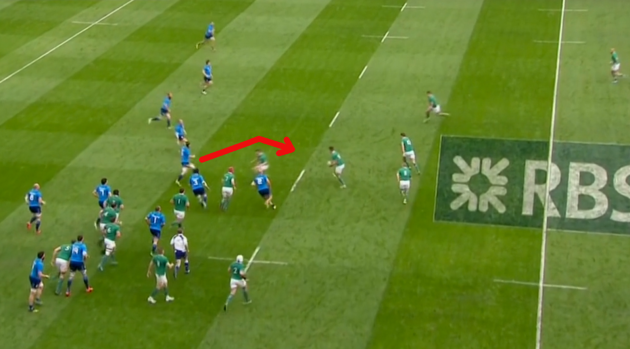 The really key decoy line here, however, is Payne's. Against Wales, he managed to completely take Roberts out of the game, after the Welsh inside centre got caught looking infield and losing track of Payne.
Italy inside centre Gonzala Garcia isn't going to make the same mistake here. He is coming forward at a lot less speed than Roberts was – typically of the Italian defensive performance – and he actually does get his head up to have a look at Ireland's movement.
Garcia and centre partner Michele Campagnaro both recognise Ireland's move at this point and both of them hone in on Sexton. Their video analysis work has shown them how Sexton cut the Welsh, and they are keen not to get breached in the same manner.
Garcia drifts out past Payne, but the Ireland outside centre still makes a vital contribution by bumping out-half Edoardo Padovani.
Payne's actions, highlighted above, immediately create the disconnect that is going to be key to Earls surging through. We can see in the image that Payne has broken Padovani away from Garcia outside him, while Murray has also taken Minto out of the game after passing to Sexton.
While that is happening in the midfield, Campagnaro has read Sexton's line from the outside centre channel.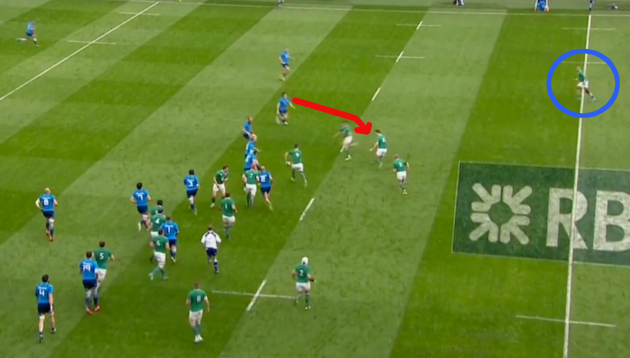 Like Garcia, he has identified the play Ireland are using and fancies having a piece of Sexton in the tackle. Zebo is highlighted in blue above and he was the man to attract Wales centre Davies out on the drift for the Sexton break in that game, but Campagnaro shows no interest whatsoever.
Exclusive Six
Nations Analysis
Get Murray Kinsella's exclusive analysis of Ireland's Six Nations campaign this spring
Become a Member
He has eyes only for hammering Sexton in what is basically a good read, but one that Ireland would have anticipated him making. The Italian loves thundering into hits like this, as Ireland's analysis of England's win in Rome would have underlined.
With Campagnaro biting, the man inside him also needs to bite back one attacker in, i.e. onto Earls. However, Garcia has completely failed to track Earls in this play, though it's probably somewhat understandable given that Earls did not feature in that linebreak success against Wales.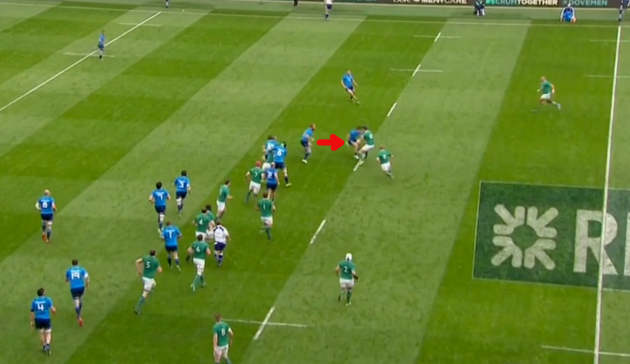 It means that as Campagnaro engages in the hit on Sexton, Garcia has also been attracted towards that tackle zone and has no awareness of Earls until it's far too late. Two men commit to Sexton, Earls goes through.
The real key here for Ireland is Sexton's willingness to take the hit from Campagnaro. Even as the set-piece play is being launched at the lineout, Ireland's out-half knows he is likely to get absolutely levelled in the tackle.
Sexton is aware that he needs to get as flat as he possibly can off Murray's screened pass to ensure that Campagnaro fully engages onto him, and that the good work of Payne in creating a disconnect inside will leave a hole for Earls.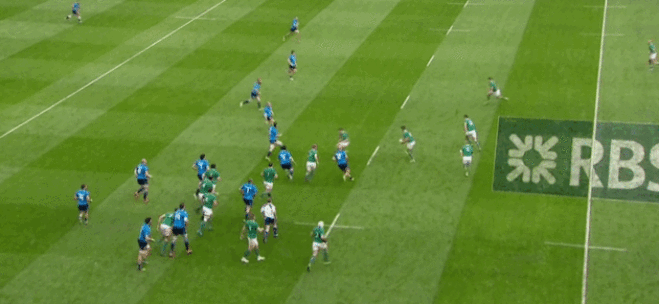 Some players might just stutter back a step or two here to give themselves a better chance of not getting floored, or perhaps sacrifice the split second extra he takes on the ball to seal the deal, but Sexton is selfless in this case.
He gets a big shot into his open upper body without the time to brace himself for contact after the wonderfully rapid inside pass to Earls.
Does the ball go forward? It quite possibly does slip marginally forward from Sexton, though the fact that he is stopped dead in his tracks and is hit backwards makes it look more so. In this example, putting his body on the line earns him the benefit of the doubt.
Earls surges through for the linebreak, draws Leonardo Sarto and fullback David Odiete towards him before unleashing a gorgeous pass wide to Andrew Trimble. The Ulsterman steps back inside before offloading back to Earls.
Italy manage to slow the ball, but Ireland are within five metres and a phase later Stander puts his hand up to finish.
He goes through a really poor Davide Giazzon tackle attempt and then shows his utter strength and determination to wrestle past Dario Chistolini and Quintin Geldenhuys for a superb finish.
It takes 47 seconds from start to finish for Ireland to break the Italians in this instance, but much of the good work in creating the score was done five weeks earlier against the Welsh.
The Italians felt they knew what was coming, but Earls popped up. Sexton knew what was coming too, but opened himself up to get hammered in order to allow his team to break the line.